Cornacchia Honored During National Police Week
Service Recognizes Fallen Officers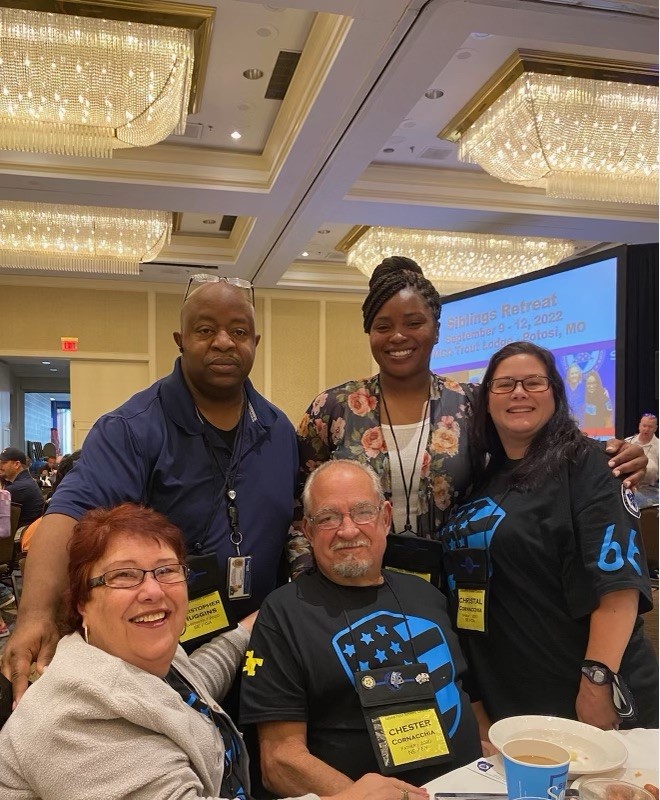 Attending a National Police Week luncheon for families and co-workers of fallen officers are (seated): Investigator Cornacchia's parents, Dyana and Chet Cornacchia. Standing (L-R) are GTPD Investigator Chris Huggins, GTPD Sergeant Jessica Howard, and Christal Cornacchia, Investigator Cornacchia's widow.
Oct 21, 2021 — Atlanta, GA
Thousands gathered in Washington, D.C., to honor fallen officers during National Police Week, Oct. 12-17. The late James Michael Cornacchia, an investigator with the Georgia Tech Police Department (GTPD), was among 701 officers recognized.
Investigator Cornacchia contracted Covid-19 during the commission of his job duties. He had worked traffic detail at a Covid-19 testing site on campus. He succumbed to complications from Covid-19 on June 1, 2020, after serving the Georgia Tech community for nearly 20 years.
Representing GTPD at the event were Investigator Chris Huggins, Officer Tim Foster, Sergeant Jacob Crossley, and Sergeant Jessica Howard.
"The Cornacchia family was there, and we were there to surround them with support while we honored our fallen brother in blue," Howard said.
The week's events included a candlelight vigil, a police survivors' conference, and a memorial service recognizing fallen officers from 2019 and 2020, as the event was canceled last year because of the pandemic.