Development Vice President Barrett Carson Retires
Barrett H. Carson has spent a quarter of a century at the helm of Georgia Tech's Office of Development.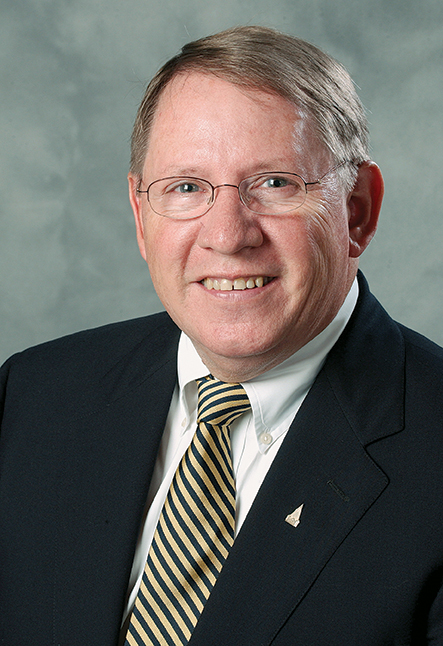 Barrett Carson
Dec 10, 2021 — Atlanta, GA
Barrett H. Carson has spent a quarter of a century at the helm of Georgia Tech's Office of Development. During that time, Carson managed two highly successful multiyear capital campaigns — three, if you count Initiative 2020, a two-year fundraising venture that will function as the quiet phase of the next campaign. He served three presidents; raised three children — two of whom graduated from the Institute — with his wife, Carolyn; and, along with his staff, transformed Georgia Tech's approach to fundraising. 
"Barrett has been instrumental in the stellar growth of the Institute over the last quarter of a century," President Ángel Cabrera said. "Today we serve more students, conduct more research, provide more scholarships, and contribute more to the economic vibrancy of our state than ever before, and that simply would not have been possible without the philanthropic support secured by Barrett and the exceptional team of development professionals he built."
Carson began his career in development in 1977 at St. Andrews Presbyterian College in North Carolina. He held subsequent development positions at the College of William & Mary, Virginia Tech, and the University of Alabama at Huntsville prior to joining Georgia Tech in 1997.
It was at Virginia Tech that Carson met President Emeritus G. Wayne Clough, who later hired him to head Georgia Tech's Office of Development and to direct a much-needed capital campaign. In The Technological University Reimagined, Clough describes the vice president for Development position as one that "demanded incessant travel; attendance at innumerable events, dinners, and meetings; knowledge of the welter of options in making gifts to universities; an ability to remain coherent while alcohol was served; and an understanding of how to cultivate all manner of donors and their families." Clough wrote that he had met and worked with the ideal candidate at Virginia Tech: Barrett Carson.
"Our first national campaign was also Georgia Tech's first," Clough said. "Barrett Carson was crucial in bringing the discipline and hiring the right people, which allowed it to succeed.
He knew his business like few others did, and we were kindred spirits in spite of his being a Yankee and me a southerner," Clough said. "Barrett Carson is smart, able to communicate with anybody, and has a good heart."
Carson took over leadership of the Campaign for Georgia Tech, which had launched in 1996. By December 2000, Georgia Tech had raised $712 million — more than double the initial $300 million goal. This philanthropy resulted in 54 new endowed chairs, 233 endowed undergraduate scholarships and graduate fellowships, and significant investment in the construction of 11 new buildings.
Although not part of the campaign, the G. Wayne Clough Tech Promise Scholarship Endowment, which is available to in-state students who have profound financial need, is another result of successful private philanthropy — and of which Carson is particularly proud. "I was at the table when this program was envisioned, and we knew that it was going to be transformative," Carson said. Since its launch in 2007, 199 students have received a Tech Promise scholarship.
Georgia Tech's second national campaign, which ran from 2009 to 2015, was even more successful. Several of Georgia Tech's buildings and facilities are the direct result of private philanthropy raised during the campaign. Tech Square, the Clough Undergraduate Learning Commons, and the Krone Engineered Biosystems Building are three examples. Russ Chandler Stadium was significantly renovated thanks to funds raised through the campaign, as were locker room facilities for the football and basketball teams. More than 20 facilities were either constructed or renovated. When the books were closed in December 2015, the campaign had funded 104 endowed chairs and professorships, raised $354 million for undergraduate and graduate student support and $276 million for intercollegiate athletics, and generated $958 million for the Institute's Colleges and Schools — with every College meeting its fundraising goals.
Campaign Georgia Tech's initial fundraising goal was $1.5 billion; the total amount raised came in at $1.8 billion. The Institute's 11th president, G.P. "Bud" Peterson, worked closely with Carson on this campaign. He credits much of the campaign's success to Carson's "ability to connect and relate to so many of Tech's alumni. Aside from the actual donors themselves, few people at Georgia Tech have had as significant an impact on Tech's philanthropy as Barrett Carson," he said.
Because fundraising doesn't end when a campaign does, Georgia Tech launched Initiative 2020 in 2018 to ensure that the Institute had sufficient resources to grow and thrive. By December 31, 2020, donors had raised $588 million — $63 million above goal — to support intercollegiate athletics, Institute capital and program purposes, and students. The Edge Center renovation was fully funded and is now in design, while Chandler Stadium's planned renovations were also fully funded, and the playing field was renamed the Mac Nease Baseball Park.
"Barrett Carson has been a faithful steward for Georgia Tech," Cabrera said. "He led us through the successful completion of two comprehensive campaigns and now he has led us through this successful fundraising initiative that will provide the foundation for the next campaign."
Carson will retire on Dec. 31, 2021, but will stay on as an advisor to the president.