A Memorial to the Unthinkable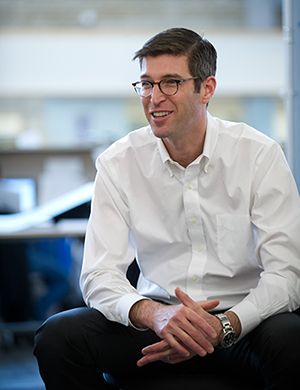 Georgia Tech architecture alumnus Michael Arad designed the 9/11 Memorial in remembrance of those killed in the attacks on September 11, 2001.
"Reflecting Absence" is a serene, public space for collective contemplation and remembrance. Two 30-feet deep reflecting pools create footprints where the Twin Towers once stood. The names of the 2,983 people whose lives were lost are etched across bronze panels surrounding the two pools.
The memorial was dedicated on the 10th anniversary of the attacks in September 2011.
A Memorial to the Unthinkable​
By Van Jensen
Michael Arad stood on the roof of his Lower East Side apartment and watched as the world fell apart.
It was the morning of Sept. 11, 2001. Arad was 32, an architect working for New York City's Housing Authority, two years removed from earning a master's degree at Georgia Tech. People were saying a plane had crashed into one of the World Trade Center towers. And then, as Arad watched, a second plane appeared and cleaved into the South Tower.
Arad, a London-born former Israeli soldier who is a dual Israeli-American citizen, ran toward the site, wanting to do something. He had come within a few blocks when the south tower fell.
In the numb aftermath of the disaster, as New Yorkers covered with dust and blood wandered Manhattan's streets and the scope of the terrorist attacks became known, Arad couldn't shake the absence of the towers — and the nearly 3,000 victims — from his thoughts.
In this excerpt from his lecture titled "Reflecting Absence: the 9/11 Memorial," which was presented at Georgia Tech in February 2012, Arad explains his original vision for the 9/11 Memorial. View the entire lecture. Credit: Georgia Tech Library archives

A few months had passed when a vision appeared to Arad: The water of the Hudson River flowing along, then suddenly disappearing into two square-shaped holes, footprints of the missing towers.
Arad sat down and began to sketch on a yellow piece of paper. Rough lines marked the riverbank, and light shading marked the water. And there, in the river, two squares, perfectly black. Twin voids.
"It was an inexplicable image, because water doesn't behave that way," Arad said. "But it intrigued me, and so I built a model. I photographed it on the rooftop and could see the absence of the towers being reflected by these voids in the river. I wondered: How could that be explored further?"
Two years passed. Like other New Yorkers, Arad returned to his life. And yet, things weren't the same.
The towers were gone. In their place was only wreckage that disappeared one truck-full at a time from the 16 acres that came to be known as "the pile," or "the pit," or simply as Ground Zero.
Something had to be done with the space, and finally it was announced that a juried contest would determine the design of a memorial.
Arad had continued thinking about his design of the twin voids. But the passage of time had changed his concept, toned down the raw pain of his earliest sketch. He recalled a late-night walk to Washington Square Park when he was unable to sleep in the months after the attacks.
"As I walked about the eerily empty and quiet streets of lower Manhattan, I was drawn to the fountain at the center of this public space," he said. "There I found a few other people standing in silent contemplation. As I joined this circle — strangers both to me and to each other — I felt a sense of kinship and belonging. I was no longer confronting the horrors I had seen alone.
"I could not articulate it clearly at that moment, but I felt a bond form as I understood that I was a New Yorker now in a way I had never been before."
Arad's vision was no longer of a lonely memorial in the Hudson River, out of reach, but of one incorporated into the city. A memorial that would be a shared space, a continuing site for remembrance and bonding.
His idea dovetailed with the master plan for the site drawn up by Daniel Libeskind, master plan architect of the Trade Center site. And so Arad revisited his sketch, transposing it onto the eight-acre space dedicated to the memorial. It would be an open plaza punctuated by the two square footprints of the towers as below-ground reflecting pools ringed by waterfalls.
As Arad described it, the new plan was the union of the grief of his original vision and the healing and togetherness of his experience that night in Washington Square Park. He sent his design in, one of 5,201 that would be received.
The jury named Arad a finalist, but they said his design was too stark. Arad then partnered with landscape architect Peter Walker and incorporated trees and other landscaping elements into the plan.
Word came back in January of 2004: Arad and Walker's design was the winner. Vartan Gregorian, who chaired the 14-member jury, said, "The result is a memorial that expresses both the incalculable loss of life, and regeneration."
Previously an unknown architect, Arad knew this was the opportunity of a lifetime. But he didn't know that the selection would come with so many challenges. He didn't know how much work and stress and uncertainty and media scrutiny would fill the next eight years as he fought to bring his vision to life.
The Ski Bum
The son of an Israeli ambassador, Arad graduated from Dartmouth in 1994 and didn't know what to do with himself. So he moved to Colorado and became a self-described ski bum.
Two paths opened to him: He was accepted to law school in Israel and a master's program at Georgia Tech's College of Architecture.
"I've always been interested in design and architecture," Arad said. "But I was apprehensive. It seemed like the kind of field that was very challenging. There are very few opportunities available."
For a year he enjoyed the slopes and mulled his choices. Law school was the safe route, but architecture seemed more attuned to his passion for art and design.
"I had to make a choice, and I struggled with it," he said. "But I felt I should try something that felt more unknown and riskier. It was something I cared more deeply about. Even if I was frustrated."
Arad had no architecture background, and so he entered Tech's intensive three-year graduate program. He recalled it as an "excellent" if challenging experience, one that gave him a thorough foundation.
Tech's College of Architecture doesn't hew to a single aesthetic ideology, and Arad soaked up the distinct voices of his professors. He recalled classes with professor Douglas Allen as putting architecture into the context of history and the surrounding urban form. He learned he needed to bring his own voice to a project while collaborating with others. It was advice that would serve him well in the years ahead.
In the near-constant media coverage of the construction at Ground Zero, a picture emerged of Arad as young, impetuous, and brash. Walker, the landscape architect, told The New York Times that he and Arad argued over every aspect of placing trees at the site. Arad also had shouted and stormed out of meetings "many, many times," Walker said.
Arad battled with the architect Libeskind over placement of the memorial. The master plan called for it to be situated within a larger plaza, while Arad thought of the entire plaza as the memorial.
For his part, Arad admits he defended his vision but disagrees with the perception of him as a hothead.
"The brash approach sounds like good copy. But that's not going to get a project like this built," he said.
In those early years, the completion of the project was far from assured. Numerous groups with conflicting interests — the Lower Manhattan Development Corporation, the Port Authority of New York and New Jersey, the developer Larry Silverstein, the Memorial Foundation, and others — wrestled for creative and financial control.
Meanwhile, the memorial's price tag skyrocketed. What was to have been a $350 million project had ballooned to $500 million in 2006. At that point, the foundation president decided to halt fundraising, which had brought in only $100 million.
The New York Times said the project was "spinning out of control," and New York magazine claimed it to be "on the brink of collapse."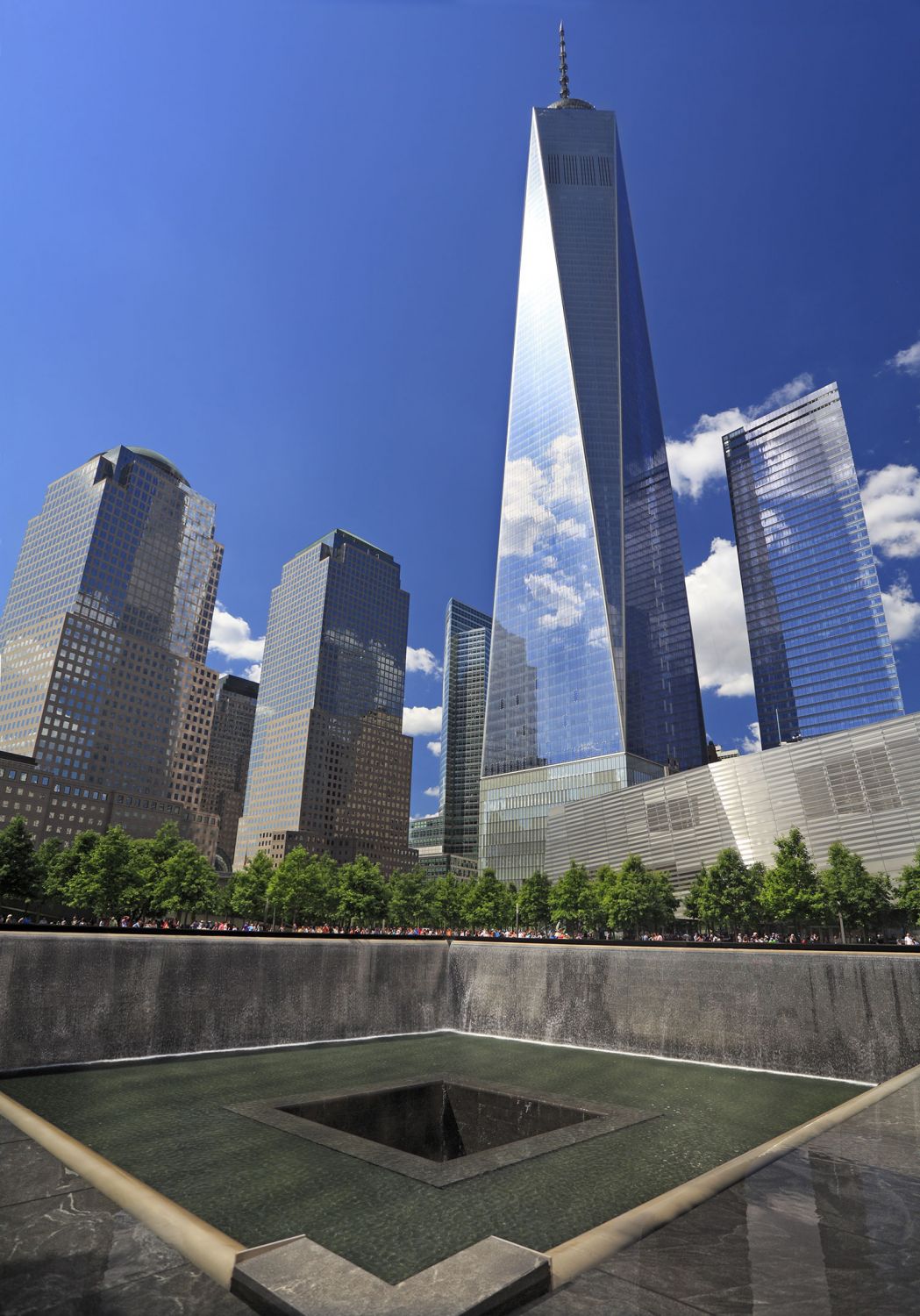 The Savior
The businessman Michael Bloomberg became mayor of New York City in 2002, and he understood how vital the rebuilding project was to the future of Manhattan.
The plan for Ground Zero included the memorial, a reconstructed transit hub, a 9/11 museum, and five new towers, most notably World Trade Center One, which, at 1,776 feet, was designed to be the tallest building in America and third tallest in the world.
In 2006, Bloomberg sacked the president of the Memorial Foundation and took on the fundraising mantle himself. He also negotiated with the Port Authority to share costs and to supervise the construction.
"Mayor Bloomberg entrusted us with this responsibility, but he gave us the time to finish it," Arad said. "There were moments that were very difficult. But even as it exhausted you, it provided you with what was needed to move forward. We could not do anything but give it everything.
"And it's not just me. It's my partners at the office, everyone at the memorial. It was a fractious process and there were difficulties, but we did this together."
With a new charge of energy, Arad launched back into the project, frequently visiting the site in his bright vest and black construction helmet, watching as the form he had imagined slowly took shape.
Still, there were more concessions to be made. Arad's plan to incorporate an underground walkway to view the names of those who died in the attacks was deemed to be a security threat.
Arad has described that as "a tremendous blow," and it took him time to get over it.
"He was hard to deal with for a while because he was so upset about it," Walker told The New York Times.
But Arad did move on, and he learned to build relationships that could help smooth out the process. Bloomberg's deputy mayor, Patricia Harris, and director of city planning, Amanda Burden, became advocates for Arad.
That led to an easier resolution when Arad opposed the design of the underground transit hub, which called for numerous skylights to be embedded across the memorial plaza. Eventually, the skylights were scrapped.
"What I've learned over the past few years is to advocate for this project and to share this vision and to change certain elements to respond to constraints," Arad said. "This is a public project. It had to emerge through a contentious public debate. To think this could have been built without differing opinions isn't realistic."
Though Arad already had navigated through so much of the process, his biggest challenge remained: How to list the names of the dead.
The Names
From the beginning, Arad's plan called for a list of the names of those who died in the attacks. But deciding on how to display them became one of the largest challenges in the outsized project.
It was finally decided that the victims would be listed on panels at ground level surrounding the two reflecting pools. Next, Arad and his partners needed to decide how to arrange the names.
An alphabetical list wouldn't work. Arad noted that two men with the exact same name—Michael Francis Lynch—were among the dead. When relatives came to the site, how would they know which name belonged to which man?
Arad also decided not to include positions or ranks for the many police and firefighters who'd died, which led to some criticism from families of those victims.
"Family members had such strong feelings about what meaning would be imputed," Arad said. "I wanted to emphasize the very individual nature of loss. Not their name as part of something else, but the very essence of their personhood, which I think is most clearly communicated in one's name."
What Arad settled upon was a system he called "meaningful adjacencies" in which the names were grouped according to victims' relationships while alive. People who worked together for one business, or who served together in a fire department, or who were passengers together on one of the airliners, would have their names listed beside each other.
Family members and friends were consulted and allowed to make requests. Relatives were placed side by side, as were coworkers and friends. The names of 704 employees and visitors of the investment bank Cantor Fitzgerald who died in the North Tower all were grouped together.
Other groupings came from less obvious connections: the name of a man who died in one tower and the name of his wife's friend, who happened to be on the flight that struck the building; the names of two men who'd never met before trying to escape together.
While there was some apprehension about the plan, Bloomberg again supported Arad.
The complexity of listing the 2,983 names proved impossible to do by hand. Arad enlisted a software artist to create the arrangement. One algorithm created clusters of names based on requests, which built what looked like puzzle pieces. A second algorithm then determined placements for those clusters on the 76 bronze panels that surround each reflecting pool.
The names were staggered across the panels, adding to the complexity. Arad said that design serves to emphasize each individual.
"They're very sad and powerful individual stories," he said. "If you knew these people, you'll know why they're next to each other. In doing so, you break down the difficulty of relating to a number like nearly 3,000 dead. You start to understand what the toll of that day was."
The Anniversary
Eight years after Arad began working on the project, the 9/11 memorial — called "Reflecting Absence" — opened in time for a ceremony marking the 10th anniversary of the attacks.
There were speeches by President Obama and former President George W. Bush and remembrances of the lost. Families of the victims saw the memorial for the first time.
One family member was Jelena Watkins, who came from London with her husband and children to honor her brother, who died in the attacks.
"I love it," Watkins told the Associated Press. "It was a huge relief to see that it's actually beautiful."
For Arad, it was the moment of finally seeing his vision made real. [...] Speaking in the days before the public unveiling of the memorial, Arad sounded upbeat if exhausted.
"This project in many ways is like this long journey, and I feel like I'm about to reach its end," he said. "I very much welcome that moment. I think it's going to be a difficult and sad day. But there will also be a sense of pride and achievement.
"I've certainly grown as a person. I'm just very glad I've had a part in this undertaking. It meant so much to me."
Arad tried to shape the memorial, but he also had to learn to consider other voices and limitations and discover the project's own voice.
Toward the end of the project, the team discovered that people in wheelchairs could not see the reflecting pools because of the placement of the panels. Instead of becoming frustrated when problematic solutions were suggested, Arad calmly worked with all parties to find the right answer.
In the end, the team cut into each corner of the memorials, allowing access to disabled visitors and adding a more attractive sculptural component to the panels.
"Your obligation as a designer is to try to hold onto that voice, whatever the constraints are," he said. "Over this period, I think we've held remarkably true to the spirit of the design even as we've had to accommodate many issues."
The memorial opened to the public on Sept. 12, and hundreds of visitors passed through security to see the site. Many wept openly as they read the names.
Debra Burlingame's brother, Charles, was the pilot of American Airlines Flight 77. When she visited the memorial, she discovered that his name was grouped with the others who were on the flight.
"These are all his crew," she told the Associated Press. "I know all their families. These passengers, I knew their families. These people are real people to me. It's very touching to see all these people here together."
Soon, Arad will move on to other projects. In 2004 he joined Handel Architects as a partner, and he's developing plans for a 60-story mixed use building in China. He said he's excited for the future both professionally and personally. He and his wife have three children, all of whom were born after 9/11.
His hope for the memorial is simple: that it serves as a place to remember, and that it serves as a place to gather and build community.
"It's not just about the steel and glass and concrete," he said. "It's about the social structures that bind us together."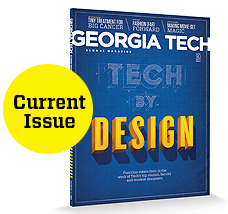 This story originally appeared in Vol 87, issue 7 of the Georgia Tech Alumni Magazine. Read the current issue, which features several additional top designers from Georgia Tech.
Related Links
Web Feature Credits
Page Design: Jennifer Tomasino & Erica Endicott