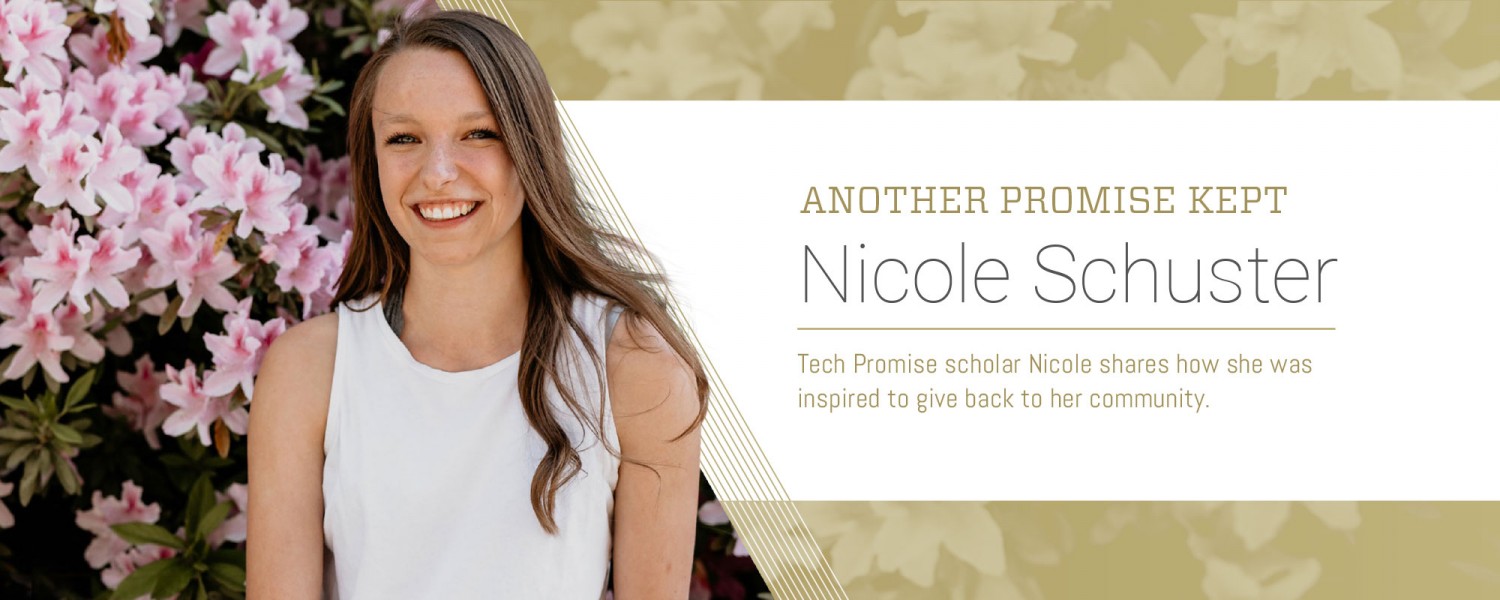 Nicole Schuster, Business Administration Major
During her senior year of high school, Nicole Schuster decided to join the Yellow Jacket family after attending a shadow day with the Ivan Allen College of Liberal Arts.
"Something about Georgia Tech felt like home," she said.
After the initial excitement wore off, though, she became increasingly concerned about her family's ability to pay for college: "I knew I would have to figure out the money somehow."
Little did she know that Georgia Tech already had it figured out — through the G. Wayne Clough Georgia Tech Promise Program. She qualified for the scholarship program at Tech that's designed to offer the opportunity of a debt-free degree to eligible students from low-income Georgia families.
Video: Business administration major Nicole Schuster shares how Tech Promise has changed her life and inspired her to give back to the community.
Having qualified, Schuster has learned the importance of giving back and investing in the community. Without the "stress and worry" of the college financial burden, she has been able to serve the Georgia Tech community as a student ambassador for three years now.
After she graduates at the end of Spring 2020, she plans to pursue a career in full-time ministry. One day she hopes to donate a Tech Promise scholarship in her name to provide another student the chance to attend Georgia Tech debt-free.
Tech Promise picks up where Georgia's HOPE scholarship and other financial aid options leave off. It is available to dependent Georgia residents pursuing their first undergraduate degree at Georgia Tech whose families have an annual income of less than $33,300.
---
CREDITS
Video: Adam Karcz, Troy Robinson
Writer: Elizabeth Driver
Editors: Brigitte Espinet, Margaret Tate
Design: Monet Fort
Learn More About the Program