By John Toon | Published October 12, 2020
An ambitious campuswide testing program aimed at identifying asymptomatic Covid-19 community members has helped limit daily case counts to single digits at the Georgia Institute of Technology, which currently has approximately 7,400 students living on campus and several thousand more students, faculty, and staff commuting to learn and work there each day.
The saliva-based program was developed by Georgia Tech's own researchers and as of October 10 had administered more than 75,000 tests since it was launched in August. The program has averaged more than 7,500 tests per week, and has already identified more than 600 individuals who have tested positive for Covid-19. By identifying and isolating those infected as early as possible — before they even suspect they're ill — the program helps break chains of transmission that would otherwise fuel exponential growth of the highly contagious virus.
Regular testing takes place in multiple campus locations. Data from the testing program has allowed campus scientists to identify developing clusters in student residences and focus mobile testing resources on those hot spots. The testing is part of a comprehensive program that includes mandated masks, physical distancing, traditional contact tracing, conventional diagnostic testing for symptomatic individuals, and awareness campaigns as recommended by the Centers for Disease Control and Prevention.
---
---
Testing to Control the Virus
"We'd like to test everybody on campus once a week because it's very clear that asymptomatic and pre-symptomatic people are transmitting the virus," said Greg Gibson, a professor of computational genomics in Georgia Tech's School of Biological Sciences and a leader of the research team that developed the testing program. "The case decline is consistent with what we predicted — and is very encouraging, in many ways even better than we'd hoped."
After rising past 4% at the start of fall semester in mid-August, Georgia Tech's percentage of positive cases dropped to less than 0.3% in the two-week period ending October 7. The number of cases reported daily on the campus website was in single digits during that two-week period.
The strategy behind the asymptomatic testing program grew out of an appreciation of the dynamics behind the virus's exponential growth — and the major role of asymptomatic and pre-symptomatic people in that spread. If Georgia Tech could identify and isolate most of the new cases popping up each week, they realized, new incidence could be kept at a relatively low level. Aiming to test the majority of the population each week could provide the ability to stay ahead of the virus.
"Through the work of the logistics and laboratory teams, we are now at a stage where rapid surveillance testing is being used as a form of mitigation to help control viral spread," said Joshua Weitz, a professor in Georgia Tech's School of Biological Sciences, director of the interdisciplinary Ph.D. in quantitative biosciences, and a leader on the team analyzing surveillance testing data. "Thanks to the incredible work of the logistics and testing community, we have the capacity for comprehensive surveillance testing, so we are getting early warning signs that allow us to detect and respond to outbreaks earlier rather than later."
Different components of the campus community have different risks, and the surveillance testing can accommodate that variation, he said. Limiting the spread of the coronavirus throughout the campus can help protect essential workers, such as staff working in facilities, housing, and dining services, who may suffer more serious consequences if they are infected.
"We have made critical gains collectively, not just through testing, but also through mask wearing and physical distancing that make our testing strategy more effective," Weitz said. "In doing all of this, individuals who test are not just helping themselves, but also acting empathetically with respect to those who are often the hardest hit."
Design of the surveillance program was informed by epidemic models developed by Weitz that showed how large-scale testing works synergistically with other non-pharmaceutical interventions to reduce onward transmission.  The test frequency is intended to be on the same time scale as a typical seven-day infectious period of Covid-19. Model analysis showed that even partial efforts to achieve that goal, particularly if testing goals were applied to each residence hall and dorm, could have significant, synergistic benefits, Weitz noted. 
In practice, between 50% and 60% of students have been tested each week over the past month. "Although less than the goal of weekly testing for all, this substantial adoption rate has helped to reduce new cases and provide early detection of outbreaks, enabling rapid and localized increases in testing when needed," he said.

Georgia Tech research technician Fang Shi places vials containing saliva tests into a device used to prepare samples for testing. (Credit: Rob Felt, Georgia Tech)
The Asymptomatic Testing Program
The testing is done by a 30-person team that collects samples and works around the clock in a federally certified lab constructed in the basement of a campus research building. The process begins with registration on a campus website, which generates a barcode that participants bring to one of the testing sites with no appointment necessary. At the site, participants register and are given a test kit in a plastic bag. They spit into a small plastic cup, and use an inexpensive pipette to transfer a saliva sample to a small plastic vial containing a buffer solution that inactivates any virus that may be present.
The samples are transferred to the test lab three times a day for evaluation. To reduce the number of polymerase chain reaction, or PCR, tests that must be run each day, the saliva samples are pooled so that a single test can examine samples from five individuals. An innovative double pooling strategy can identify one individual in a set of six pools who is positive, while clearing another dozen individuals. Using standard equipment, the team evaluates 225 samples at a time, and has tested as many as 2,500 samples a day.
By placing each individual sample into two different pools, when a positive result is obtained, the researchers can focus on the likely infected person for diagnostic confirmation. The surveillance and diagnostic testing is normally completed within 36 to 48 hours, allowing contact tracers to identify other community members who may have been exposed.
Gibson and other Georgia Tech faculty — including Andrés García, director of the Petit Institute for Bioengineering and Bioscience — began thinking about the testing program in March, encouraged by a seed grant program offered by Executive Vice President for Research Chaouki Abdallah. Georgia Tech doesn't have a medical school or extensive on-campus experience with clinical trials, but it does have innovative programs in bioengineering and biological sciences — along with a "can-do" attitude.
"We have considerable experience and expertise with the technical aspects of the molecular assay, and our core staff are prepared to perform the analyses necessary for this testing," García said. "It was critical to have support from the president, executive vice president for research, college leadership, and the Georgia Tech Research Institute (GTRI), who committed the necessary resources."
Those resources allowed scale up of the program, including opening testing sites in Bobby Dodd Stadium near East Campus dormitories and Greek housing, a parking deck near West Campus housing, and in Technology Square, near off-campus housing that is popular with students.
Opening the sites required support from multiple campus organizations, including the Student Government Association and campus sororities and fraternities. Georgia Tech offered incentives for student participation, including athletic merchandise — and King of Pops popsicles, a popular campus treat.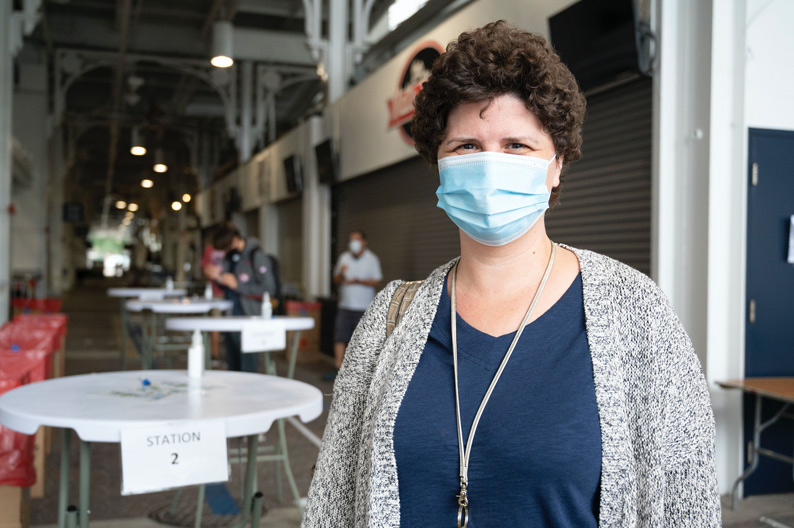 JulieAnne Williamson, executive director of Georgia Tech's sustainability initiative and team lead for the surveillance testing, watches students participating in the program. (Credit: Allison Carter, Georgia Tech)
"We have created a comprehensive testing strategy and are taking the testing to our community by making it easy and convenient," said JulieAnne Williamson, executive director of Georgia Tech's sustainability initiative and team lead for the surveillance testing.
"We had a high-level focus on reentry testing for students returning to campus, and we are continuing to see great participation from the campus to slow the spread and keep our community as safe as possible."
Beyond the regular testing locations, Georgia Tech has used mobile sites where data from the asymptomatic testing shows clusters may be developing.
"Our mobile testing is informed by the analysis that Professor Gibson and Professor Weitz do to show where we have rates that might be concerning or gaps in our testing," she added. "They give us a handle on what's going on in the student residences."
Supplementing the surveillance testing is diagnostic testing done at Georgia Tech's Stamps Health Services, and by the Fulton County Board of Health, which operates a testing site on campus two days a week. Georgia Tech faculty and staff can also be tested using commercial "Vault" kits that are convenient for people who work off-campus and during evening hours.
"We have been working to make testing part of the social norms on campus," Weitz said. "Our capacity means we can use testing in a different way than others have used it." The surveillance testing has now identified nearly two-thirds of the Covid-19 cases reported at Georgia Tech.
Georgia Tech has also worked hard to be transparent about Covid-19 cases on campus. Since the beginning of the pandemic, it has reported daily case counts on the Stamps Health Services website, where the campus community can go for advice on protecting themselves from the virus. A new dashboard reporting Covid-19 cases was launched Sept. 29.
Turning a Vision Into Reality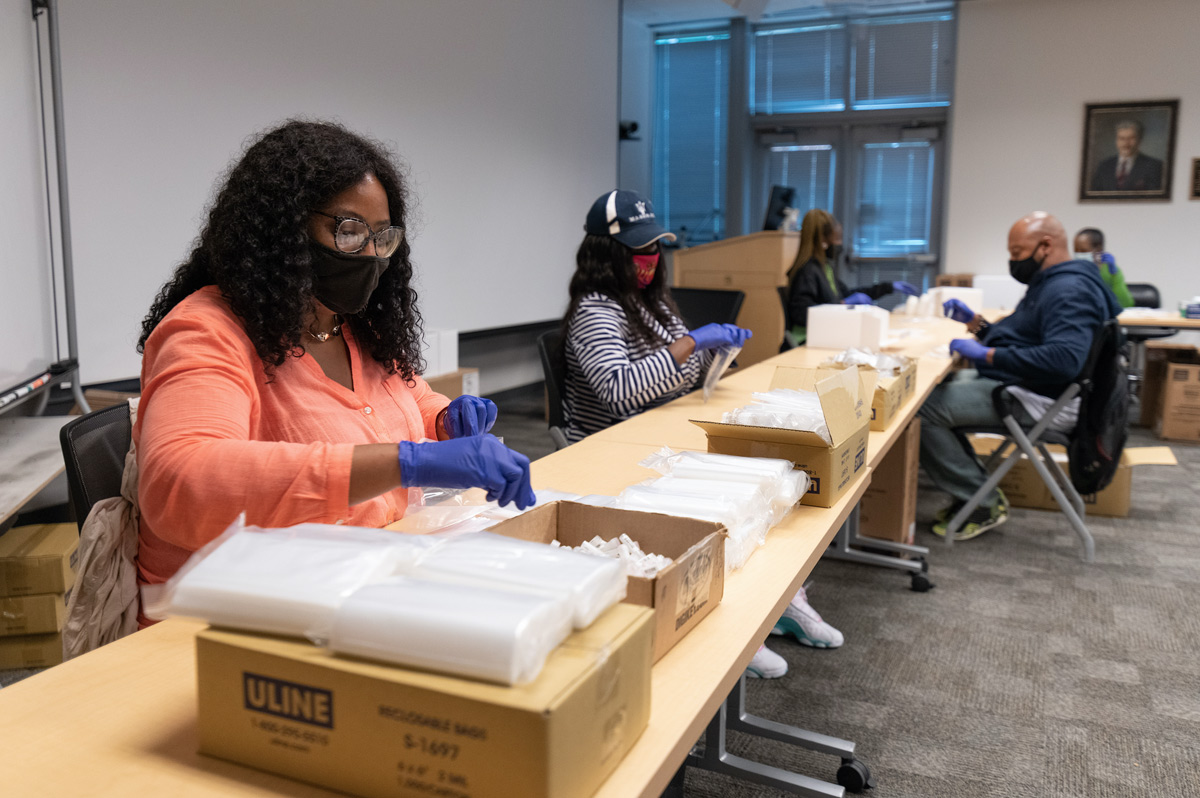 Test kits for the Georgia Tech surveillance testing program are assembled. The kits include a vial containing buffer solution, a plastic cup, a pipette, and biohazard bag used to ship samples to the lab. (Credit: Rob Felt, Georgia Tech)
The development of a strategy for a campuswide program able to test thousands of people each day shows how Georgia Tech can provide a complete solution to a problem from understanding the need, developing a solution, and scaling it up, said Mike Shannon, a principal research engineer from GTRI who manages the overall Covid-19 testing program.
"We took a really great idea that was developed among our professors who knew we could do this, and we've been able to establish a certified laboratory and build the whole testing program from scratch," Shannon said. "We think this is unprecedented. The process we are using, the science that we are applying to it, and the establishment of the laboratory shows why we all love Georgia Tech. Everybody has chipped in and rolled up their sleeves to make this work."
Georgia Tech leaders chose to develop a saliva-based test instead of using traditional nasal swabs for a very practical reason: they didn't think the community would undergo nasal testing at the rate that would be necessary for the surveillance program to succeed.
"The question to me is why everybody else is testing with nasal swabs," said Gibson. "They are very invasive, they're somewhat painful for some people, and they can spread aerosol."
Research shows that there's more virus in saliva, it's more uniform, and a lot easier to sample and process. There are a lot of benefits to saliva-based testing and very few downsides."
The Path Ahead
The novel coronavirus has proven to be a powerful opponent, so it's too early to predict what will happen next as outdoor activities move indoors, the traditional flu season begins, and infection rates increase in much of the United States. But in a message to the campus community headlined "Stay the Course," Georgia Tech President Ángel Cabrera commended the effort.
"I'm proud of what our community has done so far to contain infection," he wrote. "But we are just a third of the way through the semester, and this is no time to be complacent. Please stay the course — for yourselves, your friends, your colleagues, and your families. Jackets protect Jackets."
What's ahead is a topic of great discussion, as summarized by Cabrera's admonition. What's been accomplished so far has depended on a team effort involving housing, public safety, athletics, dining, facilities, environmental health, communications, and more.
"We have to encourage our community to continue the testing, continue to wear masks in public, and continue to maintain safe distances," Gibson said. "We'll be watching what is happening at other universities in the area because they may help us confirm that what we are doing is really working."
Georgia Tech will be ending fall semester at Thanksgiving so that students will not be returning to campus following traditional holiday travel. Still, as part of one of the largest metropolitan areas in the United States, Georgia Tech is affected by forces beyond its control.
"Nobody knows what will happen ahead," Gibson said. "We will continue to see cases imported from off campus. We cannot get complacent.  But we can start working toward seeing these efforts help us move back to a more normal campus life with active research and in-person classes."
García, who was part of the team of faculty who envisioned the surveillance testing program back in March, is pleased with the initiative and what it has shown about controlling Covid-19.
"Our success to date shows that comprehensive and frequent testing can help control infection and keep students, staff, and faculty safe," he said. "Our surveillance program identifies potential outbreaks early so we can take action to control and reduce transmission in combination with other public health measures. The pandemic is not over and we must continue high levels of vigilance, but what we have seen so far is very encouraging."