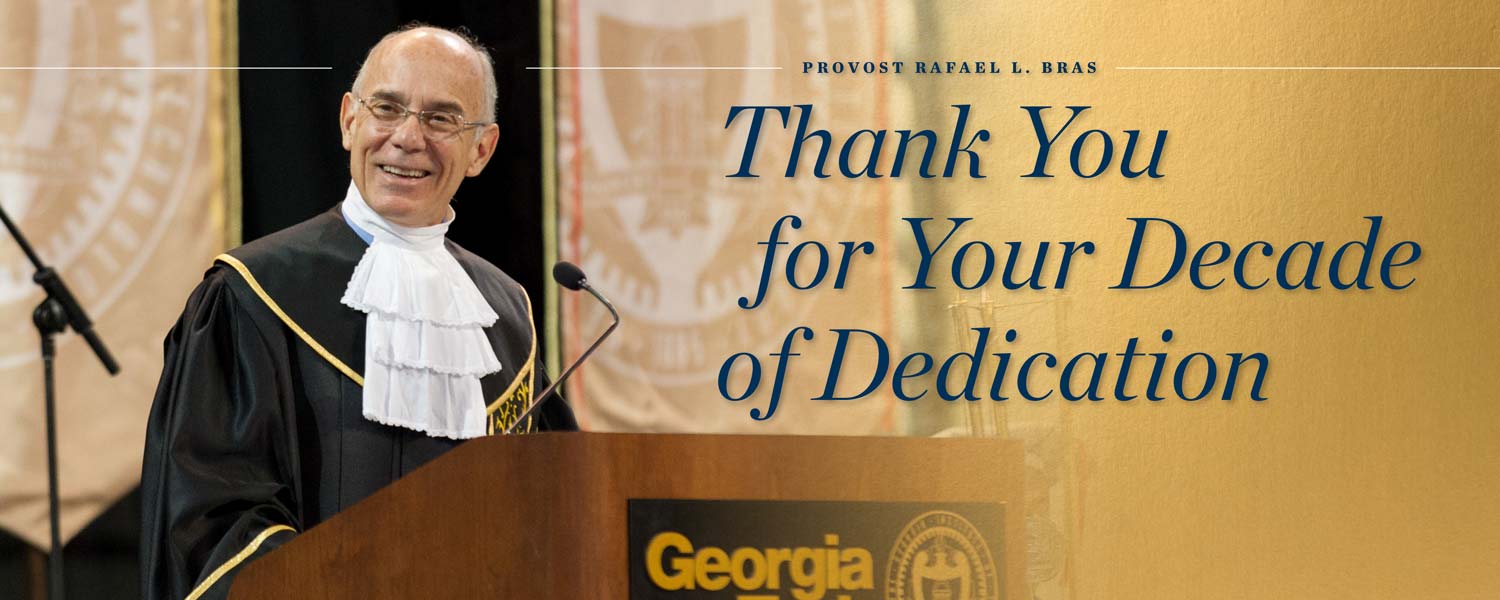 Following a decade of service as Georgia Tech's chief academic officer, Provost Rafael L. Bras will step down from his Institute-level leadership position to serve the Institute full-time as a professor.
By Susie Ivy | Published September 24, 2020
This fall marks the end of Rafael L. Bras' 10-year tenure as Georgia Tech's provost and executive vice president for Academic Affairs and the K. Harrison Brown Family Chair — a decade of service defined by some of the largest and boldest innovations in the Institute's history.
Under his leadership, Tech increased enrollment by 74% and, now, Georgia Tech has as many graduate students as undergraduates; created new degree programs; expanded cocurricular and extracurricular programs; launched Georgia Tech Arts; transformed the campus; increased international collaborations and started a new campus in Shenzhen, China; and devised new, accessible pathways to graduate education, as well as alternate educational options for learners around the world.
With access and affordability at the core of his beliefs, Bras shepherded a new institutional philosophy, driving the Institute to always seek excellence and answers to questions about future learner and employer needs. This philosophy provided the impetus for him and other Tech leaders to bring new programs and pedagogies to life.
In one of his last speaking engagements to new faculty as Georgia Tech's provost, Rafael L. Bras reflects on his 10 years at the Institute. 
Since 2011, Georgia Tech has reached more than 4 million learners across six continents through massive open online courses (MOOCs). In 2013, Tech pioneered a new path to graduate education with the Online Master of Science in Computer Science (OMSCS) program, and followed it with online master's programs in analytics and cybersecurity, enrolling thousands of learners. Then, in 2015, Bras also launched the visionary Commission on Creating the Next in Education, an Institute-wide effort that envisions and provides the pathway to the university of the future.
Additionally, Bras' time at Tech saw the transformation of the Georgia Tech Library. The Library Next initiative is a technology-focused re-imagining of the intellectual center of campus, fostering collaborative learning and research — and, ultimately, designed to create an entirely new scholarly environment at Tech for the communion of faculty, researchers, students, and staff.
Bras also passionately promoted the power of the arts to teach, challenge, and embolden the Yellow Jacket community. Because of the arts initiative, Georgia Tech is now home to a public sculpture collection that includes tributes to civil rights activist Rosa Parks, and physicist and humanitarian Albert Einstein. And in 2019, Bras worked closely with the sculptor and generous donors to design and bring to life sculptures of the Institute's first African American matriculants and first African American graduate.
Bras served with a fervent belief in leadership development, mentoring, and the power of excellent teaching. He created the Emerging Leaders Program and the Mid-Level Administrators Leadership Program, and developed a new faculty promotion and tenure process.
The results of his tireless efforts, expansive vision, and highest aspirations will be felt at Georgia Tech for years to come. Even more than that, his legacy of caring deeply about people — about our history and our future, and about our shared humanity — will never be forgotten.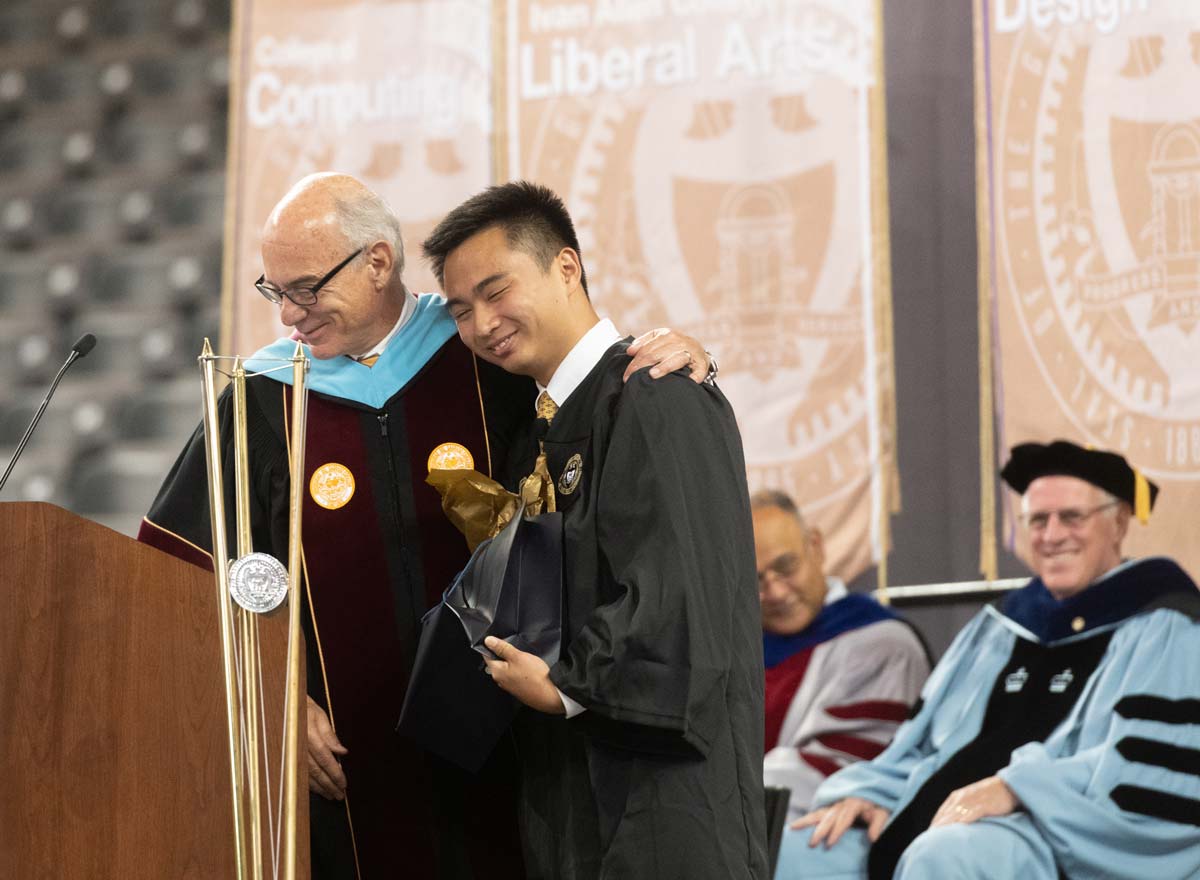 Provost Bras and Benjamin Joon-min Ahn share a sentimental moment, following the biology student's delivery of the Student Welcome address at the 2019 New Student Convocation.
Kudos for Provost Bras
Visit our Kudoboard creation to add your well wishes to this online greeting card.
Post a message for Provost Bras
---
In Celebration of Provost Bras
Students, faculty, staff, alumni, and friends gathered on Monday, Sept. 28 to share stories and memories to honor Provost Bras, as he steps down after 10 years as the Institute's chief academic officer.