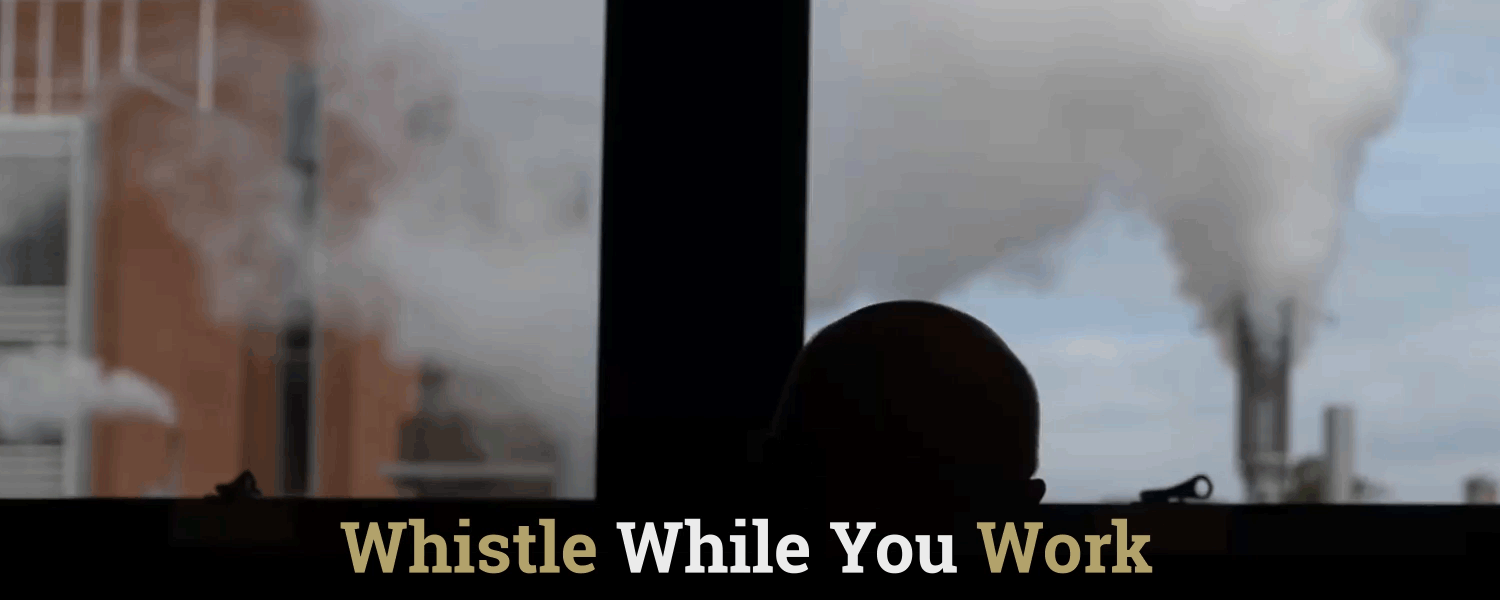 Whistle While You Work
Employees and Students
Co-Exist with the Steam Whistle
By Victor Rogers | Photos and Video by Allison Carter October 29, 2018
Georgia Tech's steam whistle cannot be ignored — especially by those in close proximity when it blows. So, for those who work or study near the whistle, how does the piercing sound affect their day?
"In theory, I should be very used to it; nevertheless, when I am in a meeting, it interrupts," said Steven Girardot, associate vice provost for Undergraduate Education. His office is in the A. French Building overlooking the whistle. "It's difficult to continue the conversation [as the whistle blows]. I have to pause, and let it go."
Steven Girardot talks about working near (and is interrupted by) the steam whistle.
Girardot said that he is cognizant of when the whistle is about to blow, especially if he is on the phone or participating in a webinar. If he times it correctly, he will either mute his phone or mute the webinar so that others don't have to hear it.
But, if Girardot doesn't mute the phone and the whistle blows, he's usually asked about it.
"The most common question I get from people outside of Georgia Tech who aren't familiar with the whistle is, 'Are you in a train station?' So, I have to explain what the whistle is," he said.
Located atop the Holland Plant, the whistle came into use around 1896 as a way to call students to their classes. It retains that purpose today.
"It can serve as a great reminder that I have class, because sometimes I lose track of time," said Jianni Adkisson, a fourth-year electrical engineering major. She often studies in the OMED study room in the Chapin Building, located next to the whistle.
"It can also be slightly disruptive, but it is only for a short period of time," she said, acknowledging that she has learned to work around the noise.
"I have grown accustomed to it so it doesn't bother me anymore," she said. "I barely notice it anymore since my first year."
The noise doesn't bother Girardot either. But, he said the interruption can come at an unwelcome moment, especially during meetings.  
At those times he thinks, "I wish we didn't have to stop this conversation and wait for that sound to end."
When meeting in his office, Girardot tries to alert guests when the whistle is about to blow.
"It's never really frightened anybody," he said, "but it does take them by surprise."
For Colin Potts, whose office is next door to Girardot's, the steam whistle makes him a little crazy, but it's still his favorite tradition on campus.
"Everybody hears the whistle, but not everybody sees it," said Potts, vice provost for  Undergraduate Education. "My office looks out on the whistle. It goes off every so often. Drives me nuts because I have to stop thinking for 15 seconds. But, I always rush to the window and have a look if I possibly can, and so should you on a rainy or foggy day because the gouts of steam are really beautiful."
Potts said he is aware that some think it's "a bit goofy" having a factory whistle at an institute of higher learning.
"But, I live in Midtown," he said, "and the whistle is like a beacon. So, it's a good thing to hear."