2013 at Georgia Tech in 20 Pictures
It's been an incredible year at Georgia Tech from viral videos to groundbreaking research that will change how we see the world. We've chosen 20 images from the thousands shared on social media and our website to craft this look back at 2013, Yellow Jacket style.
January
1. Our President Juggles, Too!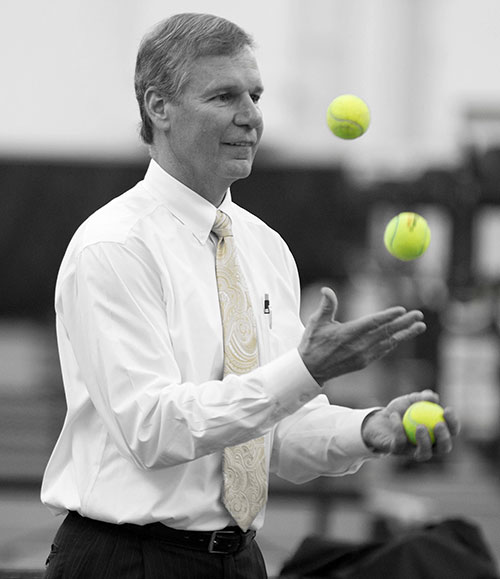 Dr. G.P. "Bud" Peterson surprised us with this secret talent at the grand opening of the new Ken Byers Tennis Complex on campus.
2. Honoring Legacy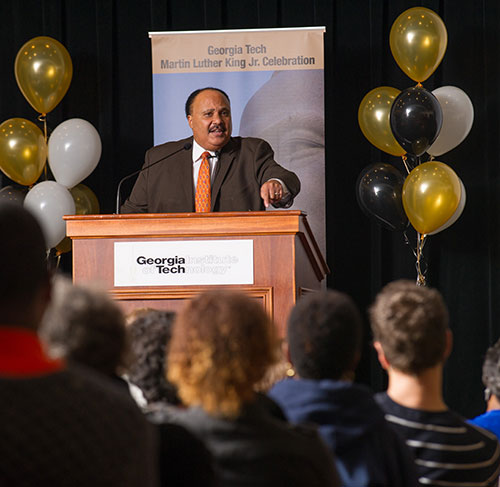 Martin Luther King III, the oldest son of Dr. Martin Luther King, Jr., addressed a packed room for Georgia Tech's annual MLK Lecture. "We've got to find a way to lift up the best in our nation," King III said.  
February
3. Home of Helluva Engineers
In the same month we celebrated National Engineering Week, Georgia Tech was ranked the #8 Engineering School in the world by the Academic Ranking of World Universities.
4. Innovation At Its Best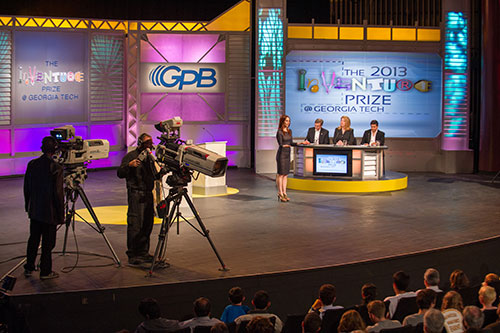 It's like American Idol for inventors. Mechanical Engineering student Christopher Taylor won the 2013 InVenture Prize for his Chewbots, a line of fully automated robotic toys for dogs.
March
5. Picture Perfect Spring
On the first day of Spring, Tech Tower provided a fantastic photo op.
April
6. Celebrating a Civil Rights Icon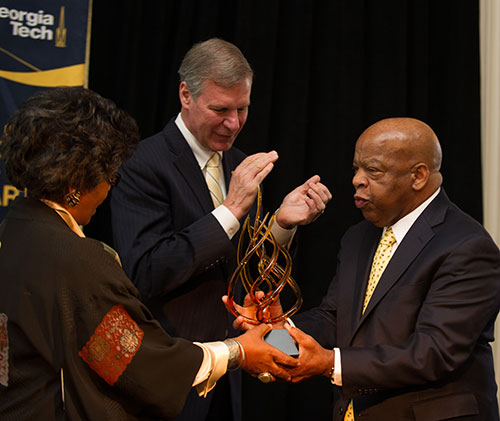 Congressman John Lewis wins the 2013 Ivan Allen, Jr. Prize for Social Courage.
7. I'll Take Awesome Yellow Jackets for $1,000, Alex.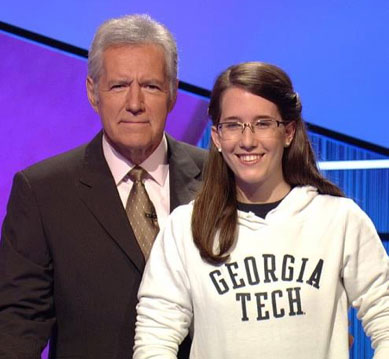 Senior Biology major Kristen Jolley had an incredible run in the Jeopardy! College Tournament, making it all the way to the final three and winning $25,000.
May
8. Engineered Art
Fifteen thought-provoking sculptures were installed across campus. The art represents some of the world's most recognizable contemporary sculptors and had many students and guests stopping for a second look.  
9. Best Feet Forward
Former Miss Georgia Tech Jasmine Lawrence showed style in a custom-made pair of Georgia Tech pumps at May Commencement.
June
10. GT on the Big Screen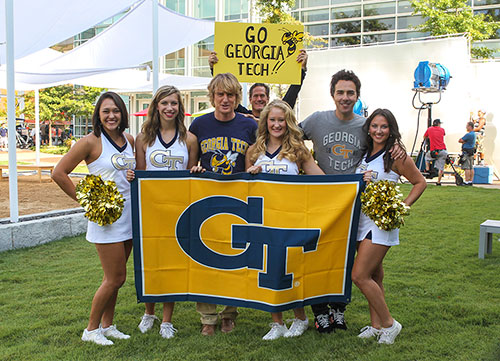 The feature-length film The Internship, starring Owen Wilson and directed by Shawn Levy, premiered. Georgia Tech played the scene-stealing role of Google Headquarters.
July
11. Short for Summer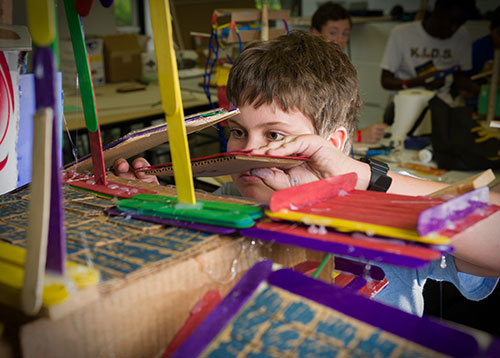 During various Summer Camps at Georgia Tech, pint-sized future engineers built and launched satellites, developed smartphone apps and constructed search and rescue robots.
12. Mini Mona Lisa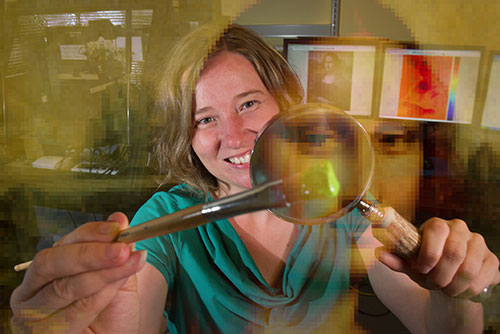 Georgia Tech researchers, led by Jennifer Curtis recreated the iconic image on the world's smallest canvas. The masterpiece was only one-third the width of a human hair.
August
13. We Can Do That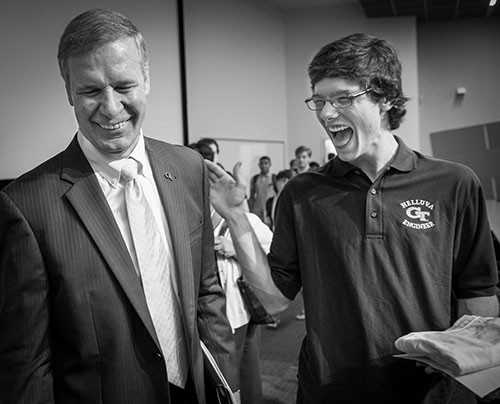 After delivering a speech that generated millions of internet hits, sophomore mechanical engineering student Nick Selby became quite a familiar face on campus.
14. 70-0 to Start the Season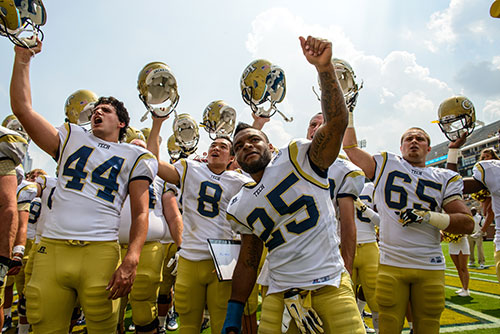 The Yellow Jackets defeated Elon 70-0 in their first game, setting a new ACC record for margin of victory.
September
15. Keeping it Relative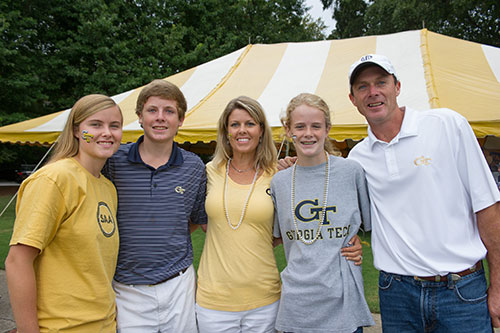 Nearly 2,500 visitors joined us for Family Weekend.
October
16. Shedding New Light on Atlanta (and Beyond)

Georgia Tech's new Carbon-Neutral Energy Solution Lab officially opened. The CNES is looking for ways to slash the cost of gathering and producing solar power and other forms of alternative energy.
November
17. Pedal to the Metal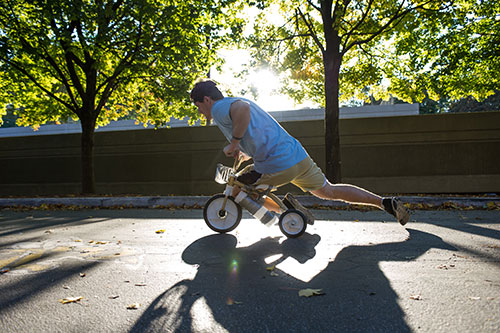 The Homecoming Mini 500 tradition continued. Tricycles going faster than ever imagined thanks to some creative engineering.
18. Dogs not Dawgs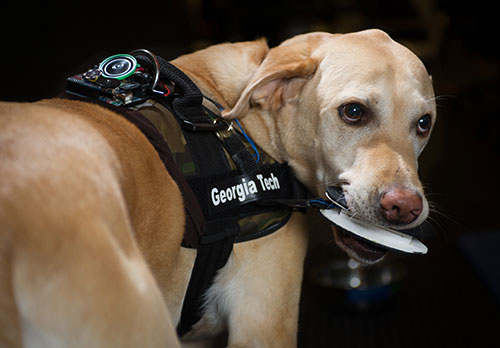 The mention of dogs might raise some hairs at Georgia Tech, but our researchers have developed a vest that will allow the animals to essentially "talk" with the handlers using a bite or tug on trigger devices.
December
19. A Leader Lost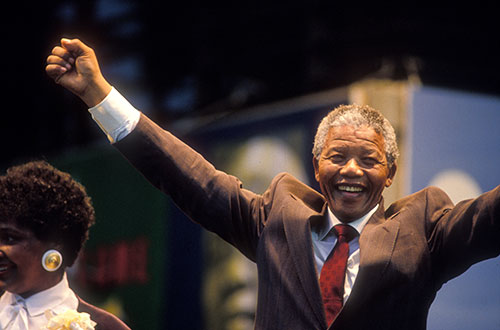 Georgia Tech remembered the life on Nelson Mandela. The Nobel Prize winner came to Georgia Tech only months after being released from jail in 1990 to accept a Human Rights Award and speak to a standing-room only crowd at Bobby Dodd Stadium.
20. Thumbs Up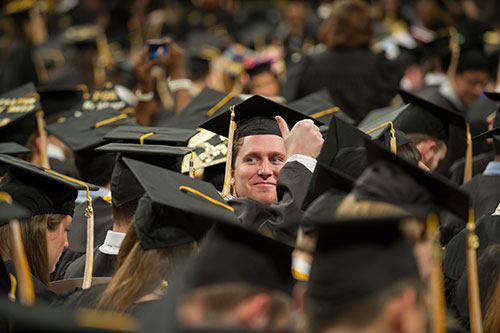 Georgia Tech celebrated its 246th Commencement.
Writers: Steven Norris, Matt Nagel
Photos: Rob Felt, Steven Norris, Danny Karnik