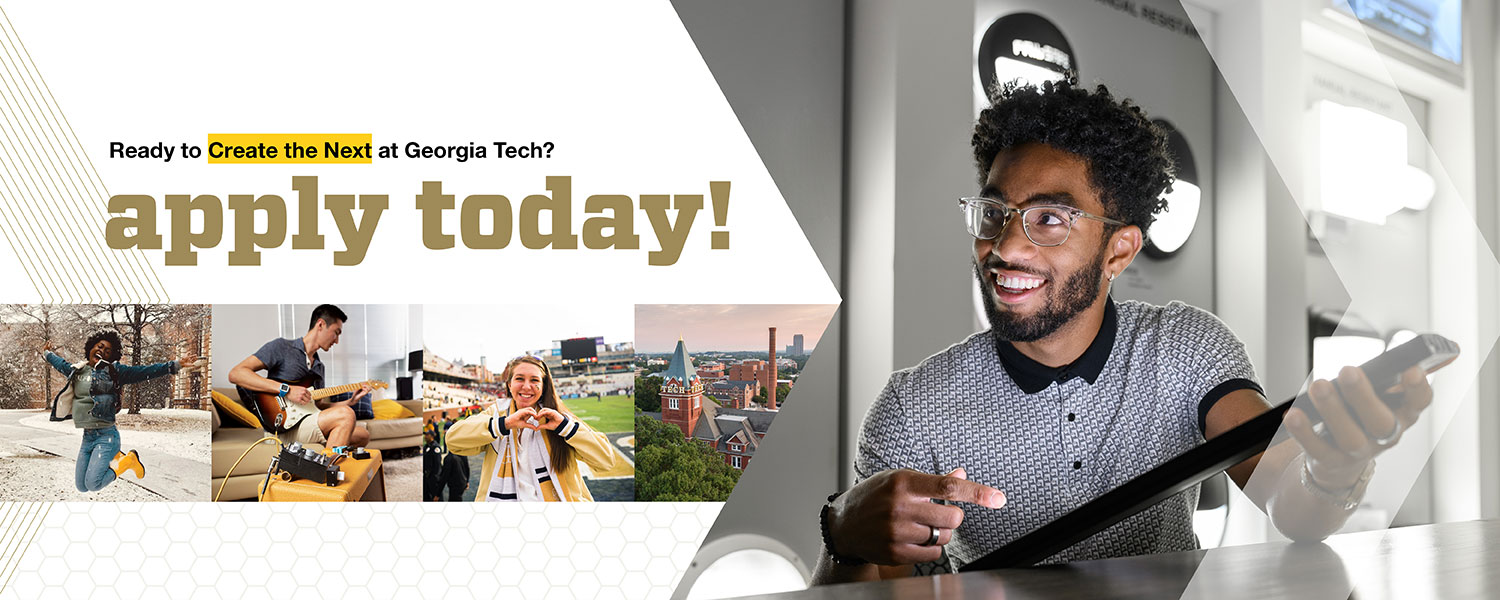 Admission Tips
Updated: August 2020
As you prepare your college application, check out these helpful application tips from our admission counselors.
Ready to apply now? Georgia Tech's application for first-year admission is now open.
Top 6 College Application Tips
Do your homework.
Check out our first-year student profile and refer to the Georgia Tech Admission Blog for insights and tips about the undergraduate admission process.
Pick a deadline.
Beginning with the 2021 application cycle, Early Action will be divided into two rounds. This change allows us to focus on Georgia students earlier in the process and is more in line with school start dates in our state versus other parts of the country.
Early Action 1
The October 15 application deadline is reserved for Georgia students — defined as those who attend a Georgia high school, or Georgia residents living outside the state.
Early Action 2
The November 2 application deadline is reserved for non-Georgia students — defined as those who attend a high school outside Georgia (including internationally) and are not Georgia residents — who wish to be evaluated during Early Action. 
Regular Decision
January 4 is the last date to apply for first-year admission for the following summer/fall term. The application and evaluation are the same as for Early Action.
Upload an unofficial high school transcript.
When evaluating your application for first-year admission, we are very interested in understanding how you stretched and challenged yourself relative to the curriculum available at your school. Georgia Tech is looking for students who demonstrate intellectual curiosity and aren't afraid of a challenge! You may upload an unofficial high school transcript via your admission portal after application submission. Only if you are accepted and choose to enroll at Georgia Tech will you be required to submit an official, final high school transcript.
Tell us about all of your test scores.
You may self-report standardized test scores on your application for us to use in file review. We will consider self-reported scores listed in your application testing section. We provide a form in your admission portal to self-report scores after you submit your application. We will not use scores received via email, fax, or the postal service.
Let us get to know you.
In the "Contribution to Community" portion of the application, we are most interested in learning what you are passionate about. We value the different interests our students bring to Georgia Tech.
Don't rush.
Give yourself plenty of time to write and polish your essay. And build in time to get a parent, teacher, or friend to look at it with a fresh eye. Review this year's essay prompts.
5 Reasons to Apply to College During Early Action
You'll find out faster.
If you're a Georgia student who applies by October 15, you will get your decision by mid-December. If you live outside of Georgia and apply by November 2, you'll get your decision by early January.
The criteria are the same.
The Early Action application is exactly like the Regular Decision application, and we will make our admission decision based on the same factors.
You'll be considered for competitive programs.
Students who apply early are eligible for consideration for certain programs such as the Stamps President's Scholars Program and the Scheller College of Business Dean's Scholarship.
If deferred, we'll read your application again.
And you can update us on your fall grades and activities.
There's nothing to lose.
Early Action is not binding, and you will have until May 1 to decide whether or not you want to attend Georgia Tech.
How to Write an Awesome College Essay
Start early.
Don't wait until the day before the application deadline to write your essay. Take time to choose a topic and formulate the content of your essay.
Be authentic.
Write about a topic that's personal to you and specific to your life story. Think about your passions in life and what excites you. When you can feel yourself "get into" what you're writing, you'll know you've found your topic. Still stressed out over what to write about? Read this blog by our director of Undergraduate Admission: College Admission Essays: I've Heard That One Before…
Stay on topic.
When you review your essay, be on the lookout for tangents. The points you make and details you include should relate to your main topic.
Show rather than tell.
For example, instead of simply saying, "I am active in my community," describe things you have done to serve your community.
Proofread, then proofread again.
Grammar and syntax are important. Write your essay in a document editor (such as Microsoft Word) so that you can easily make edits and changes to your copy. Also, read it aloud. That's a good way to pick up on typos and awkward phrasing.
Don't overlook the supplemental essay.
This small essay packs a big punch in the admission process. Check out the Georgia Tech Admission Blog for tips on making your short essay stand out.
The Right Way to Email a College Admission Counselor
Do your research.
Check out the college's admission website before hitting "send." Most colleges have a wealth of information available on their admission sites. Examples include admission requirements, application deadlines, scheduling campus visits, and what majors are offered at the school.
Vet your email address.
Admission officers notice email addresses that are less than professional. If your current address is more cutesy than professional, you may want to consider creating a new account specifically for the college search process.
Target your audience.
Be sure you're sending your message to the correct department, and also to the correct school.
Include your name and where you're from.
There are times your message might be redirected to your specific admission counselor, and counselors are often divided by geographic location or by last name.
Don't send personal information via a general email account.
If you're asked to submit information such as your Social Security number or a copy of your passport, call the admission office and ask for a specific address for a staff member, rather than sending your personal information to a general email account.
Remember spell check and grammar check.
These are effective tools that do make a difference.
Be polite and appreciative.
A respectful, courteous attitude will get you much further than being arrogant, pushy, or demanding. Be respectful, and it will motivate the person on the other end of the message to go the extra mile for you!
College Admission Tips for Parents
Read the Georgia Tech Admission Blog.
It offers a wealth of information, insights, and tips about the undergraduate admission process.
Pay close attention to all application deadlines.
Make sure your student submits all required documents.
Fill out financial aid forms, which are required for scholarships, grants, and loans, early!
All financial aid documents are available starting October 1. The priority deadline for consideration is January 31.
Offer decision support.
If your student is accepted at several schools, making a final decision as to which one to attend can often be stressful, so your role in the process is critical. Here are some ways to help your student make this decision:

Start with an old-fashioned pros/cons list.
Be realistic about college costs and what your family can afford.
Explore all options for financing your child's education.
Take one last visit – you and your child will likely see the college through a completely new lens.

Secure your student's spot.
May 1 is the deposit deadline by which many schools across the nation, including Georgia Tech, expect to know whether an accepted student will attend. Be sure to pay your admission and housing deposits by this date.