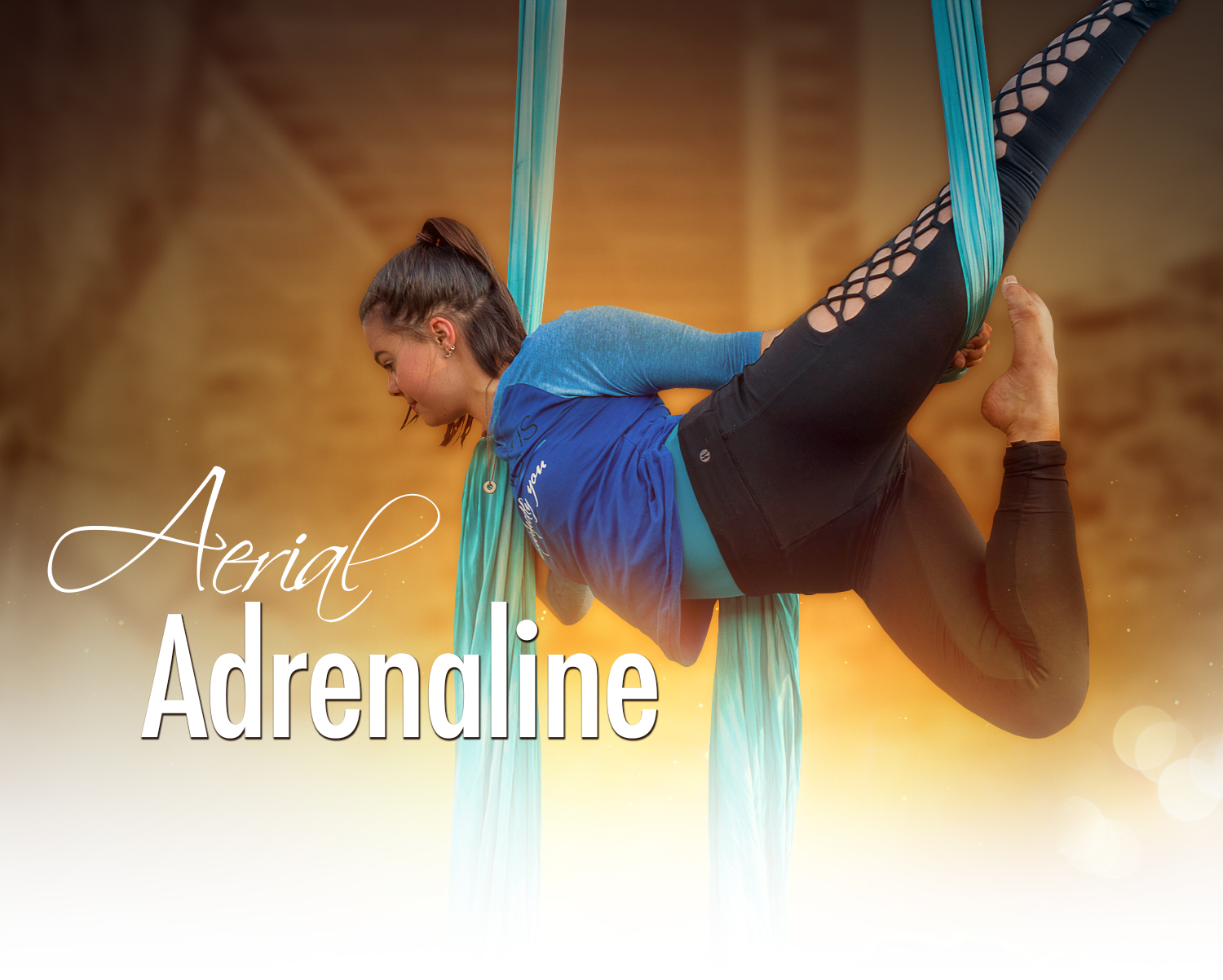 Aerial Adrenaline
By Brice Zimmerman | Published March 27, 2018

After an hour of performance demonstration followed by a 25-minute video interview, Harper Doherty is asked if there is anything she'd like to add.
She thinks for a moment.
"Running away with the circus is always a viable option."
She laughs and begins to break down the equipment from her on-campus training session.
Doherty is in her first year at Georgia Tech, but she's no stranger to a university setting. At age 14, after being homeschooled in Canton, Ga., Harper dual-enrolled at Kennesaw State University to begin taking college courses. Now 17 years old, she is a junior by credit hours and on track to earn a degree in May of 2019.
"I'll be 18 when I graduate next spring," she says. "I'm a biology major. Currently, I want to specialize in sports medicine."
The interest in a sports medicine career path stems from Doherty's experience as a performer. She is an artist on the aerial silks.
A relatively new apparatus to circus entertainment, aerial silks are sheets of fabric suspended as high as 25 feet in the air. Aerialists perform climbs, wraps and drops. The silks are prominent in the circus and can often be seen during Cirque du Soleil shows.
Harper, a gymnast at the time, was drawn to the silks after a chance discovery on social media.
"I was really bored one day," she recalls. "I was going through Instagram finding fun things. I was training [on] aerials, which is a flip in acrobatics."
Doherty stumbled across the aerial silks and was mesmerized.
"I found it and I was like, 'Oh my goodness, that looks amazing. I have to try that.'"
She searched locally to find a place to learn and joined a two-person class in a warehouse in Alpharetta. As the tiny circus school began to grow, Harper became one of the senior company members. Now, she represents Akme Instant Circus, a division of Akrosphere Performing and Circus Arts in shows across northern Georgia… and Las Vegas.
With the company, Harper has traveled to Nevada each of the last two years to compete in Viva Fest, an international variety act festival. She got a taste of the big time.
"We experienced a circus community that is built up," says Harper with an excited smile. "Vegas has such a big circus community and Atlanta is tiny."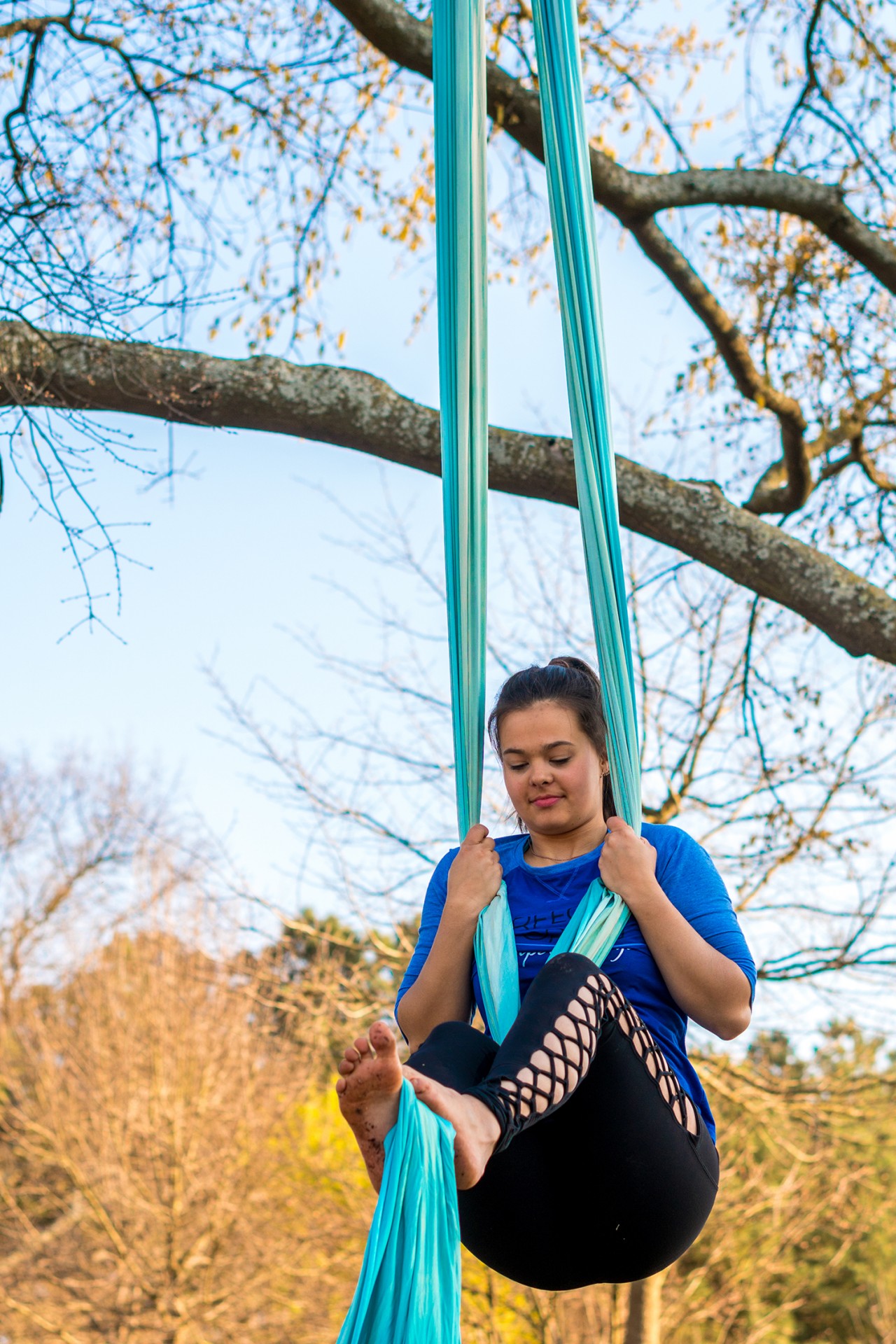 Despite going to college classes at the same age as a high school freshman and hanging 25 feet in the air in front of a live audience of hundreds, Doherty still had jitters when moving to Georgia Tech's campus. She leaned on the experience of a familiar alumna, her mother.
"I was inspired by the fact that she came to Georgia Tech," Harper remembers. "I may or may not have had my mom walk me around."
Georgia Tech was the only school to which Doherty submitted an application. She wanted to stay in-state because of her age, but also notes the opportunities Tech will afford her on a pre-med track and a burgeoning community of on-campus creatives who have taken notice of her training sessions.
"I've begun to find people that are dancers, gymnasts," she says. "People come out of the woodwork when they find out you are an artist because it is nice to have that little community."
"The artistic side of Tech is huge, it just hides a little bit."
For Harper, the aerial silks offer an opportunity for relief from academic rigors. She uses training sessions to clear the mind and hit refresh.
"If I'm swamped and I don't know what to do, I come and break out my silks," she says. "The adrenaline is great for stress."
Rejuvenated, Harper packs up her gear and heads off as the early evening sun dips behind the brick buildings on west campus. She has a test tomorrow. In the circus or at Georgia Tech, the show must go on.
---


Credits
Writer: Brice Zimmerman
Design: Brice Zimmerman
Videography: Brice Zimmerman, Steven Norris
Photography: Yash Tulsiani