by Stacy Braukman | Published September 30, 2019
From design to quality control, from logistics to marketing, Georgia Tech graduates are making their mark on the ever-expanding brewing industry — in Atlanta, across Georgia, and around the country.
Particularly here at home, craft brewing is a huge growth industry and economic boon, thanks in no small part to a law that went into effect in 2017. For the first time, Georgia breweries and distilleries were able to sell directly to both onsite and offsite consumers. The impact has been felt from Atlanta to every corner of the state as new craft breweries, microbreweries, and brewpubs open their doors.
Although these engineers, entrepreneurs, and industry advocates come from different backgrounds and followed disparate academic and professional paths, they all agree that Georgia Tech gave them the skills and the confidence to follow their dreams.
It just so happens that those dreams are best served from a tap.

Roxanne Westendorf, ChE 1981
The Brewers Association Board
Cincinnati, Ohio
"It was an interesting time — with professors who were more open to women, and some older professors who didn't understand why we wanted to study engineering."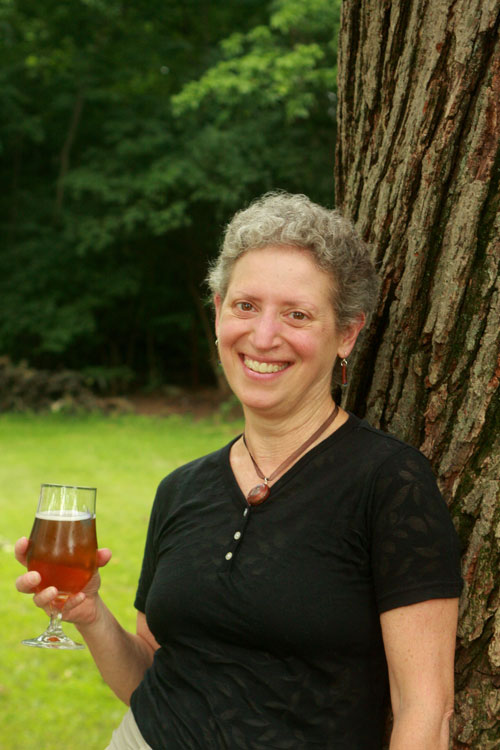 Roxanne Westendorf turned a hobby into a second career as a brewer and an advocate.
As a young woman at Georgia Tech in the late 1970s, Roxanne Westendorf embraced the possibilities. She was a FASET Orientation leader, sorority member, and a fan of Tech athletics. "I learned how to approach and solve problems. That's what Tech engineering is all about. I also learned how to be on my own, and how to make new friends who were different from me. (I grew up in a very small town.)"
After graduation and 31 years at Procter & Gamble, Westendorf turned what had been a casual hobby into a new career.
It began when she and her husband received a homebrewing kit from her brother as a Christmas gift. Turns out Westendorf had a knack for brewing beer.
In retirement, she started working in a brewery taproom in the Cincinnati area. Unlike traditional bar work, taproom work includes a significant educational component: explaining the beers, helping people find what they are going to like, and teaching them about the brewing process. She also made some small, homebrew-sized batches for sale in the taproom.
Now Westendorf works with area breweries on local events and hosts demonstration brews for National Homebrew Day and for Cincinnati's Brewing Heritage Trail.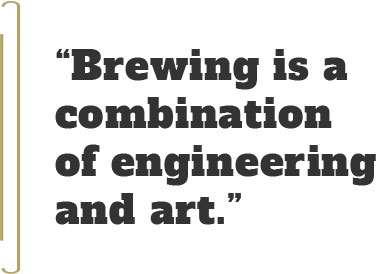 Since 2008, she has served on the American Homebrewers Association governing committee, and she was recently elected to her second term on the board of directors of the Brewers Association, the trade association for small and independent craft brewers whose mission is to "promote and protect American craft brewers, their beers, and the community of brewing enthusiasts."
In her spare time, she serves as a Master Level Beer Judge (through the Beer Judge Certification Program) and president of her local homebrew club.
"Brewing is a combination of engineering and art," she says. "My engineering background makes it very easy to understand the technology (equipment, chemistry, and biology) of the brewing process. The art part is really the creative design that goes into recipes, much like cooking. But so much of the brewing process, at both the professional and homebrewing level, is engineering and science-based." 

Smith Mathews, MGT 2009,
and Carly Wiggins, MGT 2010, ID 2010
Southbound Brewing Co.
Savannah, Georgia
Southbound co-founder Smith Mathews does double duty as brewmaster and managing member. But really, he says, his job "includes anything from plumber to accountant. I oversee all of the production and product development while managing the overall business and its many facets."
Smith Mathews puts his problem-solving skills to work on a daily basis at Savannah's Southbound Brewing Co.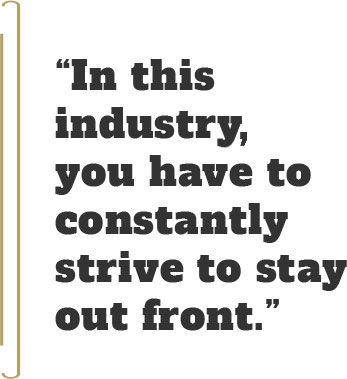 As a Georgia Tech undergraduate, he had a part-time job at a local Atlanta brewery. It was initially just a job with some friends, but it quickly turned into a passion for the product and the industry itself.
"Tech taught me how to solve problems," Mathews explains. "This became especially handy when running a company with limited resources. I also learned how to evolve and how to be innovative. In this industry, you have to constantly strive to stay out front. It requires constant research and development, something Tech is well known for."
Did You Know?

Hops are flowers produced by a plant called humulus lupulus, which means "wolf in the weeds." Different varieties provide a range of bitterness and aromatics — but they all have antibacterial properties that help keep beer fresh. 

He adds, "Georgia Tech not only teaches you, but it also shapes the way you think. It made me analytical, innovative, and discerning. Those attributes are what enable us to overcome our daily business challenges and turn them into opportunities."
Carly Wiggins, co-founder and former marketing and sales director of Southbound Brewing Co., started working at Atlanta-based SweetWater Brewing as a Tech undergraduate. "I really fell in love with the industry there. It was an experience I will forever be grateful for." Whenever possible, she tried to steer her school projects to focus on the beverage manufacturing industry.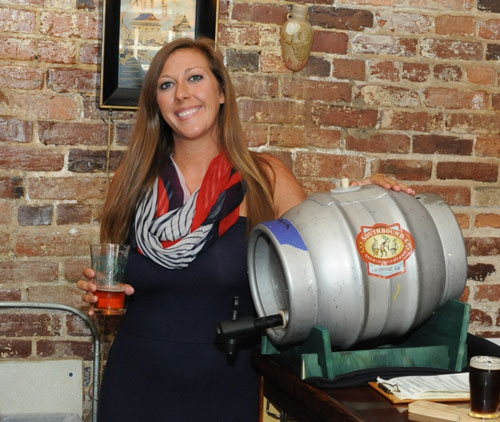 Southbound co-founder and former marketing and sales director Carly Wiggins is making her mark in the beverage industry in the Southeast.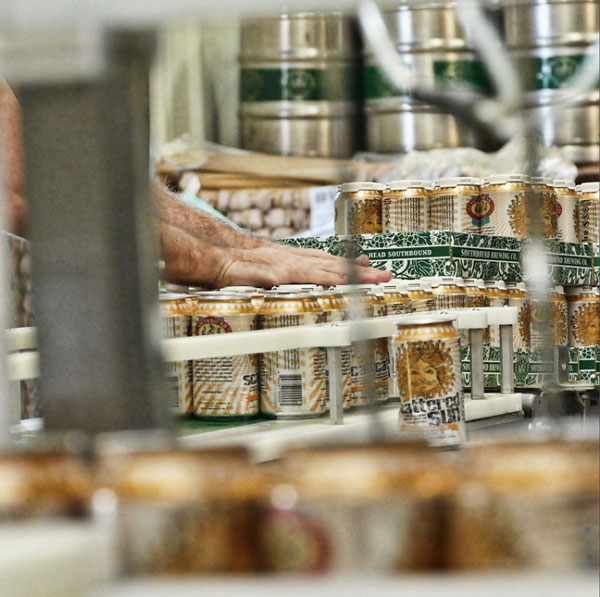 Southbound, which opened in 2013, is Savannah's first production microbrewery.
After graduation, Wiggins moved to Mount Pleasant, South Carolina, where she joined her friend Smith Mathews at a startup brewery. "We set up front and back of house for them, and that's when we knew we were both in it for the long haul," she says. Mathews had long aspired to run a brewery. "He invited me to join in on planning our own place, Southbound, in early 2012. And now — here we are!"
As marketing and sales director, she managed the sales team as well as distributors across multiple states. And she handled all federal and state government compliance for any Southbound products going into the market. This year, she left to join United Distributors, the largest alcohol beverage wholesaler in Georgia and Alabama.
She has no doubt that the classroom environment at Tech prepared her for a career in beer, and beyond. The intense, demanding curriculum forced her to learn how to manage time effectively and complete the task at hand, no matter how challenging. "It absolutely translates into what I do now."

Bailey O'Leary, EnvE 2011,
and Brendan O'Leary, ChBE 2011
True Respite Brewing Company
Rockville, Maryland
At Georgia Tech, Bailey O'Leary majored in environmental engineering and minored in meteorology. As an undergraduate, she worked in two labs, traveled to India for a conference with the support of the Joe S. Mundy Global Learning Endowment, served as a FASET Orientation leader, and joined a sorority — all while working part-time.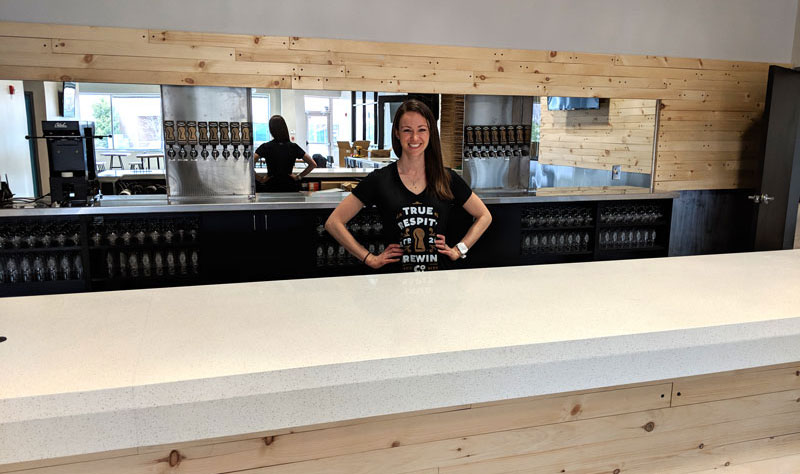 At True Respite, Bailey O'Leary and her husband Brendan have forged the perfect combination of science, strategic thinking, and creativity.
Like many in the brewing industry, O'Leary started out as a homebrewer. After graduating, she "suddenly had much more free time. And I loved the scientific side of the process."
She also loved the creative side of beer. But what really inspired her to get into the industry was the community. She and her husband, fellow Tech alumnus and engineer Brendan, moved to Denver — a hotspot for craft brewing in the U.S. — in 2012. She'd been working in the oil and gas industry, but she wanted a job where "I could help put a smile on people's faces and see firsthand people enjoying the product I provided."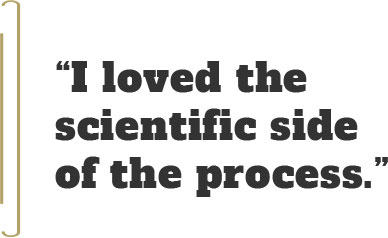 One day, "feeling particularly burned out from my consulting job, Brendan and I sat down and made some lists. Separately, we identified our strengths, weaknesses, and what we wanted out of our careers. We numbered everything and quantified our selections, as any good engineers would do. We discussed what we had written, and it could not have lined up more perfectly with opening a brewery of our own. That was in 2014, and we decided to go for it."
The doors of True Respite Brewing Company in Rockville, Maryland, opened in the spring of 2018.
Bailey oversees or has a hand in almost every aspect of the venture, from the taproom, HR, and events to strategic planning, community partnerships, and retail sales. And there is always cleaning to do. A lot of it.
"Georgia Tech taught me so much," she says. Not just about microbiology and lab equipment, physics and chemical reactions, but also "how to think strategically and logically, to problem solve in a way that really leads to making the most effective decision."
Did You Know?

The alcohol in beer comes from grain, usually barley, which is malted (or allowed to germinate) and then steeped in water to extract its sugars. Yeast — or fungi — feed on the sugars and excrete alcohol. Cheers!
For both Bailey and Brendan, the Institute "holds a special place in our hearts. We selected white and gold as our business' primary colors in honor of Georgia Tech. And our graphic designer included a yellow jacket icon in our branding."
Homebrewing began as a hobby for Brendan O'Leary while he was doing a co-op with Honeywell in Richmond, Virginia, in 2008. For the first time as a college student, he had some spare cash and spare time. He used both to buy and experiment with homebrew equipment, and "immediately fell in love with beer design and brewing." After touring a local Richmond brewery, O'Leary promised himself he would open one of his own someday.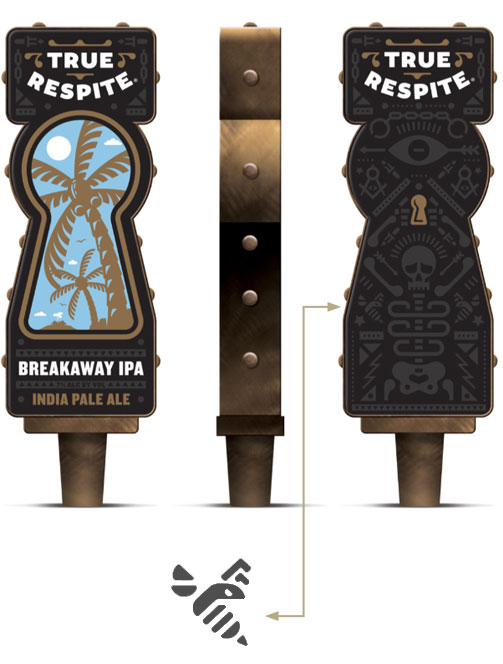 The brewery's branding includes a subtle yellow jacket icon — in this case, on the back of the tap.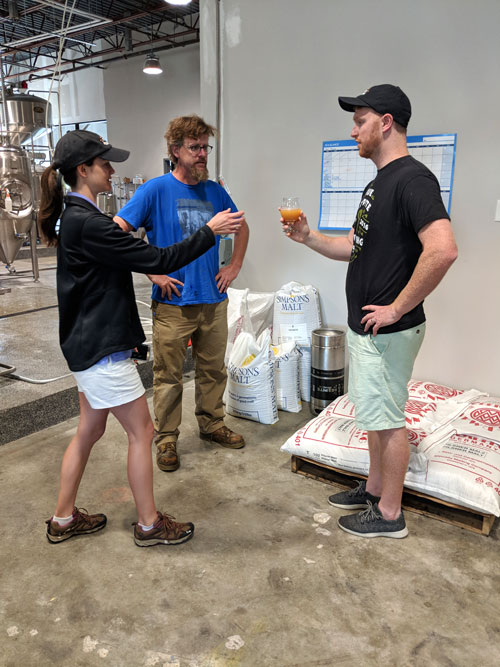 An impromptu taste test in True Respite's production facility.
A chemical and biomolecular engineering major, club hockey player, and rock and roll musician, Brendan found friendships and experiences at Georgia Tech that he calls "some of the most valuable, important, and lasting in my life. I may not have been the stereotypical Tech student hellbent on a 4.0, but I wouldn't change a thing."   
After graduating, he spent five years gathering professional experience in operations, design, and project management as an engineer. From a catalyst manufacturing plant to mining and refining, and finally to developing new technology for a "green" oilfield, Brendan was in search of something that would free his creative side.
At the same time, the oil industry was experiencing layoffs due to low commodity pricing, and his entire department was eliminated, including Brendan's job. Because he had seen the writing on the wall for a while by that point, he and Bailey had already started planning their own business — a brewery.
The couple moved to Virginia to live with Brendan's parents while they completed the fundraising and design for their brewery. Construction in Rockville began in December 2017, and the ribbon-cutting happened five months later — and even Maryland's governor was there to celebrate.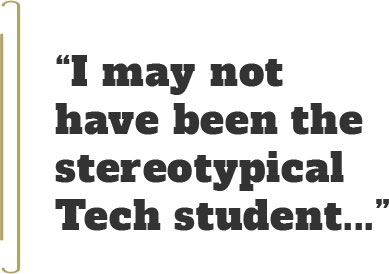 The O'Learys share the marketing responsibilities, but Brendan's primary role is running sales and distribution for True Respite. He also serves as the treasurer for the brewing industry's state-level political action committee.
Like so many others, Brendan is effusive when he reflects on his years at Georgia Tech. "It taught me perseverance in the face of adversity. Patience. Organizational skills. Critical thinking and problem-solving skills." His engineering degree, co-op experience, and professional experiences gave him the practical skills to help establish and run a brewery.
And, like the others, the rest was all heart.

---
CREDITS
Photography: Allison Carter
Video: Troy Robinson, Micah Eavenson, Maxwell Guberman, and Adam Karcz
Writer: Stacy Braukman
Design: Monet Fort
---