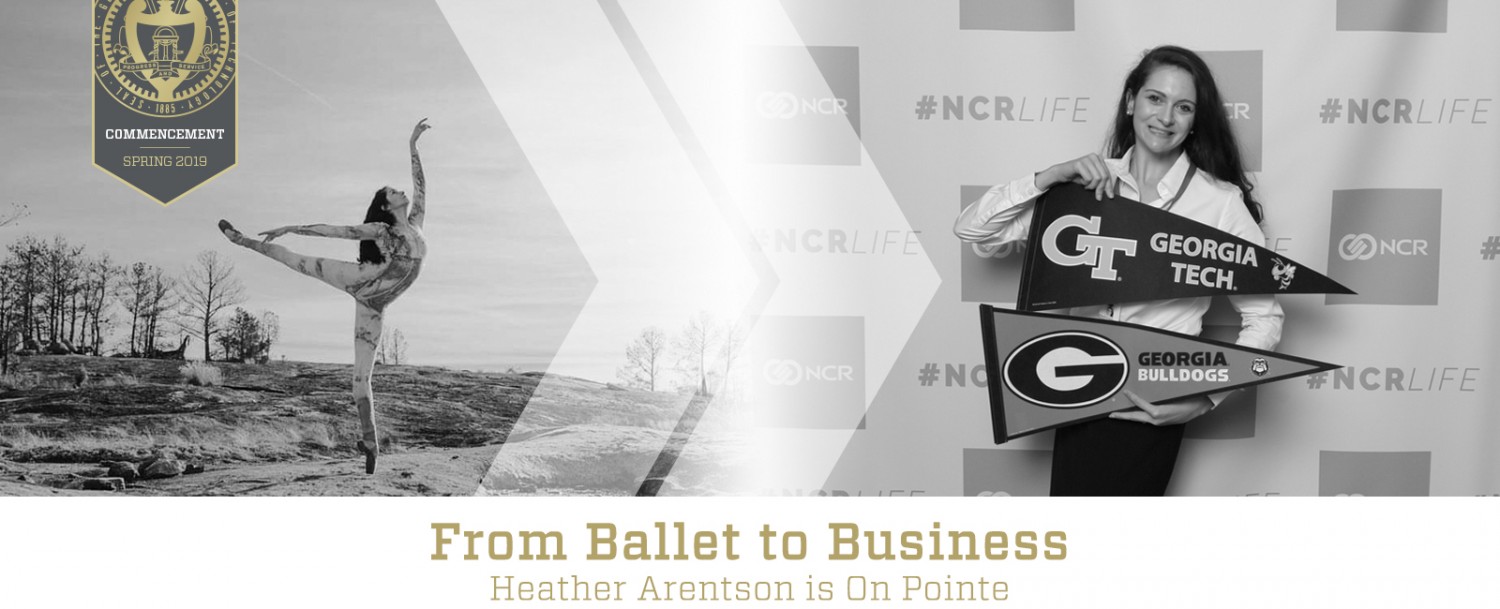 By Victor Rogers | Video by Steven Norris April 30, 2019
A Venn diagram of ballet and business analytics would find Heather Arentson positioned firmly in the intersection. The former ballerina is graduating this spring from Tech's Online Master of Science in Analytics program.
"As I was looking to transition out of my ballet career, I knew I needed to go back to school and that I wanted to study something technical with broad, real-world applications," Arentson said. "Analytics fits this bill perfectly."
Arentson talks about her life and career transition.
Her path from ballet to business analytics has been filled with the emotional highs and lows worthy of the stage. As a child, she was inspired to skate by figure skater Tara Lipinksi, the 1998 Olympic champion. She switched from skating to ballet at age 15, which is late to begin studying dance.
"I was 15 and taking 'intro to dance' classes with 8-year-olds," said the Atlanta native.
Arentson danced throughout high school, then she went to the University of Georgia where she majored in environmental engineering. After earning a bachelor's degree in 2013, she moved to Washington, D.C., and was planning to go to law school. She worked in a congressman's office as an agricultural policy fellow.
"I realized pretty quickly that politics was not going to be the career path for me," she said. "It wasn't what I expected it would be. So, I moved back to Atlanta and reevaluated my life."
Arentson began working for a small environmental consulting firm. She also started dancing again­­ — initially just for fun. She had danced a bit in college, but she didn't take any dance classes. After having a few local dance performances, she decided to start serious training again to go on the audition circuit to see if she could make it as a professional dancer.
"The ballet world, when compared to any other employment process, is just absurd," she said. "The dance companies hold auditions whether they have any open spots or not. So, the dancers are paying to travel to auditions, and paying audition fees. And, if the audition is held over several days, they're also paying for housing."
In 2015, Ballet Palm Beach offered her a one-year dance contract, and she took it.
"I was very blessed to have a spot open for me," Arentson said. "But that first season, I found out that company life was not for me. Ballet is a beautiful art form, and I love it. But, a lot of the themes that are portrayed in the movies about ballet companies or dance, in general, are not that far from reality. The tolerance for abuse is far too high. I love dance but not enough to sacrifice my health and well-being. So, I needed to get out."
Arentson returned again to her home base of Atlanta. She was offered ballet contracts in Maryland and Florida but turned them down and decided to freelance. She did some commercial work for ESPN, Resurgens, and others, while still working for the environmental consulting firm. At the same time, she was thinking about going back to school.
"I felt like I needed some technical skills," she said. "I had heard about Tech's online master's in computer science degree. Then, Tech announced the online master's in analytics [an interdisciplinary partnership between the College of Engineering, the College of Computing, and the Scheller College of Business]. I thought: 'This is perfect.' So, I applied and was accepted into the inaugural class of the program. I didn't have a resume that showed a clear trajectory to this path. I felt really blessed that Tech was taking a chance on this ballerina that wanted to do data."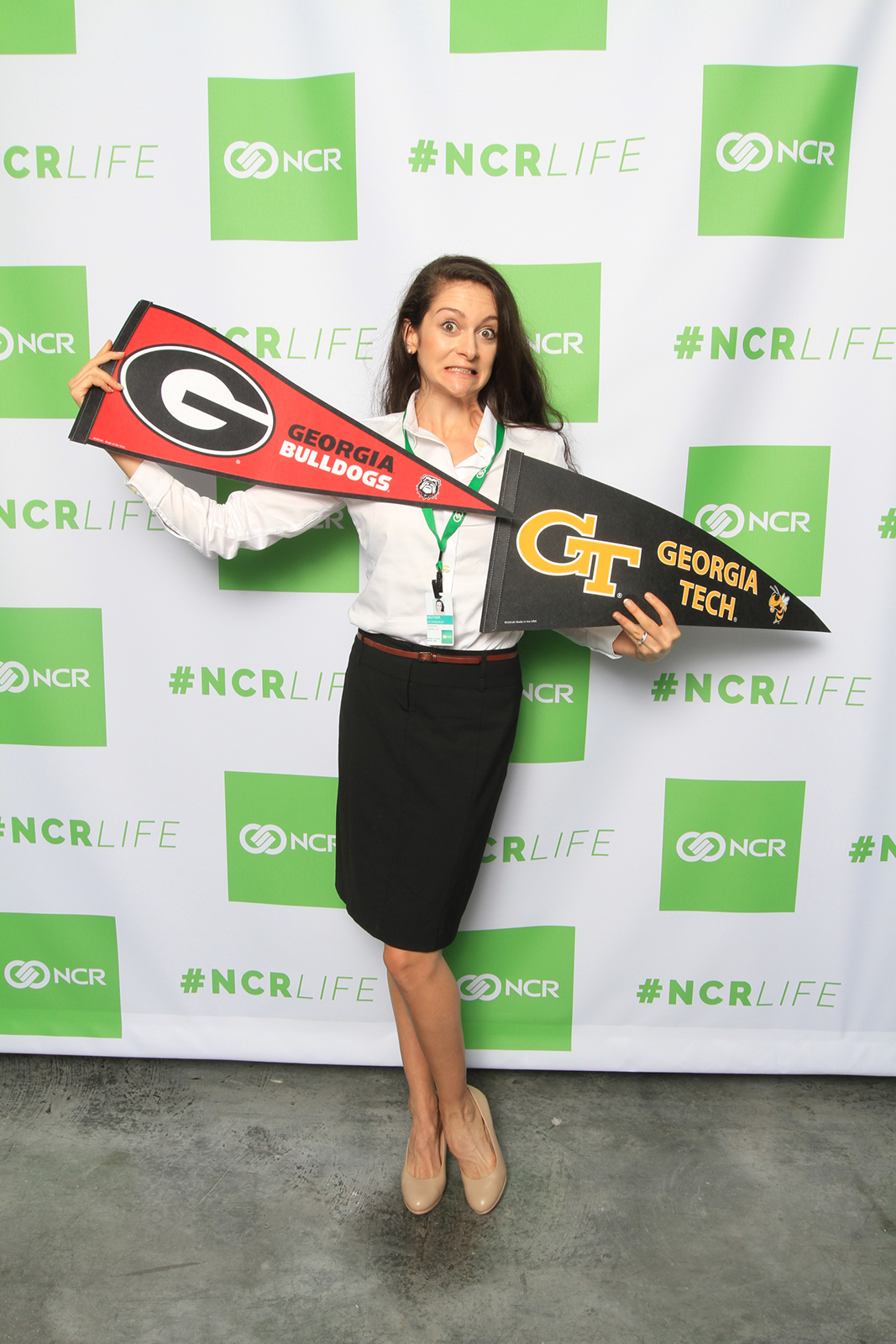 Arentson with pennants from her dueling alma maters.
"I am doing the business analytics track, so a lot of my electives are management courses," Arentson said. "There are core requirements in computing, systems engineering, statistics, and other areas."
Arentson is finishing the program ahead of schedule. She is going to work for Steady — a startup with a platform that helps people find flexible, hourly, and part-time jobs; increase their income; and plan for financially stable futures. She will be a data analyst, focused on financial transactions data.
"I am excited when I think about the almost endless opportunities across different industries and sectors to have an impact on decisions and outcomes through the analysis and visualization of data," she said. "My ultimate career goal is to be an independent analytics consultant for organizations such as nonprofits, small businesses, government agencies, etc., who don't have the resources or need to have a full-time data analyst but who would benefit greatly from data-driven insights about their operations."
Arentson's husband, parents, in-laws, and paternal grandparents will attend Commencement.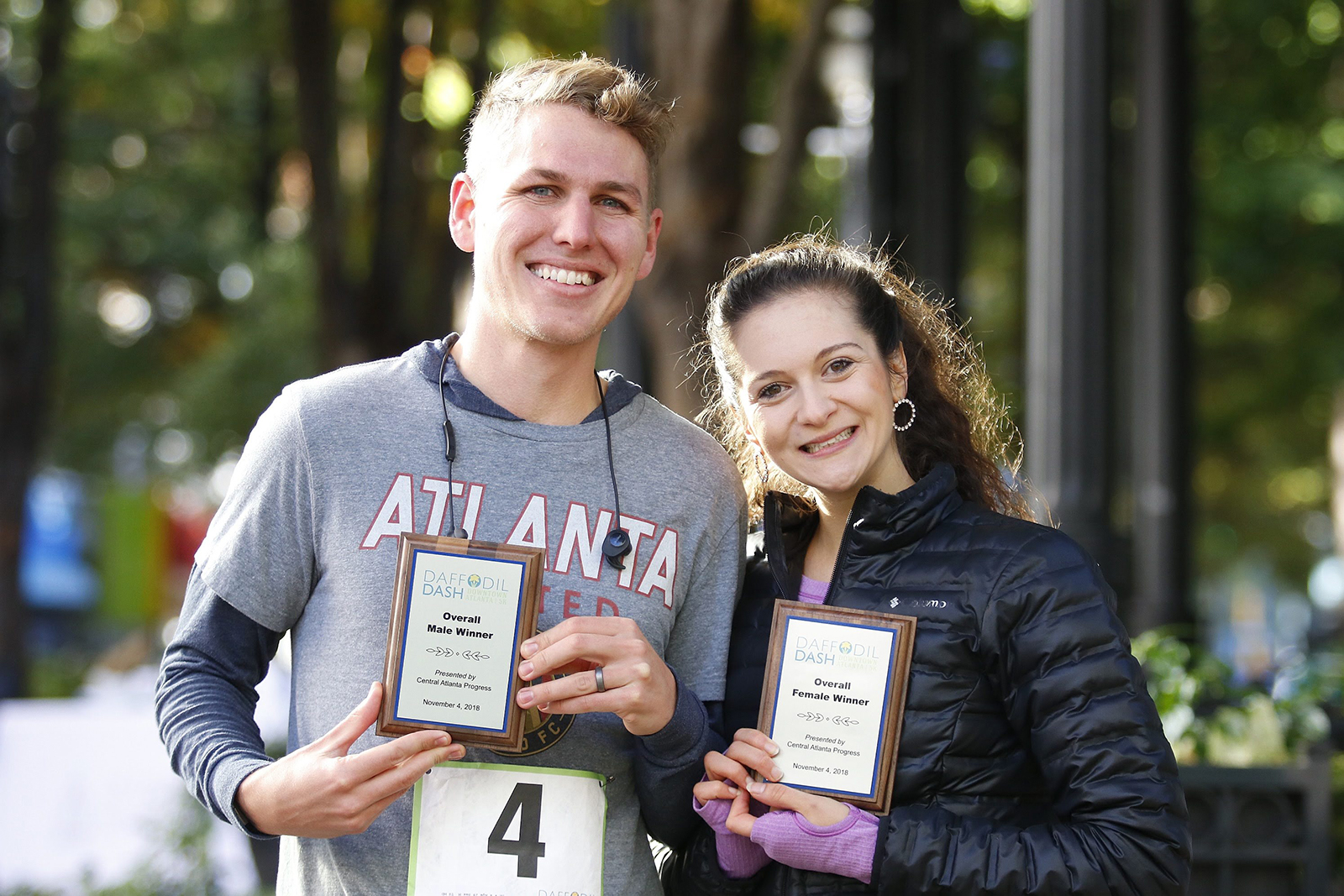 Heather Arentson and her husband Brandon, who both placed first in the 2018 Daffodil Dash race in Downtown Atlanta.