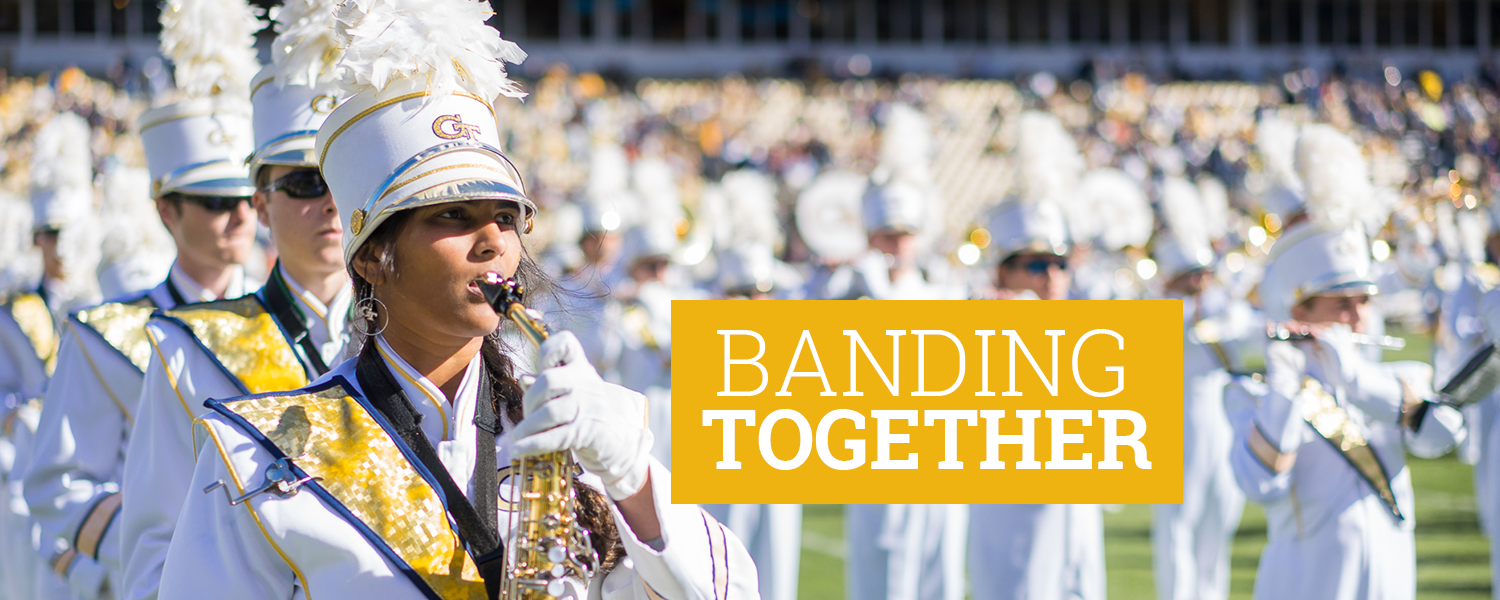 Banding Together
Story: Steven Norris  Photos: Dalton Touchberry November 18, 2016
"Georgia Tech's not known for being a music school," explains Dawn Andrews, a third year aerospace engineering major. "To have a band this large where the students are invested in their academics outside their music is awesome."
She should know. She's one of four Yellow Jackets who help lead Georgia Tech's band.
"It's a huge adrenaline rush to be an integral part of the game day experience," Andrews explains with a smile stretching from ear to ear.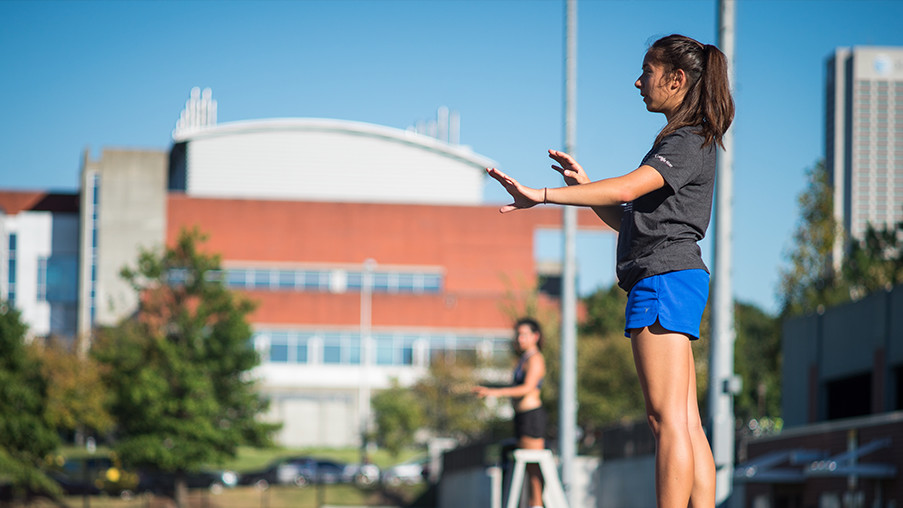 Andrews is one of four drum majors you can see on ladders keeping the Georgia Tech Marching Band on time and in form.
It takes four because the band is now the largest it has ever been in Tech's history — 370 members to be exact.
"I think it speaks to the type of community we've built," says Drum Major Andrew Joyce.
In 1908, 14 students pulled together to form Georgia Tech's first band. Many of the founding members helped write the songs so closely tied to Georgia Tech's traditions today.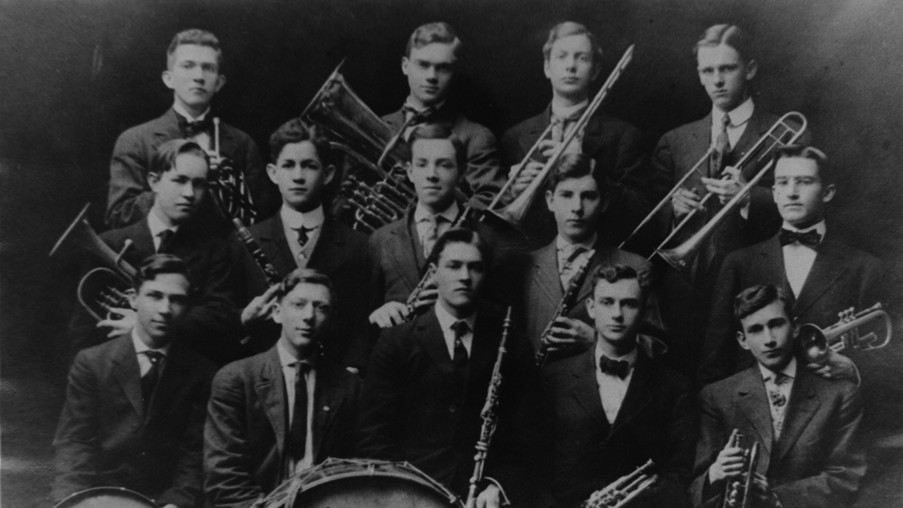 And the current band is a gatekeeper of sorts for many of the longest-running traditions on campus. If you spot a freshman still wearing their RAT cap in September or October, chances are they are probably part of the band. While many others on campus hold on to their caps as a memento, band freshmen are expected to wear their caps to all official band functions, including rehearsals and football games

"We're proud to keep up these traditions and get Georgia Tech pumped up about them as well," says Parker Buntin, a fifth year materials science and engineering major.
Buntin has been a member of the band all five of those years. He's served as a drum major — elected by his peers — for four of those.
"Everyone is in band because they want to be. Everyone is here because they are fired up," Buntin says.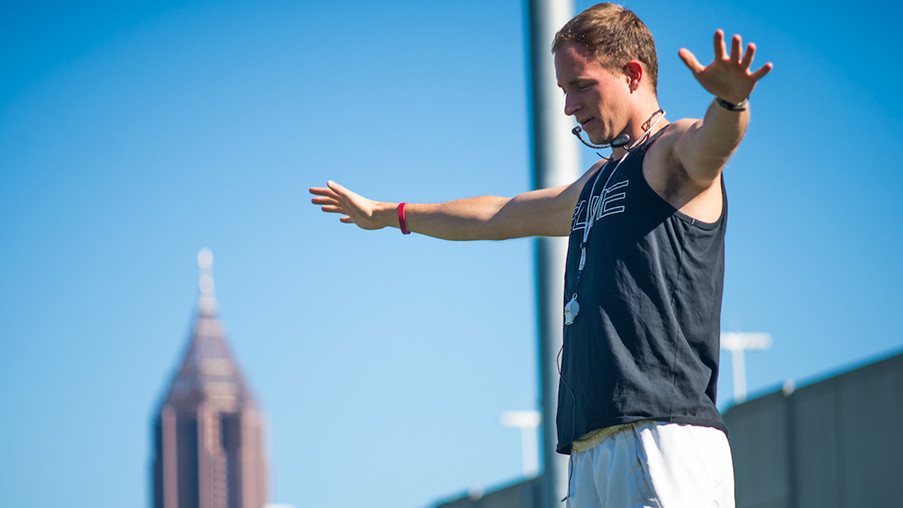 "We're all in this together," explains Joyce.
He says that his fellow marching Yellow Jackets tend to have a scholastic advantage.
"We know how frequencies work to get the right pitch; we are quicker to understand the mathematical correlations of beat patterns in the music," Joyce says.
"We're also engineers, so we can make really good lines," Buntin says with a chuckle.
Those lines make up formations that Georgia Tech fans have come to love as part of their game day experience.
As mentioned, Georgia Tech doesn't have a typical college of music. While a music technology program is available, it is just now starting to offer an undergraduate program. Tech does not have performance majors like many other large universities. The majority of band members are also engineering majors. The sciences, computing, business, and liberal arts majors also face the same demanding course loads typical of the Georgia Tech student experience.
"Because we have all these different majors, everyone in band is understanding of what you have to do for classes," explains Buntin.
He says that upperclassmen often give a helping hand to freshmen in courses involving thermodynamics or computer coding.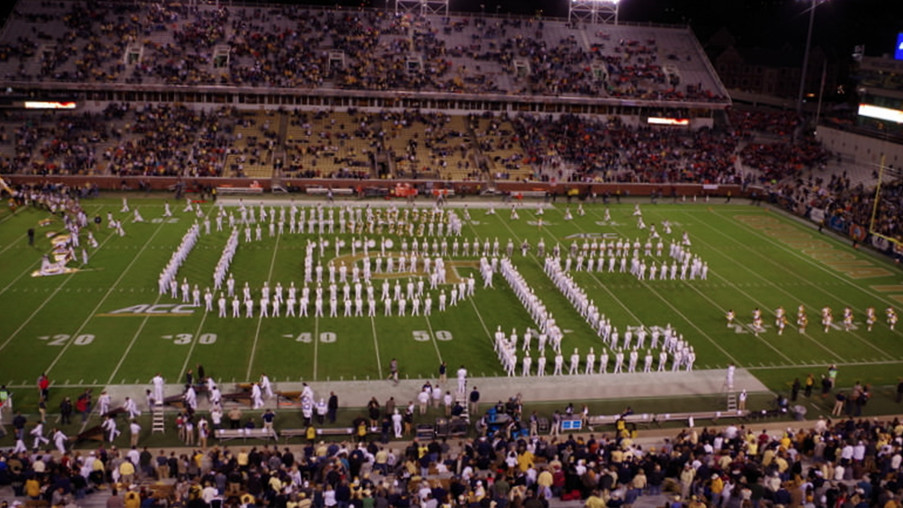 The band makes a block T, and forms Tech Tower, before making Georgia Tech's interlocking GT logo for the drive-out of the Ramblin' Wreck. And now with 370 members, those formations have had to be expanded and altered to accommodate the record-breaking size of the band.
"I tend to find joy when everybody works together," says industrial design major Ariana Olalde, the newest addition to Georgia Tech's drum major cadre. "It's those really big moments where it feels so awesome to be part of the game day experience."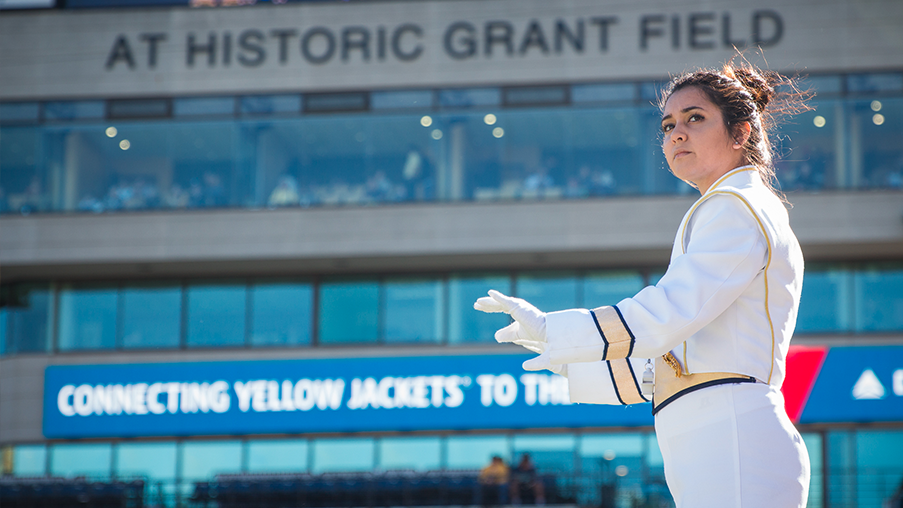 Keeping those traditions and memories going strong is a responsibility the band takes seriously.
They still march down Freshman Hill and gather in the tunnels of Bobby Dodd Stadium to prepare for their signature run onto the field. They still play the Budweiser song going into every fourth quarter. They still wrap up every game with the The Horse and a dance-along that can be truly understood only by experiencing it person.
"It just wouldn't be the same without those," says Joyce.
Some new traditions are being incorporated, too. The band splits up into several smaller 35- to 40-member spirit bands on game day. They ramble across campus in different packs playing songs to pep up tailgates ahead of the game. "I really love what we do with our roaming band during the game," Buntin says.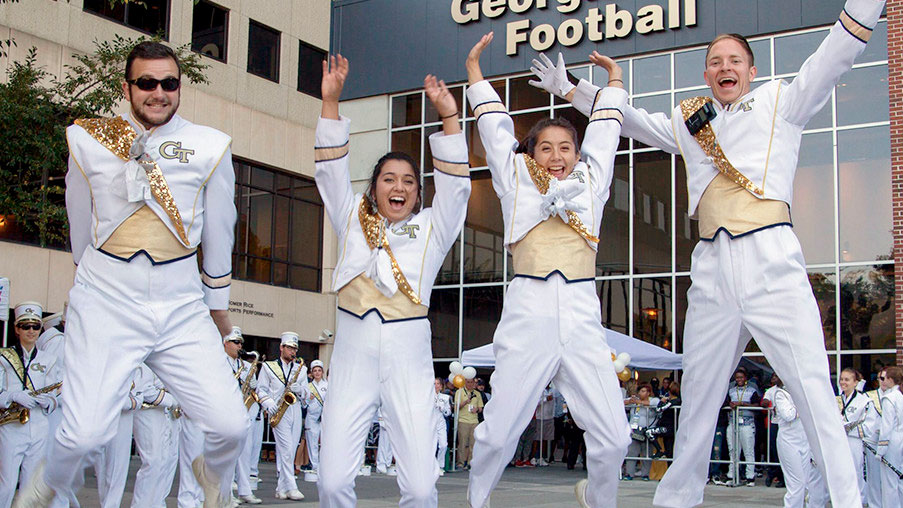 He leads a smaller squad of band members bolting throughout the private boxes and even up to the President's Suite during the game. It's an incredibly up-close and personal version of the fight song, and many people are taken by surprise experiencing it for the first time.
"It's pretty unique. The way we run around, it's the time I get to pretend marching band is sport," Buntin jokes.
But in many ways, it is a physical feat. These musicians train to memorize the intricate patterns they make on the field. One false step and the whole formation could be jeopardized. The marching band also trains with breathing exercises and techniques that allow them to achieve one of their greatest objectives — being just plain loud.
"We're kind of known for being able to blow it out of the water," explains Joyce.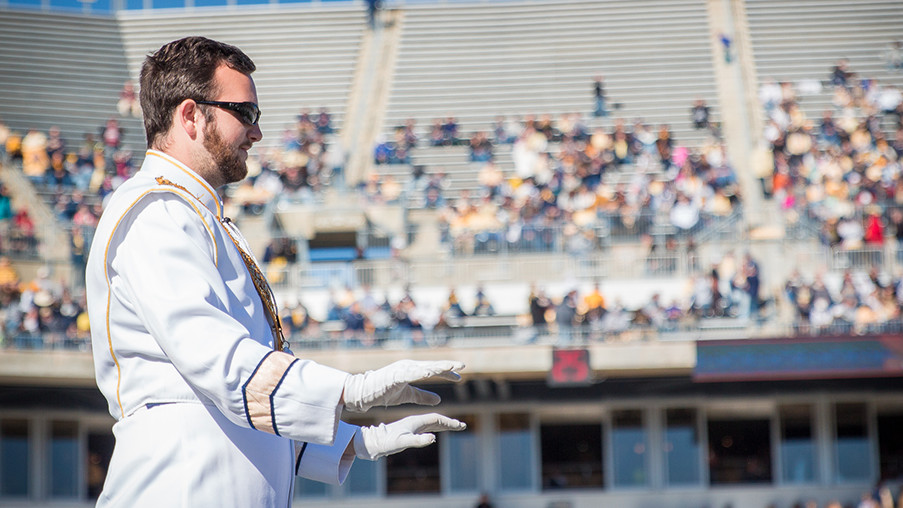 In practice sessions, hundreds of balloons may be inflated to rhythmic beats. This allows the band to have the lung capacity and control necessary to hit the highest decibel rate possible.
It takes hard work, but in the end it's worth it.
"It's a labor of love," says Andrews. "We work hard because we care."
And what each of the four drum majors wants others to know is what a special community Georgia Tech's band has created.
"I love the connections you make with our band. It helps to have time to get down to earth, not to worry about tests, co-ops, or interviews. You can feel the camaraderie and energy. It's those moments when we really shine," says Joyce.
"I think we're the largest band in Georgia Tech's history because of the environment we built," explains Olalde. "You set standards for Tech with the people you surround yourself with. I couldn't imagine being around a better group of people."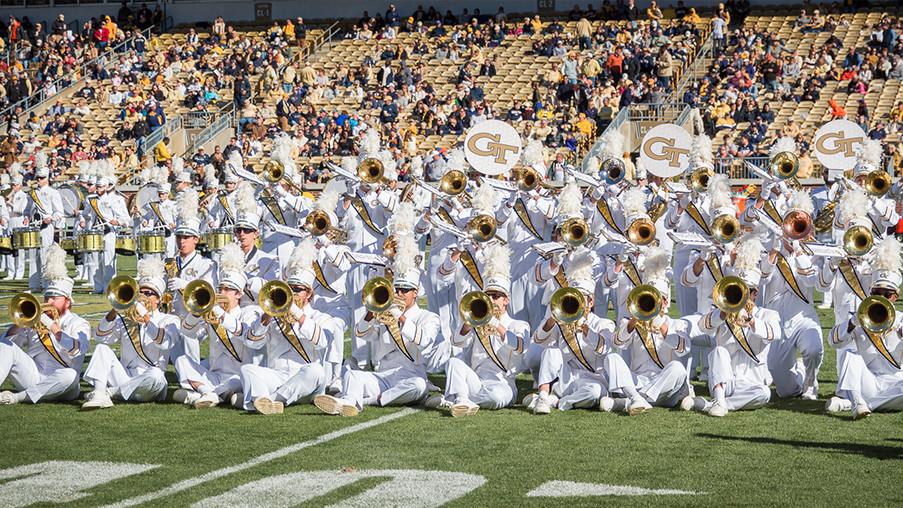 ---
Video Bonus:
Here's what happened while we were shooting interviews with Drum Majors Dawn and Ariana in Bobby Dodd Stadium. Definitely Unexpected.