An agent that provokes or speeds significant change or action – that is Merriam-Webster Dictionary's second definition of the word "catalyst."
When the Georgia Tech-based student organization HackGT was looking to make a difference in the Atlanta community beyond the confines of North Avenue, they conceptualized an event that would provide a spark of interest in the fields of science, technology, arts, engineering, and mathematics (STEAM). HackGT envisioned a Catalyst.
In 2014, they organized a 36-hour national hackathon on Georgia Tech's campus. Held at the Klaus Advanced Computing Building, the event attracted more than 1,000 collegiate hackers from across the United States and included a $60,000 grand prize for the competition's winning project.
By 2016, HackGT had thrown three wildly successful hackathons and the organization was looking to create an experience that could benefit the local community.
"To be quite frank, we had a lot of cash on hand remaining from the previous hackathon that we didn't know what to do with," remembers Lehka Surasani, then the director of finance and operations for HackGT.
"HackGT showed us that we were able to help a lot of college students who were already quite privileged to learn computer science, meet with companies, and showcase their skills," she says. "But we wanted to give the same opportunity to students who come from schools that don't have proper STEAM programs or the same type of upbringing that a lot of our classmates did."
The idea was in place. Surasani and the HackGT team began to build a program designed to engage, entertain, and inform underserved high school students in the metro Atlanta area about computer science. Participants did not need prior experience in computing, design, or engineering. Catalyst was purposely crafted for a low-barrier of entry and a high level of activity.
"We had to figure out where these students were coming from, how to get them to the event, and how to get them to see that this was something worth coming to," recalls Surasani. "A lot of them didn't have a STEAM background or even know what computer science was or how to use it. We had to tune [Catalyst] to their interest."
A core message that HackGT wanted to impart to participants of the first Catalyst was that there are people in the Atlanta community who want to see these students succeed and that there are multiple avenues to pursue a career in computer science.
"Coding is a 21st century skill that everyone can learn," says Surasani, now a software engineer at DocuTap in Atlanta. "There are so many open jobs in computer science. Many of my colleagues don't have computer science degrees and they were able to get the same job that I have and better."
On April 15, 2017, Surasani and HackGT's vision of a free day of STEAM for the local community came to fruition. With over 200 high school aged students in attendance, the 12-hour learn-a-thon seemed like a success, but throughout the day, Surasani noticed areas of the event that needed refinement.
"It was definitely not the smoothest thing that HackGT has done," Surasani says with a laugh. "I would pop my head into a classroom and see a few students half asleep and I was like, 'I could see how this could happen.'"
As the event was wrapping up, HackGT members tried to get the students to fill out a survey. The energy was low. But then…
"One of the members of our team, Jordan Madison, hopped up onto a table and started hyping these kids up," Surasani recalls. "We were giving away these toy items from Google. The place went from zero to 100 in terms of noise. It was crazy."
Madison is currently the director of communications for HackGT, and he and the rest of the team has continued to build on the foundation laid in 2017. Last year, students who came to Catalyst were able to interact with people from global companies like Facebook and Amazon.
The first incarnation of Catalyst offered two tracks: software and hardware. In 2018, HackGT implemented an arts track, and this year students were able to choose gaming as a track for the first time. For 2019, Madison's goal was to bring in discussion panelists who were active in the local technology scene and could relate to a diverse audience.
"One of the biggest issues in Atlanta is the equity in computing education," notes Madison. "This year, I was really pushing to have amazing panelists. I wanted people that are tech leaders within the community who can say, 'I was in your shoes when I was a little kid. Now, I'm leading this company or doing this major thing. I'm making an impact.'"
The entire schedule for Catalyst is custom-built to meet the needs of high school students interested in computer science, but also to keep the day enjoyable. The event opens with a greeting in the Klaus atrium before students split up into their respective tracks for the day. Rather than long stretches of sitting and working on projects in a classroom, Catalyst scripts out moments for students to interact with different tracks at breakfast, lunch and dinner, to listen to the panel discussion, and pick up swag items from sponsors.
Above all, HackGT wants the kids to feel empowered by the experience.
"By bringing them into an environment like Georgia Tech, we show them that this is an amazing place with a bunch of opportunities," says Madison. "But this is not the only school that you can attend. We want help inspire these kids. There should not be any limits to what they can do."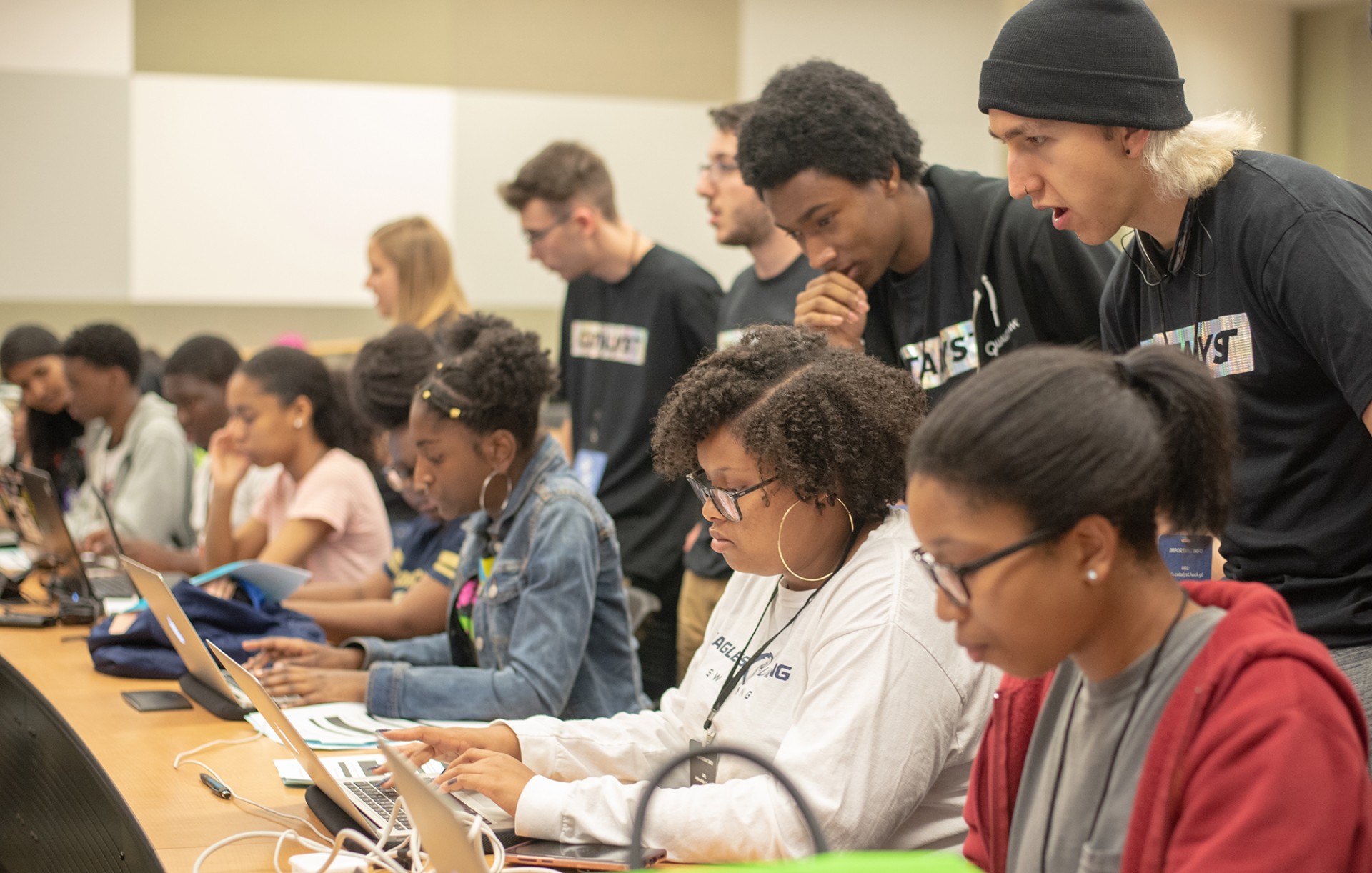 Catalyst mentors and Georgia Tech students help participants with advice, guidance, and availability.
The student to mentor ratio is roughly 3-to-1.

Catalyst has also given students who are interested in pursuing a college degree a glimpse into what Georgia Tech is all about. According to Madison, 30 former attendees of Catalyst are currently enrolled at Tech.
That number will grow this summer when Creekside High School senior Dae'Shawn Taylor enrolls and officially becomes a Yellow Jacket. Taylor has participated in all three Catalysts and has chosen a different track each year. He proudly calls Georgia Tech his "dream school" and credits Catalyst with affirming that belief.
"I've always had this pristine image of Georgia Tech," Taylor says. "I was expecting some intense, serious stuff, but when I got [to my first Catalyst] it was really beginner-friendly and the mentors were really cool. We had good, clean, educational fun."
Taylor relished the opportunity to come to Tech's campus and get a taste of the student experience firsthand. After visiting schools in Georgia, Florida, and the Carolinas, Taylor noticed that events like Catalyst were not the norm. At Catalyst, he was able to walk into an active learning environment and be in the actual classrooms while also meeting faculty and current undergraduates.
"That was an experience I only got at Tech," remembers Taylor. "That solidified it as my number one choice."
As his high school career winds down, Taylor can hardly contain his excitement about beginning life as a Yellow Jacket. He's ready for the full range of the college experience. He wants to join the Anime Club, but his interactions with HackGT have also resonated with Dae'Shawn.
"HackGT the team and Catalyst the event are the embodiment of the things that make me want to come to Tech," states Taylor. "They're driven. They're motivated. They set goals. They achieve goals."
"They are giving back and helping the community. It's a big deal to give back. It was literally the catalyst for some people's desires for some of these things. The name is very well chosen."
An agent that provokes or speeds significant change or action – HackGT's Catalyst, perfectly described.
***