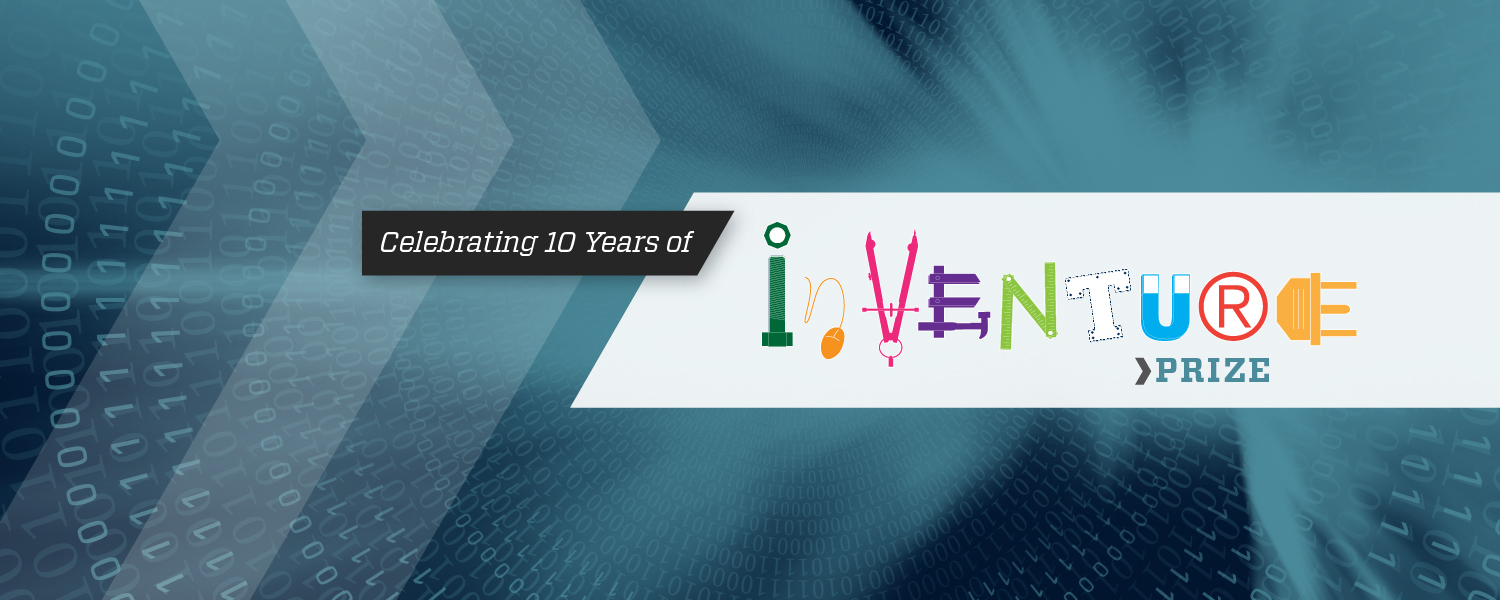 Celebrating 10 Years of InVenture Prize
By Laura Diamond | Published March 12, 2018

Ten years in, Georgia Tech's annual innovation competition continues to inspire. 
This year's InVenture Prize marks the contest's 10th competition. To mark this milestone, we visit with 10 past finalists to learn how this entrepreneurship immersion at Tech changed them.
 
Meet the Past Finalists

 


The first winner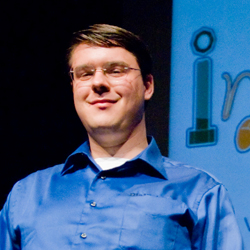 Roger Pincombe tied for first place during the inaugural InVenture Prize in 2009. 
His invention, DialPrice, allowed consumers to check competitive prices on consumer products.
Originally, he built it for a hackathon, but Merrick Furst, the founder and director of Flashpoint, convinced him to enter Georgia Tech's new contest.
"I built it as a cool technology and didn't even think of the business side," Pincombe said. "But exploring the startup side was an amazing experience." 
He entered InVenture the second year and was a finalist in 2011.
"InVenture Prize was the biggest thing I had ever won, and it gave me validation," he said. "It was great for my confidence and pushed me to try and compete more." 
After graduating, he started his own company. His inventions have won more than 15 hackathons and other competitions. 
The Peachtree City native now lives in San Francisco, where he's a lead software engineer at Capitol One. 
InVenture, he said, forced me to think about not just the technology, but also the potential business," he said. "It pushed me to go from just building things to thinking of startups."
---
The Rhodes Scholar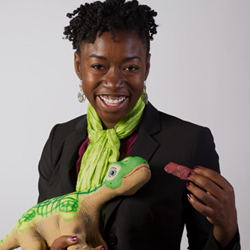 Joy Buolamwini was the youngest finalist in the 2009 InVenture Competition. It was her first innovative venture at Georgia Tech, but it wouldn't be her last.
Through InVenture, she had the opportunity to present in Hong Kong, representing the United States in a Global Student Entrepreneurship Competition.
She received a degree in computer science in 2012 and was a Rhodes Scholar in 2013. She worked on improving access to education in Zambia as a 2013 Fulbright Scholar. 
"Having people around Georgia Tech who were affiliated with the startup community really inspired me," she said after being named a Rhodes Scholar. "The most valuable thing was the confidence I gained, and realizing I could put something out in the world and make it become a reality."
Buolamwini, along with three other Tech alumnae, founded a hair technology company called Techturized Inc. She also advises Bloomer Tech, a smart clothing startup addressing women's health. 
She's currently a graduate researcher at the MIT Media Lab, where she leads the Algorithmic Justice League to address bias in machine learning. And she is on a mission to foster compassion through computation. 
---
The Shark Tank winner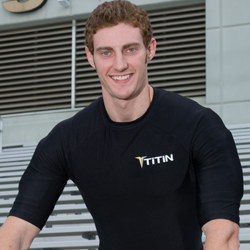 Patrick Whaley went from winning the InVenture Prize to "swimming" with sharks. 
From his dorm room on campus during his freshman year, Whaley designed weighted exercise clothing. The gear moves with the body, and the clothes help increase the intensity of workouts. They can also assist with rehabilitation efforts.
His invention, now called Titin, won first place in the 2010 InVenture Competition. After graduation later that year, the mechanical engineering major launched his startup company. 
"The InVenture Prize competition gave me the contacts and the network that I needed to make my invention a reality," he said. 
That exposure increased exponentially when he appeared the ABC show Shark Tank in 2014. 
Whaley went on the show seeking a $500,000 investment to grow the Alpharetta-based company. He ultimately made a deal with Daymond John, founder and chief executive of FUBU. Now the company's clientele includes both professional and collegiate athletes. The clothing sells online and in retail stores. 
---
The path to FDA approval 
After Erika Tyburski won second place in the 2013 InVenture Competition, she pondered her next move. 
Her invention, AnemoCheck, screens for anemia in just a couple of minutes. It is a visual, color-based, rapid, and disposable test for anemia. During the competition she said it had the potential to supplant standard lab tests. 
The invention is close to entering the clinical marketplace, having received approval from the U.S. Food and Drug Administration as a 510(k) premarket submission. 
Tyburski graduated with a degree in biomedical engineering in 2012. Shortly before graduation she approached Wilbur Lam, as assistant professor of pediatrics and biomedical engineering, and together they figured out how she could continue developing it. 
They have been working on improving the technology with the biomedical engineering and pediatrics departments at Georgia Tech, Emory University, the Centers for Disease Control and Prevention, and Children's Healthcare of Atlanta. 
They've also received funding from the Atlantic Pediatric Device Consortium, the Georgia Research Alliance, the National Institutes of Health, the National Science Foundation, and the Wallace H. Coulter Foundation. 
AnemoCheck is currently a product of Sanguina, a startup created to develop and commercialize the invention. Tyburski is one of the co-founders and the chief operating officer. 
"I've learned a lot of things along the way," she said. "For a class, you're worried about getting a grade. This phase was more for finding out if the technology actually works. Can it do what I've been hoping it would do? It's been an amazing journey, and it keeps going." 
---
The social entrepreneur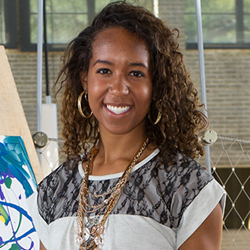 Jasmine Burton was part of the four-member multidisciplinary team that won first place in the 2014 InVenture Prize. They invented SafiChoo, an inexpensive mobile toilet to address global sanitation problems.
While her teammates moved on to other endeavors, Burton continued working on the device and in 2014 launched a social organization called Wish for WASH, which stands for water, sanitation, and hygiene. The group brings innovation to sanitation through research, design, and education. 
"The InVenture experience was one like no other. It immediately became a hallmark of my collegiate experience," Burton said. "I think that the fact that we were able to research and create something in a classroom and then learn how to communicate about it to a diverse audience really solidified my love for research into use as it relates to global grand challenges."
Burton graduated in 2014 with a degree in industrial design, and her career path shows how entrepreneurs address global problems. After launching the social startup, Burton moved to Lusaka, Zambia, for global health work and toilet testing in 2015. She earned a master's degree in public health from the London School of Hygiene and Tropical Medicine in 2017.
"InVenture really taught me to believe in myself, which ultimately is a lesson that I have carried forward," she said.  
---
The White House visit and more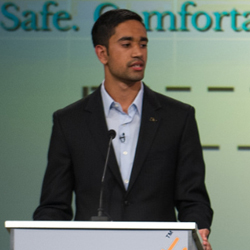 When Partha Unnava entered the 2014 InVenture Prize, he was looking for exposure for his ideas. He invented Better Walk, crutches redesigned to minimize underarm pain.
"Competitions are fun, but what matters is whether you're fulfilling your personal mission," he said. "Are you doing something that impacts the world?"
The InVenture experience helped Unnava make that impact. He showed off his invention at the inaugural White House Maker Faire, where President Barack Obama tried out the crutch.
Unnava was also named to Forbes' 30 under 30 list, which featured "game-changing entrepreneurs."
He continues to grow the company, which is now a team of three people. While he sold to hospitals last year, he saw bigger growth through e-commerce sales to individual customers. The Buckhead-based company, now called BWHealth, sells directly to consumers as well. One customer even ran the New York City Marathon on the crutches.
 
They've launched another product, Lasso, a targeted compression sock that was inspired by the science behind ankle tape. It reacts to motion and reinforces the ligaments and tendons in the ankle.
"It can be lonely growing a business," Unnava said. "But when you go through InVenture you get a family and a network. There's an insider group of entrepreneurs who have Georgia Tech connections, and that's incredibly valuable." 
---
The protector of first responders
After winning the 2016 InVenture Prize, Zack Braun and Tyler Sisk represented Georgia Tech in a new competition, the ACC InVenture Prize. There, they won the People's Choice Award. 
They invented FireHUD, a device to improve firefighters' safety. The real-time wearable system and heads-up display provide biometric and environmental data to firefighters on the job and officials on site. The device measures heart rate, body temperature, and external temperatures that can help predict fatigue and prevent injuries.
The company recently received a National Science Foundation Small Business Innovation Research (SBIR) grant for $224,143 to conduct research and development work on a biometric Internet of Things system for first responders.
 
The NSF grant will fund the company for a full year, said Braun, FireHUD CEO.
"We've had so many opportunities," he said. "We've been able to bring our ideas into the world and truly leave a mark." 
Braun graduated in December with a degree in computer engineering. Sisk also graduated in December, with a degree in electrical engineering. Another Georgia Tech graduate, Joseph Boettcher, has also joined the company.
 
They will soon launch pilot studies with local fire departments, and plan to deploy about 25 units. 
---
From InVenture to ATDC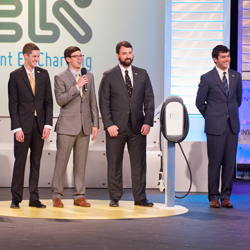 As electric vehicles become more common, a growing challenge is improving driver access to charging stations. That's where TEQ Charging comes in.
 
The startup makes it possible for multiple drivers to plug their cars into a charging queue. The company connects electric vehicle charging stations to the cloud at a low cost, thereby increasing availability.
 
TEQ Charging was a four-person team in the 2016 InVenture finale. Two of the original members, Dorrier Coleman and Isaac Wittenstein, continue to work on the company. Their invention is used by drivers at nine properties in two states, including three sites in Georgia. 
"The InVenture process was good for us," Wittenstein said. "Going through the weekly pitch practices made us better. It forced us to structure our thoughts and think about the questions judges, and later potential investors, could have." 
Coleman, a computer engineering major, graduated in 2015. Wittenstein, a mechanical engineering major, graduated in 2017. Their company is currently part of Georgia Tech's Advanced Technology Development Center (ATDC).
"We've continued to be part of the Georgia Tech family," Wittenstein said. "If there was no ecosystem, we wouldn't be anywhere near where we are today."
Before joining ATDC, they both completed the Techstars IoT (Internet of Things) Accelerator in New York City.
They're also part of the city's IoT.ATL, a joint initiative from the Metro Atlanta Chamber and the Atlanta Committee for Progress to grow the region's ecosystem in IoT products and software.
---

An intern no more


When Murtaza Bambot entered the InVenture Prize last year he wasn't thinking of turning InternBlitz into a company. He and his fellow co-founder thought the contest would be a good way to get students to check out their site, which streamlines the internship application process. 
But the experience — and winning second place — convinced Bambot to keep working on the company. He graduated in December with a degree in industrial engineering. 
"InVenture gave me the traction that convinced me to do this full-time," he said. "I met people who are continuing to be mentors. And the past InVenture teams have been incredible, sharing advice and opening doors." 
The site posts internships from about 12,000 companies and has approximately 15,000 users nationwide. 
InternBlitz finds internships for students, automatically fills in their personal contact information and resume, and then sends applicants the extra, company-specific questions.
Bambot is still growing the company and is preparing for a round of fundraising. An additional site, CareerBlitz, will post full-time positions from the same companies using the intern site.
 
He's also participating in a year-long fellowship designed to help top student entrepreneurs and entrepreneurial-minded young leaders. The fellowship is offered through Future Founders. There, Bambot is gaining a new peer community, attracting additional mentors, and attending entrepreneurship retreats.  
---

Augmented reality to help warehouses


Sarthak Srinivas shows how students can continue to find success and new avenues for their inventions after the InVenture Prize finale has finished. 
He was part of team PickAR, a finalist for the 2017 InVenture Prize. The team built an augmented reality application to help workers find and pick orders in warehouses. The invention streamlines the steps it takes to locate and handle items. After the competition, the team tested the technology at the Georgia Tech Library. 
Srinivas, a computer science major, and Charu Thomas, an industrial engineering major, are now working on the concept, which was renamed Oculogx. 
It is a mixed-reality application used with a headset that combines barcode scanning for immediate inventory control with navigation that projects the optimal path through the warehouse to each item.
In September they won the Atlanta Startup Battle, which awarded the company $100,000. The application recently finished second in the Imagine Cup, a worldwide innovation competition sponsored by Microsoft. And it was a finalist for the 2017 Collegiate Inventors Competition, which honors the nation's top collegiate inventors.
"We have never forgotten how helpful our mentors and peers at Georgia Tech have been," Srinivas said.