Celebrating National Bike Month
This month, Georgia Tech will join entities around the country to observe National Bike Month.
But at Tech, bicycles are an ever-present mode of transport, not just a recreational vehicle to be hauled out ceremonially once a year.
---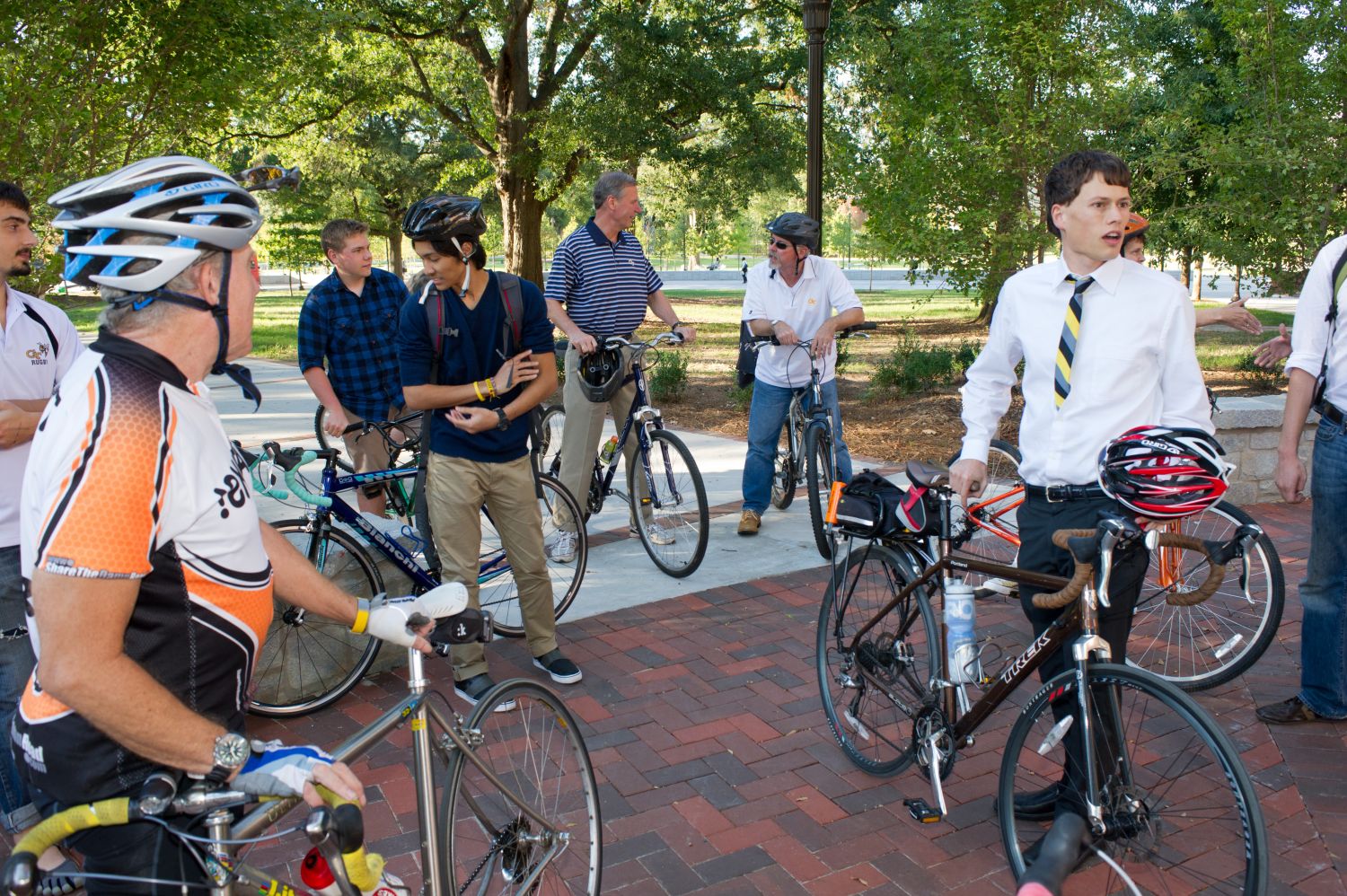 President Peterson talks with attendees prior to a Ride with the President during Bike Week.
A Bike Friendly Campus
Tech has catapulted forward in recent years when it comes to campus bike infrastructure. 
The campus was recognized in 2012 as a Silver-level Bicycle Friendly University, a designation given by the League of American Cyclists — the same group that sponsors National Bike Month.
"The amount of biking on campus has increased significantly," said Jason Gregory, senior educational facilities planner in Capital Planning and Space Management (CPSM). "We're trying to make sure we are building the infrastructure that's needed and putting it in the right place."
Improving the Cycling Experience
This spring, CPSM began the process of creating a Campus Bike Master Plan. This is in part thanks to the Bicycle Infrastructure Improvement Committee (BIIC), a group of students, faculty, and staff who focus their attention on improving the cycling experience on campus. The BIIC initially brought up the idea for a master plan.
The plan will look at the overall campus and its connectivity to surrounding areas, as well as at granular details such as specific intersections or problem areas.
The month of April was spent gathering information from students, faculty, and staff via meetings, tabling, an online survey, and several all-day charrettes. CPSM also engaged external partners such as Coca-Cola, Midtown Alliance, the PATH Foundation, Atlantic Station, and Home Park.
"That's not to say we can address all of the comments, but it gives us a list of recommendations we can go through to see where the consistent issues are," Gregory said.
Kari Watkins, Atlanta Mayor Kasim Reed, and Chris Le Dantec at a Cycle Atlanta event in 2013.
Making Atlanta a Better Place to Ride
CPSM is working with Alta Planning, a design firm specializing in bicycle planning that also worked with the City of Atlanta on its Cycle Atlanta plan.
The Cycle Atlanta app, which was developed right here on Tech's campus by assistant professors Chris Le Dantec and Kari Watkins, provides a way for cyclists to share information with the City of Atlanta, which in turn can use the information to make Atlanta a better place to ride.
Involving Students
This semester Le Dantec, assistant professor in the School of Literature, Media, and Communication, had students in his Principles of Interaction Design course address biking-related issues using data from the app, letting the campus serve as a living laboratory.
"By building the projects on actual data, it's not just a fiction they're creating, but they're looking at how to address something in a real environment," Le Dantec said.
Meanwhile, Watkins is incorporating students into a separate bike-pedestrian safety project with the Georgia Department of Transportation (GDOT), along with fellow Tech faculty Ann Xu, Mike Rodgers, and Randy Guensler.
The goal is to develop a planning-level decision support tool to help GDOT decide what bike and pedestrian infrastructure is appropriate on various corridors.
Bringing in undergraduate and graduate students to work with Cycle Atlanta has helped the project along while also exposing students to real-world problems.
(Video) Cycle Atlanta Smartphone App
Having non-critical pieces of the project carved off and taken on by students is helpful, and some of them turn into really great pieces to fold back into the project," Le Dantec said.
This summer, interns participating in a Data Science for Social Good fellowship program will also help to further the work of Cycle Atlanta and determine how to progress in visualizing and analyzing the data being collected.
In the meantime, the app is already helping cyclists around the city with their daily journeys to campus.
"With the great biking improvements we've seen in midtown and downtown, I've been trying to bike more," said Nelson Silverio, human resources coordinator in the Daniel Guggenheim School of Aerospace Engineering and campus bike commuter. "I still have to drive some days … [but] I'd really rather bike as much as possible."
Changing the Campus Culture
In addition to working with campus administrators on improving bike infrastructure, the BIIC also hosts events to bring campus cyclists together and encourage new ridership.
The group's annual Bike Week includes free bike repairs on Tech Walk and a ride around campus with President G.P. "Bud" Peterson.
"It feels like bike culture on campus is beginning to reflect what some cyclists in the community already know — that cyclists are a rich, diverse group who incorporate bikes into many different facets of their lives," said Mariam Asad, chair of the BIIC and a graduate student in digital media.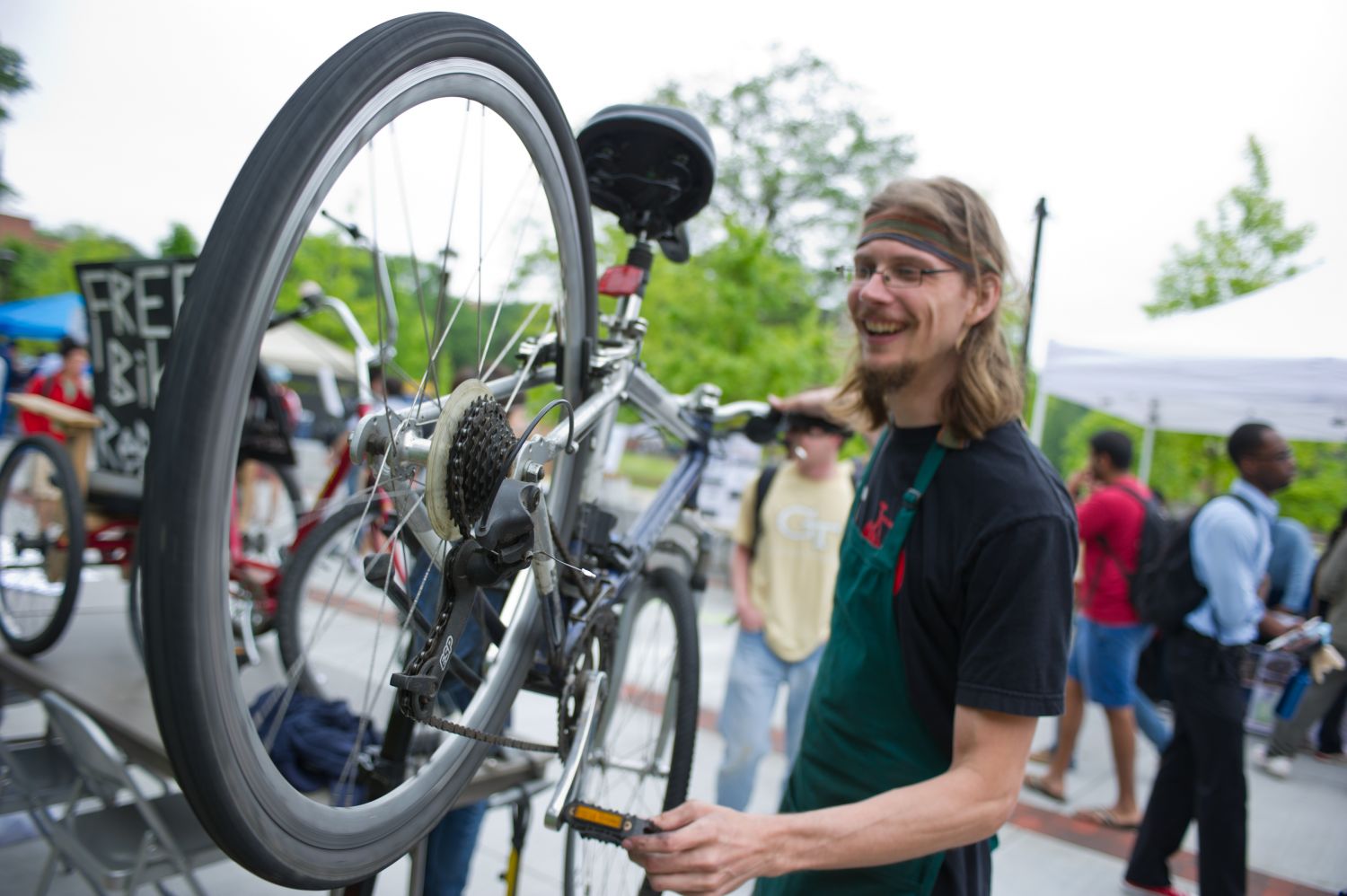 Members of the student organization Starter Bikes offer free bicycle repairs on Tech Walk during Bike Week.
In her five years on campus, Asad has seen the community grow from more serious cyclists to a group that includes people in dresses, hauling groceries, and even with children in tow.
"I know there are a lot of people who are curious about cycling and really want to just hop on a bike and ride, so it's important to have a community that's inclusive, welcoming, and accessible — and I think we're well on our way to that."
Bike to Work Day
On Friday, May 16, the BIIC will host a lunch event that will bring together campus cyclists, both rookies and veterans, to celebrate Bike to Work Day.
The Midtown Alliance will also host a breakfast pit stop in midtown that morning at the corner of 14th and Peachtree streets.
For more information and resources for campus cycling, visit bike.gatech.edu.
Writer: Kristen Bailey
Graphics: Rhys Black
Photos and videos: Rob Felt