Class Notes: MSE of Sports
By Victor Rogers | April 21, 2017
The Library Archives at Georgia Tech has a football helmet from the 1930s. It's made of leather, with a paltry amount of padding and no face mask. Helmets, and other sports equipment, have changed considerably over the years. This evolution of sports equipment is taught as part of a class called Materials Science and Engineering of Sports (MSE 4803R).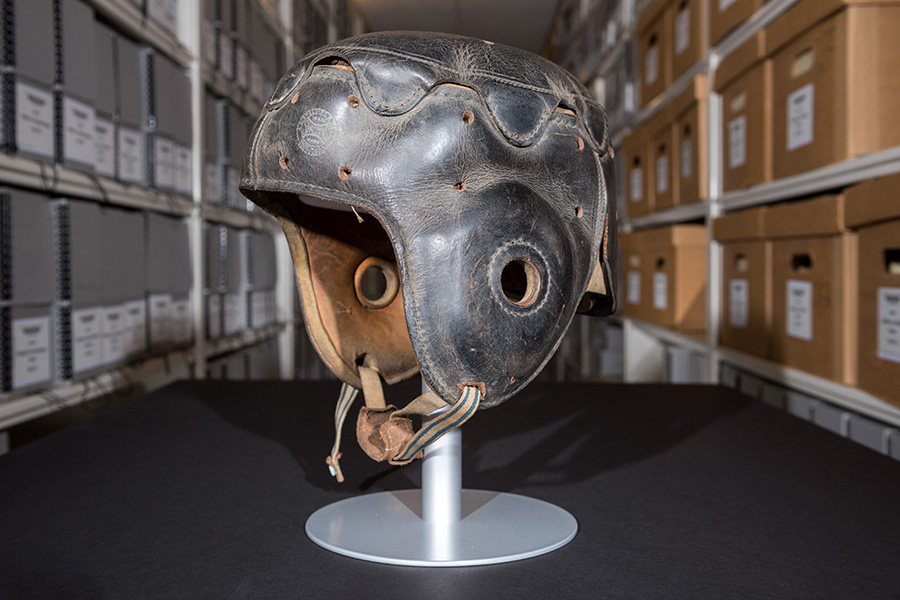 This leather football helmet (circa 1936) was worn by James Middleton "Mit" Fitzsimons, who was captain of Tech's football team in 1936. Photo by Rob Felt
The idea for the class came from the Georgia Tech Athletic Association, where Jud Ready is on the board of trustees.
"During exit interviews with student athletes, they said they wanted academically rigorous sports related courses," said Ready, deputy director of the Institute for Materials who has a shared appointment between the Georgia Tech Research Institute and the School of Materials Science and Engineering. Ready seized the opportunity to create an innovative course that combines his love of sports with his passion for materials.
VIDEO: MSE of Sports. Click to play.

The class was offered first in Spring 2016, and more than 80 students signed up. This spring, 96 students registered for the class.
Most of the students in the class are biomedical engineering or chemical engineering majors, along with a few materials science and engineering majors. Many of them are athletes from sports like track and field, softball, and swimming. And several members of the cheerleading team are in the class.

MSE of Sports is divided into thirds. The first part reintroduces students to the basics of materials, properties, structures, and manufacturing processes. Lectures explore material science applications in golf, cycling, and skiing, and how those fundamental MSE properties are advantageous.
The second part of the course includes field trips to Georgia Tech sporting venues to speak with coaches, players, or equipment managers and get hands-on experience with the materials studied throughout the semester. An optional visit to Topgolf, sponsored in part by Campus Services BuzzFunds, allows students to work on their swing and put the theory of the classroom to the test using different types of clubs.
The final portion of the class is group design, where teams of students must propose, devise, and potentially prototype a rules-compliant extension to a current material used in one or more common sports.
"My motivation is a clandestine way of teaching materials science to non-materials science majors," said Ready. "The end goal is to teach them material science in a way that they are familiar with and can use for the rest of their lives. It will provide them with the fundamentals, technical terms, and understanding of how materials behave in environments that are applicable to areas outside of sports."
The sporting world is easily a trillion-dollar per year industry, Ready said, providing many opportunities for engineering and innovation to improve athletic performance — mainly to make sports safer for participants or spectators. Many of the developments are transferable to other areas.
"What we learn about concussion protection for helmets in sporting events can be applied to motorcycle helmets, and what we learn about fiber reinforced polymers in bicycles also applies to airplanes," he said.
Ready wants the class to expose students to as many sports as possible. On-campus field trips include sports medicine, track and field, baseball, softball, swimming and diving, kayaking, hiking, golf, tennis, and football where coaches, athletes, and other staff members share insights about their particular sport, including the equipment and safety.
"Every coach has been great," Ready said. "They even give us design problems to solve. Some examples are tennis line markings to auto-detect in/out balls, more comfortable and effective athletic cups for baseball, padding and orthotics for sports medicine, and more easily cleanable uniforms for cheerleaders."
Golf, a personal favorite of Ready's, is a big topic in MSE of Sports, so the Topgolf field trip is one of the highlights.
"We talk about golf a lot in the course, so they know the evolution of golf balls, clubs, grips, and heads," Ready said. "But, at least half of the students have never touched a golf club. Now, they get to put the theory of the classroom to use."
Ready doesn't want students to become golf pros; he just wants them to take away an appreciation for the science and engineering behind this ancient sport. He also has learned more as he developed the class.
"I've always liked sports, but I didn't know the science and engineering behind it," he said. "I always knew about the evolution of golf balls from gutta percha to today's balls. But I didn't know much about the differences between a graphite shaft versus a composite shaft versus a pierced billet steel-tube shaft. So, it has been useful to me, too."
On the downside, Ready said the additional knowledge hasn't improved his swing.
"My golf game is not any better," he joked. "But, at least if I want to spend $1,000 on a golf club, I know which one to buy and which one is overpriced for my skill set."
As the semester comes to an end, students are busy working on their group projects. This year there are more than two dozen projects, including a team working to improve cricket bats, another team working on a spoiler for a racecar, and a few teams working on soccer-related projects for balls and cleats.
The projects must cover the historical evolution of equipment, as well as a vision for the future of the equipment - how to carry it forward, and potentially give Georgia Tech athletes a rules-compliant competitive advantage. Ready also grades them on how well they present the material and whether they did any experimentation with quantifiable, defensible metrics.
"I have learned so much about sports from the students' group projects that awaiting the next semester excites me, as I look forward to what those projects might bring," Ready said.
Janay Harris
"After taking this class, I will never look at a golf club the same!"
Her passion for sports is why Janay Harris registered for the MSE of Sports class.
"I've played sports my entire life — soccer, basketball, track, even some volleyball. So, I figured taking a class that combines one of my extracurricular interests with my academics would be amazing," she said. "I could learn how materials used in sports help athletes excel or in contrast, challenge their abilities."
Harris, a biomedical engineering major, said she was curious about how materials used in sports evolve over time and affect the games being played and/or how they are played.
"At first glance it doesn't seem like this class fits with a BME major, but a lot of the considerations for materials in sports are based on bio-mechanics and physical abilities of the participant," said the fifth-year dual degree transfer student from Emory University.
Harris said she loves the lecture structure of the class.
"It is obvious that Dr. Ready knows his stuff, and he is enthusiastic about sharing what he knows with us," she said. "Because I have experience with sports, I can actually make sense of the material fairly easily. Many times during lecture I have those 'Ah, yeah! That makes sense' moments."
Harris said she has learned a great amount about materials in general.
"Not only do the materials and manufacturing processes that we've talked about in lecture apply to sports, but they can be applied when creating medical equipment as well," she said. "I love when Dr. Ready mentions bio-mechanics or the body's interactions with materials because it hits home for me."
The class has also opened Harris' eyes to another possible career option as companies that design sports gear and equipment need to consider human biology and human factors in their design decisions.
She added, "Dr. Ready gives so much information, and it's all so interesting that sometimes I wish we had more time to dig deeper into topics. After taking this class, I will never look at a golf club the same!"
Ryan McDaniel
"Much more goes into the design and choice of material for sporting equipment than I imagined."
A friend suggested that Ryan McDaniel should take MSE of Sports.
"I looked into it and decided it looked interesting and about as fun as a class could be," he said.
At the time McDaniel was also deciding between MSE and chemical engineering as his major. The fourth-year student chose chemical engineering, but said he always liked MSE topic classes. He is looking forward to completing his class project which involves designing a Formula 1 spoiler.
"Much more goes into the design and choice of material for sporting equipment than I imagined before taking this class," McDaniel said.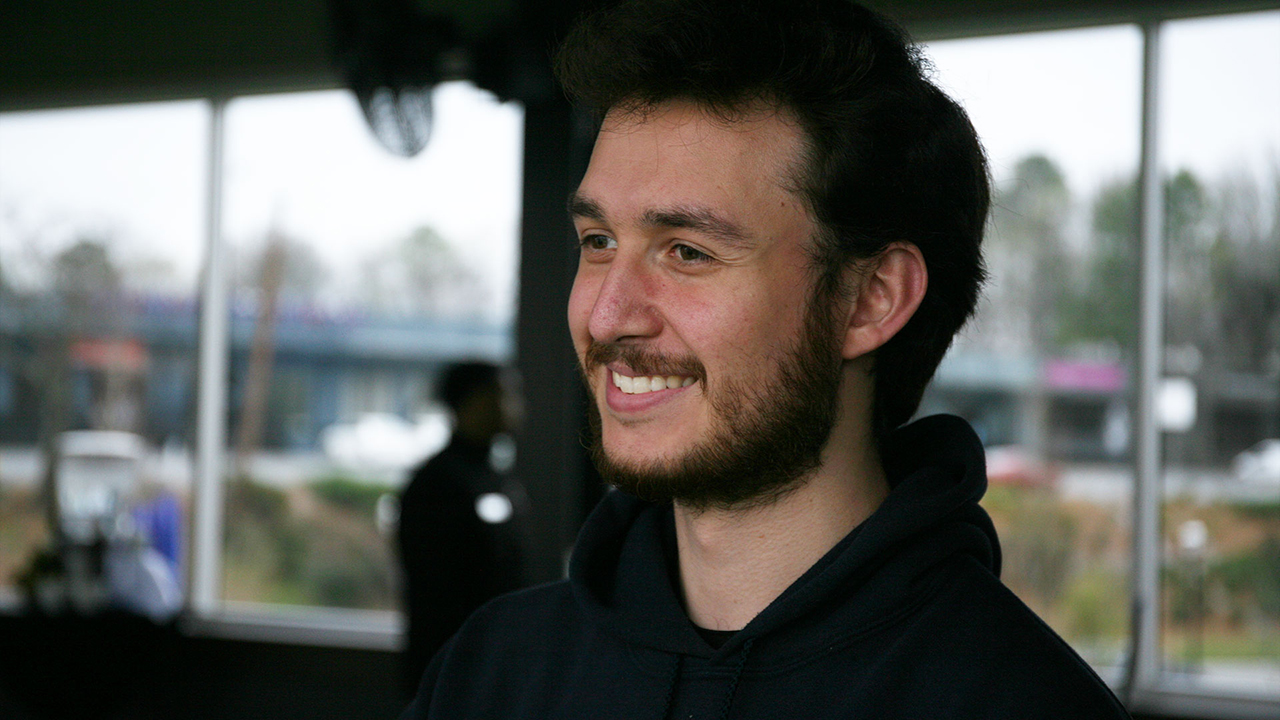 Ricardo Vargas
"The professor makes this class. Dr. Ready is a fun — yet knowledgeable teacher."
Because of his love of many sports, the MSE of Sports class immediately grabbed Ricardo Vargas' attention.
"The class is not related to my career plans, but I figured this class will be a fun one to learn interesting material in relation to sports," said Vargas, a fifth-year chemical engineering major.
Vargas, who is from Costa Rica, said he likes the relaxed attitude of the class, but he still learns a lot.
"I find it very easy to pay attention in class without dozing off or feeling a need to check my phone," he said. "The biggest takeaway is that material science in sports is a lot bigger than what I had expected."
Vargas credits the professor with making the class interesting and enjoyable.
"The professor makes this class," he said. "Dr. Ready is a fun — yet knowledgeable teacher. He makes us laugh and is entertaining to listen to."