Commencement More Than a Virtual Reality
By Stacy Braukman december 11, 2017
Commencement More Than a Virtual Reality for These Online Trailblazers
John Whiteman has never set foot on the Georgia Tech campus, and he doesn't have a BuzzCard. But on Friday, he will walk across the stage at McCamish Pavilion and receive a Tech diploma.
The 52-year-old North Dakota native is one of the nearly 600 people from across the country, and the world, who have earned a degree through Tech's Online Master of Science in Computer Science (OMSCS) program since its inception in 2014. Not all of them are able to make their way to Atlanta to celebrate this milestone, but for those who do, it is an experience of a lifetime.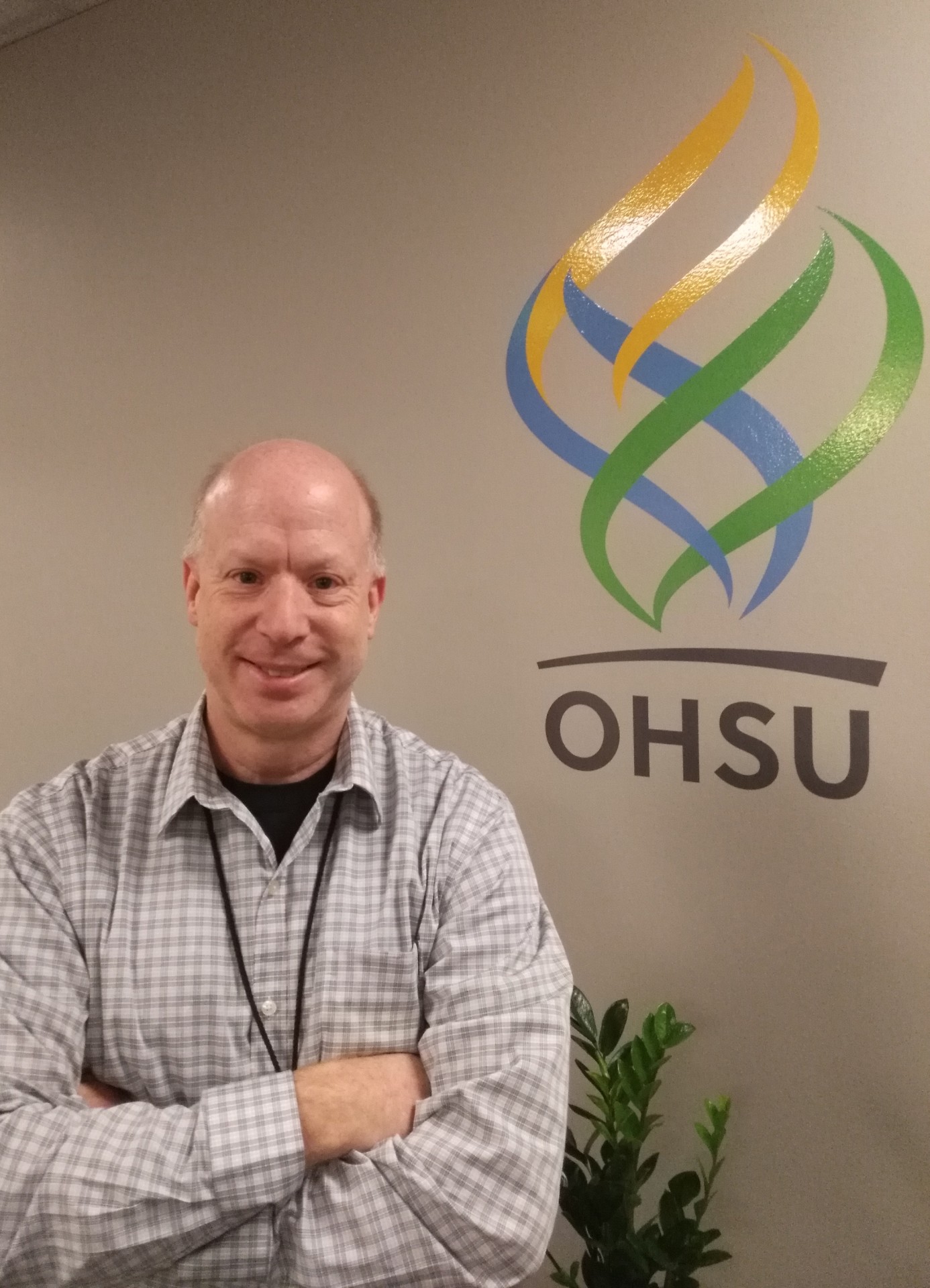 Whiteman on campus at Oregon Health and Sciences University.
Whiteman, who will be arriving from Portland, Oregon, holds a bachelor's in computer science from Portland State University, and a bachelor's in Asian Studies from the University of Maryland University College, which he earned while serving in the U.S. Navy.
A web application security engineer for Oregon Health and Science University, he was encouraged by his manager to pursue an advanced degree online, which led him to the Tech OMSCS.
"On the same day that I got accepted to the program, I also got offered a role as a security researcher," Whiteman recalls. "It was a fine day!"
And, he reports, he is "already putting my Georgia Tech education to good use," by integrating data visualizations and machine learning technologies into a security and privacy analysis framework.
OMSCS is the first of its kind — a large-scale and inexpensive master's program from one of the nation's top universities. In total, it costs about $7,000, compared to an on-campus, out-of-state cost of around $45,000 for the same degree. The program was launched three years ago with support from AT&T and the online learning company Udacity. So far, more than 5,800 students from 109 countries have participated.
"These students are mature, often already in leadership roles ... They bring perspective and experience that residential programs are challenged to match."
It is both the cost and the quality that attract people like John Whiteman — those who are already working in the field but who have the drive to continue learning, and who want to learn from the best.
Charles Isbell Jr., executive associate dean and professor in the School of Interactive Computing, teaches two OMSCS courses and has been deeply invested in the program's success from the beginning.
"These students are mature, often already in leadership roles with their employers," he notes. "They bring a depth of perspective and experience to the OMSCS program that residential programs are challenged to match."
Shipra De is a 30-year-old who earned three bachelor's degrees from the University of Nevada-Las Vegas — in mathematics, computer science, and economics. After graduation, she began working full-time as a software developer, and her supervisor encouraged her to go back to school and get a master's degree.
"That was the spring of 2014, the pilot semester of the OMSCS program," she recalls. "I was incredibly excited when I saw it, and was blown away by the affordable price tag. The deadline for fall admissions was four weeks away, and I took that to be a sign. I started working on my application right away and have never regretted that decision."
De went in feeling somewhat skeptical about an online program providing the same sense of community she had found in the classroom. "OMSCS proved me wrong," she says. "Between the class forums, the live office hours, and in some cases a live lecture or live viewings of recorded lectures, there was every opportunity to feel connected with my professors, TAs, and classmates. Add to that the quality of the instruction, and never having to look for a parking spot — what more could you ask for?"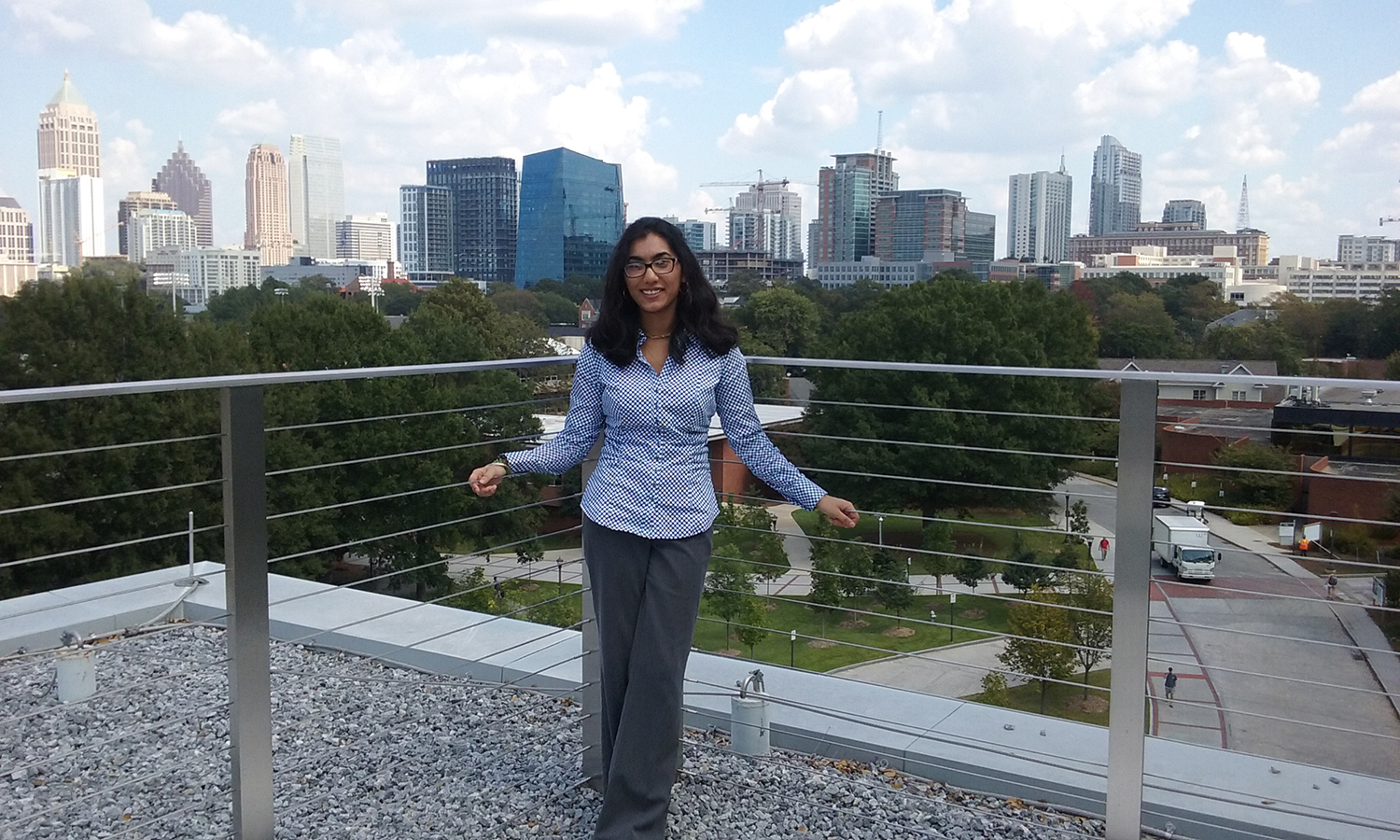 De at the Clough Commons Rooftop Garden during her campus visit in September.
For her, the program has meant "receiving a quality education without having to quit a job I love and move across the country. And it has done wonders for my confidence as a software developer." Though De will not be attending Commencement, she did spend a week in Atlanta in September, visiting campus and attending the Commencement Fair. She even picked up a souvenir BuzzCard.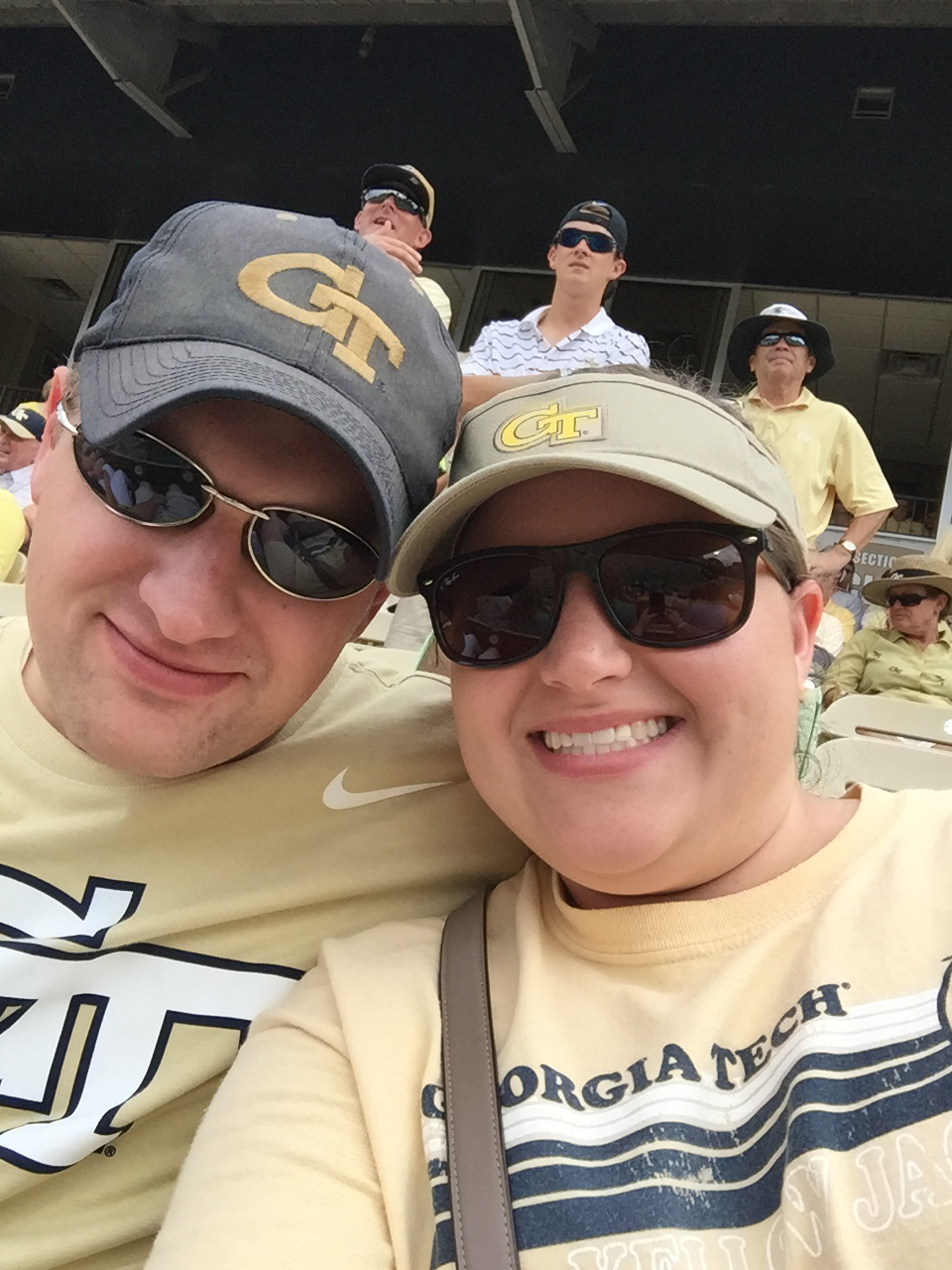 Being closer to campus has afforded Lloyd the chance to participate in some activities his remote classmates can't enjoy, such as attending a Georgia Tech football game with his wife, Lauren.
Closer to home, North Georgia resident Joe Lloyd will be walking on Friday. Lloyd, who hails from the small town of Clermont, Georgia, earned a bachelor's degree in mathematics from North Georgia College and State University, and serves as a network engineer for the Hall County School District. He had been considering taking two years off to come to Tech for a master's in computer science, but then he went to the Institute website and discovered OMSCS.
"I couldn't pass it up," he remembers. "It was the degree I wanted from the school I had always wanted it from — and I didn't have to quit my job, which I was growing to love more each day." Echoing a common sentiment among OMSCS students, he adds, "The price tag was the cherry on top."
Lloyd calls the program "the most challenging, difficult, mind-intensive work I have ever done. It was also the most rewarding." One highlight was coming to campus with his father and getting his BuzzCard. "That might seem insignificant to most, but for me it marked the beginning of a three-year journey in which I was challenged more than I had ever been."
"It was the degree I wanted from the school I had always wanted it from — and I didn't have to quit my job, which I was growing to love more each day."
He says that the degree has already helped with a promotion at work, and will likely help to open new doors for him in the future — whether he remains in the information technology field or pursues a career in academia.
In Isbell's observation, "Much like the 582 OMSCS alumni who came before them, this latest group of graduates demonstrates the impact this program can have on computing professionals — aspiring or otherwise." He continues, "Most of these folks probably wouldn't have earned their graduate degree at all if not for OMSCS, and now they are coming from all over the world to walk with their on-campus colleagues to receive their diplomas." 
As the student population continues to grow and Tech welcomes online students to campus to celebrate their degree completion, Commencement ceremonies are being adjusted accordingly. There will now be three separate ceremonies, one for each degree level. The master's ceremony will take place Friday, Dec. 15, at 3 p.m.
And when John Whiteman walks across the stage at McCamish, his sister and brother-in-law from North Dakota will be there to cheer on the nontraditional, newly minted Yellow Jacket.
"Age is irrelevant if you are willing to put the time in to earn the degree and the respect that comes from being a Georgia Tech alumnus," he says.
For Joe Lloyd, the ceremony will have a different but no less meaningful impact. His grandfather, Roy Lloyd, was a Georgia architect who aspired to attend Tech, but who never had the opportunity: "From the time I was in middle school, I have wanted a degree from Georgia Tech, so the completion of this degree is a fulfillment of both his dream and mine."