Computing and Social Good: Finding Innovative Solutions
By Victor Rogers November 2, 2017
Community involvement is a big part of Georgia Tech's identity, with Tech faculty and students having a long history of working with local organizations and agencies to help solve problems.
Two recent examples include the development of an app that aids in the collection of unused medical products, and research studying cyclists to help determine where bike lanes should go.
Collecting Medical Supplies: Streamlining the Logistics
MedShare is an Atlanta-based humanitarian aid organization that works with hospitals, distributors, and manufacturers worldwide to collect and redistribute medical products to qualified healthcare facilities in medically underserved communities. As the organization's director of programs and procurement, Jason Chernock had been looking to develop a technology that would make it easier for hospital employees to communicate with MedShare.
Simultaneously, researchers at Georgia Tech were identifying projects for a Computing for Good course. Through a series of connections — including Professor of the Practice in the College of Computing Richard "Dick" Henneman, College of Computing Professor Jim Foley, and Fleming Chair and Professor in the School of Computer Science Ellen Zegura — they reached out to MedShare CEO and Tech alumnus Charles Redding. Chernock took the lead on the project.
"I was ecstatic to get the email, and I thought 'this will be perfect. This is the right class to work on this idea,'" said Chernock, who was already familiar with Tech because he earned a master's in city planning from Tech, and he worked in the Enterprise Innovation Institute for six years in economic development and planning.
"The students were so professional, so committed. They were everything you'd want in a team. They listened to us, and they really worked hand in hand with us to build this."
The goal was to improve a process at MedShare: collecting donated medical supplies from Atlanta hospitals and keeping track of collection barrels tucked away in nursing stations and supply closets.
Normally, when given the opportunity to place a collection barrel in a hospital, MedShare staff meets with the hospital staff and gives a presentation on the do's and don'ts of collecting medical supplies. They leave a packet of paper with the collection guidelines and MedShare contact information for the staff to refer to later.
But Chernock constantly had his doubts about this process.
"I always imagined that by the end of that day, someone had gently thrown that packet of paper into the recycle bin — never to be thought of again," Chernock said. "The way that people engage with MedShare is they only think of us when they need us."
For example, when a patient is discharged and there are excess, unused medical supplies in the room, those items cannot be used by another patient. That's when the hospital staff thinks of MedShare, but the collection guidelines are lost.
So, the idea was to create a tool — a smart phone application — that would be available to hospital staff specifically when they need it, that has all of the information contained in the packet of guidelines, and makes it easy to contact MedShare.
The app provides answers to critical questions: Can I donate this? Where is the donation barrel? Who do I contact if I have a question? It also makes it easy to locate the barrel, which is usually tucked away in a hospital supply closet.
Building the Application  
In fall of 2015, a team of undergraduates worked with MedShare to scope out the possibilities of what could be done with the app.
MedShare worked with two instructors and a team of computer science majors over two semesters to take the project from concept to completion. The app is now available on Apple and Android platforms, and includes a feature that allows MedShare to update the app's content through the app itself.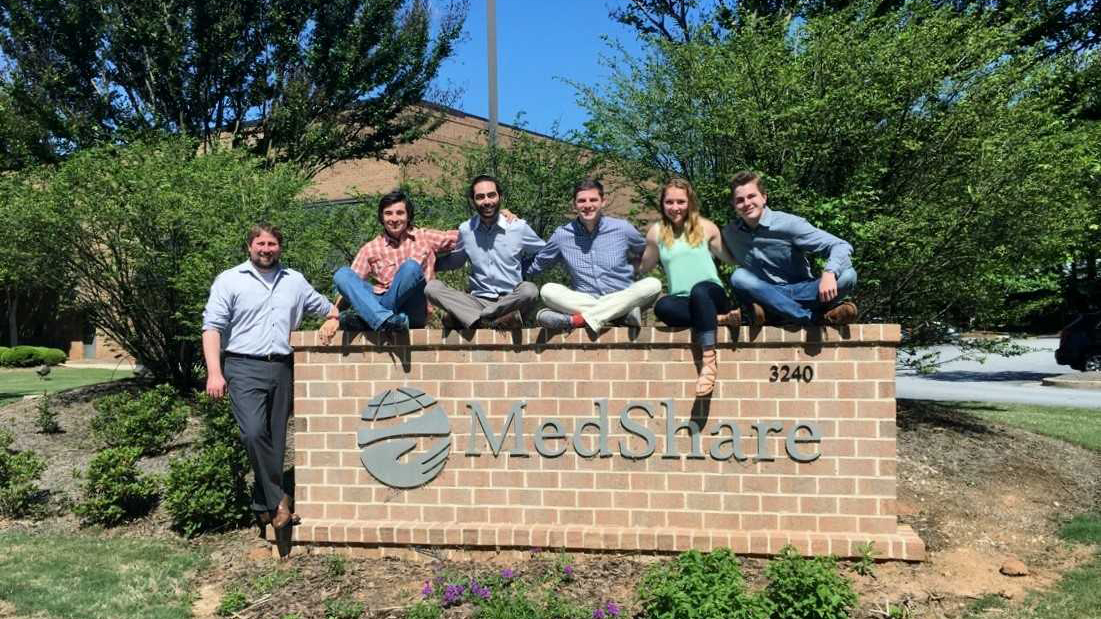 At MedShare (L-R): Jason Chernock, John Hudgins, Benjamin LaForge, Conor Fitzpatrick, Jessica Hoffman, and Hank Cohen.
"I have worked with a number of student groups, and I have been involved with a number of class projects," Chernock said. "This was far and away the best experience I have ever had. The students were so professional, so committed. They were everything you'd want in a team. They listened to us, and they really worked hand in hand with us to build this. They were just a fantastic group of students."
Students working on the project were Hank Cohen, Conor Fitzpatrick, Jessica Hoffman, John Hudgins, and Benjamin LaForge. Course instructors were Dan Forsyth, associate director of research and instruction in the College of Computing, and Sarah Lozier, Brittain Fellow in the School of Literature, Media, and Communication.  
"The biggest take away from working on this application was understanding the vitality of a good team," said LaForge, a fifth-year computational media major and the lead front end developer on the team. "We knew and understood each other's strong suits and called on each other for help unashamedly when we knew someone else had a better grasp of the situation."
He said communication within the team and with Chernock was exceptional.
"It was such a pleasure to work on an application that we all knew had such a great purpose," LaForge said. "We're so excited to see how MedShare uses it and how it impacts their donation process for the better."
MedShare began slowly rolling the application out to its partners in May.
MedShare engages more than 20,000 volunteers each year who sort the donations and double check for quality.
Since its founding 20 years ago, MedShare has diverted 3.6 million cubic feet of quality and unused medical products from local landfills and equipped healthcare professionals in 100 countries.
"The more we can stop the collection of unusable items at the source, the more efficiently we can move these items into our inventory and to our healthcare partners," Chernock said.
---
See Like a Bike: Improving the Cycling Experience
Meanwhile, this summer, two Tech researchers were trying to "see like a bike."
Professors and longtime research collaborators Christopher Le Dantec and Kari Watkins have been working since 2012 on a project called Cycle Atlanta. They developed an app that lets cyclists record where they ride, and the data has been used by the City of Atlanta, the Atlanta Regional Commission, and Georgia Tech to provide better cycling infrastructure.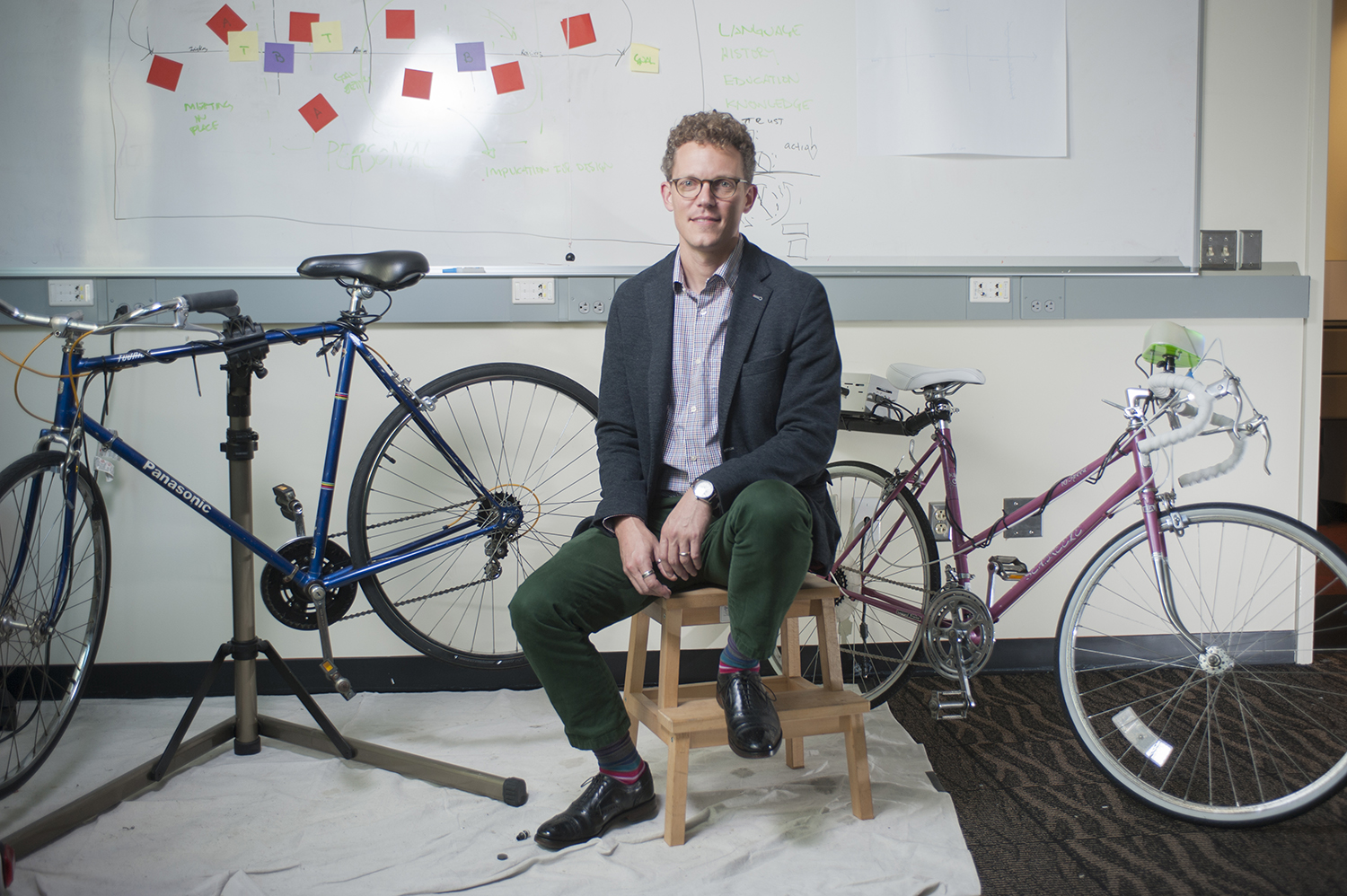 Christopher Le Dantec
Now, Le Dantec, an associate professor in the School of Literature, Media, and Communication, and Watkins, an associate professor in the School of Civil and Environmental Engineering, have added a new research project that looks at what happens while the cyclist is on the road.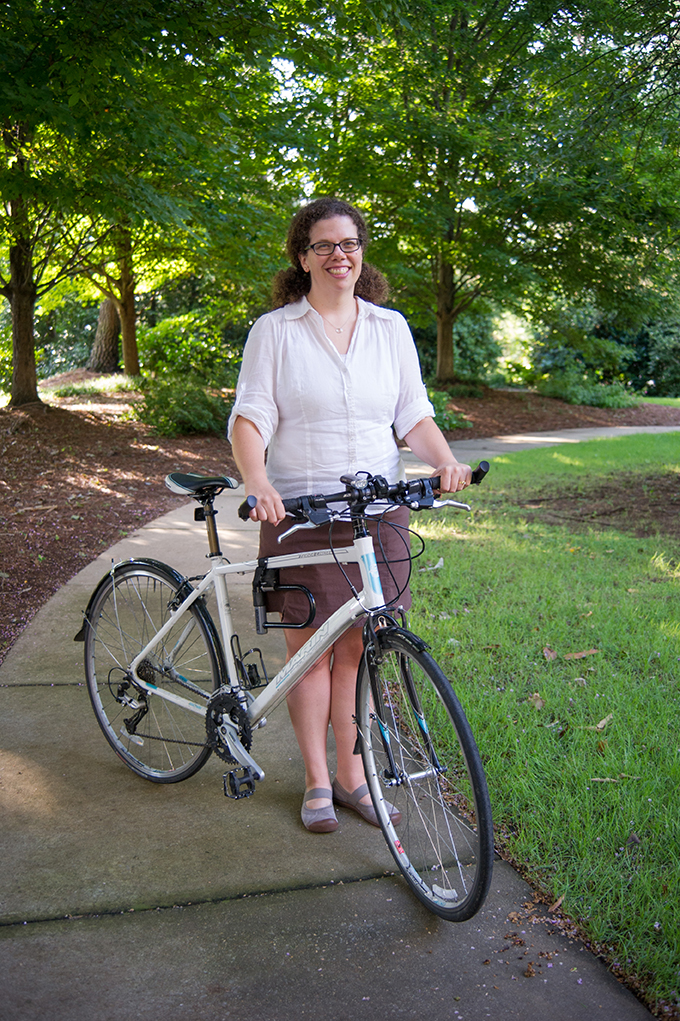 Kari Watkins with her bike outside the Sustainable Engineering Building
"One of the other pieces that is interesting for transportation planners is not just where do people go, but what their experience is on the road," Le Dantec said.
Stressful experiences prevent people from riding, so the researchers are looking to collect environmental data to understand in more detail the attributes of those stressful experiences.
The level of traffic stress (LTS) is a network measure, which is critical for cyclists, according to Watkins.
"LTS 4 is the worst level. We call it 'Strong and Fearless,'" she said. "You may have someone who is quite timid, maybe a new cyclist or someone riding with kids, who would only ride LTS 1 or 2 segments. If one segment of road between a person's origin and destination is rated as LTS 4, they aren't going to make the trip by bike. So, we can use LTS to understand where there are gaps in the network that make it so that people will not bike."
As those gaps are filled and a complete low-stress network is built, the researchers can see the transportation mode share of cycling go up to 5 or even 10 percent, Watkins said.
What the researchers are trying to do, with sensors on bicycles, is to understand what is going on in the city in much more detail.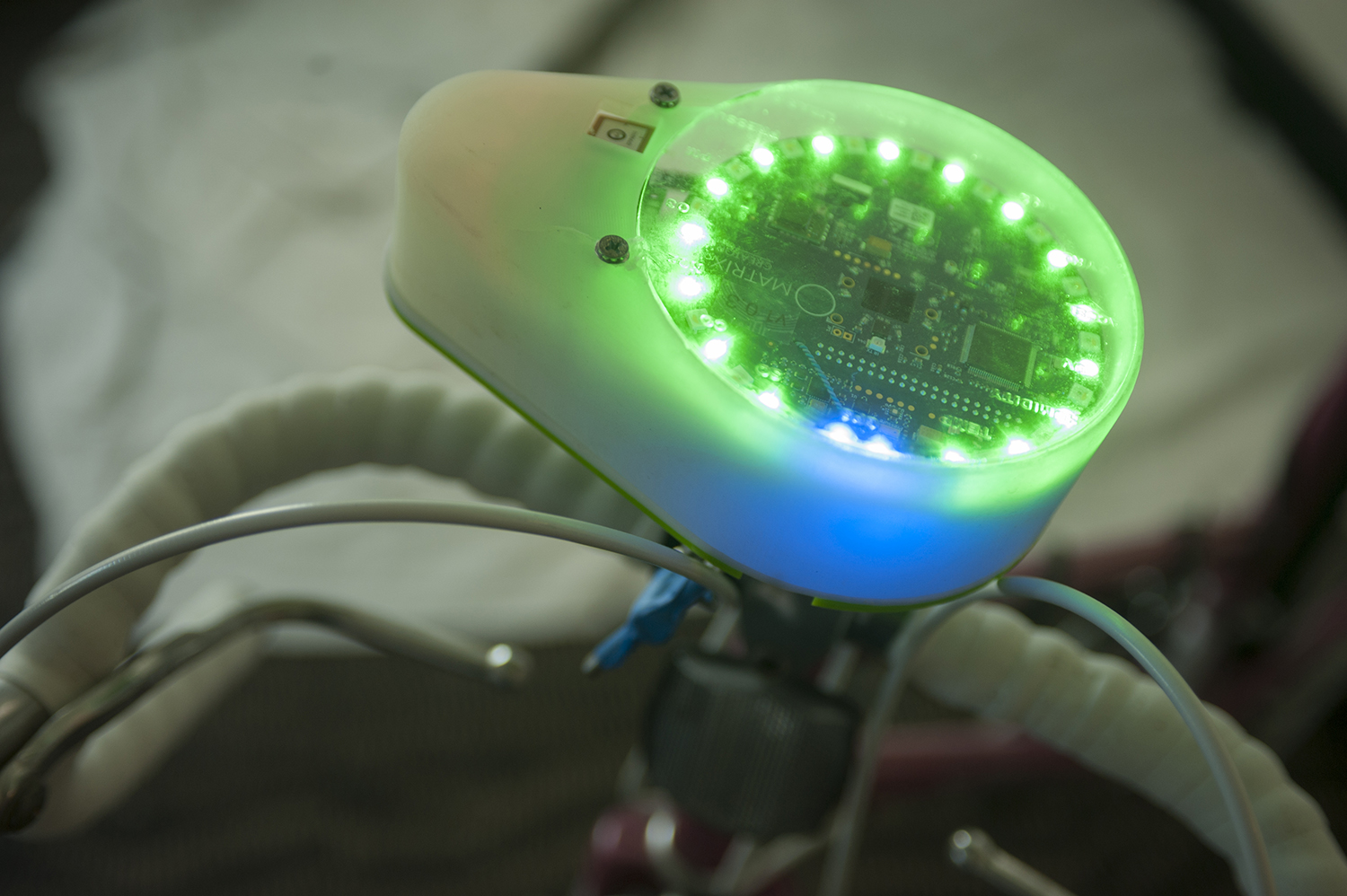 The prototype for See Like a Bike
Starting last spring in Le Dantec's project studio in the Digital Media program, students built prototypes of three sensor kits for bikes. The work continued through an NSF-funded Research Experience for Undergraduates summer program he co-directs with Fleming Chair and Professor in the School of Computer Science Ellen Zegura, and Bistra Dilkina, assistant professor in Computational Science and Engineering, called Data Science for Social Good/Civic Data Science. On the back of the bike, the sensor kit measures air quality, and it can differentiate what kind of traffic the cyclist is in. It also looks at how close and how fast cars are passing.
On the front of the bike, sensors look at road quality and location.
"Are you swerving around potholes and avoiding obstacles such as debris in the bike lane? Are you having to swerve into traffic?," LeDantec said.  
They are not yet measuring the riders' stress, but they're looking at the environment, which is changing in Atlanta.
"The early deployment is for pure data collection," Le Dantec said. "We want to start to understand the range in conditions cyclists encounter. Then we will do another deployment where we continually poll the cyclists regarding how stressed they are, and we can start matching their subjective experience of stress with environmental conditions, such as a car passing closely."
Using this data, the researchers can then determine what changes need to be made in particular areas, such as adding a bike lane or adjusting the speed limit. Ultimately, building a plan to help cyclists get from Point A to Point B is one potential outcome.
For planners working at the Atlanta Regional Commission, the information gathered by this research can help them determine where to put new bike lanes.
Le Dantec and Watkins are seeking funding for the effort from multiple sources, and eventually they will need volunteers to ride roadways and rate their stress level.