Maggie Bridges has traded dirt roads and pickup trucks for a tiara, at least for the next year.

"How surreal this is that I'm going to Miss America, I still can't get over that," Bridges says, wide-eyed and full of excitement.
Bridges, a Brinson, Georgia native and a Georgia Tech senior is the current Miss Georgia.  She left her hometown to come to Tech, smack dab in the middle of Atlanta's 6-million person metro area.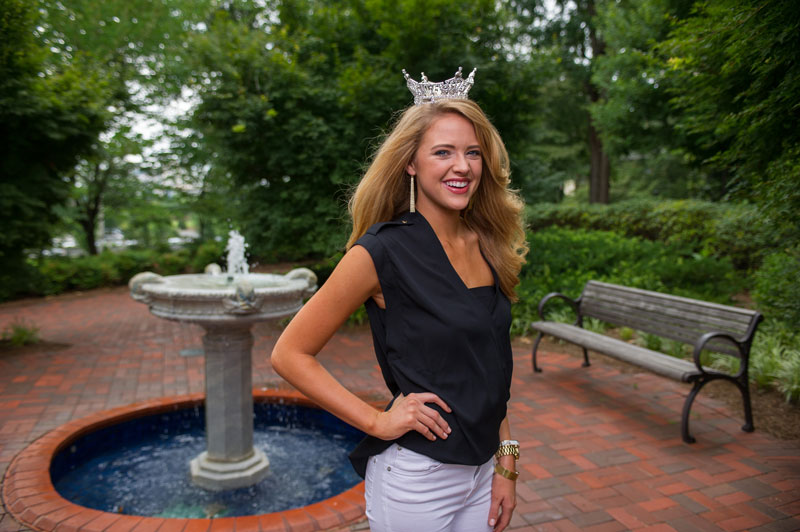 "It's a huge transition from a town with 300 people," Bridges says. "I'm loving life. I love Georgia Tech."
Evening gowns and high heels are a far cry from her roots.
"My dad's a commercial farmer so that's actually what we do. We legitimately grow crops," Bridges explains.
Video: Meet Maggie Bridges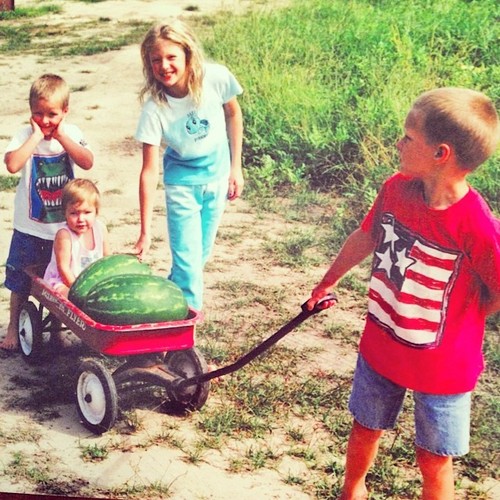 From the age of seven until she enrolled at Georgia Tech, Bridges worked on her family's produce stand selling tomatoes, green beans, and cantaloupes. Growing up on a farm sparked Maggie's love of science at a young age.
"There are animals everywhere. On top of being a farmer, my dad is basically a mechanical engineer," Bridges explains. "He was always patient explaining how things worked, from irrigation systems to tractor motors."
As graduation nears, Bridges is looking for a way to combine all of the things she loves into a career path. An interest in the sciences from her upbringing on the farm, exposure to the health industry from her mother's career a nurse, and an affinity for marketing have led her towards a degree in Business Administration with plans to attend pharmacy school after she completes her undergraduate degree.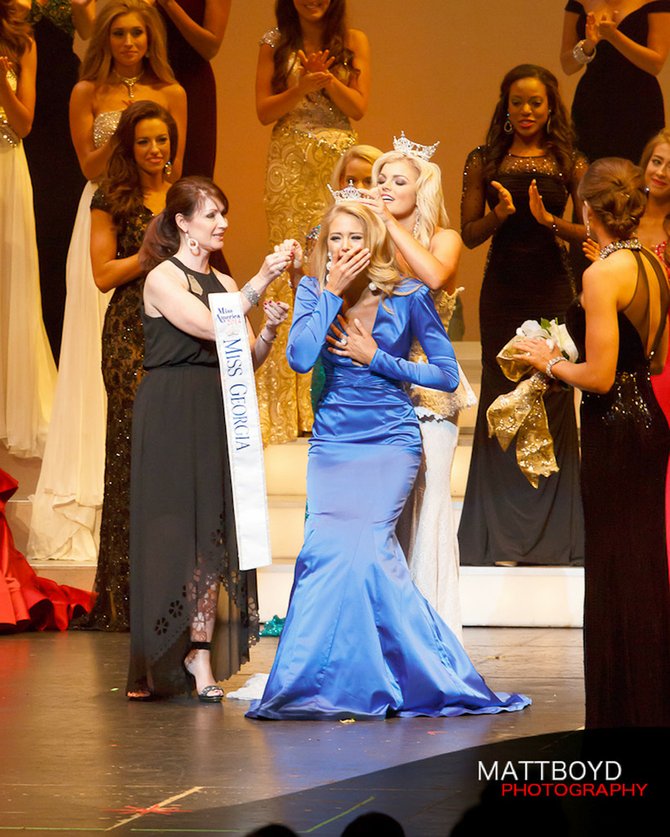 Bridges realizes beauty pageants may not be the first thing you might associate with a Georgia Tech student.

"I feel like being a female at Tech, it's kind of your duty to break stereotypes."
While she busts down those stereotypes in preparations for the Miss America pageant in September, she has built up a wide network of support.
"I've had an incredible response. I'm so thankful that our school has been so supportive," she explains.
Bridges is well known across campus. She has served as a campus tour guide welcoming potential students and as a student ambassador. She says it's been the perfect opportunity to share her love of Georgia Tech with others.
"You have no excuse to come to Georgia Tech and not be 100 percent you," Bridges advises. "You can come here and be a science genius, or you can come here and be Miss Georgia."
Until coming to Georgia Tech, Bridges had never been outside of the United States. She was accepted into a study abroad program and she began the year 2014 traveling through Australia, New Zealand, and Fiji.
"It was an amazing experience. Seeing the beaches in Fiji was priceless." Bridges' father encouraged her to take the opportunity to expand her world view while she was at Georgia Tech.  Heeding that advice, Maggie soaked up every adventure she could during her time overseas. She swam in freezing glacial lake, went skydiving, and went Scuba diving in the Great Barrier Reef.
Ask her about her favorite class since she has been at Georgia Tech, and you get a bit of a surprise response.
"CS 1371," she says with no hesitation. "I didn't realize how much I was going to love coding."

"I think with every Tech student you try to find your passion and then keep pursuing it in the real world."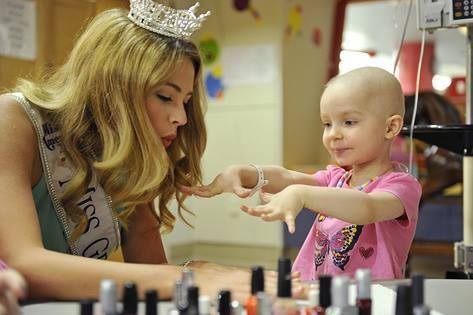 Another passion of Maggie's is volunteering. She's based her Miss America platform around it.
While at Tech she's worked with the Ronald McDonald House, the HandsOn Network, and Kids@Kollege. She hopes to encourage others to find organizations where they best fit as a volunteer.
When she's not criss-crossing the state volunteering to brighten the days of children in the hospital, she's making media appearances, and preparing for the Miss America finals in September. 
"I'm dealing with no sleep, which Georgia Tech has prepared me so well for," Bridges says with a laugh.
Competing on the Miss America stage will fulfilling a goal Bridges has been working on for years.
Video: Show us your shoes!
---
Show Us Your Shoes
Georgia Tech students engineer a pair of shoes for Miss Georgia inspired by a Tech icon.
---
Miss Georgia will be putting her best foot forward thanks to some shoes engineered by a team of Georgia Tech students.
The Miss America Parade is almost old as the pageant itself. In the 1970s spectators on grandstands in Atlantic City, New Jersey yelled out to see the shoes the contestants were wearing. In the past decades, the contestants have transformed the parade with elaborate shoes often designed to show personality and pride.
Three Georgia Tech industrial design students answered the challenge of engineering a uniquely Georgia Tech shoe for Maggie Bridges to wear in this year's Miss America Parade, and they used some pretty sophisticated technology to make a pair of shoes that will be sure to ramble up the crowds in Atlantic City.
From left: Maren Sonne - Newnan, GA | Jordan Thomas - Locust Grove, GA | Julia Brooks - Fayetteville, GA
After sketching out designs and discussing science and engineering themes, team of students ultimately decided to go with a riff on the Ramblin' Wreck.
The intricate details of the final design employed various technology available to most students at Georgia Tech with an itch to invent or create.
The students used a laser cutter to produce a finely detailed grill almost identical to to the front of Tech's beloved Model A Sport Coupe.  The headlights were created on a 3D printer. The wheels affixed to the shoe are a combination of acrylic whitewalls, and 3D printed tires (complete with tread detail).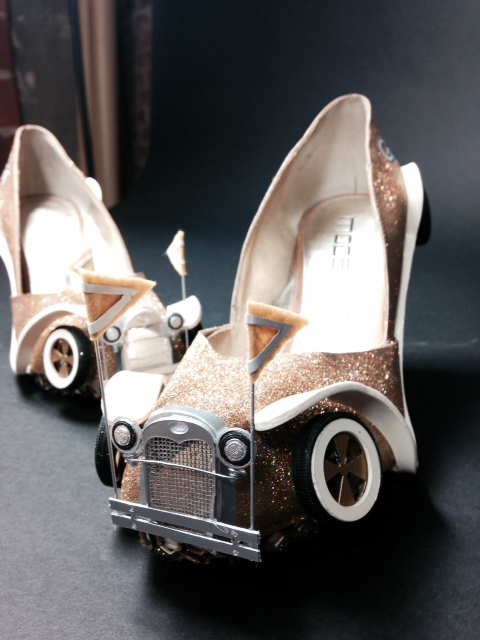 Those iconic white running boards were replicated by casting the basic shape, then heat molding the material to form to the shape of the shoe.  The students even paid attention to providing a Georgia Tech touch on the heels, using a laser cutter and create a complex black and gold honeycomb pattern.
Dr. Wayne Li, professor of industrial design, mentored the students in the construction process, helping them conceive the best use of materials to create a finished look. Tripp Edwards, the director of shops for the College of Architecture, assisted with using the machinery and technology necessary for completing this ramblin' footwear.
Miss Georgia, Maggie Bridges, will wear the custom-engineered footwear in the Miss America parade to be held on September 13 in Atlantic City. The live broadcast of the finals will air on ABC Sunday, September 14th.
Credits:
Writer: Steven Norris
Photos and Video: Gabriel Pippas and Melanie Goux