A Family Tradition
By Kristen Bailey
As Tech celebrated its 250th Commencement in December 2015, we talked with a few graduates with connections to Commencements past.
For some who come to Tech as a legacy, they may be the most recent in a long lineage of Yellow Jackets. For others, they're part of a new generation that is planting roots that could start that lineage for years to come. We talked with four graduates about their families, their time at Tech, and where they are headed next.

Gene Hynson
MAJOR: Computer Science
POST-GRAD PLANS: Working in IT at Boeing
PHOTO: Gene's great-great-uncle, Floyd Furlow, was on the Georgia Tech football team in 1899.
When he first started looking at colleges, Gene Hynson didn't realize just how deep the Tech blood ran in his family. He knew his mother and great-grandfather, James Furlow, had both attended, along with a few other family members. He knew that James had been inducted into the Engineering Hall of Fame in the 1990s. Thanks to some additional research by his mother and grandmother, he learned that the family's Tech tradition began in 1899 when Floyd Furlow, his great-great-uncle, played on the Georgia Tech football team.
Gene, who is graduating at age 20, earns a Bachelor of Science in Computer Science this week. He wanted to come to Tech anyway, since his passions aligned with Tech's strengths, but the family connection made it even more exciting once he got here.
"It's really cool to be part of it," he said.
Someone from each generation of his family has attended Tech since the first Furlow in the 1890s. Hynson's great-grandfather won the Cake Race his sophomore year, earning him a cross-country scholarship. Great-great-uncle Floyd repaired an elevator as a student, which led to a job offer at Otis Elevators, where he eventually became president.
Gene has made unique memories of his own. He became a senior leader with Campus Christian Fellowship, was involved with the Ramblin' Running Club, and regularly attended swing dances through the Georgia Tech Dance Association. Perhaps his longest lasting memory will be getting engaged at one of those dances in the Student Center Ballroom.
"It was a 1920s themed dance, and I actually wore a white tuxedo that had belonged to my great-great-grandfather," he said. "I had the ring in my pocket and at one point I spun her, and while she was spinning I got down on one knee."
Gene will head to Charleston shortly after graduation, where he'll work in IT for Boeing. He'll stay connected to Tech pretty easily, though — in January, he starts graduate school through Tech's Online Master of Science in Computer Science program. Still, it won't be quite the same.   
"I'll miss the atmosphere of campus," he said. "It's peaceful here. It can be far to walk sometimes when you're going through the storm of classes, but it's peaceful here and I'm going to miss it."

Devon Peet
MAJOR: Computational Media; Minor in Computing and Business through the Denning Technology and Management Program
POST-GRAD PLANS: Interning with Salesforce and pursuing a master's in Human-Computer Interaction
PHOTO: Devon's father performs in The Adding Machine at DramaTech in 1973. Devon also participated in several DramaTech shows and served a year as the group's business manager.
Devon Peet thought briefly about not following in the footsteps of his mom, dad, two uncles, a cousin, and two older siblings when choosing a college.
"My first semester, I was like, 'This is awesome!,'" he said. " Then you take classes and have exams, and you're like, 'This is really hard!'"
Still, Tech quickly became Devon's home away from home, perhaps more than for most since he also had two older siblings on campus. He participated in the marching band (as had every other Yellow Jacket in his family) and DramaTech Theater (as did his mom and dad), started two student organizations with the College of Computing, studied abroad in Spain, did undergraduate research with animal computer interaction through Georgia Tech's FIDO project, served two years as a peer leader and resident advisor with Housing, and helped run the Invention Studio as an Undergraduate Lab Instructor.
"The thing I've liked the most was that I could do so much," Peet said. "There were times I thought about dropping some of the things I was involved in, but they all added something. I can't imagine Tech without those experiences."
Devon's youngest sister also later joined him on campus. The siblings have taken classes together when it fits their schedules, have lived together off campus, have all been in band, and have always encouraged one another to excel.
"To borrow from when we did FIRST Robotics in high school, they call it 'coopertition' — we all want each other to get A's, but you want to do just a little better than them."
Devon graduates this week with a Bachelor of Science in Computational Media. He'll spend next summer working in user interface and user experience at Salesforce before returning to Tech for a master's degree in human-computer interaction.
"I couldn't have guessed how things would progress and connections would be made," Devon said.
"I took a class three years ago with [Associate Professor] Melody Jackson that led to a light bulb moment for me, because it was hard, interesting, and I was good at it. I ended up being a teaching assistant for the class, which led to undergraduate research. All because I took one class with my brother that sounded cool."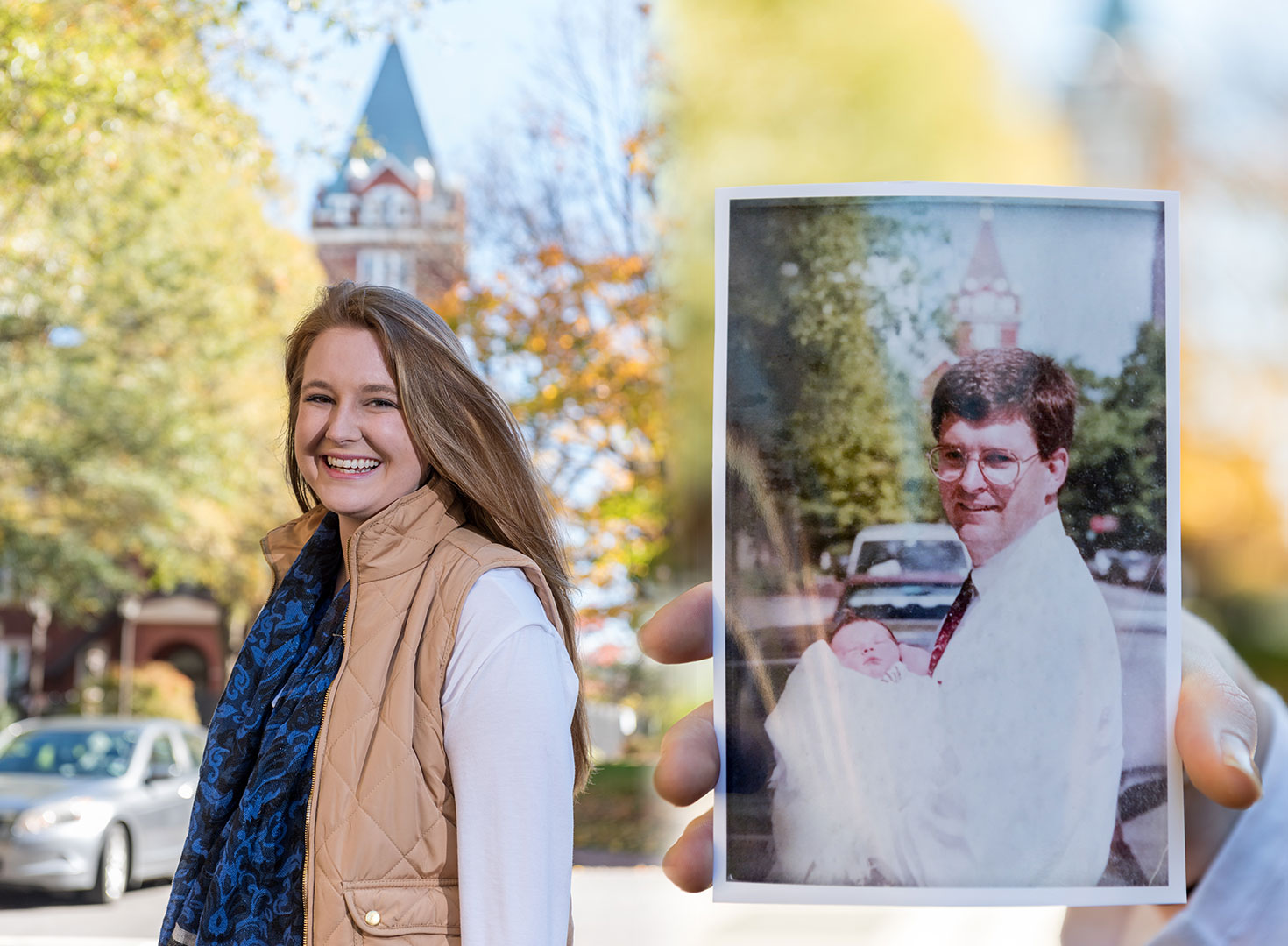 Catherine Fletcher
MAJOR: Business Administration
POST-GRAD PLANS: Working with Prairie Capital Advisors
PHOTO: Catherine's father took a photo with each of his children at Tech Tower shortly after they were born. This photo was taken in April of 1992, when Catherine was two days old.
Catherine Fletcher's father indoctrinated his children early. Catherine grew up attending Georgia Tech sporting events, and her dad, a 1981 graduate, took a photo of her as a newborn at Tech Tower. Their home is an explosion of white and gold décor. Her family even had a special version of the fight song.
"My dad told us the words were 'happy engineer,'" she said. "At games he just said other people didn't know the words."
Catherine will earn her Bachelor of Science in Business Administration this week, with a concentration in accounting and minors in international affairs and history, technology, and society. While at Tech, she's been a FASET leader, Wreck Camp counselor, and Georgia Tech Ambassador, and she studied abroad at Oxford University. One of her favorite Tech experiences, though, was her senior year as a peer leader in a residence hall full of first-year women.
"The best decision I made was going back and being a freshman again," she said. "It was just so fun. It kept things fresh."
When Catherine looked at colleges, she initially wanted to get as far away as possible from her home of Norcross. But after spending the night on campus with a friend who was a student, Tech felt like home. Catherine got her acceptance online while on a mission trip overseas and didn't even talk with her parents before confirming she would attend. A year later, her younger brother graduated high school and joined her on campus.
"Tech embodies family for me," she said.
The Fletcher family legacy started with Catherine's grandfather who attended before serving in World War II. She has often walked past the field near Matheson and Perry where he trained for the war. She has both his and her father's RAT caps.
She also had the photo of her and her dad, taken when she was two days old, in her room freshman year. He had framed it and given it to her as he departed on move-in day. Though he'd always taught her to be a "happy" engineer, he wrote the real words on the back of the photo: "You've always been a helluva engineer."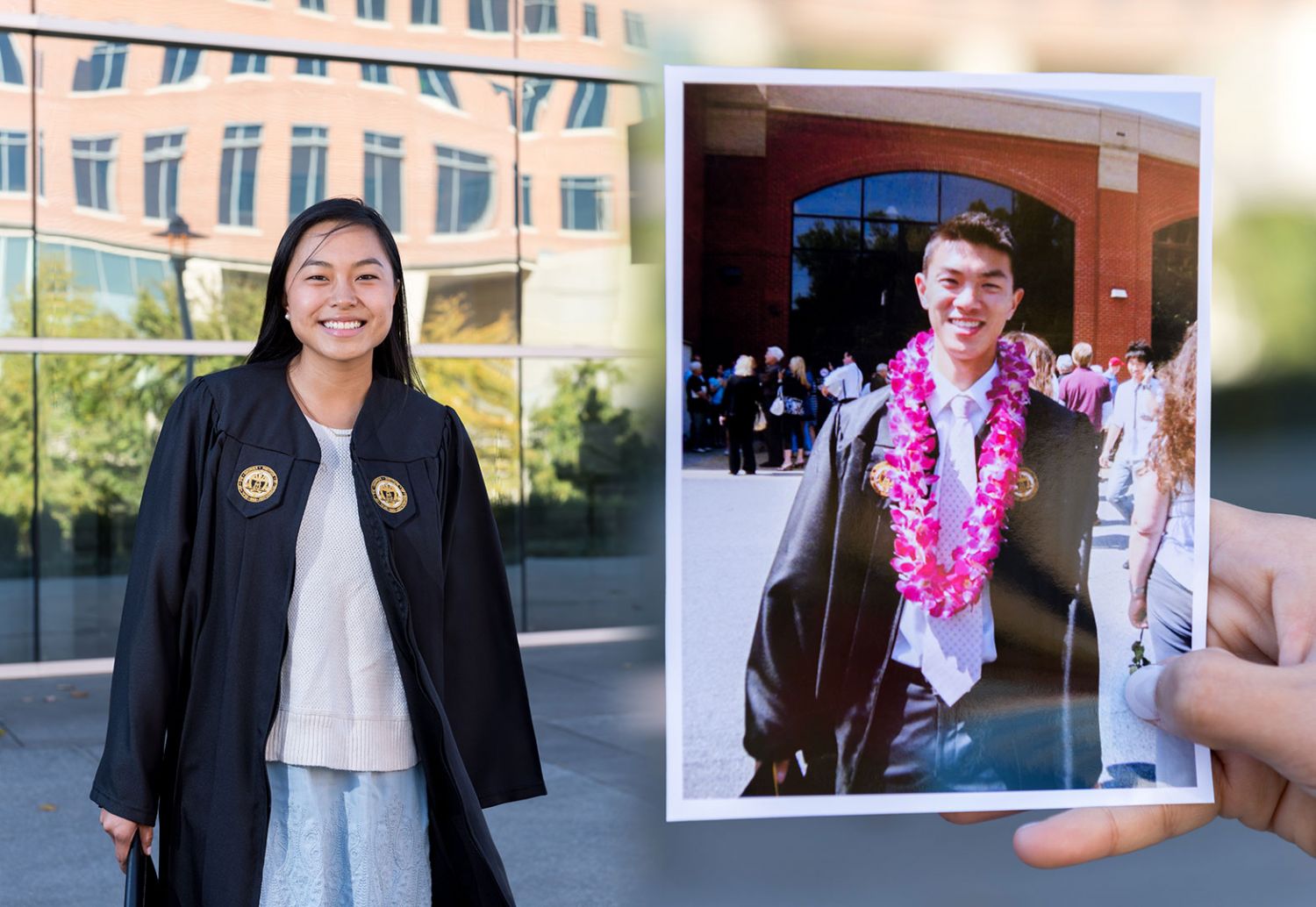 April Hsieh
MAJOR: Industrial and Systems Engineering
POST-GRAD PLANS: Working at Georgia Power
PHOTO: April's cousin Ferris Hua, whose graduation was at Alexander Memorial Coliseum, helped start her family's Tech lineage.
When April Hsieh walks across the stage this week as a Tech graduate, it will be her sixth Georgia Tech Commencement. She's the latest of a long line of recent Yellow Jackets in her family — but not the last.
In middle school, April came to campus with her parents to visit her older cousins who were out-of-state students from California. They often came to April's house in Johns Creek, and she, her parents, and brother would come to campus to see the cousins so they had family support away from home. April made it her mission to be a contrarian during those visits.
"I wanted nothing to do with it," she said. "I wore a Georgia sweatshirt and red bows. I barked at people. I was awful."
Then she took a campus tour of Tech.
"After that, I thought, 'Oh shoot, I have to go here,'" she said. "Everyone in my family is sort of similar, and for the same reasons it was the right fit for them, it was right for me. Now we all have this shared experience."
Academically, Hsieh found industrial and systems engineering to be a perfect match for her sensibilities. Outside of class, she found a place with her sorority, Alpha Chi Omega, and as part of GT 1000's Team Leader Advisory Board. After four co-op rotations with Georgia Power, she'll return there after graduation in a full-time position.
Leaving behind the campus and its memories may be the toughest part — being on campus with like-minded people, and storming Grant Field after Tech's victory over Clemson in 2011.
She'll have a couple of reasons to come back, though, with at least two more Commencements to attend: Her brother, Allen, is majoring in mechanical engineering, and her cousin Lin is working on a master's in business administration.