Film Figures
By Victor Rogers February 23, 2017
A Georgia Tech student is behind the scenes of Academy Award-nominated film Hidden Figures.
"Isn't your husband a rocket scientist?"
That question — posed to Adam Cox's wife, Mallory Rose, by a set decoration buyer for the film Hidden Figures — is how Cox became involved with the making of the film.
"My wife got a text from Lauri Lannan, saying they need to put formulas and charts on the chalkboards and papers for the movie set, and they wanted it to be relevant and accurate to the period," said Cox, a doctoral candidate in Georgia Tech's Daniel Guggenheim School of Aerospace Engineering. Lannan knew Cox's wife, a ceramic artist, through their interaction at MudFire Clayworks in Decatur, Georgia. So, she reached out to Cox for his aerospace expertise.
Cox quickly agreed to help for two reasons: "They're making a movie about space," he said. "And, they're making a movie about the engineers — not the astronauts."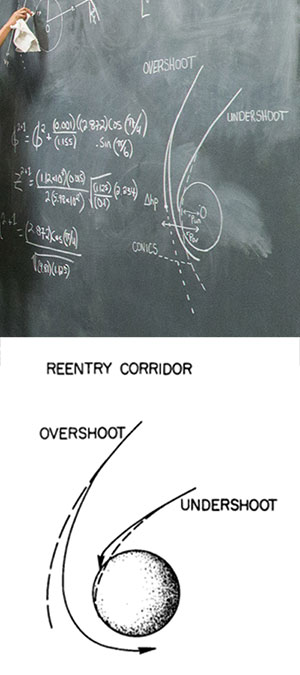 Orbital diagram on blackboard above is one of many provided to film set decorator by Adam Cox.
The film focuses on three African-American female pioneers: Katherine Johnson, Dorothy Vaughan, and Mary Jackson, who were part of NASA's team of human "computers" who calculated by hand the flight trajectories for Project Mercury and other missions. Principal photography on the behind-the-scenes film began in Atlanta in March 2016 and finished in May.
Since its December release the film has grossed more than $160 million worldwide and has been nominated for three Academy Awards: Best Picture, Best Adapted Screenplay, and Best Supporting Actress (Octavia Spencer).
Once Cox was on board, the set decorator sent him keywords from the script so he could see what math the characters were talking about.
"I'm one of the people who — on the second or third time watching the movie — will pause the movie and look at what's on the board," Cox said. "So you want it to be right."
To get it right, Cox went into NASA's technical research database online and pulled documents that were published around that time — 1961 and 1962.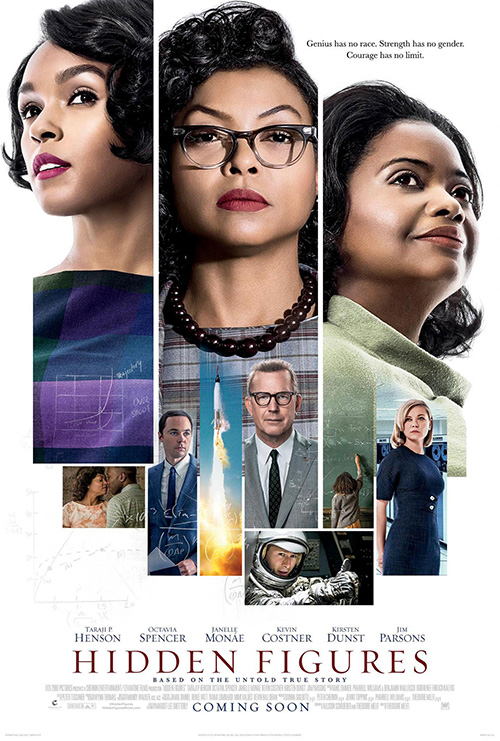 Promotional poster for film
Hidden Figures
. Image credit: 20th Century Fox
"If you're going to make it accurate, you should get the math that they actually used then — not the math we use now," he said.
Cox found work that the human "computers" would have been doing, and he sent the set decorator equations they could put on the board as background for certain scenes.
"If there's something [on the chalkboards] that one of the actors wasn't actively writing during the scene, it's probably something that I provided," he said. "What they were writing during the scenes was so integral to the script that they may have set up some of that when they were writing the script."
In addition to helping with the equations as an uncredited consultant, Cox also provided the set decorator with textbooks from that period.
"She said Kevin Costner is very particular [regarding accuracy], and he will say 'this doesn't look right' [if something is amiss on the set]."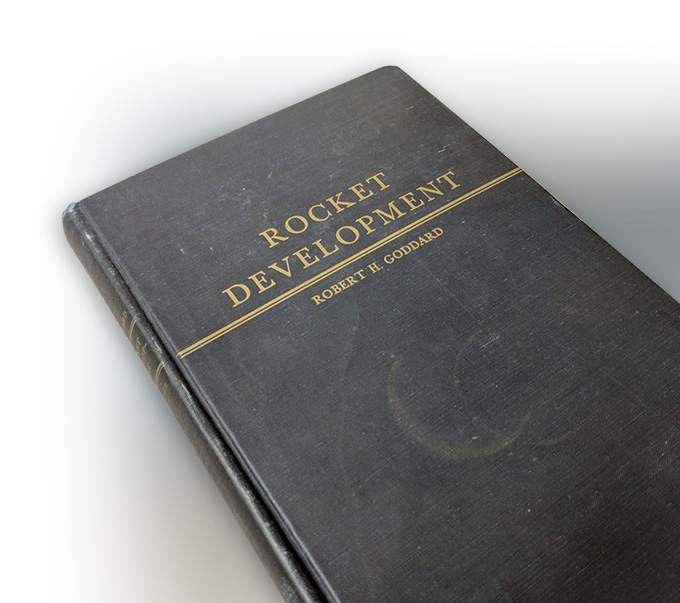 Rocket Development
by Robert H. Goddard, is one of several vintage textbooks provided to film set decorator by Adam Cox.
So, Cox gathered approximately 30 books — some from his own collection and others borrowed from colleagues including his advisor, Regents Professor Dimitri Mavris. He chose books on math, structures, thermal analysis, and aerodynamics that engineers probably would have had in their office in the early 60s. The books were placed around the film sets.
Cox and his wife saw the movie a few weeks after it opened. Naturally, he looked to see if his contributions made it on screen. They did.
"It's a great movie," Cox said. "I'm proud to have had any part in it, especially one related to making it all historically and scientifically accurate."
VIDEO: scene from Hidden Figures