Finding Fencing: Rachel Wakefield
By Brice Zimmerman | Published November 6, 2018

On the fourth floor of the Campus Recreation Center, past the shoe-squeaking games of pick-up basketball and the dull thudding of smashed volleyballs, there is a unique and distinct sound.

Metal, lightly clinking.

It is a practice night for the Yellow Jacket Fencing Club and this session is full. The team is preparing for a tournament, a short two-hour journey across the South Carolina border to Clemson.

"We'll do 15 minutes of running and warm up," says Stephanie Baione, the head of the club's public relations committee and a fourth year Computational Media student. "Then, we'll do a team stretch followed by footwork and bladework."

The Yellow Jacket Fencing Club has over 100 members and is the largest collegiate fencing organization in the Southeast. At a tournament, Georgia Tech can be represented by dozens of fencers with bouts against non-collegiate participants of all ages and experiences. Every year, the club hosts the largest fencing tournament in the state of Georgia, the Yellow Jacket Open.

"People forget," says Baione sharply. "We are athletes."
One participant has arrived late. Rachel Wakefield, a Mechanical Engineering student also in her fourth year, briskly walks to the back reaches of the CRC courts. Her tardiness is excused. Rachel has just completed a test.

While her teammates finish up footwork drills and pull blades from the club's armory, Wakefield prepares for her final tune-up before Clemson. Ear buds still in from a trek across campus in the cold misty rain, she gears up quickly.

"I really like putting on fencing shoes," says Wakefield. "They're [made] for the sport. It just feels like I'm a real fencer when I put these on."
Until beginning her academic career at Georgia Tech, Rachel wasn't a fencer at all. She grew up playing soccer and lacrosse in Forest Hill, Maryland, a town with a population fewer than 20,000 residents. By high school, Wakefield had switched over to running cross country and track full-time. It was her interest in engineering that led her south to Atlanta to visit a city and campus she'd never seen.

"It felt like I was on vacation visiting somewhere for fun," recalls Wakefield. "Then, I saw Tech's campus and it was gorgeous. I'd never lived in a city before. It was a little scary, but it was very encouraging to be surrounded by so many intelligent people."

Thrust into the middle of a bustling metropolis and a campus with a student population larger than her hometown, Rachel struggled to make personal connections.
"My first couple weeks at Georgia Tech were pretty miserable," reflects Wakefield. "I had the same group of friends growing up in middle and high school. We were really close and we always hung out. They were my support system."

"For the first time in my life, I was alone and that was a really big shock to me. I was so excited to come to Tech. I thought I was ready."

In desperation, Rachel began reaching out. She introduced herself in classes and on campus. She made a few friends and found some nice people, but had difficulty filling the void of being 700 miles from her best friends and family.

Then, she had dinner with the person at Tech she called her one close friend, Baione. Rachel had met her at FASET and she lived nearby on campus. After sharing a meal, Wakefield got an invite from Baione that took her off guard.

"She said, 'I'm going to fencing practice tonight. Do you want to come?' and I thought 'No, that's ridiculous. I don't fence. That's for Olympians.'"
Convinced to go, Rachel found exactly what she had been seeking.

"I ended up meeting the Fencing Club and finding that they were a community, not just a group of athletes who practiced together. They were a family and I thought, 'I want to be a part of that.'"

The first practices for new members focus on the basics of fencing. In fact, Rachel didn't even touch a sword in the first week, but the communal aspect of the Yellow Jacket Fencing kicked in immediately.

"After practice, the team goes out to dinner and they invite all the new people, which was me," says Wakefield. "I thought that was really neat to be outwardly included right away. Everybody sat down at a long table and began telling stories. I just became a regular."
As Rachel began to develop a deep and meaningful connection to the people in the Yellow Jacket Fencing Club, she was also falling in love with the sport.

"The basics are really what matter and are really easy to learn, but to go the next step you have to put a lot of time in," remembers Wakefield.

Rachel self-describes herself as stubborn and competitive. She had to adjust to the culture of fencing, which stresses sportsmanship and esteem for officials. That reverence has helped her become a more respectful overall person.

"Fencing was something that I had never done before, so I wasn't very good at it," she admits. "Being new to something, it takes time to learn. I had to spend about a year getting used to losing."

She adds, "It doesn't mean that I'm bad, it just means that I'm getting better. I apply that to pretty much everything now. If I have bad test, it doesn't mean I'm stupid or a failure in this class. It's just another way to get better."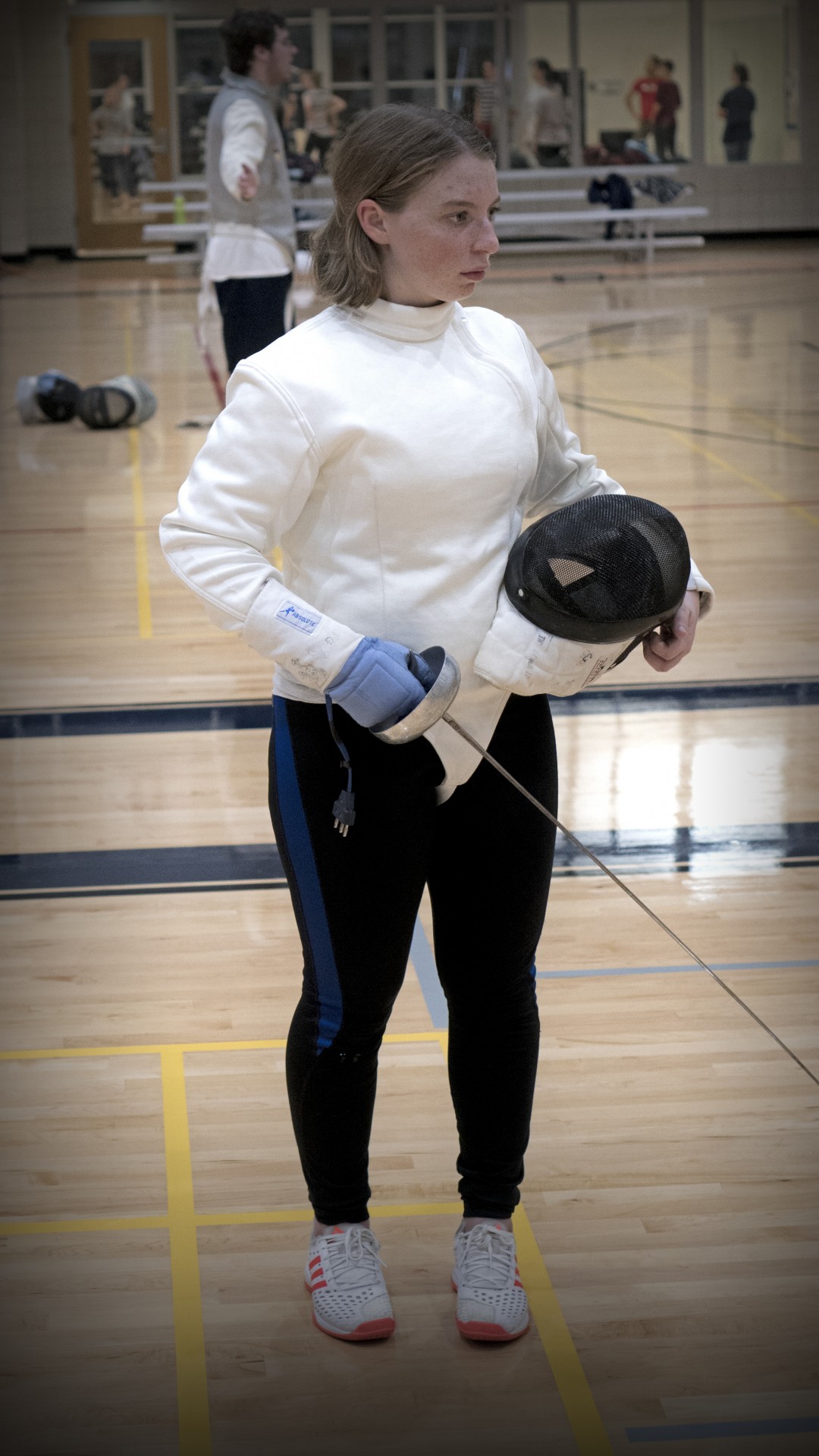 With her fencing shoes laced tightly, Rachel confidently walks across the gymnasium floor to her group. Three weapons are represented in the Yellow Jacket Fencing Club: sabre, foil and épée. Nearly four years ago, Rachel chose épée, which she calls the chess of fencing.

After warm-ups, the session switches to practice bouts to sharpen individual skills prior to the tournament. As she interacts with her group, Rachel effortlessly shifts between responsibilities as referee, teammate, strategist, combatant and friend. Before her last bout, she smiles and jokes with her opponent as they touch blades and salute. Then, just as she's about to tug her mask down, her expression changes suddenly. Smile gone, Rachel fits the mask on tightly and sets her stance.

She looks completely loose, comfortable and ready. There is no doubt now. She's a fencer.

En garde.
---

Related Stories

  
---

CREDITS
WRITER: Brice Zimmerman
DESIGN: Brice Zimmerman
VIDEOGRAPHY: Yash Tulsiani, Brice Zimmerman
PHOTOGRAPHY: Yash Tulsiani

SPECIAL THANKS: Yellow Jacket Fencing Club, Stephanie Baione, Rachel Wakefield, Campus Recreation Center