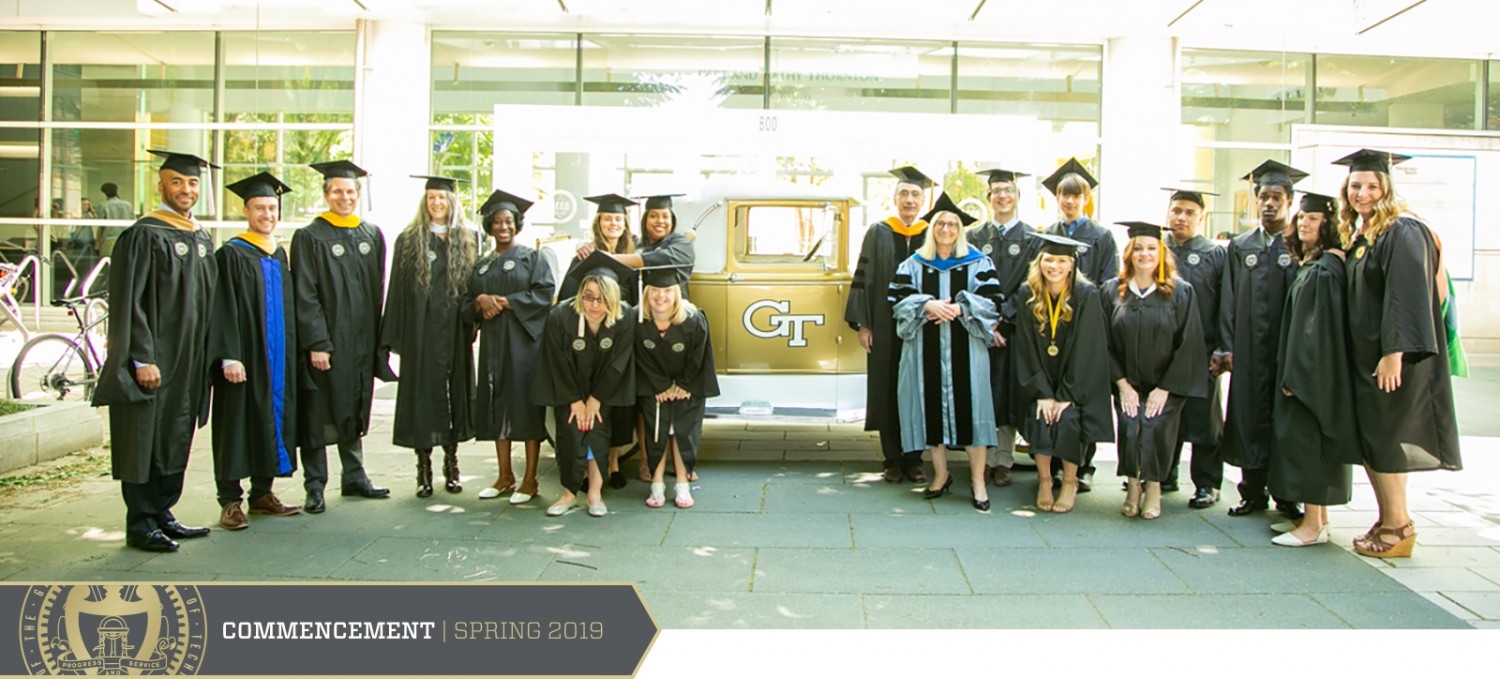 As Carrie Rose Crayton looked around at her classmates in regalia, taking pictures with the Ramblin' Wreck after their graduation ceremony, all she could say was, "I am so going to miss this."
Four years ago, Crayton came to Georgia Tech as part of the first cohort of Excel, a postsecondary education program for students with intellectual and developmental disabilities (I/DD). It was the first four-year program of its kind in Georgia, and it was uniquely Georgia Tech.
Watch highlights from the Excel graduation event on April 27.
 
This week, seven of those students graduated, earning their second of two certificates and celebrating with their families and guests at a ceremony on Saturday, April 27. The students will also be recognized with Georgia Tech's graduating students during the afternoon bachelor's Commencement ceremony on Saturday, May 4.
Excel graduates earn two separate certificates: one in academic enrichment, social fluency, and career exploration, and a second in social growth, leadership, and career development. The curriculum includes traditional subjects such as reading comprehension, math, and science, as well as life skills such as financial literacy, interpersonal communication, and community engagement. It is unique in that students take classes as a cohort, but also alongside degree-seeking Tech students in classes from the Georgia Tech catalog, including GT 1000.
"In the past, Georgia Tech has been recognized for its brains," said Ken Surdin, director of the Excel Program, at the Excel graduation event. "Today, it's being recognized for its heart."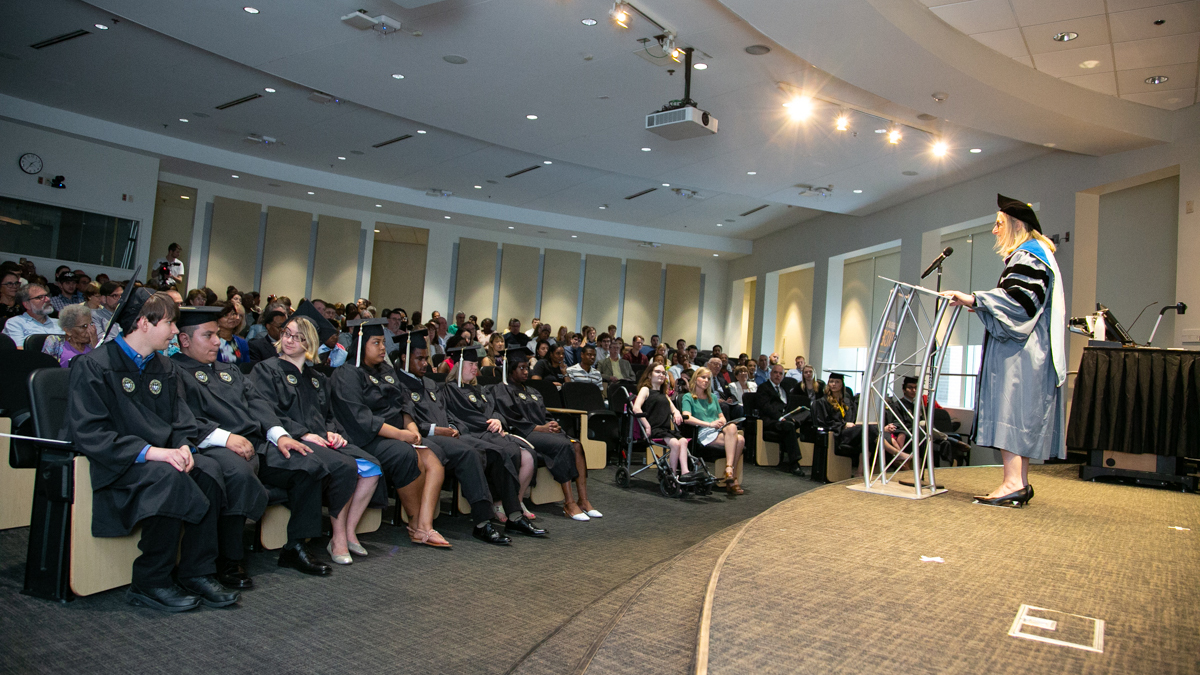 Terry Blum speaks at the Excel graduation at the Scheller College of Business on April 27.
Beyond classroom instruction, Excel students have spent the past four years attending football games, interning with government entities, getting involved in student organizations, and working on-campus jobs. Ninety Georgia Tech students have served as volunteer mentors, coaches, or tutors for the program. Those relationships are integral to helping the Excel students navigate campus resources, their growing independence, and life at Tech.
Each student is graduating with their own career aspirations, and some have already secured job offers. Two will work in positions at University System of Georgia institutions — Alex Goodman has accepted part-time jobs with Georgia Tech's Campus Recreation Center and with Sodexo, and Kurt Vogel will work in a fulltime role at Georgia State University's Center for Leadership in Disability. He interned with the Center as an Excel student, and also has been an advocate at the Georgia state legislature.
In her remarks at Excel's graduation event, Terry Blum, the Tedd Munchak Chair in Entrepreneurship, professor in the Scheller College of Business, and faculty director for the Institute for Leadership and Entrepreneurship, emphasized her pride for the graduates as they carry the Excel vision into the next chapters of their lives.
"Excel's vision is a world where people with disabilities are an integral and valued part of higher education, the workforce, and society," she said. "We hope we are helping to create this world that we want to live in — the Excel students certainly are."
The Excel Philosophy
Excel embraces the principles of access to all opportunities in society. It provides a structured and supportive postsecondary educational opportunity and addresses the full scope of the needs of this population — from fundamental academics to social activities and vocational training. Program activities are categorized under academics, social growth, independent living, and career development. Graduates of the certificate program will have learned work readiness skills, employability skills, social skills, executive function skills, and they have gained work experience through internships.