First in Their Families
By Brigitte Espinet May 1, 2018
The sweet celebration that is Commencement is all the more so when you're the first in your family to graduate from an institution of higher learning.
Read about and hear from a few soon-to-be first-gen college graduates who are helluva proud to share their stories.
Richard Huckaby
When Richard Huckaby crosses Georgia Tech's McCamish Pavilion stage on May 5 with his diploma in computer engineering, it will represent a big first: Richard will be the first in his family to graduate from a four-year university — and with an engineering degree, no less.
"Being in a highly technical field … no one's tried that before," said Richard. "The idea of pursuing an engineering degree just hasn't happened — not even in my extended family."
But Richard's claim to that first-generation title is only one of a series of firsts that went into motion once he enrolled in Georgia Tech.
Last year, Georgia Tech's all-male a cappella group Sympathetic Vibrations, which he led as music director for four years, won first place at the quarterfinal level of the International Competition of College A Capella.
"That's an amazing memory from my time at Tech. I'll never forget that feeling of having our name called out — an a cappella group full of scientists and engineers beating other groups with music majors," he said. "Our a cappella group is 21 years old, and that was the first time any group from Tech won an a cappella competition."
While that was the first International Competition of College A Capella win for the group, it wasn't the only one; the group went on to secure victory again this year.
Also, during his time with Sympathetic Vibrations, the group had their first win of the Album of the Year title from the Recorded A Cappella Review Board.
Other firsts were also related to his love of music: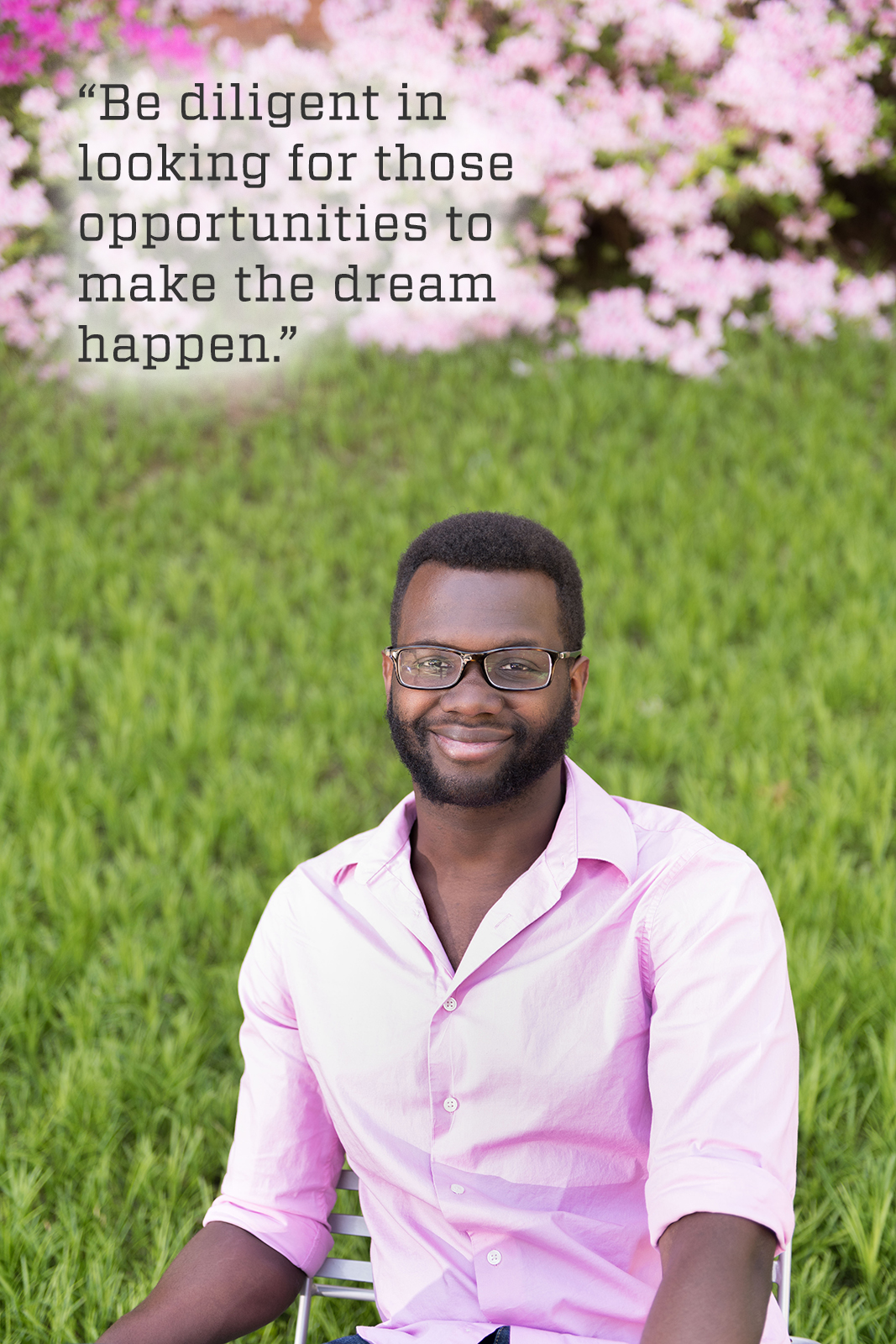 When he went to Cypress with the Georgia Tech Chamber Choir for Spring Break 2018, it was his first time ever leaving the U.S. It was the Chamber Choir's first international trip, too.
He says that these music channels certainly played a major role in how he was able to cope with the challenges unique to being a first-generation college student.
"I had a good support network and good friends through these music outlets," Richard says.
His affinity for music was also what led him to switch from mechanical engineering to computer engineering — an area of specialization, he learned, that would allow for lots of opportunities to incorporate music. For example, as part of the Robotic Musicianship VIP team, he undertook a final project that involved an interactive jazz improvisational performance with a robotic marimba player.
Reflecting on his decision to pursue engineering at all, Richard says, "Engineering is such a great field with a lot of career opportunities."
He's especially cognizant of the importance of a promising profession, given the financial challenges that he knows his family faced over the years because his parents weren't ever able to earn their own college degrees.
"My parents have been a huge driving factor for me," said Richard. "They always stressed getting an education and being well-rounded. In high school, I could tell they weren't financially stable, which motivated me even more. I wanted to have a stable career to support my family in the future."
Choosing Georgia Tech as his launching pad for that career wasn't necessarily anything more than a financially practical decision at the time, but having spent the past five years at Tech, he believes he could not have made a wiser choice.
"I actually didn't know how good Tech was till I got here; I picked it because it was in-state," said Richard. "But, it's one of the best decisions I've ever made … now that I realize how amazing this school is. It sets my life on a great trajectory."
That exciting path begins in May with a job as a technical consultant at the professional services firm Invisors, employment he was offered five months ago — and at a salary he negotiated up.
"I feel like I'll be financially secure for the rest of my life. I won't have to go through things my parents had to go through when it comes to finances," says Richard. "And my family is happy to know that they raised me in a way that I would want to pursue an education and do better."
Now that he has done better for himself, what's his recommendation to others who might be in a similar situation of being the first in their family?
"Be diligent in looking for those opportunities to make the dream happen."
Taylor Gilbert
At just 6, Taylor Gilbert had made up her mind about something that would eventually set her on a path vastly different from any of the generations before her in Calhoun, Georgia.
Curious about the yellow jacket-embroidered baseball cap that a fellow spectator was sporting at a local high school football game, Taylor asked why his "bumblebee hat" said Georgia Tech. After setting her straight about the "bumblebee" actually being a yellow jacket, he went on to explain that he'd graduated from one of the smartest schools in the country.
That was all she needed to hear.
"As a very confident 6-year-old, I immediately said, 'Well, if that's where all the smart kids go, that's where I want to go one day,'" Taylor recalled.
Fast forward 16 years, and she's about to graduate as a Georgia Tech Yellow Jacket with a bachelor's degree in business administration.
That's a big deal — not just because she's the first in her family to ever go to college, but because she almost didn't even apply to Tech.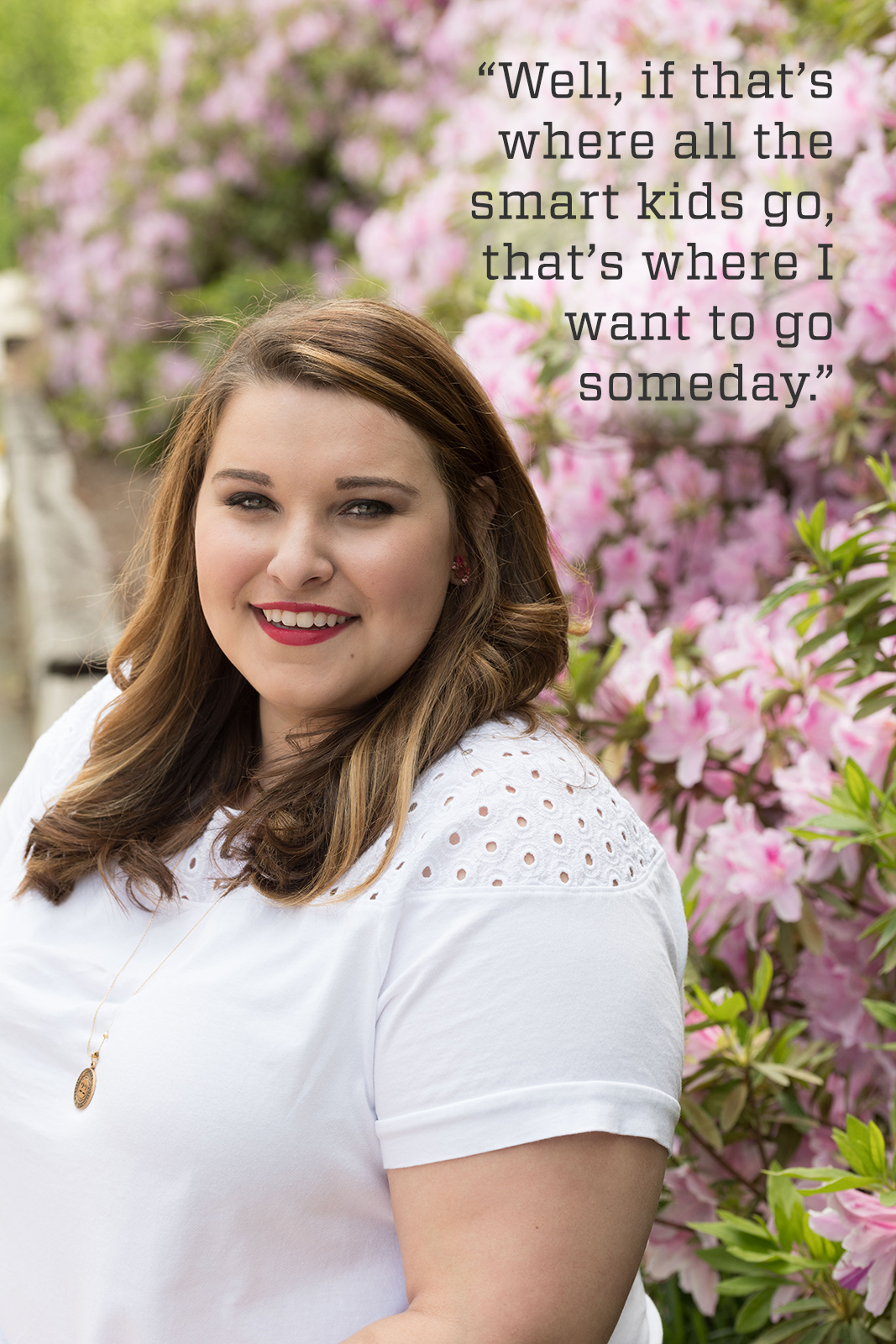 As luck would have it, the year she began applying to colleges is the year Georgia Tech encountered some glitches with the introduction of the Common Core App and had to extend the Early Action deadline — a blessing in disguise for her.
"The day the application was due, I decided I'm just going to submit the application because Georgia Tech had always been my dream, and I just needed to trust that the preparation I had done was going to work," she said.
It clearly did.
Now she's looking forward to a job as a human capital consultant in Deloitte's Atlanta office, helping the federal government improve their employee relations functions. She will be earning — in her very first post-graduation job — the same salary as her father and more than her mother, who like her father, has been working in the carpet industry in their hometown since graduating from high school.
Though she's frustrated by the fact that — at just 22 — her income will be on par with that of her parents "because I know how hard they've worked all these years," she's so proud to have broken the cycle.
"The stereotype is everyone in my area of the world stays in that area for multiple generations, goes to work in a carpet factory, and gets married straight out of high school," said Taylor. "Being able to be a first-gen college student and go off and complete a four-year degree … that's not the norm for my area, and it broke the stereotype and validated that it is possible if you put your mind to it."