Get on the Bus
Tour Provides Fun,
Informative Way to
Meet Community Leaders
By Stacy Braukman APRIL 2, 2018
Everyone looked surprised when the private charter coach pulled up to the curb on Ferst Drive. For one thing, it was massive, with more than enough room for the 28 or so Tech employees waiting to board. For another, it was emblazoned with larger-than-life photos of Atlanta Braves players and Fox Sports logos.
It's not the means of transportation anyone would have imagined for the Queer Atlanta Bus Tour. But its sheer unexpectedness was part of the fun.
The bus tour was session four of a five-part course for Georgia Tech employees, sponsored by the LGBTQIA Resource Center, called Level Up 2. The center first offered the tour to students in 2015 and, based on the interest she was hearing among faculty and staff, director Aby Parsons decided to incorporate it into this semester's Level Up curriculum.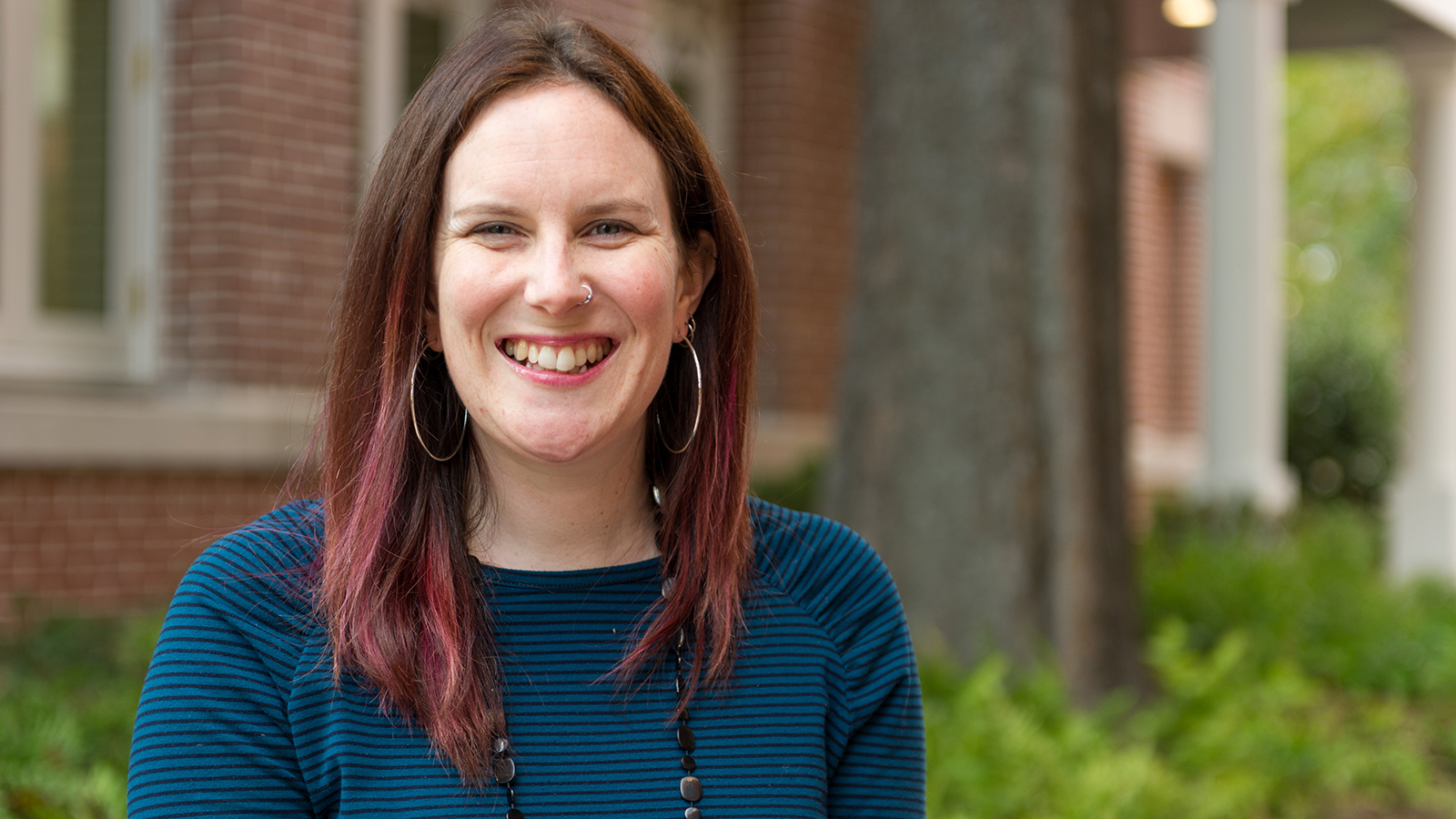 Aby Parsons
The program itself launched in Fall 2017. It was designed to build on the knowledge and skills developed in Safe Space training (a prerequisite) in the pursuit of bolstering allyship for LGBTQ people at Georgia Tech. "Our students and employees still face many significant challenges because of their gender identity or sexual orientation," said Parsons. "Allies play a crucial role in mitigating the impact of those challenges and dismantling barriers to access and inclusion."
On the tour, Tech employees learned firsthand about the efforts of local organizations to fight discriminatory legislation, improve access to health care, and incorporate anti-racist work into queer activism, among other issues. In addition to personal engagement, the goal is for faculty and staff to "use the knowledge they've gained to educate others, participate in service and volunteerism with these organizations, and grow in their commitment to allyship."
The first stop was the Phillip Rush Center, which celebrated its 10th anniversary in February. Here, the center's manager, Sebastian Beckham "Becks" Nix, walked the group around the facility.
He gave a brief history and overview of the work that has been done there by organizations such as the Health Initiative, Georgia Equality, Atlanta Prime Timers, Lost-N-Found Youth, Black Lives Matter, and dozens of others.
The Rush Center provides affordable, much-needed space to grassroots groups and nonprofits with a progressive or social justice focus. Though not exclusively LGBTQ, they are all allies. Linda Ellis, executive director of the Health Initiative (which began two decades ago as the Atlanta Lesbian Cancer Initiative), told the Level Up class, "We're getting our work done, and we want others to have a place to do their work too. We have been forging great relationships with non-LGBTQ progressive groups." She added that the center's "heart is rooted in the queer community, but it's bigger than that."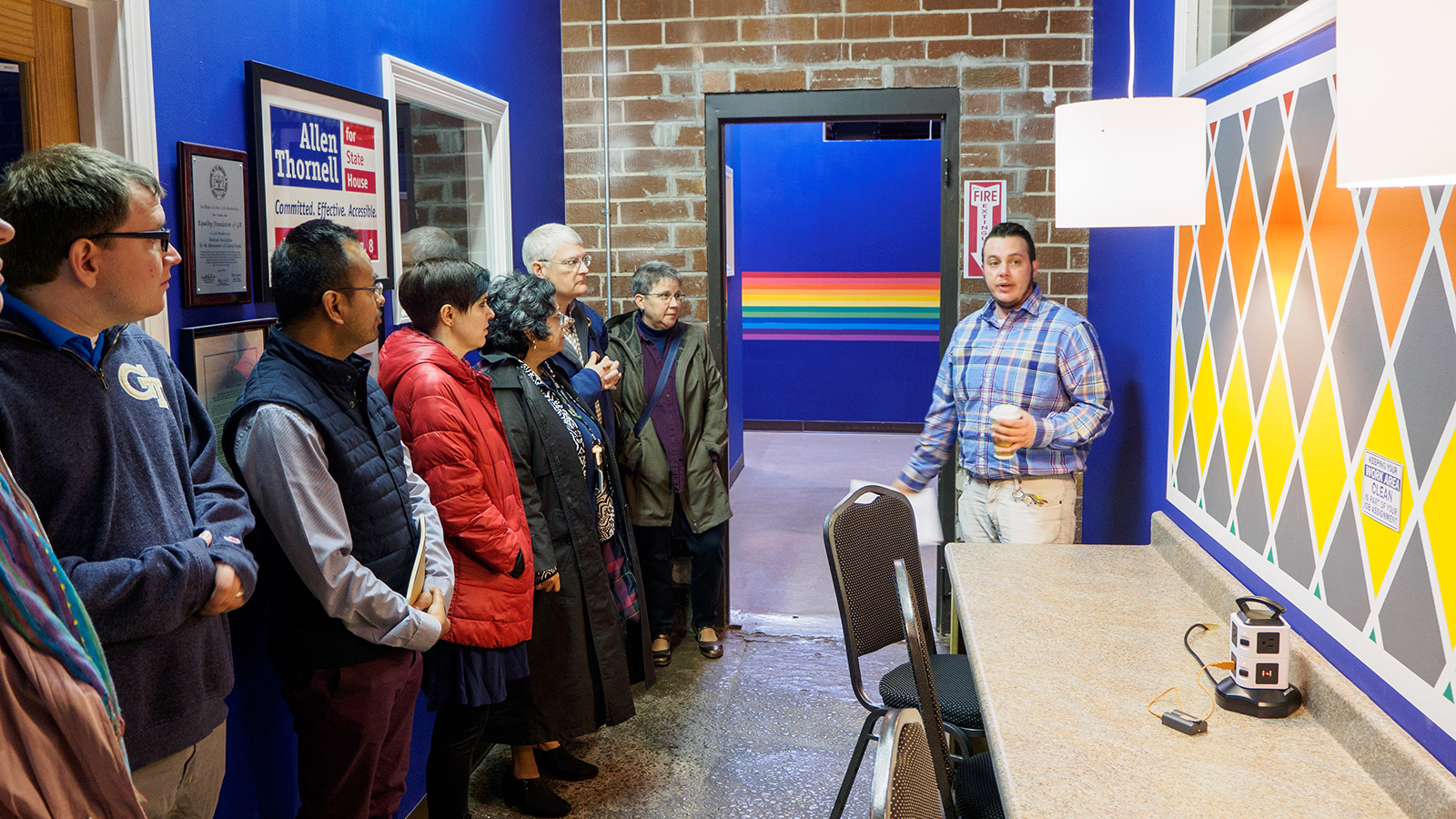 Becks Nix gives an overview of the many progressive organizations that call the Rush Center home.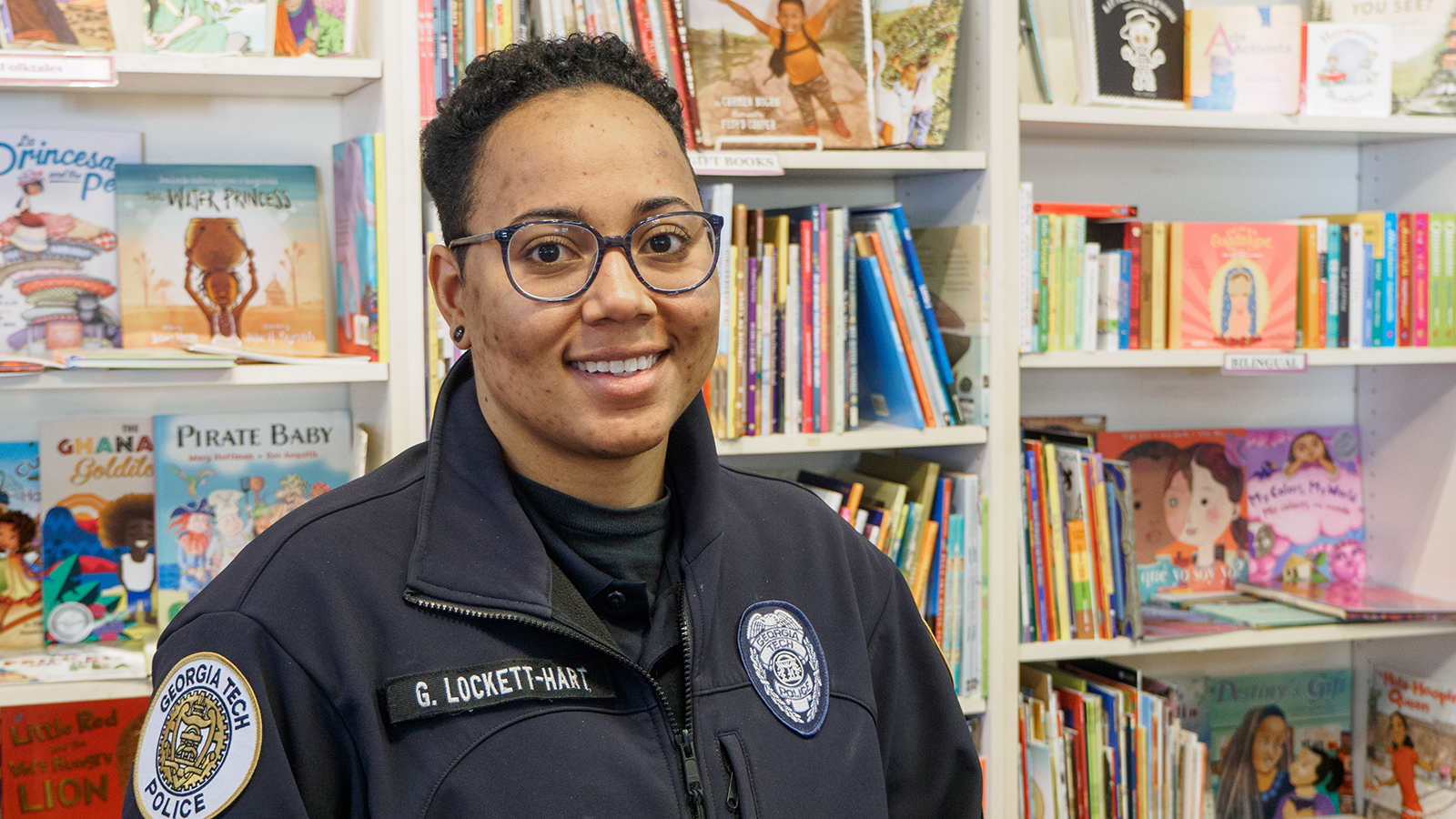 Gia Lockett-Hart
When asked about what motivated her to enroll in Level Up, Gia Lockett-Hart, an investigator with the Georgia Tech Police Department (GTPD), explained, "I wanted to be more educated about the resources that the LGBTQ community has in Atlanta. I don't think a lot of people know about some of the organizations that are around." She came away with a new understanding, "not just about LGBTQ issues, but also about other identities that people might not be that familiar with."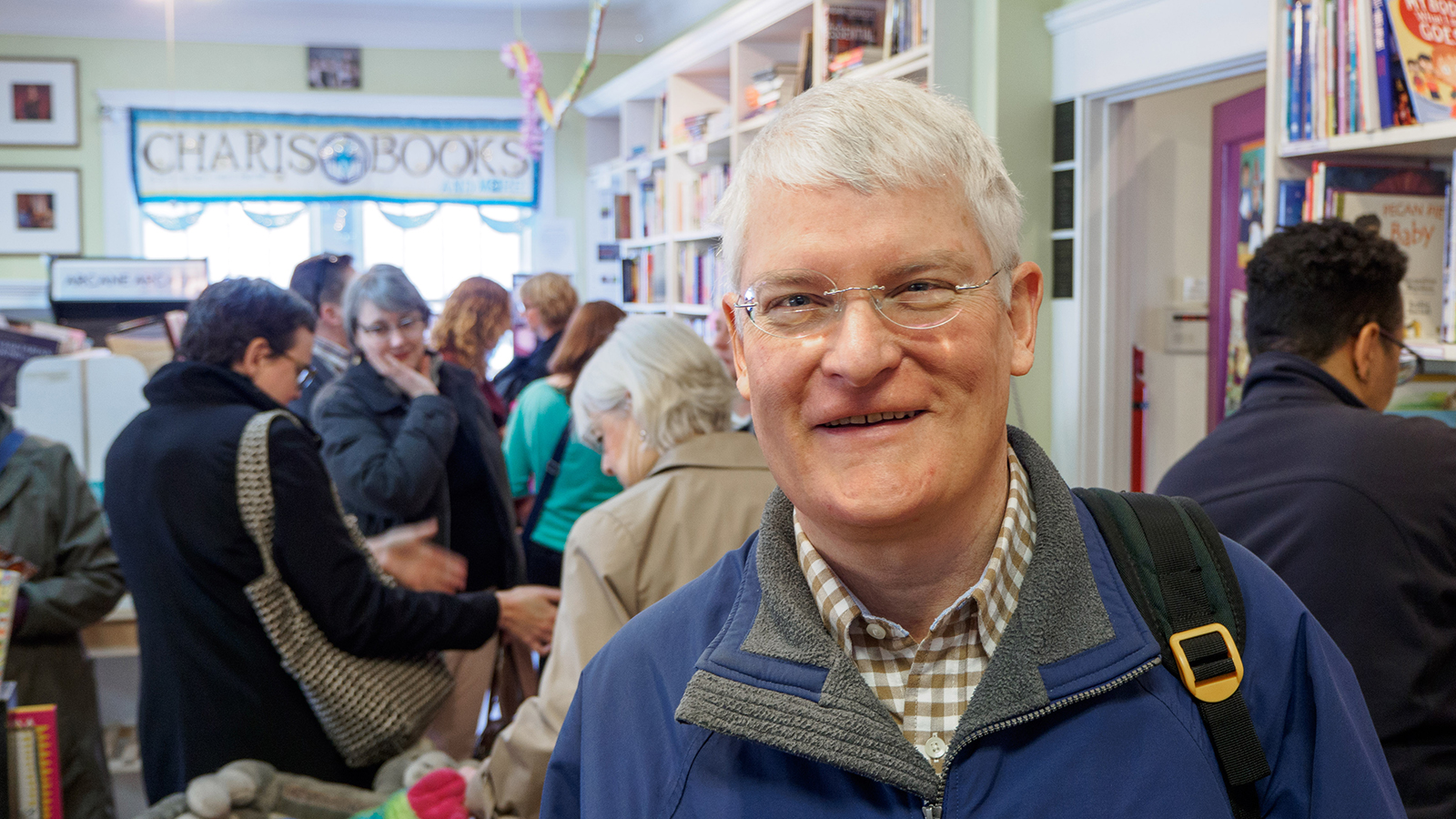 Chris Thompson
Classmate Chris Thompson, associate director of Technology and Student Activities at CEISMC, agreed. "I've learned a lot being a part of this," he said. "I have met some great people, and I am trying to take things that I've learned here back to my office and encourage other folks to go through the training in the future."
Next it was on to Charis Books and More, where the class met E.R. Anderson, executive director of Charis Circle, the store's nonprofit programming arm. Founded in 1974 in Little Five Points, Charis is the Southeast's oldest independent feminist bookstore.
Charis Circle hosts about 270 events a year — everything from poetry readings and book clubs to a Sunday morning yoga class and a trans support group. They have a special interest in reaching out to people who are affiliated with colleges and universities, whether it's faculty, staff, or students. "You do amazing things," Anderson told Level Up participants. "You have access to resources that many people in the city of Atlanta don't. But you have the potential to reach a broad audience, and we would love for you to share that here."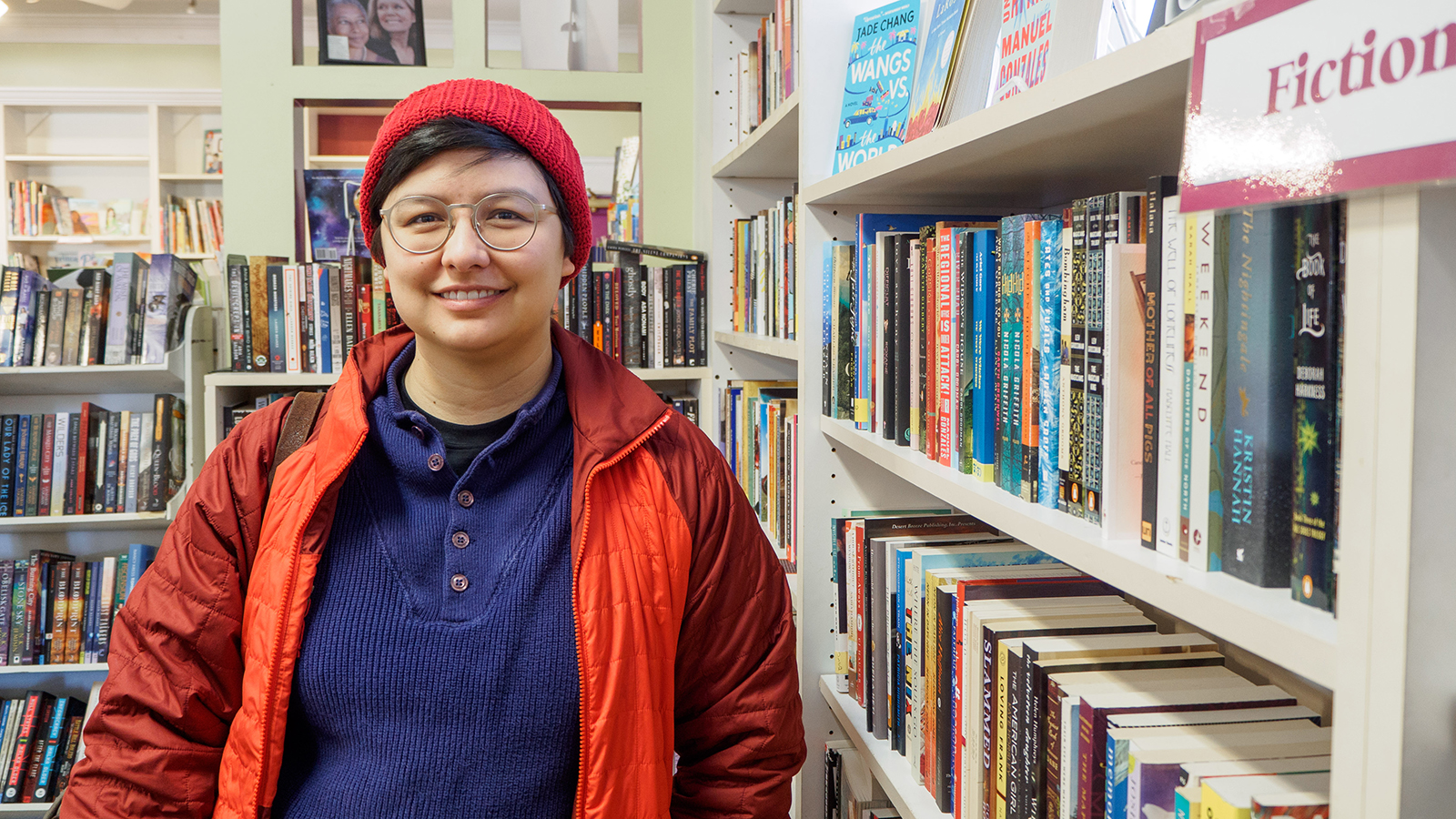 Kate Fu
The class responded to the tour with enthusiasm. Kate Fu, assistant professor in mechanical engineering, noted, "Seeing places where I could help as we walked through the Rush Center made me think that volunteering was something I could do there. That felt exciting."
For Fu, the entire Level Up course has been rewarding in another way, too. "It was really invigorating to have readings and hard thinking to do," she said. It was also a place where she could feel a sense of community and belonging with "allies and like-minded people" on a campus where she hasn't always felt that. Thanks to this course, she is now "feeling a little bit more at home at Georgia Tech."
This semester, Level Up 2 offered workshops on non-monosexual identities, intersex issues, and legislative advocacy. Through presentations, class discussions, and readings, participants have gained wide-ranging insight into how to make the Tech campus more inclusive. Enrollment was limited to 25, and the course, which Parsons developed and taught with graduate assistant Adreanna Nattiel, filled quickly.
Participants who attended all five sessions will receive a completion certificate at this year's Lavender Graduation on April 19. Those who have completed both Levels 1 and 2 will be given a plaque at the ceremony. Enrollment for the next offering of Level Up 1 will open this summer.