Getting By With a Little Help from Furry Friends
By Julia Faherty october 26, 2017
Many students find a source of peace, love, and support in animals. According to the Centers for Disease Control and Prevention, pets can decrease blood pressure, cholesterol levels, triglyceride levels, and feelings of loneliness.
Some Tech students know that to be true first-hand. Three Tech students share their experiences as pet owners.
Connor and Molly
Second-year mechanical engineering major Connor Meeds came to Tech from Groton, Massachusetts.
During his first year, Meeds experienced mental health issues due to stressors that out-of-state students sometimes face during their transition from high school to college. Meeds attempted to get counseling on campus, but found the most support in an unexpected resource — a hamster named Molly.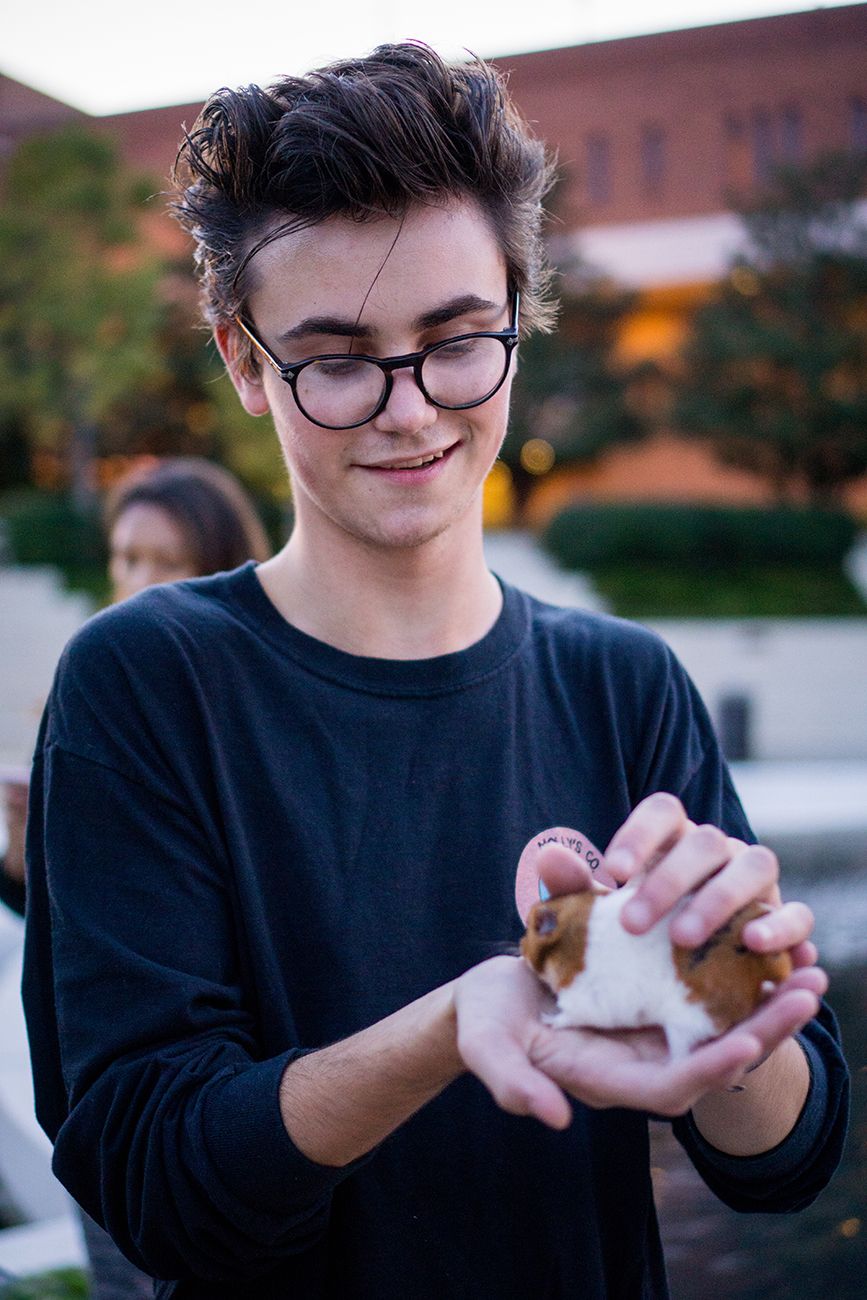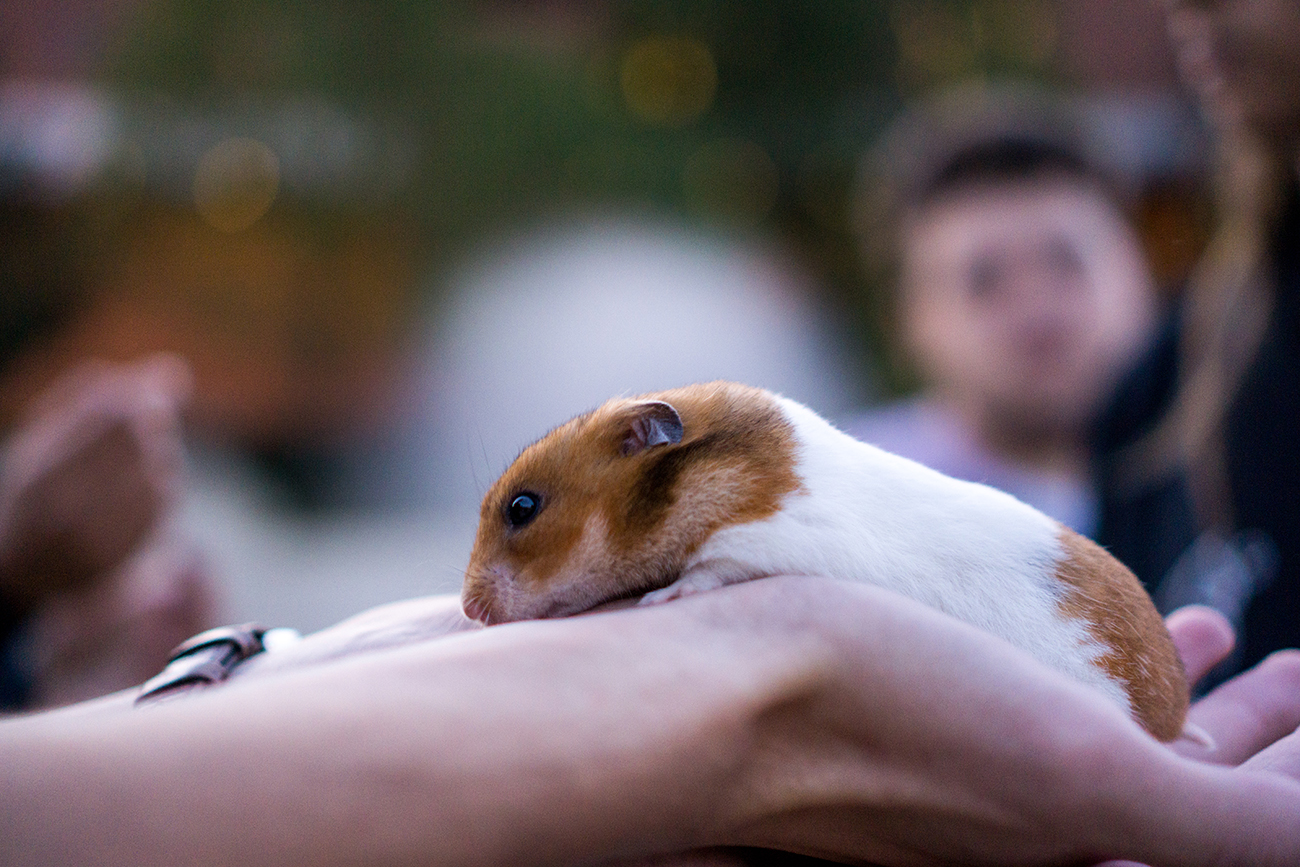 "Last year, I spent the day at a friend's house and had the opportunity to meet his pet hamster," Meeds said. "I was in a bad place at the time, but the hamster made me genuinely smile. I realized that a hamster might provide me some much-needed happiness, so I went to Petco and got the biggest hamster in the store."
Meeds now lives in his fraternity house with Molly. "She's a very caring hamster and has fit in well at the house. Everyone really loves her there."
Recently, Molly has become the mascot for a larger organization, Molly's Co. Meeds started Molly's Co. last summer as a comedic Instagram account.
"I started taking pictures of Molly with her fans to capture the genuine smile that Molly invokes in people. After the semester ended, I went back to my hometown and wanted to make use of Molly's followers. I started an online shop, Molly's Co., and promised to donate 20 percent of the proceeds to the National Alliance on Mental Illness."
After coming back to campus this fall, Meeds has promoted mental health awareness using Molly's Co. as his platform.
"My team and I actively meet with students across campus to give them the chance to share their mental health-related experiences and stories." Pictures of these students are posted on the Molly's Co. Instagram account with captions that reflect the students' stories.
Recently, Meeds sold Molly's Co. stickers on Tech Green with 100 percent of profits donated to the Georgia Tech Counseling Center.
"The support from campus has been amazing, and I'd like to give back as much as I can," he said.
Students interested in Molly's Co. should visit the website or Instagram page.
Emily and Bonnibell
Fourth-year mechanical engineering major Emily Farmer came to Tech from Clarkesville, Georgia. After experiencing mental health issues during her first few years here, Farmer chose to bring a support dog with her during the Spring 2017 semester.
"I took some time off school to focus on my health, and when I decided to come back, I wanted to bring a support dog with me," she said. "I had to provide proof of my illnesses from a psychiatrist and a general practitioner, as well as therapists giving their recommendation that I would benefit from having an animal on campus. Although the process took several months, I was eventually approved to have a dog in Georgia Tech Housing."
Farmer now lives with Bonnibell, a two-year old Corgi.
Farmer grew up with several dogs and a couple of cats at home but initially, she didn't know much about emotional support animals.
"During my first few years here, support animals weren't common on campus. My mom suggested that I look into bringing a pet to school, so I began my research."
Farmer and Bonnibell have lived together for the last two semesters and have established a steady routine.
"She wakes up and starts to whine for me to take her out at 8 a.m. each morning, so we get up and go for a short walk after she eats her breakfast. Then she goes into her crate while I have classes, but when I come back we play outside and she burns off some energy. For the rest of the evening, Bonnibell keeps me company by napping and eating while I get my school work done."
Farmer loves having Bonnibell with her, but also recognizes that owning a pet is a full-time responsibility. She has found a pet beneficial to her college experience but warns that it may not be the right choice for everyone.
"People often tell me that seeing Bonnibell makes their day, but caring for an animal is a big commitment. Students should really consider this when looking into support pets," she said.
Farmer plans to live with Bonnibell for the rest of her time of Tech. "I love having her around. She's sassy and can definitely have an attitude, but I like her being here."
Shannon and Molly
Third-year industrial engineering and computer science major Shannon Gerhard lives in Square on Fifth apartments with Molly, her five-year-old cat.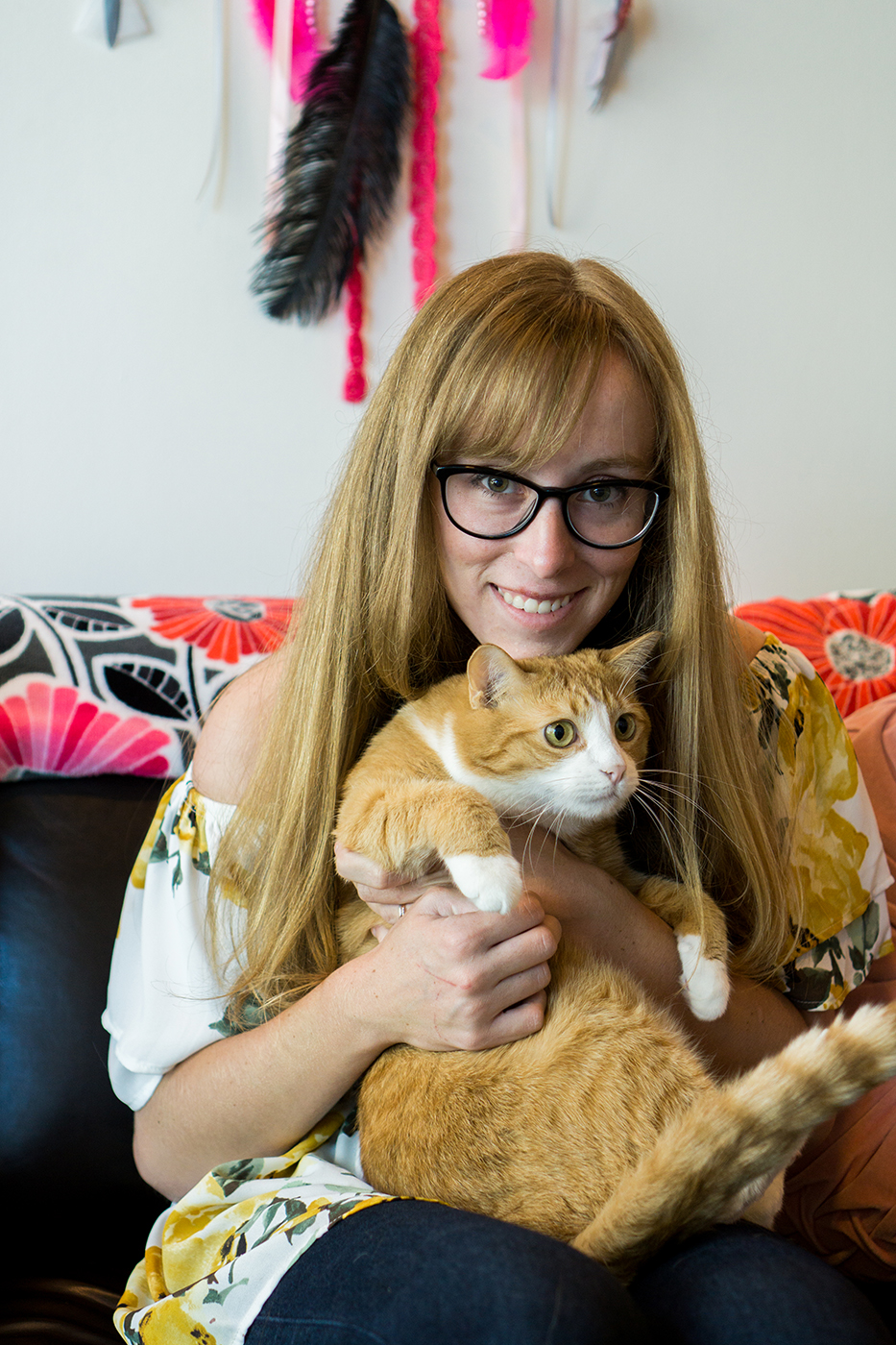 "Molly was originally owned by my boyfriend, but she came to live with me after his father moved to an apartment without animals. I knew Molly for several years beforehand so her transition into my apartment went really smoothly."
Gerhard did not plan to be a pet owner while at Tech but did grow up with pets in her home. She had a dog and three cats before college and was always a cat person. Luckily, Molly fit well with Gerhard's lifestyle.
"I love having Molly with me — her random acts of love may be rare, but they brighten my day. I enjoy spending time with her and I think we get along pretty well."
Recently, Gerhard brought Molly on a five-hour road trip. "She loved peering out the window and sitting in my lap. She was a little timid about using her litterbox in the car, but other than that the trip was perfect."
Gerhard has been able to balance school life with her pet-owning responsibilities.
"I make sure that I'm taking care of Molly's needs. In the end, the relationship is mutually beneficial. Molly keeps me company and helps me relieve stress while I ensure that she's healthy and happy."