Grads from Around the World
Grads from Around the World
By Mary Flatt april 30, 2018
People come to Atlanta from across the globe to study at Georgia Tech. Check out how some of this semester's graduates got here, the experiences they've had, and where they're headed next.
Aditya Bhatambrekar
M.S. in Building Construction and M.S. in Economics
Nashik, India
How did you hear about Georgia Tech?
I was aware of Tech's reputation in India. I went to a school in Mumbai for civil engineering. A friend suggested I apply and I got to know Tech a lot better through the application process.
What have you done while you've been here?
I came here for building construction, but I've always been interested in economics, so I was happy to have the chance to pursue the double master's. I've been a research assistant and a tutor.
What will you miss about Tech?
Everybody here talks about getting done with studies, but I will miss the late nights in the library with friends. I will also miss all the happenings around campus.
What are your plans for after graduation, and how has Georgia Tech affected that?
I am pursuing a career in economics, which I never imagined. My professors and advisors have guided me a lot. The flexibility here was very accommodating of my needs. Changing career aspirations might not be as easy somewhere else. Many aspects of building construction and economics overlap, and I'm excited to explore those opportunities.
What is something important you can take away from your experience here?
If you're willing to put in the extra hours, Georgia Tech will reward those efforts.
Final words
I look forward to stepping into the industry I love. Georgia Tech helped me realize my passion for economics, and also helped me transition into the field by allowing me to pursue a double master's. Even though I wish that my time at Georgia Tech never had to come to an end, I also am excited to pursue a life that awaits after graduation: a life made possible by Georgia Tech.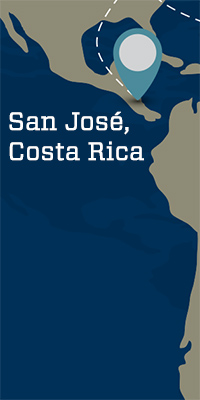 David Tsui Chang
B.S. in Mechanical Engineering,
Minor in Aerospace Engineering
San José, Costa Rica
What did you first think when you got to campus?
I had been to Atlanta in fifth grade for an exchange program, but my first time on campus was during FASET Orientation. The weather was nice. I thought it was cool that the campus is in the middle of the city. It is easy to manage in a certain sense.
What activities have you been involved in at Tech?
I am currently president of the Georgia Tech Society of Hispanic Professional Engineers, I studied abroad at Georgia Tech Lorraine, I did undergraduate research in the School of Aerospace Engineering, I co-oped with Delta Air Lines, I interned with Ad Astra Rocket Company and The Boeing Company, I was a FASET leader, I had on-campus jobs with OMED and the Center for Engineering Education and Diversity, and I served on the Student Advisory Board for the Vice Provost of Undergraduate Education and as a Georgia Tech International Ambassador. I appreciate every experience and the memories that I have from all of them. I have met a lot of people who have changed my life and shaped my Georgia Tech experience.
What are you doing next, and how did Tech help you get there?
I'm working for ExxonMobil in Houston. Tech opened so many doors for me that I don't take for granted. It's so cool how the school gets so much attention, and the fact that companies heavily recruit from here. It's a world-renowned school. Networking is what got me the job in the end. You don't learn it in a book, you go to events and meet people, and end up getting to know them. 
What was your favorite thing about Tech?
The fact that we're in a pool of so many smart people. You can reach out to people who can give you different insights into a problem. People will take time out of their day to help you. People are so good at what they do; it's easy to get things done if you know people. It's hard to even find access to a 3D printer in Costa Rica, let alone for free. Here at Tech, we have so many resources within reach.
What was something important that you can take away from your time here?
The experience depends on how much you put into it. Learn how to say no; don't stretch yourself too thin. Do what you enjoy the most, and find your passion. It's easy to get discouraged and fall into the impostor syndrome, but those eureka moments are the most gratifying times.
Final words
Commencement will be special for me because my parents and my grandmother will fly up from Costa Rica, and my sisters will travel from Phoenix and Corvallis. I look forward to walking across the stage and celebrating with my family and friends. As a fifth-year student, I have had the opportunity to do a lot at Tech. I am very proud to be a Yellow Jacket and look forward to Commencement!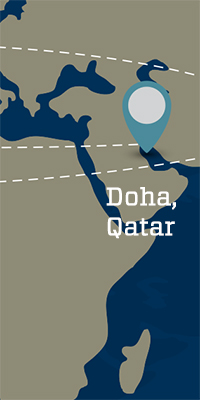 Akanksha Menon
Ph.D. in Mechanical Engineering
Doha, Qatar
How did you decide to come to Georgia Tech?
I did my undergraduate work at Texas A&M's Qatar campus. I had the chance to visit College Station, Texas, several times for conferences, and I knew that I didn't want to be in a college town for graduate school; I love cities. I had been exposed to Tech as an undergraduate when President Peterson visited our campus in Qatar and shared all the great things that were happening in mechanical engineering at Georgia Tech. I also knew that Tech is highly ranked and has some of the best people in heat transfer and energy systems, which is my area of study.
Was it difficult moving far from home?
It was my first time living away from home. It was really hard at the beginning, but I made a good group of friends that made this feel like home. Tech also makes sure you're busy.
What have you done around campus?
Graduate students tend to focus on research and disconnect from everything else. My advisor encouraged me to become involved with the Energy Club @ Georgia Tech, and I ended up serving as co-president of the club for two years! Atlanta is rapidly becoming an energy hub, and I've gotten to meet people here who are making that happen.
What are you doing after graduation, and how did Tech help you get there?
I'm starting a postdoctoral fellowship at the Lawrence Berkeley National Laboratory, where I will be doing research in the water-energy nexus, specifically solar desalination. That wouldn't be happening if I hadn't come to Tech — my Ph.D. program not only gave me the skill set to tackle technical challenges, but also gave me access to a great network of scientists in the energy field. Everybody I interviewed with knew about Tech.
What will you miss about Georgia Tech?
All of it. I love Tech. I feel like graduate students don't have a lot of school spirit because the workload is crazy, but I love going to events, taking pictures with Buzz and the Wreck. I will definitely miss the people I've met over the past five years. I will also miss my lab — I helped build it from scratch and will be the first student to graduate from it.
Final words
I've really had a great time at Tech. Getting a Ph.D. is stressful but I've met and learned from some incredible people through my research and my involvement with the Energy Club. This place will always be special to me.