Graduate Profile: Shay and Shannon Ashmon
By Victor Rogers december 11, 2017
The Ashmons of Montezuma:
A Family Affair
After Shannon Ashmon was admitted to Georgia Tech's Global Business MBA program, he encouraged his big sister LaShavous "Shay" Ashmon to apply so they could go through the graduate program together. Their matriculation would be a family reunion of sorts, since the two had been undergraduates together at Tech some 20 years ago.
"There was never a question of whether Shay would get into the program. It was more a question of whether I would get in," Shannon joked, acknowledging his sister's academic excellence. They began the program in August 2016.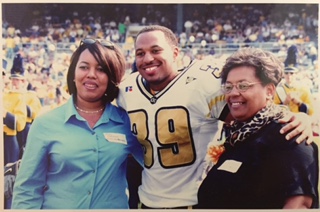 Shay and Shannon, with their mom Geraldine, in 1999.
He explained that his sister has always been one of his biggest supporters.
"In 1998 I was a freshman at Tech, struggling with calculus," Shannon said. "It was the night before my 8 a.m. final exam, and my sister teaches me an entire semester of calculus in three or four hours [by writing formulas] on my dorm room wall!"
Shay added, "I am the worst teacher. I get frustrated. There was something he wasn't understanding, so I started writing on the wall."
The method may have been unorthodox, but it worked. Shannon passed calculus.
He said, "That speaks to how Shay goes out of her way, not just for me, but for our family."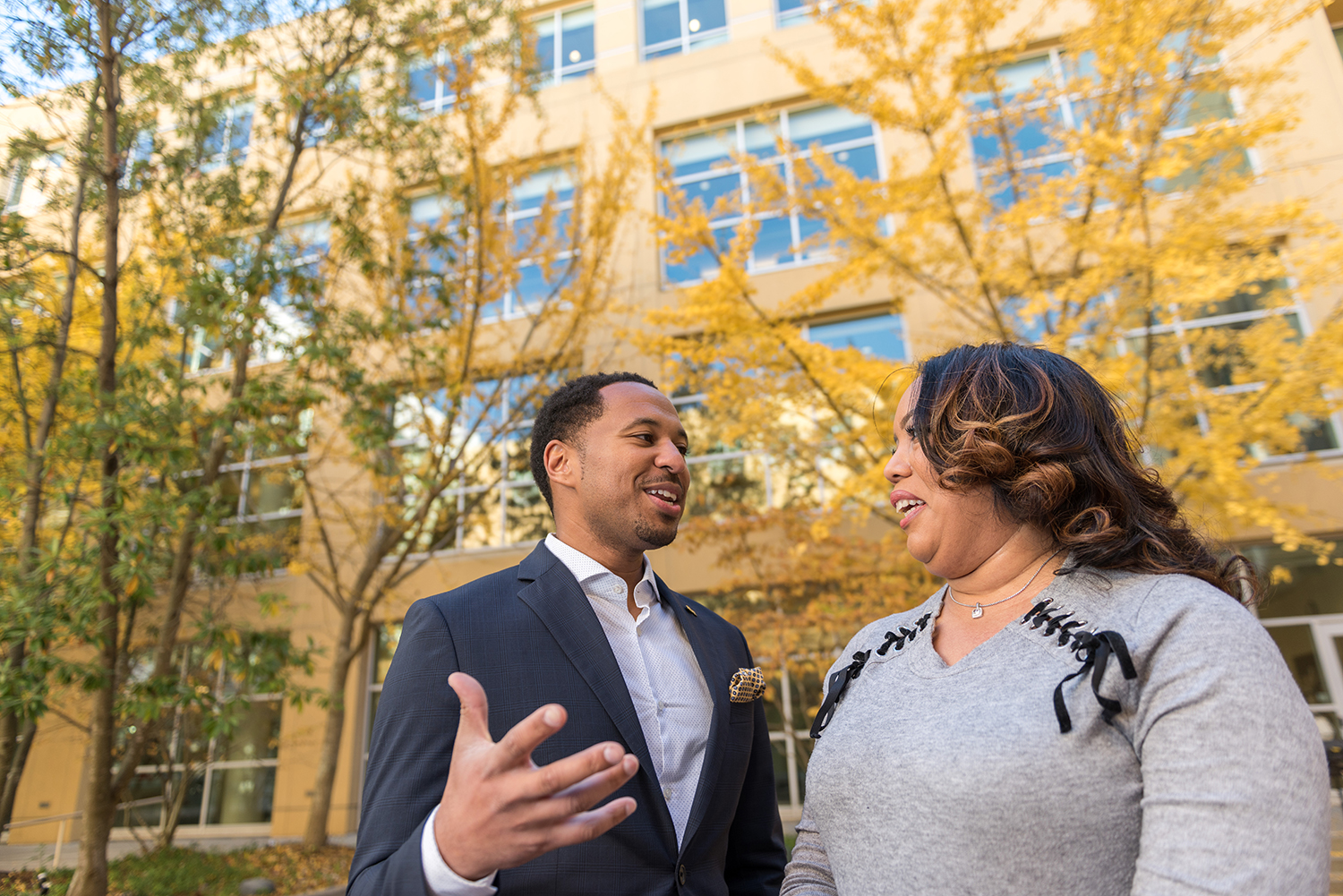 Shannon and Shay Ashmon laugh in the courtyard at the Scheller College of Business.
The siblings are from Montezuma, Georgia, a small town about two hours south of Atlanta. They have a younger brother, Thaddeus, who works for Amazon. Their mother, Geraldine, taught pre-K through third grade. Their father, Calvin, was a logistics supervisor for a warehouse, and he later drove a truck. Both parents are retired now.
Shay and Shannon are three years apart in age, and they have always had a close bond.
When Shannon enrolled as a Tech freshman in 1997, Shay was studying engineering at Georgia Southern University. Shay decided to follow Shannon to Atlanta. So, she transferred to Tech to continue her studies, graduating in 2000 with a bachelor's degree in electrical engineering. Shannon, who was a defensive back for the Yellow Jackets for four years, transferred to Kennesaw State University where he graduated in 2001 with a bachelor's in business administration.
After college, Shannon played semi-pro football in Macon for one year. 
"It was the worst," he said. "It was called Arena II Football, and it was the minor league of the minor league."
After a year, he quit football and went into pharmaceutical sales. Now he works for a medical device company, Vericel, managing a team of associates.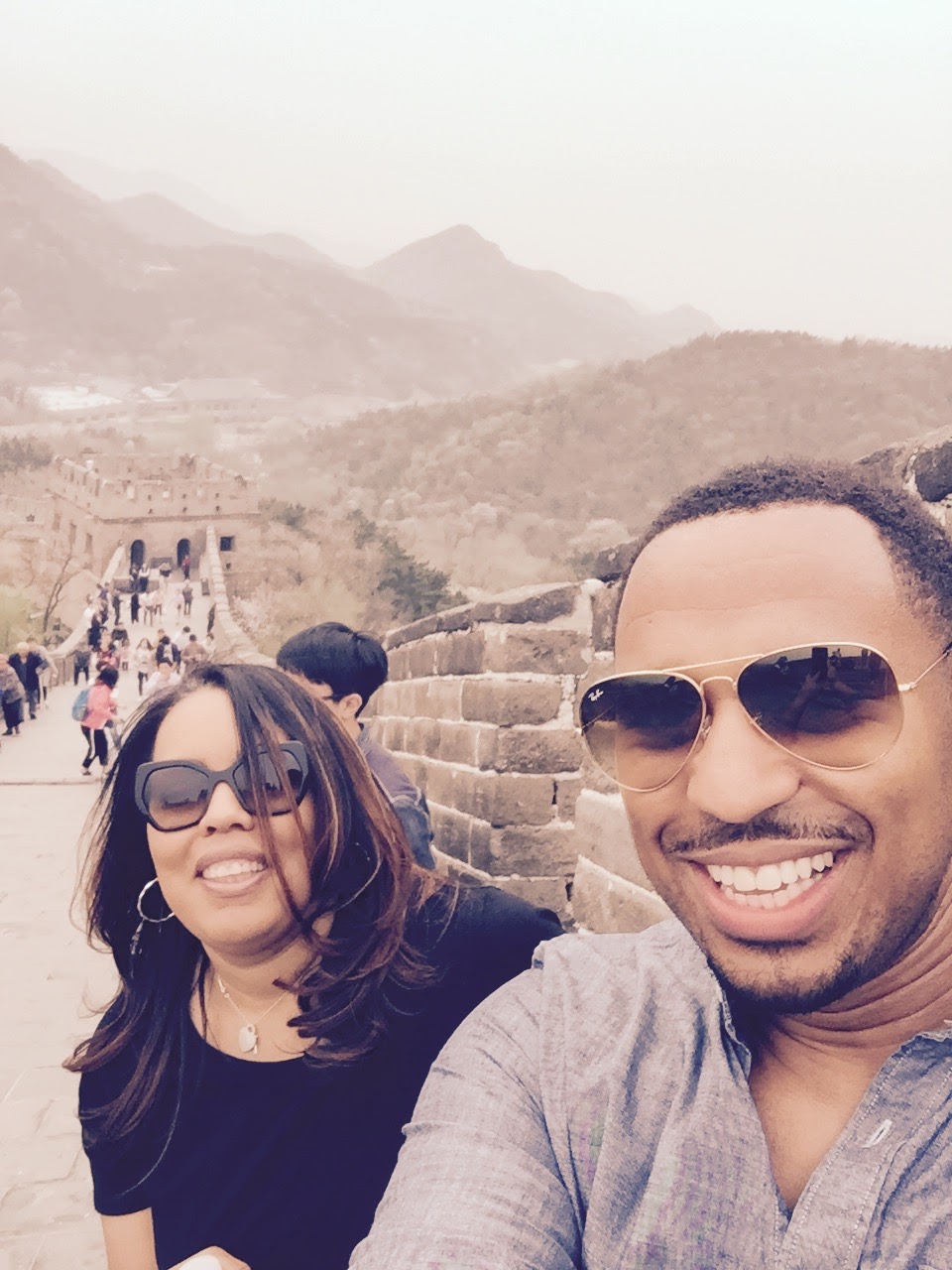 Shay and Shannon at the Great Wall of China with the Georgia Tech MBA Program
Shay has worked as an engineer for Murada Electronics, Epson Electronics, and AT&T. Now she's with NCR, and next year her office will be moving a few blocks from Georgia Tech.
"After graduation, I want to stay with NCR because I love the company," Shay said. "I want to move to a position with more global responsibility. Now that I have more resources and tools under my belt I can cast the net a little wider."
Shannon said he wants to take his career to the next level and continue working in health care in some capacity.
"Health care is such a broad field that I definitely will have opportunities to use the skills I learned at Scheller," he said. That was his reason for pursuing the MBA from the start.
"I knew there were certain gaps in my professional growth that I needed to fill," Shannon said. "I wanted to improve my finance acumen. The world is so small now. Just having the knowledge and understanding of foreign currency and how that plays into where we are is important."
So, who is coming to celebrate Commencement with Shay and Shannon?
Shay's husband Al Franklin and daughter Hayden will be there. Shannon's wife Malu and their son Alexander will attend. Their mom and dad will be there, along with their brother Thaddeus and his family — including the eldest son, Tyler, who was only six months old when Shay graduated from Tech the first time.
Then and Now
"This place is so different. When I was here before, everyone was in their own silo. [Georgia Tech] seems more like a community now, really close-knit. One of the things that touched me the most is the Campus Closet, students can borrow an interview outfit if they don't have a suit or dress pants," Shay said.
"There's a great sense of pride to see all of the Fortune 500 companies that will make Tech Square their home," Shannon said.
"We actually had an instructor in the MBA Program, Debbie Turner, who still remembered us from undergrad. That was 17 years ago. When we saw her in accounting, she said, 'Ashmons!' She may not have remembered our first names, but she remembered the last name. Where else can you find that?" Shay asked. Turner taught them accounting during their first semester as undergraduates and again in the MBA program.