Graduates With Gratitude
By Kristen Bailey | December 16, 2016
Graduates from near and far share how they got to — and through — Georgia Tech, and who helped along the way.
Click photos or names to jump to story.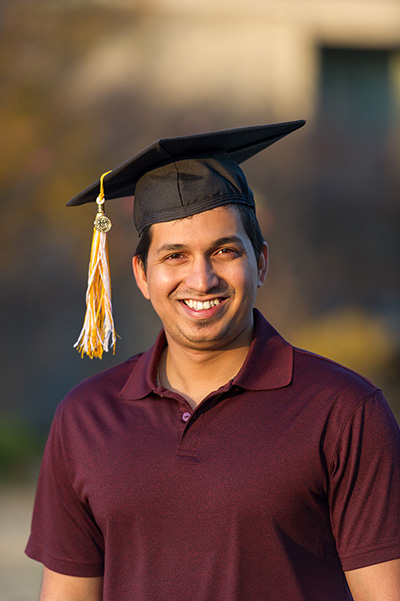 The day Himanshu Wad landed in Atlanta was also his first day outside of India.
"I landed in Dallas in the afternoon, then Atlanta in the evening," he said. "I walked out, and it really was a whole new world."
Wad came to Georgia Tech in 2015 to pursue a master's degree in civil engineering with a focus in transportation systems. He's the first in his family to earn a degree from an international university. When he started investigating the idea as an undergraduate in Nasik, India, it was more of a dream — he hadn't known anyone to go abroad for a similar degree. Once he was accepted to Georgia Tech, though, it became real.
In spite of the large investment required for pursuing international education, his father, who had spent five months working at the University of Maryland College Park during his postdoctoral research, knew it was worth it.
"My mom and dad had more faith in me than I did — they never flinched about it," Wad said.
Once Wad got to Tech, his family kept cheering him on from across the ocean, calling every day to check on how things were going.
"They never gave a single sign of doubt," he said. "It was always immense positivity on the other end of the phone."
Now, Wad has a full-time job lined up with Jacobs Engineering, where he also interned. He has spent the past year and a half studying transportation engineering in one of the most traffic-addled cities in the U.S. Going in and out of utility boxes around the city for work has let him get to know Atlanta more intimately than some who have lived here their whole lives.
"I chose civil engineering because I wanted to see something change because of the efforts I put in," he said. "There's a lot of improvement happening in traffic engineering, but it's an underdeveloped field. I want to be able to work on the systems side as things change, and Tech has equipped me with everything I need. I'd love to try to implement some of what I've learned back home someday if given the opportunity."
"My mom and dad had more faith in me than I did — they never flinched about it," Wad said.
One thing Wad will miss about graduate school is the relationships he developed within the transportation systems group. Though it took a few months to settle into life at Tech, his cohort eventually became a second family. A room in the Sustainable Education Building served as their central meeting point. His roommates for the past six months also became some of his most meaningful friendships.
"Everyone is so positive, so encouraging," he said. "Honestly, I'll miss lecture, figuring things out as a group, the little arguments and laughter in SEB 101. And the really fast internet."
Since he'll be living and working in Atlanta, Wad plans to stay connected to Tech as an alumnus. As an undergraduate in India, Wad captained his school's ping pong team, but he never had a chance to play with Tech's table tennis group as a graduate student. Now, he hopes to have time for that in post-graduate life.
He hopes to help his younger sister eventually study in the U.S. as well.
"No matter the political scenario, there is so much to learn here and the U.S. has one of the best education systems in the world," he said.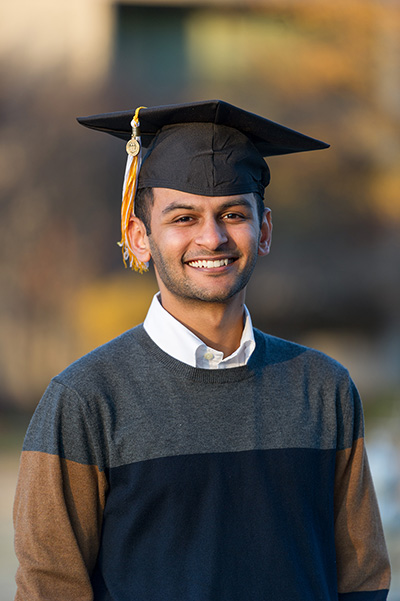 Rehman Pirani moved to the U.S. at the age of 6 when his family was presented the opportunity by winning a green card lottery in Pakistan. His parents owned a dry fruits and nuts store, which at the time did not require a college education. So, when it was time for Pirani to apply, he was the first in the family to navigate the process.
"It was a little challenging, and I was kind of on my own, but everyone is in a sense," he said.
Pirani, who went to high school in Johns Creek, was torn between Georgia Tech and the University of Georgia, but he made up his mind at an event for Dean's Scholars at the Scheller College of Business.
"That event and the people I met there were the main reason I came to Tech," he said. He also wanted a technical minor, which he found in the Denning Technology and Management Program.
Pirani himself became one of those Tech students whom prospective students meet when they visit campus. He got further involved in the business community as an ambassador for the Scheller College of Business and through Alpha Kappa Psi, a co-ed business fraternity. This year he also served as president of Scheller's Student Development Board.
Seeing prospective students not only enroll, but then sometimes even join the organizations that have meant so much to him, has been one of Pirani's favorite things about college.
"The cycle is fun — seeing everyone who came in at once and watching where they go and end up," he said. "It's also cool to see how much the College of Business has changed." (The former College of Management had just taken on its new name when Pirani enrolled in 2012.)
Before choosing business at Georgia Tech, Pirani thought he wanted to be an architect. An internship in high school told him that might not be the best career for him, though. It would be the first of several career experiences that led him to find what he wanted to do.
"It was a little challenging, and I was kind of on my own, but everyone is in a sense," he said.
At times, Pirani pursued entrepreneurial endeavors. During his sophomore year, he launched a mobile development startup that created iPhone apps for those who did not have the tools to do so themselves. One client was a faculty member at Florida International University — Pirani's company helped her convert her e-books into interactive iPhone apps that her students could then use to supplement lectures.
He later participated in Ideas to SERVE, where his team, SmileBright, won first place in 2015. They conceived a 3-D printed prototype for a toothbrush called SmileBuddy for people with developmental disabilities.
"That was the best team I've ever worked with," he said. "We were all different majors and skill sets, yet we worked so well together."
Ultimately, Pirani decided he wanted to work at a company where he would have strong mentors. This spring, he'll start a full-time job in San Francisco with Workday, where he also did an internship. After four and a half years, he's ready to go from student to alumnus, and his family is ready to celebrate with him.
"They're excited — my mom bought an American dress for the ceremony, which she doesn't do very often," he said. "My parents have worked so hard to make it easy on me. Being able to graduate debt-free with a good job and career path is all thanks to them. They've always been there to support me and would tell me, 'just keep working hard.'"


When Helen Heindl walks across the Commencement stage this week, it will be her second time in 12 months earning a degree from Georgia Tech. She graduated with a bachelor's in civil engineering in December 2015, then Georgia Tech's BS/MS program — which lets students earn both a bachelor's and master's degree in five years — drew her in for another round.
Soon she'll start a full-time job in property risk consulting. She's been an executive board member of Chi Epsilon (a national civil engineering honor society), conducted soil research in France, started a custom hula hoop business, and had her master's degree paid for through research. Six years ago, though, she almost didn't even go to college.
"I was really bad in high school — a terror," Heindl said. As she approached the end of her high school career, she was abusing alcohol and drugs. She planned to finish high school, skip college, and run away to California. Her older sister insisted she apply to at least one college, though — Georgia Southern University — and went as far as filling out Heindl's application, completing her FAFSA for financial aid, and signing her up for the ACT.
Her sister didn't stop there: She also attended orientation with Heindl, drove her four hours away to move her in, and helped her set up her dorm.
"She was the only one who could get through to me," Heindl said.
"When I realized I could get a C on something and be fine, I relaxed, and then I was able to actually think and could get an A. I had to stop taking myself so seriously."
At Southern, Helen found the Collegiate Recovery Program through friends. She got sober and started working toward transferring to Tech through the Georgia Tech Regional Engineering Program.
"I was so focused on being the best version of me I could be," she said.
Tech took some adjustment. Previously, her hard work had translated to perfect grades. Now, she found the same effort sometimes earned her Cs.
"Once I realized I didn't have to be the best, though, it was so much easier," she said. "When I realized I could get a C on something and be fine, I relaxed, and then I was able to actually think and could get an A. I had to stop taking myself so seriously."
One way to not take yourself too seriously? Start hula-hooping.
Around the time Heindl transferred here, she spotted a flyer for Flow at Tech, a prop manipulation club. Flow at Tech performs for events on campus and beyond, including local music festivals that garner thousands of attendees. Heindl's chosen prop is a hula hoop, and she designed a custom weighted hoop that is also packable (allowing her to take one along to France during her research work).
She also recognized the need for continued recovery support. She was one of the first members of Tech's Collegiate Recovery Program group after she transferred from Southern. Heindl researched what other programs were doing around the country and even attended a national conference on the topic to help establish Tech's community. With more drug- and alcohol-related deaths every year, this program helps students focus on academics and create a positive, supportive community.
"College is a place where it is normalized to binge drink, use uppers for studying, and downers to go to sleep," Heindl said. "There is a taboo related to being clean and sober. The CRP is a relaxed environment where students can find support, friendship, and the occasional free lunch." The group meets weekly and is open to all students on campus who are in recovery.
In recent years, Helen has become closer, not just to her sister, but to her parents as well. They'll be at this Commencement, just as they were last December, but this time, Heindl has a treat for them that she's adopted from her boyfriend's family.
"It's a Chinese tradition to buy dinner for your friends and family when you get your first job," she said. The Heindl family has a steak dinner to look forward to this weekend.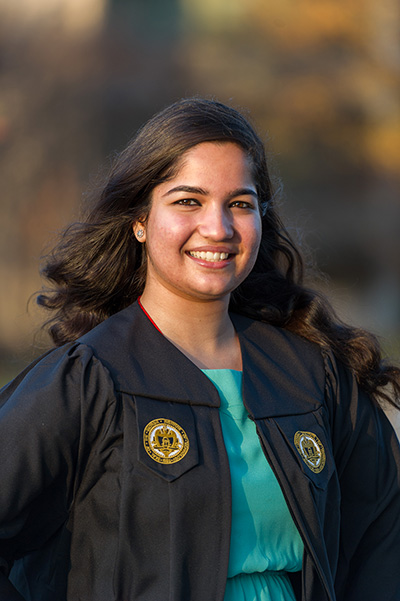 As a high schooler in New Delhi, India, Sneh Munshi was driven, curious, and successful. A friend told her she had the kind of profile and personality that would make her a great applicant for a U.S. college.
None of her friends had applied to American schools, and her family wasn't keen on the idea, but Munshi set out to explore the application process anyway. As she tells it, "the power of the internet" led her to Georgia Tech. Pictures of Brittain Dining Hall reminded her of Hogwarts, but she was drawn by more than that.
"I learned to be fearless and get out of my comfort zone," she said.
"I had an instinct about it, and the rankings backed it up," she said. "You can gauge what kind of students a college is looking for based on the application. I could tell Tech wanted hardworking students and that it would push you, and I wanted that."
Unlike many students who come to Tech having already earned college credit, Munshi came in with zero hours. Three and a half years later, she's graduating with her bachelor's in computer science (in the threads of Systems & Architecture and Information Internetworks), a 4.0 GPA, and a full-time job in financial technology at Goldman Sachs. Though she earned impeccable grades, she also learned that the grade is not what ultimately matters.
"I learned to be fearless and get out of my comfort zone," she said. "When I first got here, it was overwhelming, but I would just approach people to make conversation. I wasn't very confident initially, but I persisted and kept getting better."
One of her most vivid college memories is in her role as a teaching assistant, spending three hours with a group of students during finals week to help them master the concepts. Her first semester as a student, Munshi had an interaction with a TA that left her unsatisfied. Rather than being embittered, it inspired her to be a better assistant to those she was helping.
"I have so much to thank this place for," Munshi said. "It's exposed me to so many cultures. Your sense of acceptance expands a lot."
Munshi found herself leading her intern team last summer at Goldman Sachs, a position she felt she naturally fell into because of experiences at Tech learning to empathize, understand, and communicate with others. She honed some of those skills through the Society of Women Engineers, where she helped plan events for women of all majors on campus.
"I always had a lot of support," she said. "Everyone has been very encouraging. I've never felt the negative aspects of competition. I've enjoyed that spirit a lot — you grow so much in this kind of environment."
Though her family was initially hesitant about her coming to the U.S. for college, they're now hoping her younger sister chooses the same path. Her parents will be proudly watching online from India while her sister continues preparing her college applications.
"I'm excited about wearing the regalia," she said. "The day has a very special meaning for me. It's the culmination of everything — not just three and a half years here, but the year before leading up to it, too. I never would have imagined I'd be here five years ago."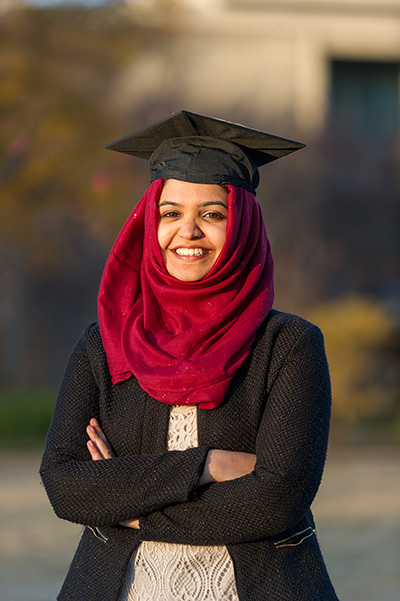 Tabish Shaikh came to Georgia Tech on a Fulbright grant from Pakistan to study quantitative and computational finance. Knowing she would only be in the U.S. for 18 months, she was motivated from the start to see as much of the country as she could while earning her master's degree.
Since last August, she has visited 27 states, seen five national parks, and met countless people. Her favorite trip, though, was a week spent in Biloxi, Mississippi, with an Alternative Spring Break. Shaikh signed up at the last minute and was the only graduate student.
Her group volunteered with a child care center and Boys and Girls Clubs during the day and did reflections on the experience at night.
"You have to experience as much as you can and let go of your fears," she said.
"It was amazing," she said. "Some of my friends thought I was crazy to go on a weeklong trip with people I hardly knew, but if I came to the States and didn't get a chance to interact with local people, what would be the point?"
Shaikh was also active with the Pakistani Student Association, serving as social secretary and even hosting one of the events. Doing so helped her get over a fear of public speaking.
"You have to experience as much as you can and let go of your fears," she said.
Though Shaikh found much of Tech's university environment similar to her undergraduate experience in Pakistan, she was still overwhelmed when she first arrived on campus. In her first semester, a lack of coding experience meant she had to learn five programming languages at once for her courses. She learned to manage it, though, and eventually Tech became a second home.
"The diversity of campus is great — I've met people from all over the world," she said. "Every time I travel I've always been excited to come home to Atlanta."
Now, her corner of the world has come to Atlanta to see her earn her master's degree. Her family has never been to the U.S. but made the trip for this momentous occasion.
"Getting a degree from an American school is like a dream," Shaikh said. "I remember when I was doing my O levels in Pakistan, my dad told me about Fulbright and that students could go to the States for a degree. I thought, 'Who would be smart enough to do that?' It's as much a dream for my parents as for me. They've always been very supportive of education, especially girls' education."
Shaikh has two siblings, one of whom also earned a Fulbright and will be studying in the U.S. next year, letting Shaikh keep her U.S. connection alive and well.
"The whole experience has been life-changing — both studying and traveling. I learned confidence that I could handle my studies while also traveling," she said.
Shaikh will return to Pakistan after graduation. She's working on a research proposal as well as applying to full-time jobs. But first, she'll cross the Commencement stage on Friday evening. Having attended a Tech Commencement ceremony last fall, Shaikh is looking forward to her own.
"I almost cried when I got the regalia," she said. "I'm just really excited for my name to be announced."