By Victor Rogers october 28, 2019
Across the Georgia Tech campus, hidden spaces and forgotten places await rediscovery. Some are relics of an earlier time, difficult to find and explore. Others are very much in view but often overlooked. Hidden Georgia Tech is a photo essay series highlighting places on campus that are hidden in plain sight.
Biological Sciences Prep Lab
As you might expect from Georgia Tech, over the years biology lab courses have adopted more innovative teaching techniques. They have embraced the inquiry-based model of lab education where students have greater freedom to design experiments, investigate real-world problems, and participate in ongoing research projects. This new focus is a move away from traditional lab activities that rely heavily on memorization. As a result, many biology lab courses are shifting away from older teaching tools, including specimens preserved in liquid, prepared microscope slides, animal skulls, and anatomical models. This means that collections of vintage equipment like the one in the Biological Sciences Prep Lab, also known as the "Biology Prep Lab" and located in the Clough Undergraduate Learning Commons, are increasingly rare.
Let's peek inside the cabinets, open a few drawers, and see what we can find.
Biology Prep Lab
Photos by Rob Felt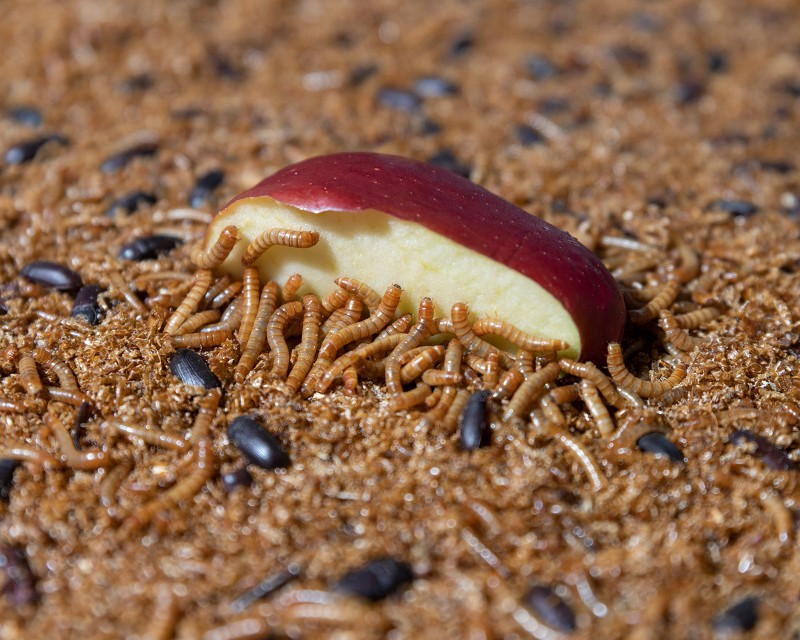 The Biology Prep Lab provides reagents, cultures, supplies, and equipment for the biology labs taught in Clough Commons. Pictured are mealworms, used for BIOL 2336 Ecology Lab, eating an apple.


Male fiddler crabs use their large claw to frighten other males and to attract females.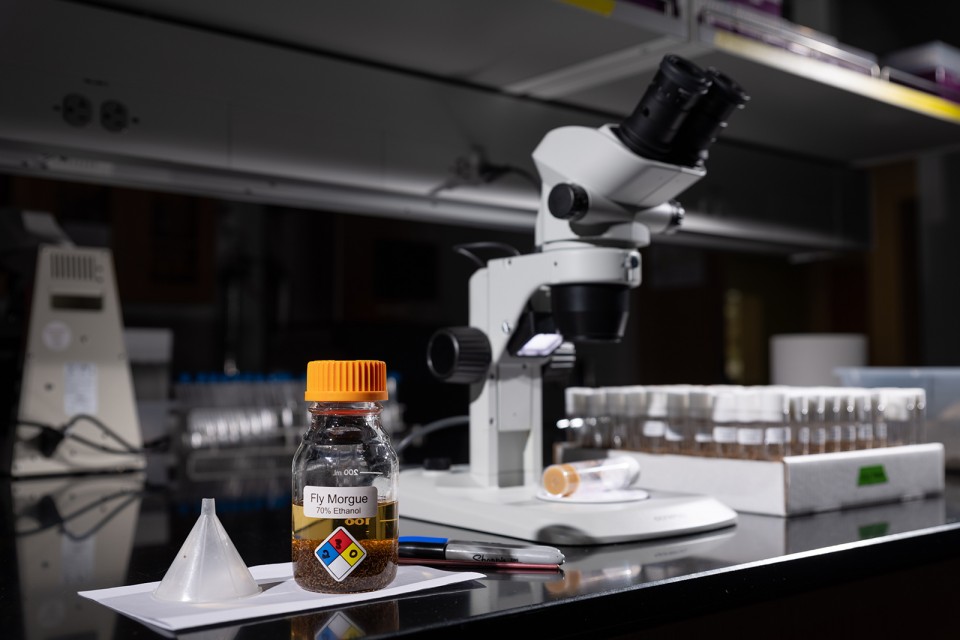 Common fruit fly (Drosophila melanogaster) cultures are examined under a dissecting microscope.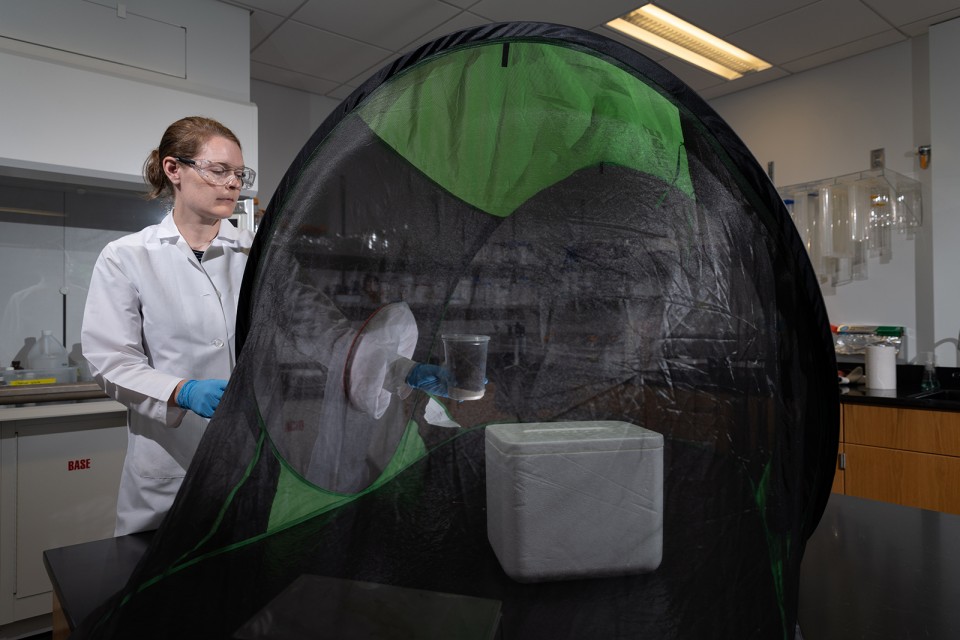 Alison Onstine, manager of the Biology Prep Lab, tests a fruit fly containment tent before students use it to try out their own custom-designed fly traps in BIOL 1220 Sex and Death.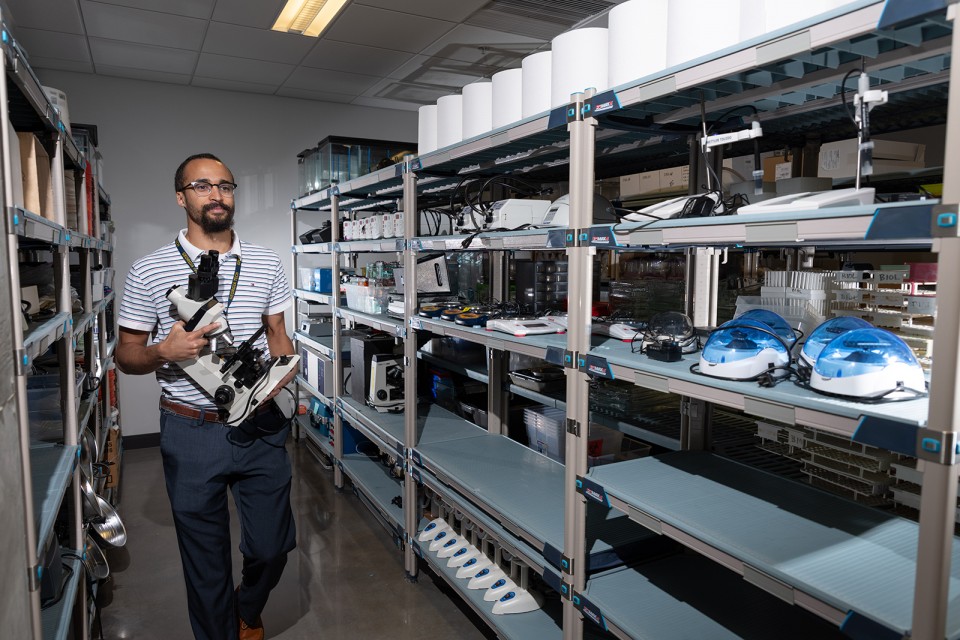 Colin Harrison, director of the Introduction to Biology Labs, gets a microscope for his class. He teaches BIOL 1510 Biological Principles, 1511 Biological Principles, 1520 Intro to Organismal Biology, and 1521 Honors Intro to Organismal Biology.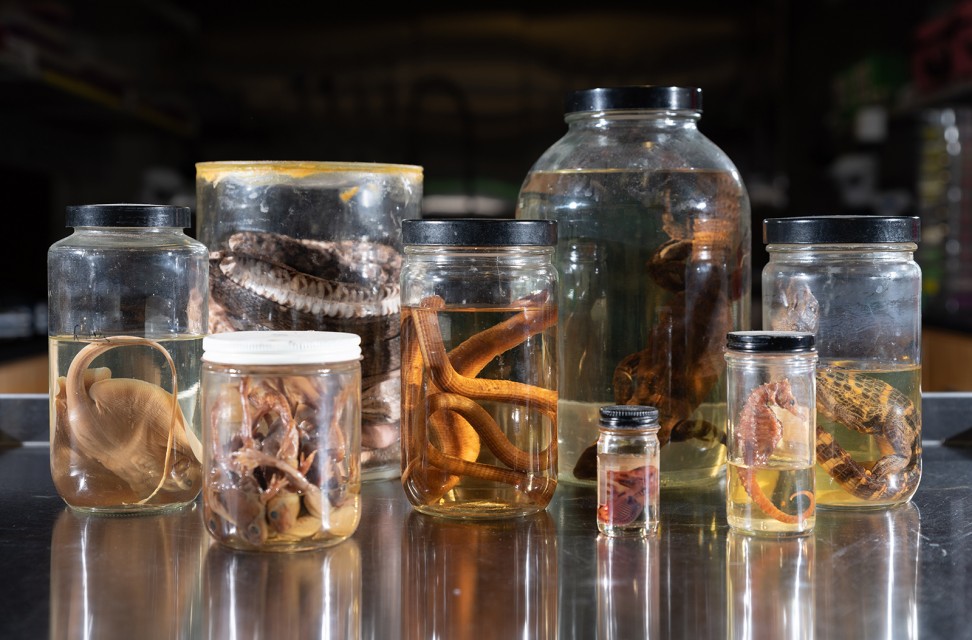 The Biology Prep Lab has a vintage collection of fluid-preserved specimens. The lack of information about where the specimens were collected makes them more valuable for education than research.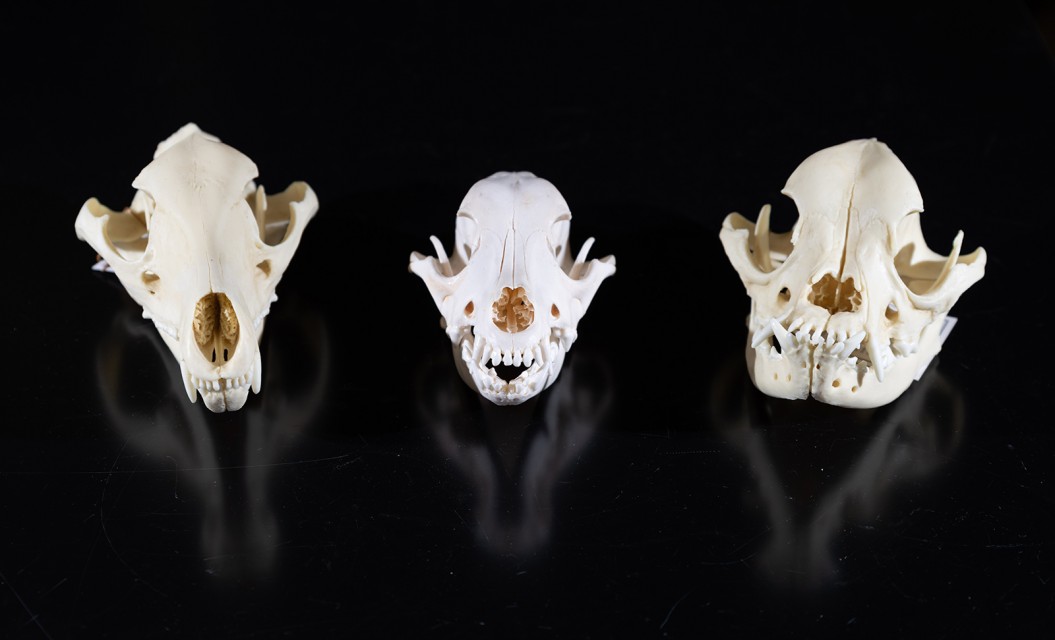 Skulls (L-R): This collection illustrates convergent evolution between distantly related species: Tasmanian wolf (extinct), domestic dog, and shows the dramatic effects of artificial selection on the English bulldog. (Go Jackets!)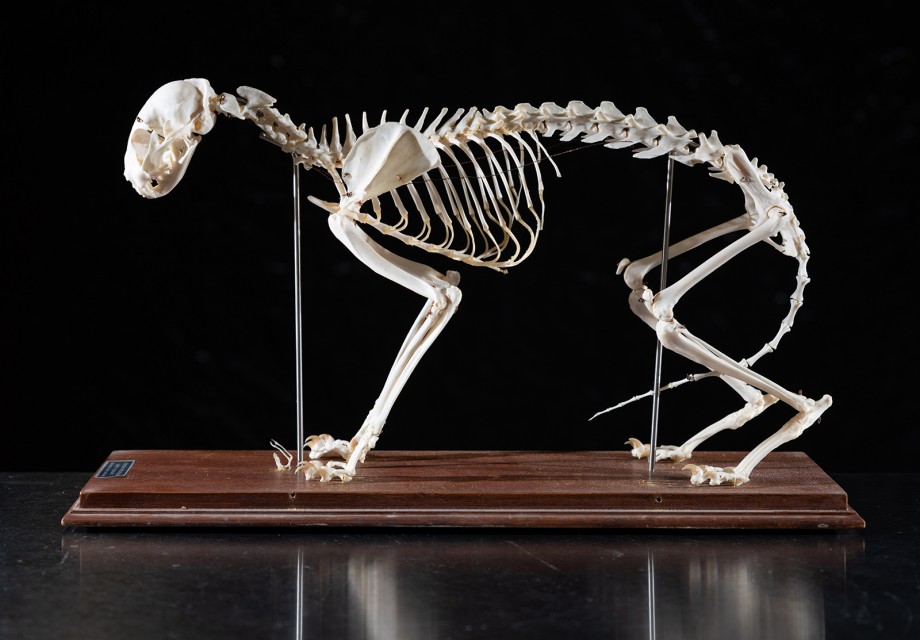 Skeleton of a domestic cat (Felix catus).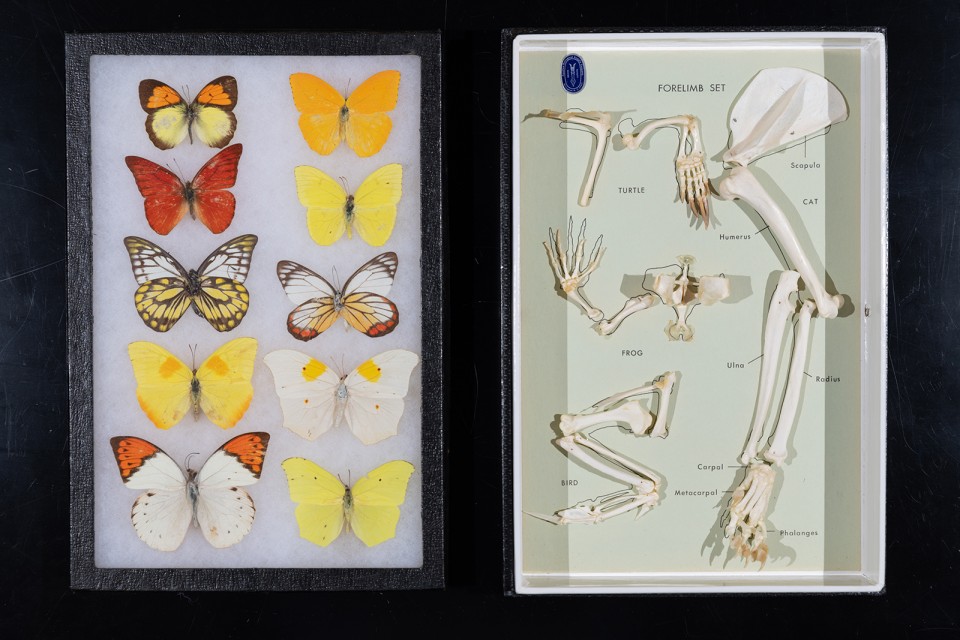 Display of butterflies and a forelimb set comparing anatomy across major vertebrate groups.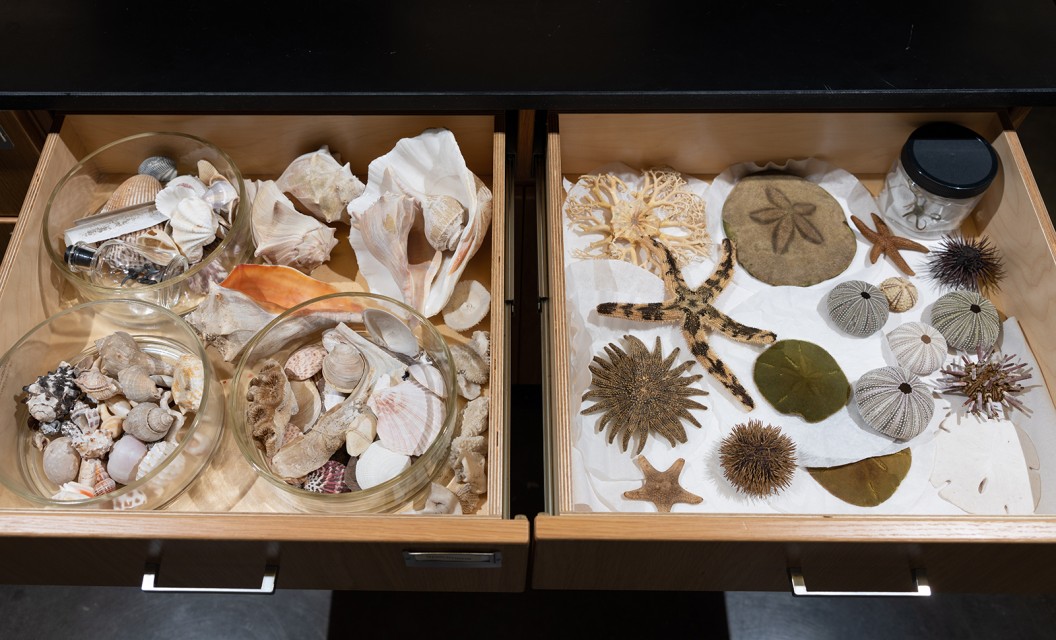 Under the sea: a collection of gastropods, bivalves, and echinoderms.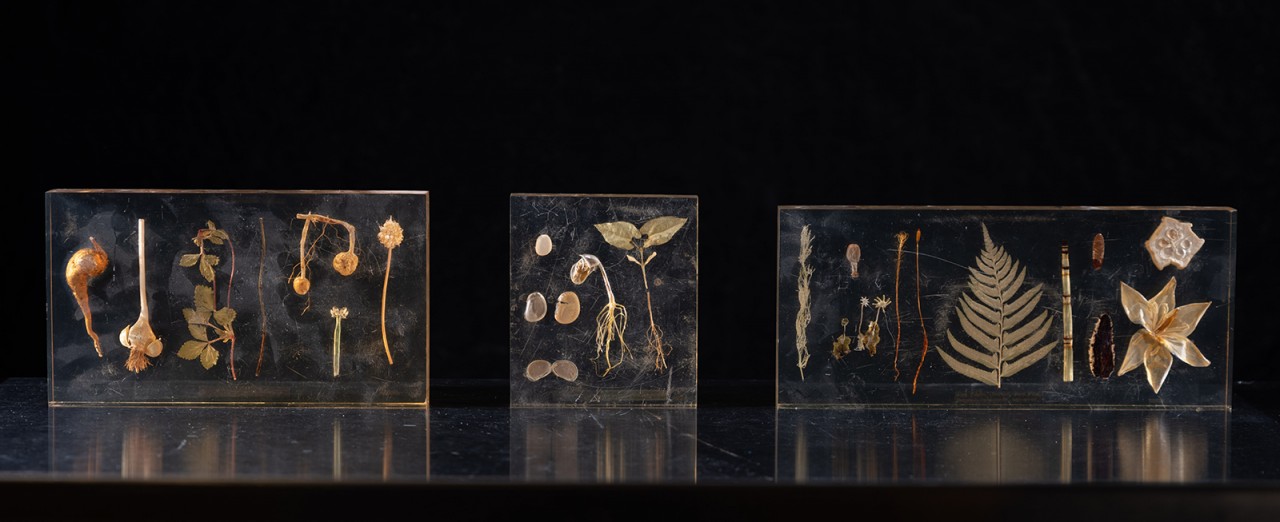 In resin (L-R): plant reproduction-vegetative; bean germination; and plant reproduction-fruiting.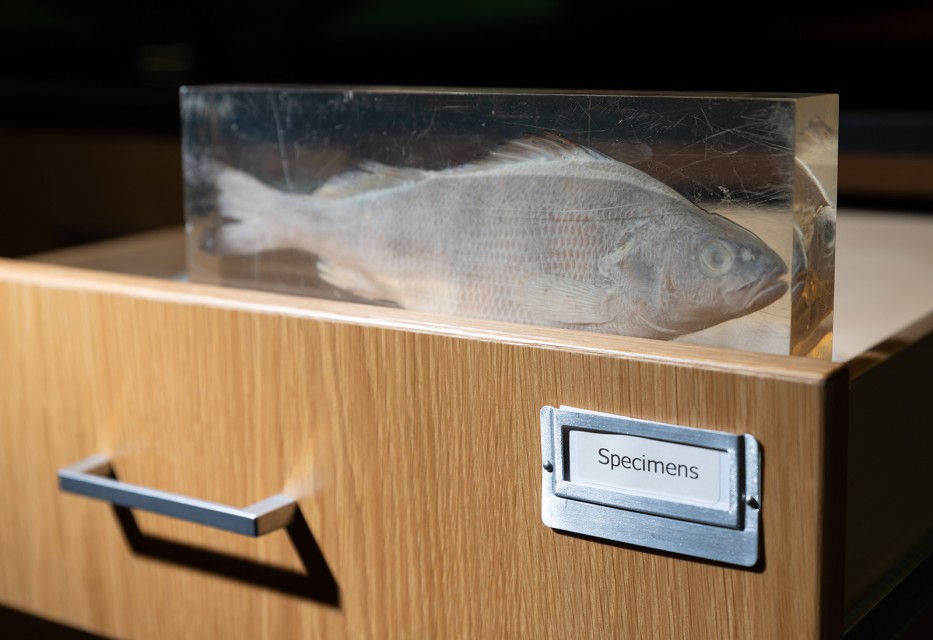 A fish, encased in resin, is part of the Biology Prep Lab's vintage collection of specimens.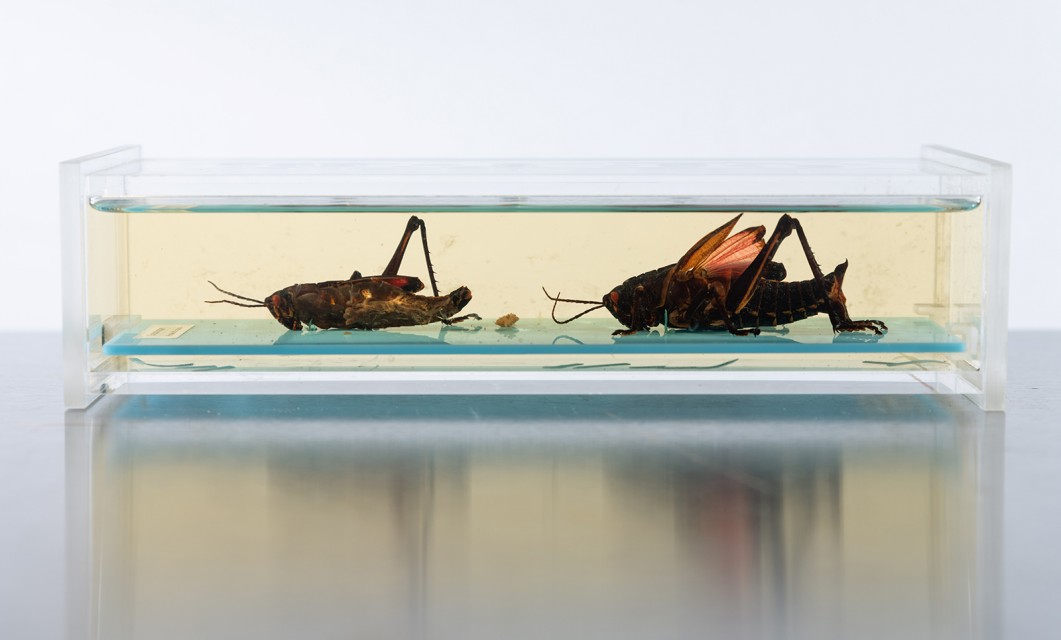 Grasshoppers in liquid preservative.