By Victor Rogers NOVEMBER 21, 2019
Across the Georgia Tech campus, hidden spaces and forgotten places await rediscovery. Some are relics of an earlier time, difficult to find and explore. Others are very much in view but often overlooked. Hidden Georgia Tech is a photo essay series highlighting places on campus that are hidden in plain sight.
Campus Recycling
Georgia Tech's Office of Solid Waste Management and Recycling encourages and supports the Tech community in decreasing the amount of waste produced on campus and the amount of waste that the Institute contributes to landfills. The Office provides recycling services inside campus buildings, for fraternity and sorority houses, and at several outdoor locations across campus, and coordinates recycling for special events, office moves, the annual Earth Day Festival, student move-in and move-out, and home football games. Since 2008 Tech's Game Day Recycling program has made it easy for fans to recycle, whether they are tailgating, walking on campus, or watching the game inside Bobby Dodd Stadium. In 2018, the Game Day program alone diverted nearly 17 tons of material from landfills.
Let's take a closer look at campus recycling.
Campus Recycling
Photos by Rob Felt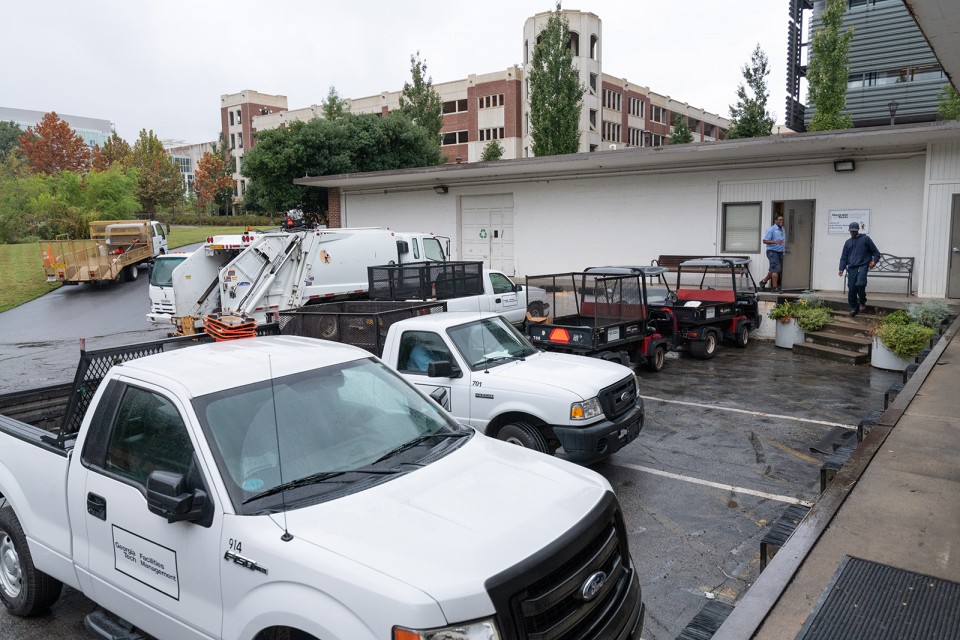 Located at 947 Atlantic Drive, Tech's Office of Solid Waste Management and Recycling has a fleet of vehicles for collecting recyclable material. Pictured are campus recycling specialists Rodney Scott and Cordell Robinson.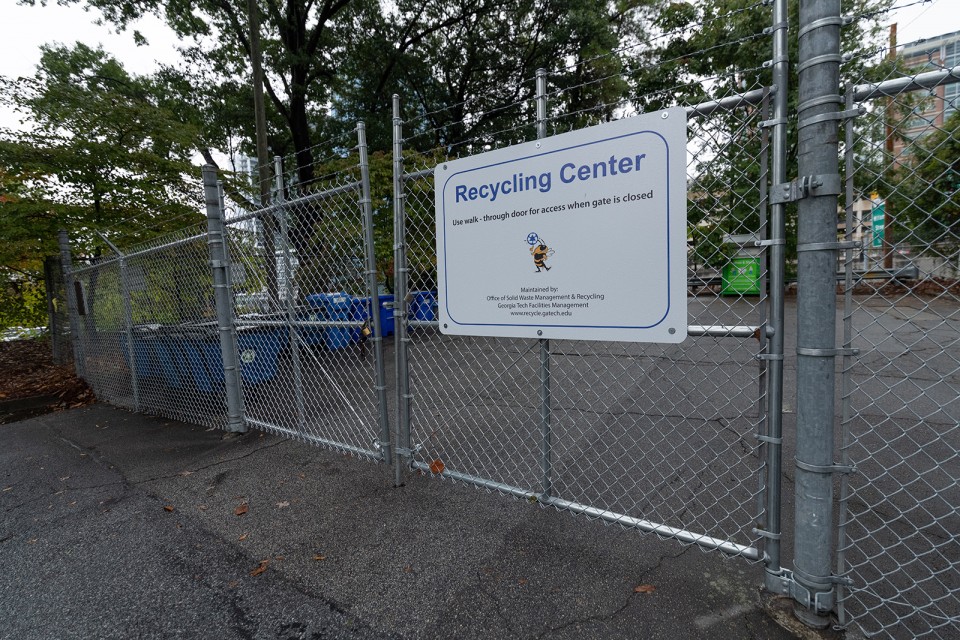 The East Main Recycling Center, located on Fifth Street next to the O'Keefe Building, is available for the campus and the greater Atlanta community to use.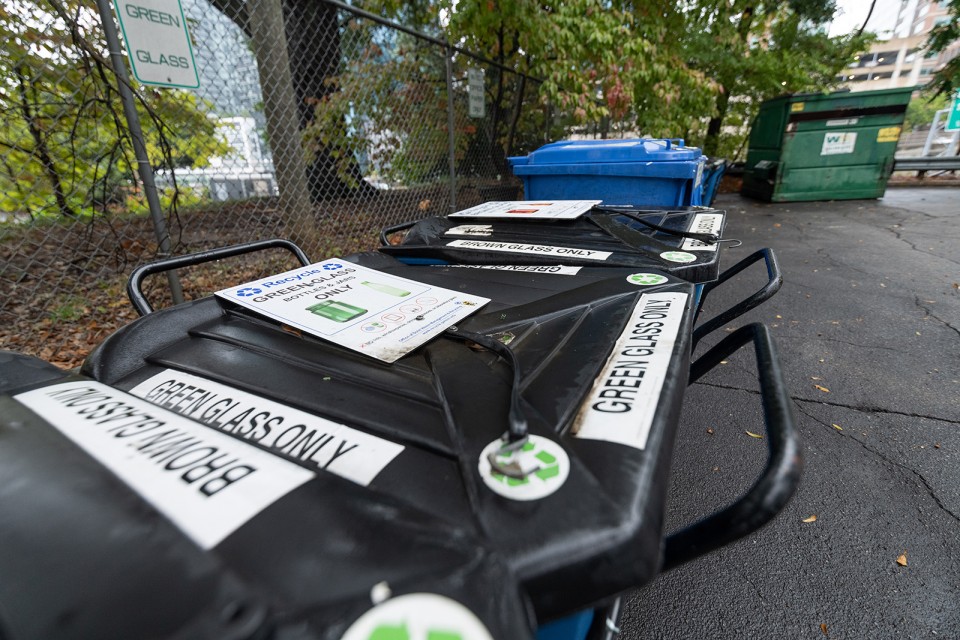 The Center has recycling bins for glass, plastic, aluminum, mixed paper, and cardboard, and a drop-off for clothing and shoes. Large items, such as sofas and mattresses, are not accepted.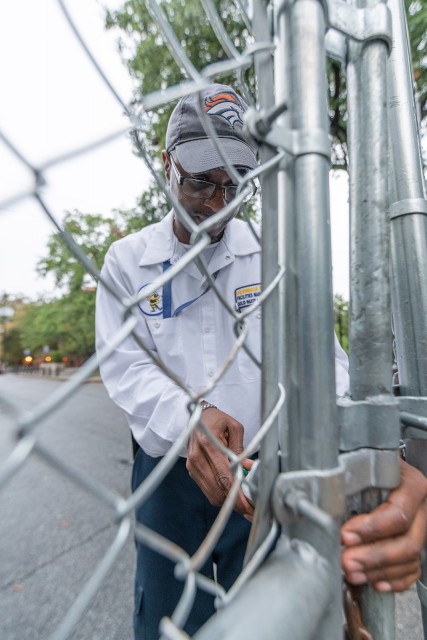 Shawn Dunham, foreman of the recycling crew, unlocks the gate at the Center to allow trucks to service the bins.


Johnny Rand, campus recycling specialist, empties a bin of paper into a compacting truck. Tech recycles more than 220 tons of paper each year, or more than 4 tons per week.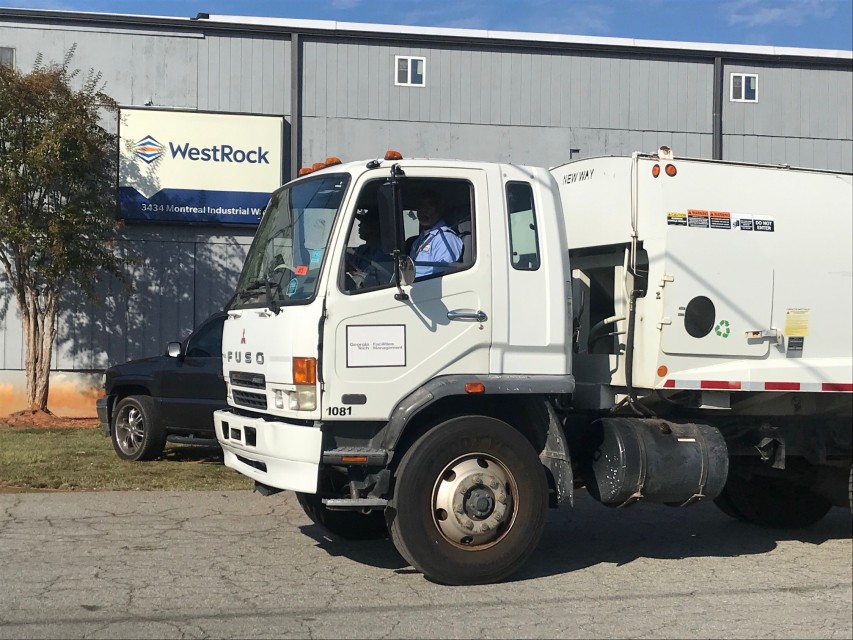 The recycling crew drives paper collected on campus to WestRock, a national recycling company with a facility in Marietta, Georgia, to be recycled into new paper products. (Image courtesy of WestRock)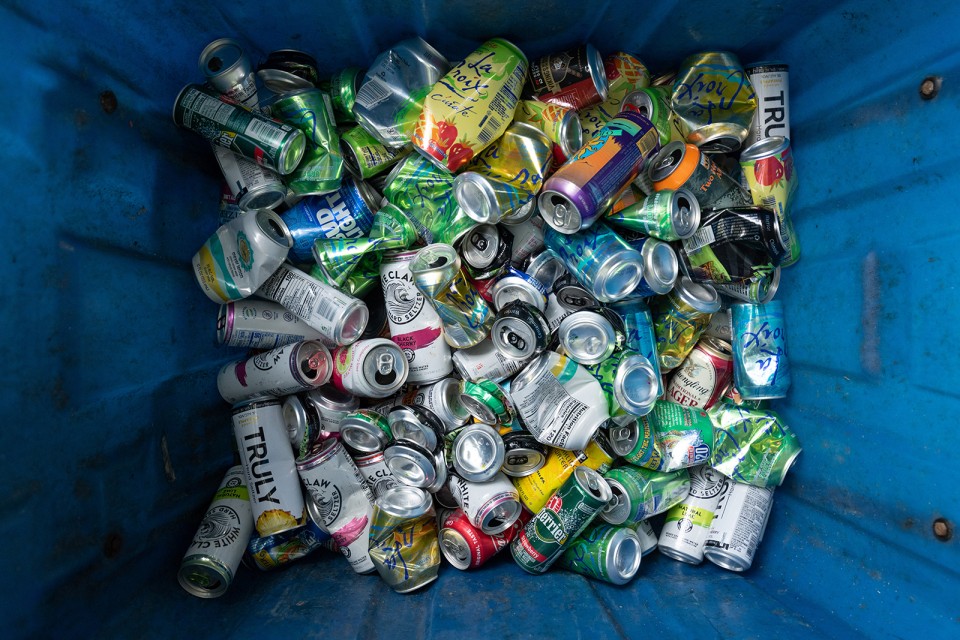 In FY 2018 Georgia Tech recycled 7.31 tons of aluminum.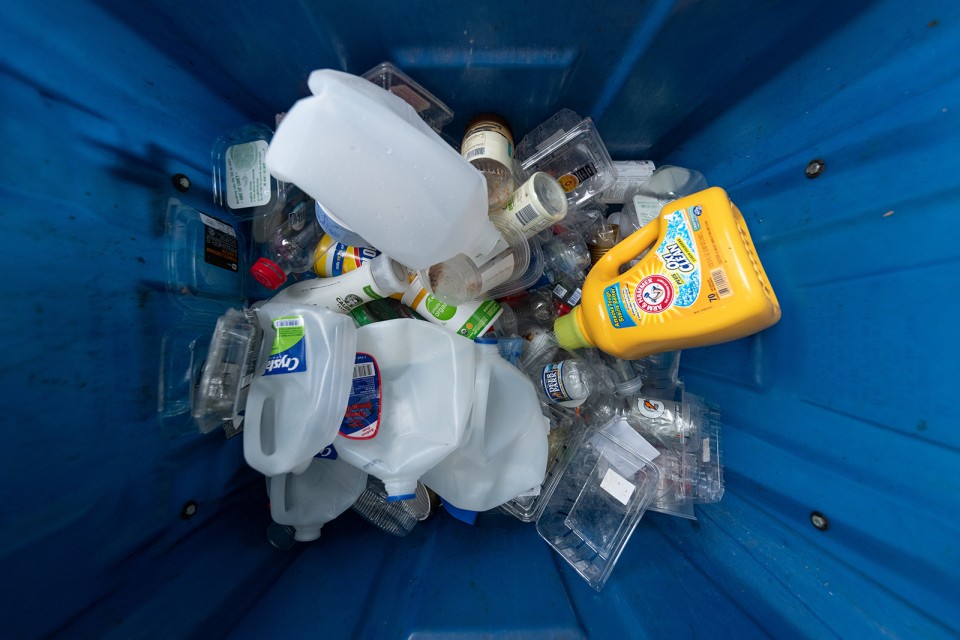 In FY 2018 Georgia Tech recycled 26.73 tons of plastic.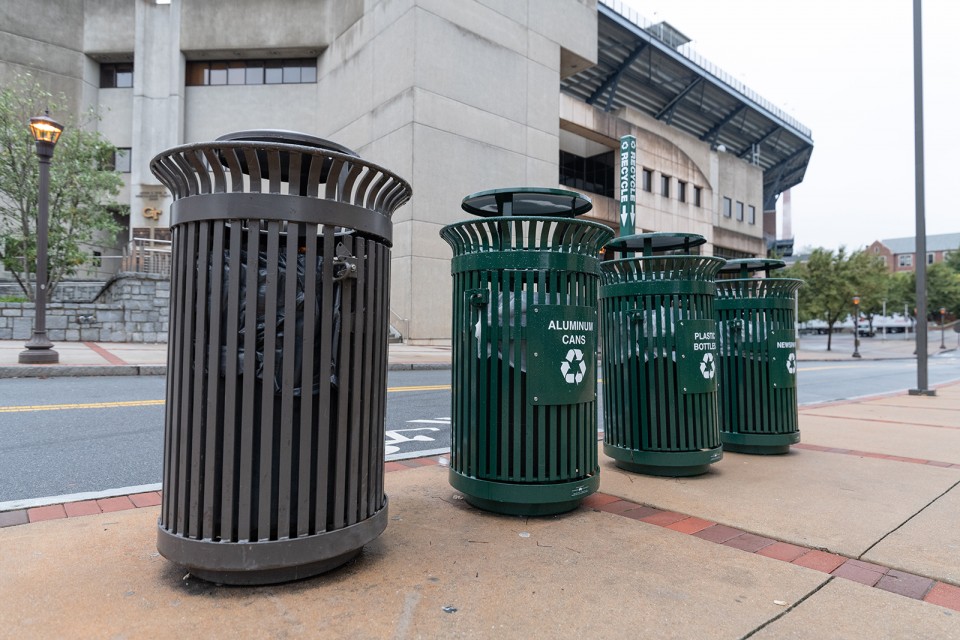 Outdoor bins, like these on Bobby Dodd Way near the stadium, are located all over campus.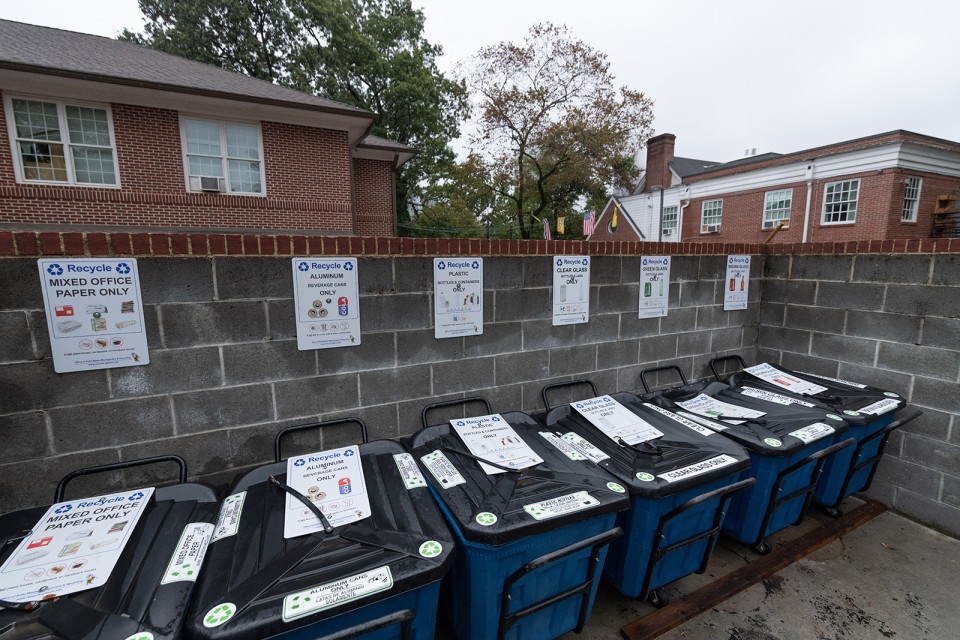 The Greek Neighborhood Association has three recycling areas that serve the fraternity and sorority houses nearby.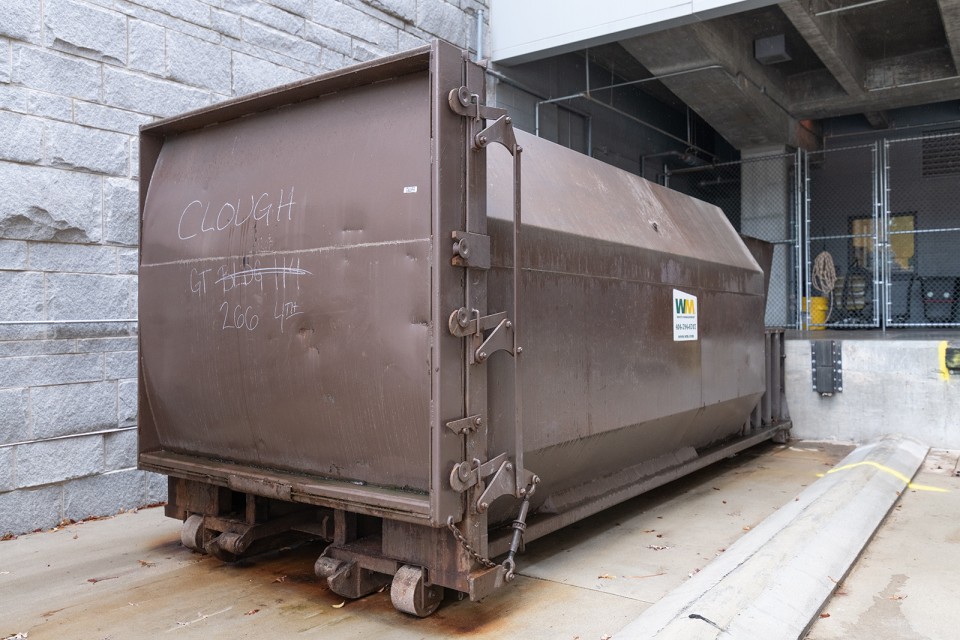 A trash compactor behind the Clough Undergraduate Learning Commons is used to collect interior trash, which is hauled by Waste Management.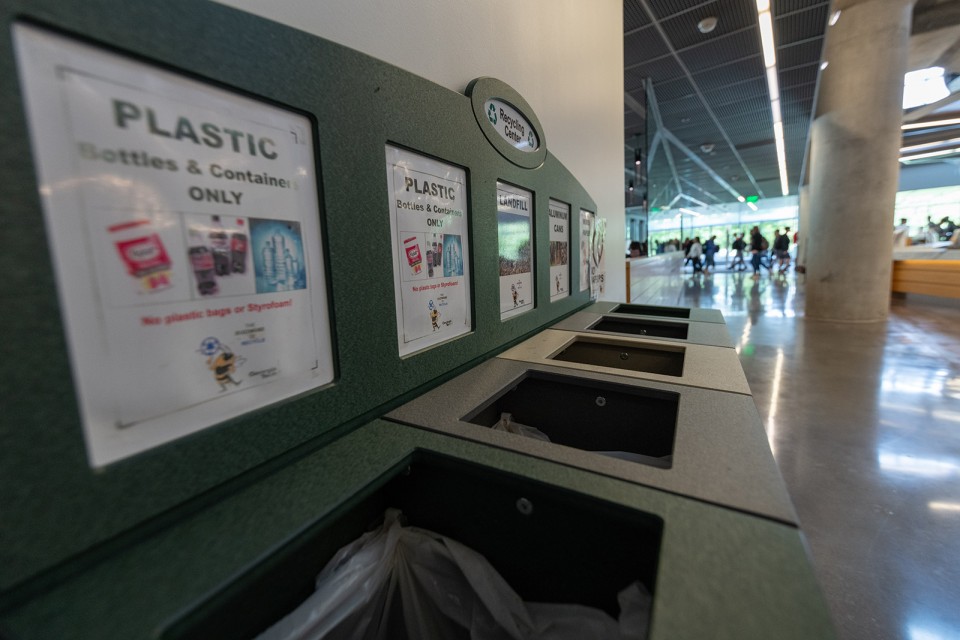 Indoor recycling bins, like this one in Clough Commons, include square containers for plastic, landfill, aluminum, and paper. This has been the campus standard since 2006.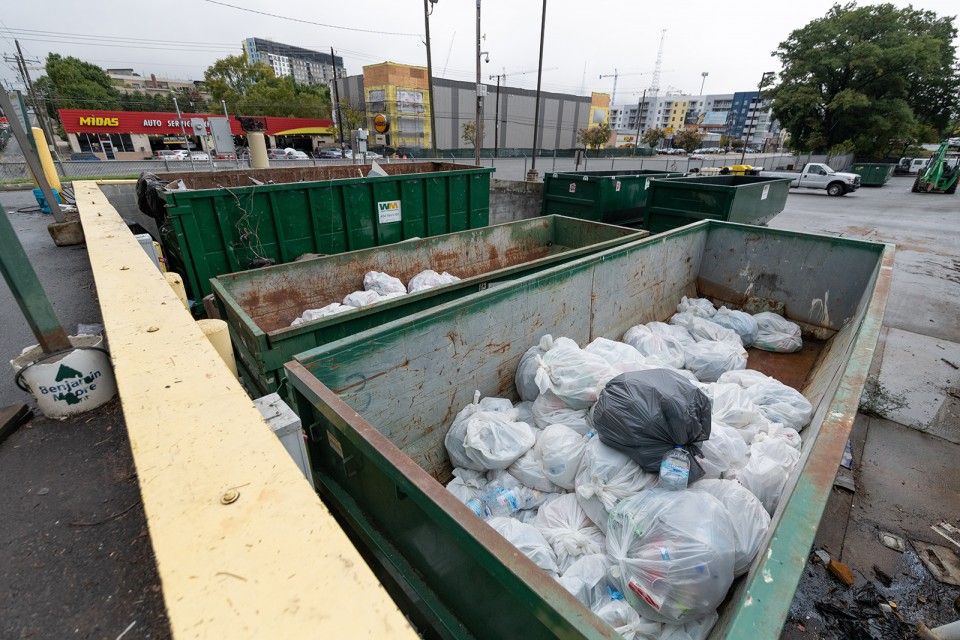 Once the recyclables are collected from campus buildings they are taken to "The Yard," located on Northside Drive. Scrap metal, aluminum cans, plastic bottles, landscape waste, and wooden pallets are sorted here and sent to various recycling facilities.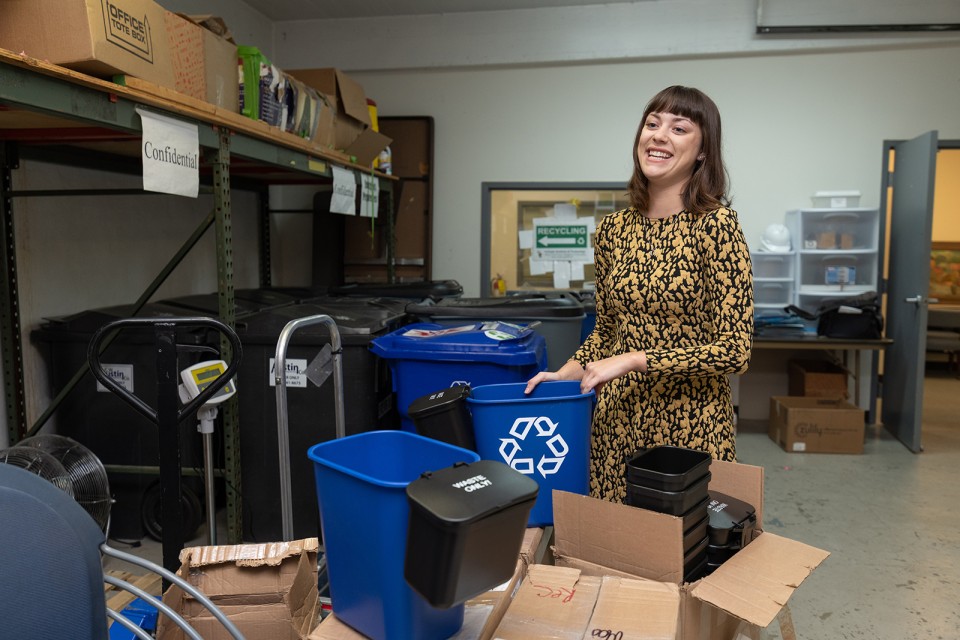 Emma Brodzik, campus recycling coordinator, assembles the desk-side AWARE (Actively Working to Achieve Resource Efficiency) bins for trash and recyclables. Employees are responsible for emptying their bin into the appropriate recycling containers in their building.