Hidden Georgia Tech: DramaTech Theater
By Victor Rogers April 11, 2016
Across the Georgia Tech campus, hidden spaces and forgotten places await rediscovery. Some are relics of an earlier time, difficult to find and explore. Others are very much in view, but often overlooked. Hidden Georgia Tech is a photo essay series highlighting places on campus that largely go unnoticed, but are hidden in plain sight.
DRAMATECH'S DEAN JAMES E. DULL THEATRE
Georgia Tech's student-run theater, DramaTech, is the oldest continuously running theater in Georgia. The Institute's first dramatic organization started in 1913. The group disbanded during World War II, but in 1947 a group of theater supporters created the Georgia Tech Dramatic Club. For years, DramaTech presented its plays in a variety of venues, including the YMCA, Fowler Street School Auditorium, and an old church at Hemphill and Ferst Streets. Since 1992, DramaTech's Dean James E. Dull Theatre has been adjoined to the Robert Ferst Center for the Arts. Let's go backstage.
DramaTech Theatre
Photos by Rob Felt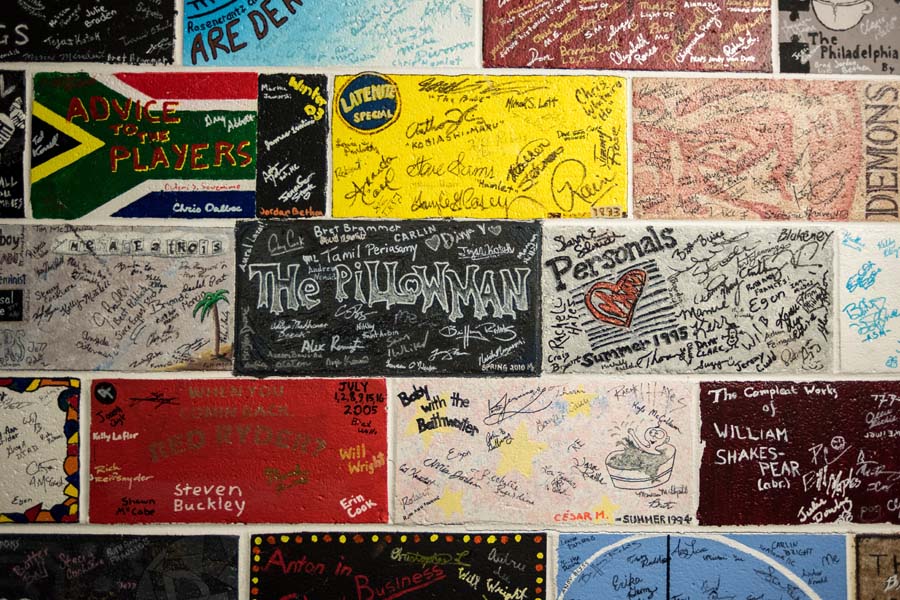 The cast and crew of each show make their mark on the bricks along DramaTech's stairwell.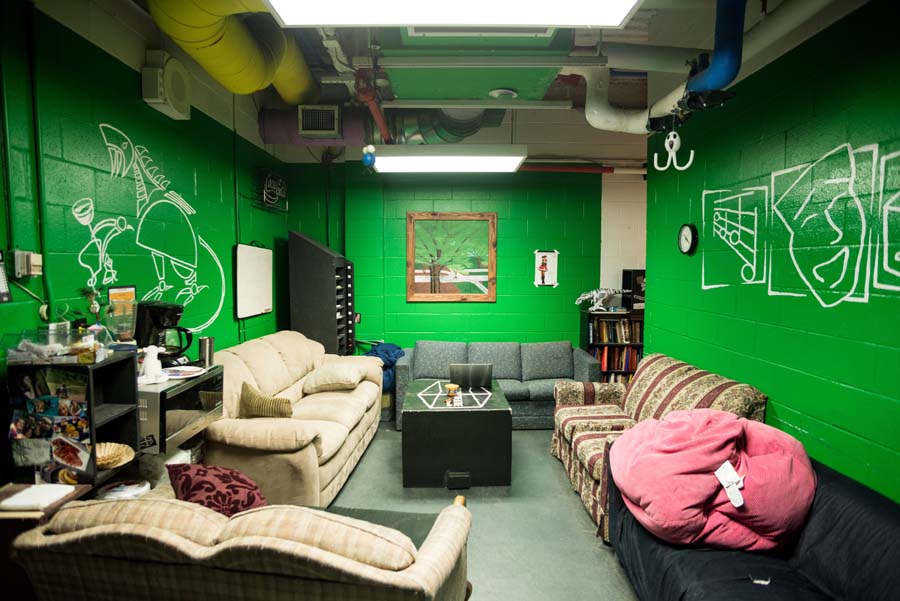 In the early days of theater, the actors' lounge was painted green. DramaTech's green room follows that tradition.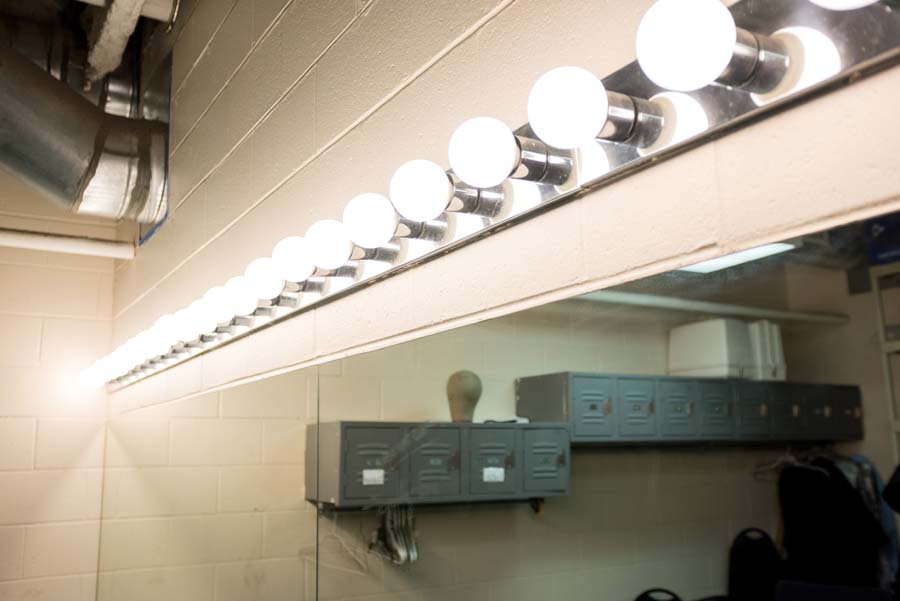 The dressing room has lockers to store the actors' personal belongings while they're on stage.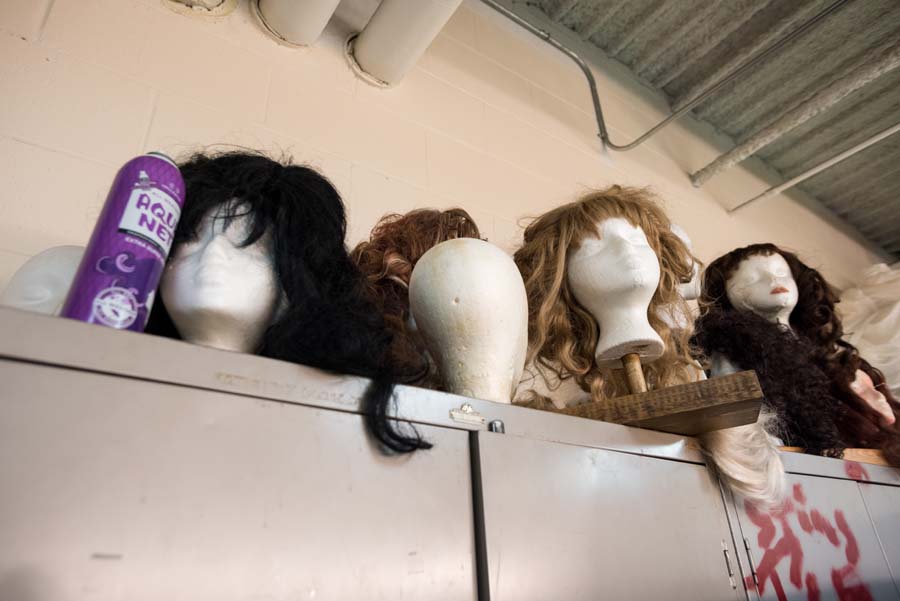 Wigs in the Prop Room: "Long beautiful hair. Shining, gleaming, streaming, flaxen, waxen."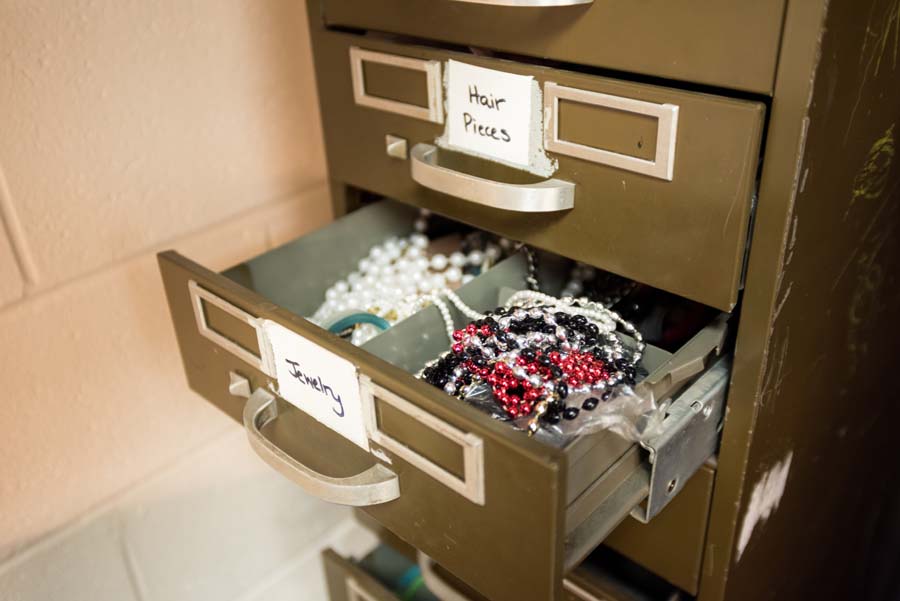 All manner of costume accessories fill the DramaTech drawers.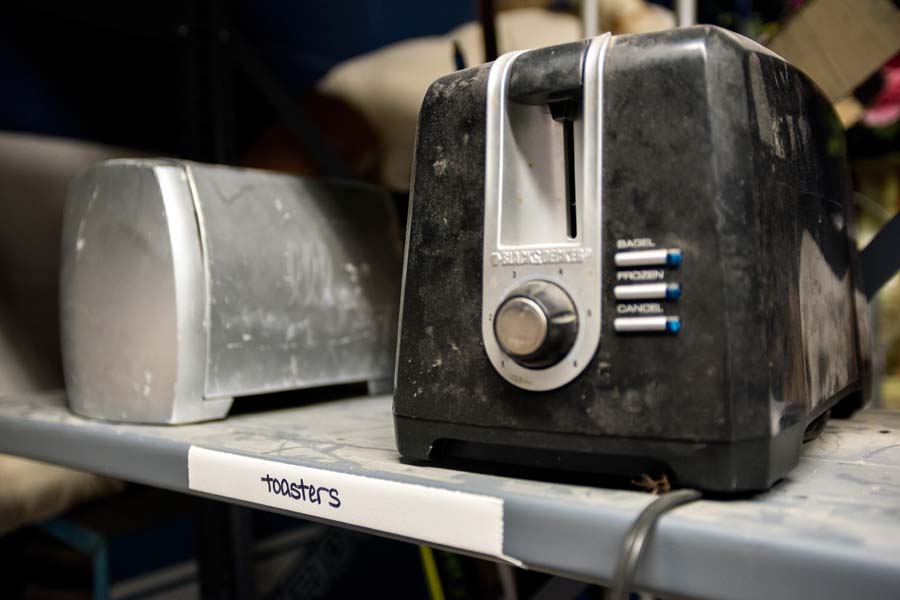 Actors are often superstitious. After two consecutive DramaTech plays had a toaster as a prop, it became tradition to include a toaster in every show — for luck.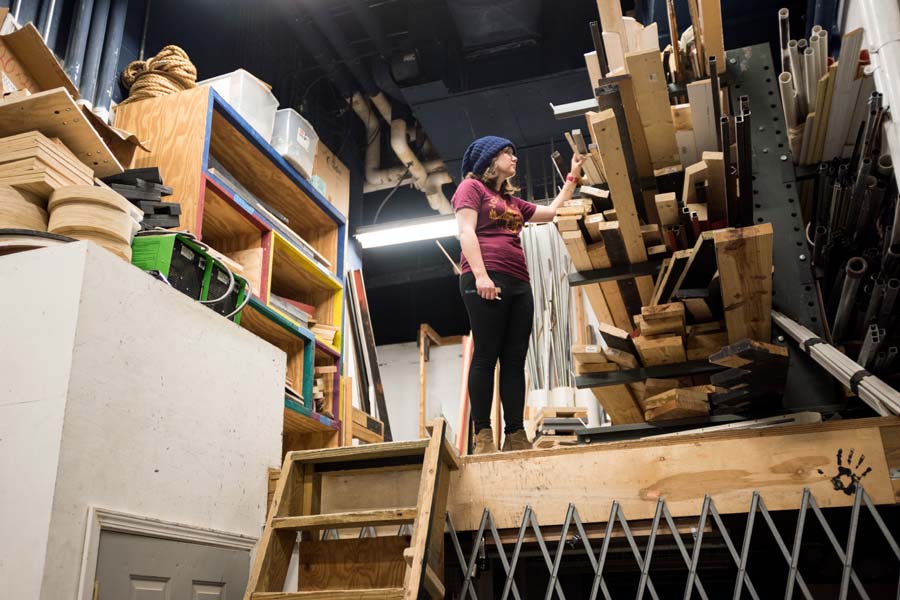 Caleigh Derreberry, a second-year literature, media, and communication major and DramaTech's marketing director, stands on the wood dock of the area where sets are built.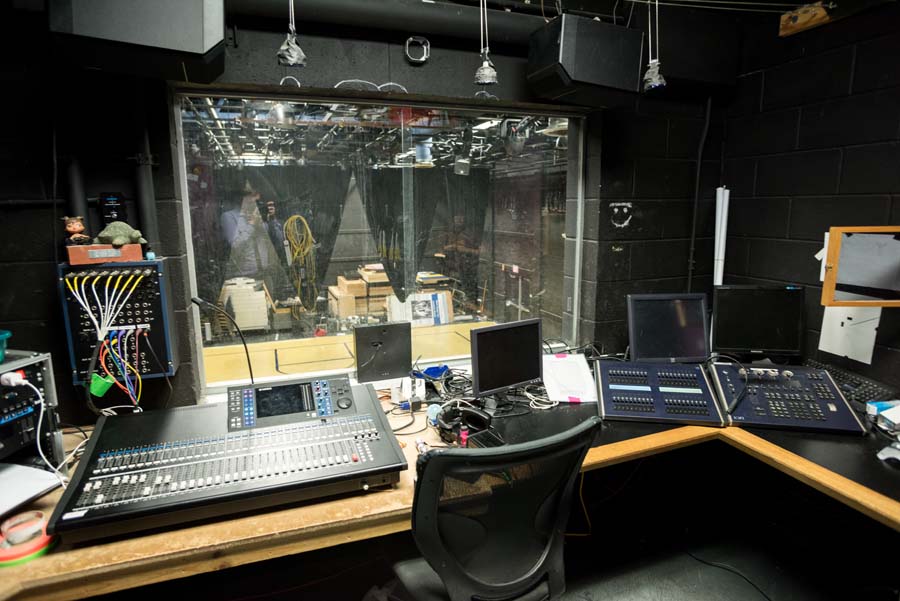 Dave's Light Booth is named in honor of the late DramaTech member and special effects designer, David Darwin Clark.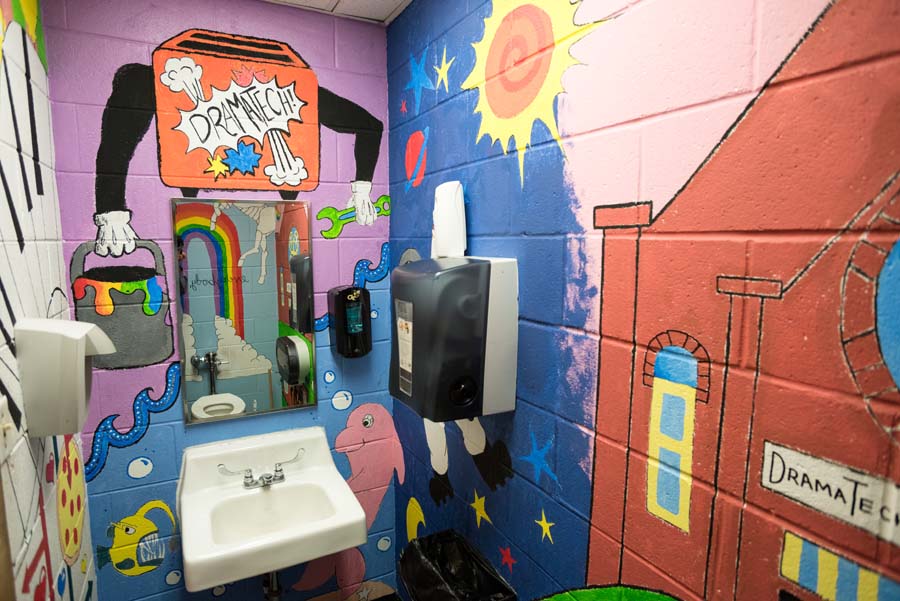 DramaTech has several murals, including one in the restroom of the dressing room. 


The theater has a collection of plays for students to peruse when selecting the next DramaTech production.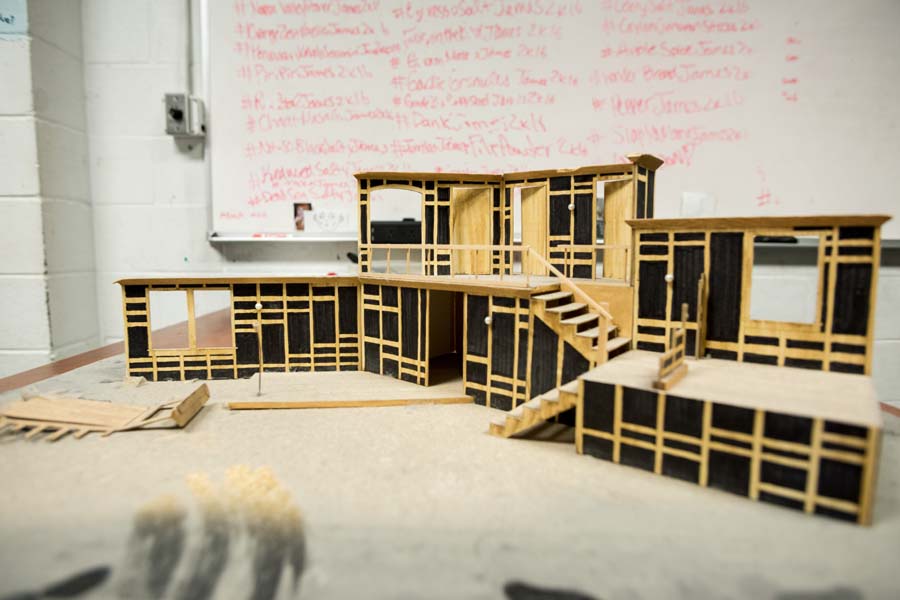 An architectural model of the set for 'Noises Off' sits on a shelf backstage.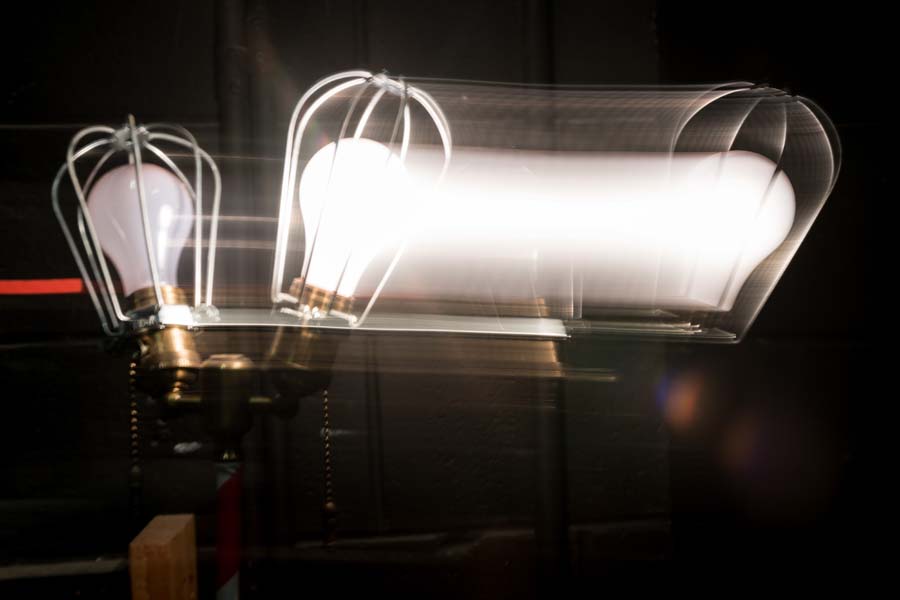 A "ghost light" is an electric light that is left on when the theater is unoccupied and would otherwise be completely dark. Theater superstition ties the ghost light to the supernatural.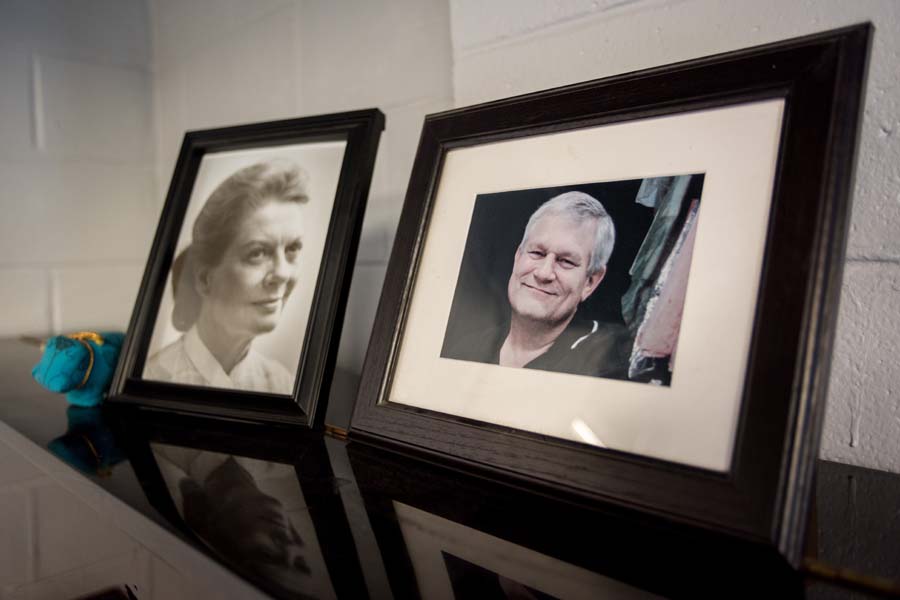 The lobby has photos of two former DramaTech directors: Mary Nell Santacroce, director from 1949 to 1966, and Greg Abbott, director from 1984 to 2006.


Before going onstage, performers touch former DramaTech Director Greg Abbott's handprint for luck.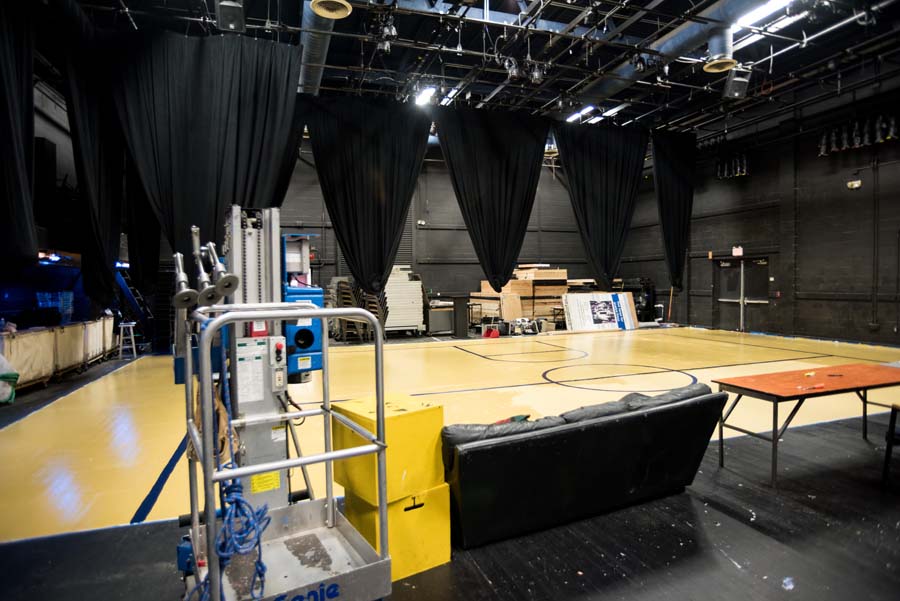 The black box theater can be configured to best meet the needs of a show. This photo shows the transformation to a gymnasium floor.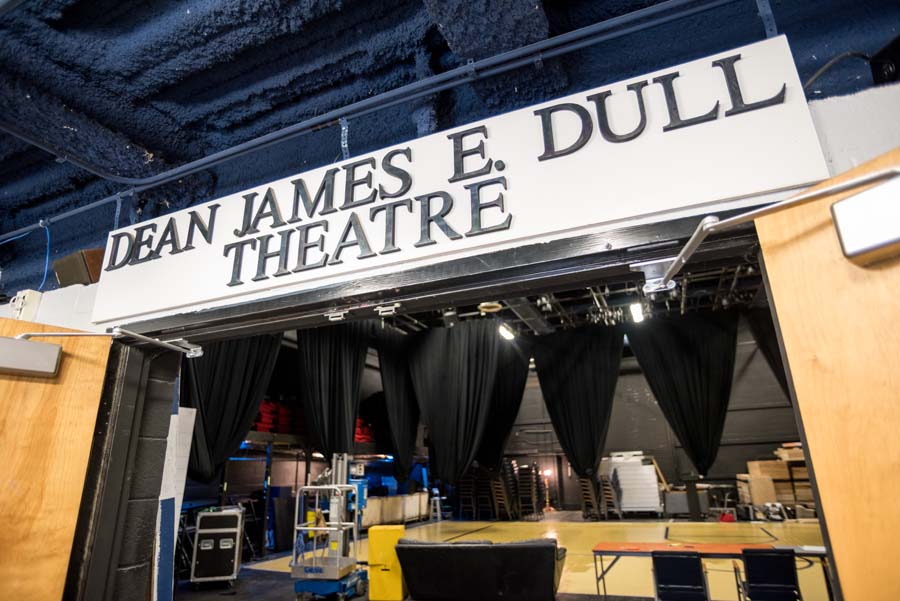 DramaTech adjoined the Robert Ferst Center for the Arts in 1992, thanks to Dean of Students Emeritus James E. Dull.