Hidden Georgia Tech: The Glass Shop
By Victor Rogers September 28, 2015
Across the Georgia Tech campus, hidden spaces and forgotten places await rediscovery. Some are relics of an earlier time, difficult to find and explore. Others are very much in view, but often overlooked. Hidden Georgia Tech is a photo essay series highlighting places on campus that are hidden in plain sight.
THE GLASSBLOWING SHOP
On the lower level of the Ford Environmental Science and Technology Building, Georgia Tech's scientific glassblower repairs cracked condensers and other glass equipment from labs across campus. The work is much like that of a precision welder, combining hand skills, using torches and lathes, with lasers, diamond grinding and lapping machines, and computer-assisted furnaces. Take a look inside the Glassblowing Shop through the images below.
The Glassblowing Shop
Photos by Rob Felt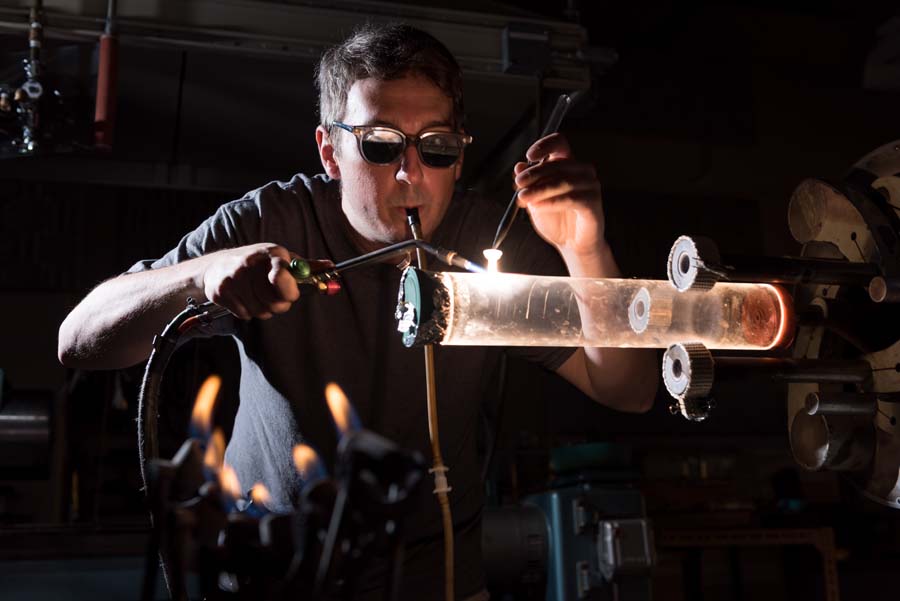 Scientific glassblowing is a specialty field of glassblowing used in science, industry, art, and design. There are approximately 50 scientific glassblowers employed at American universities.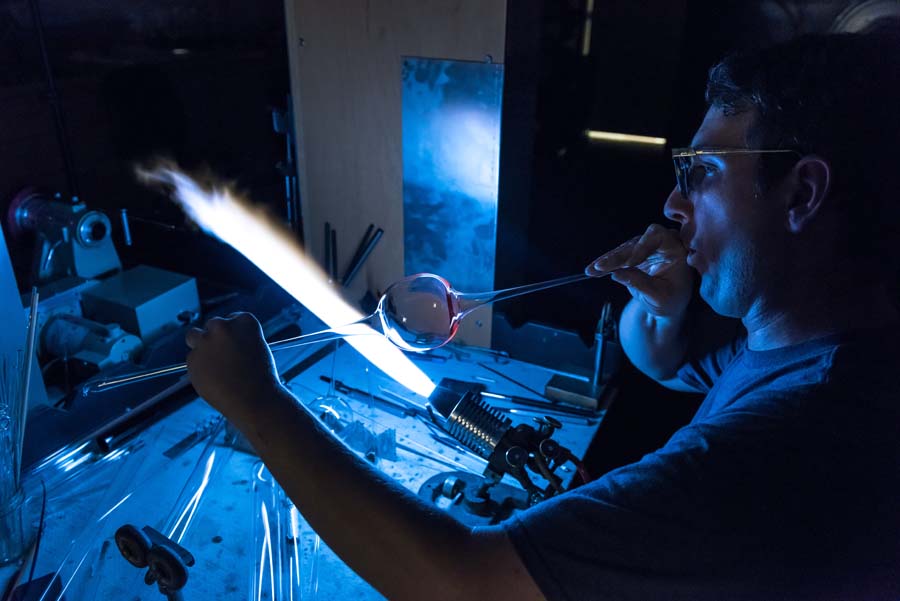 For many researchers, discovering Georgia Tech's Glassblowing Shop is like finding hidden treasure. Established in 1955, it can help researchers stretch their budgets by repairing — instead of replacing — expensive equipment.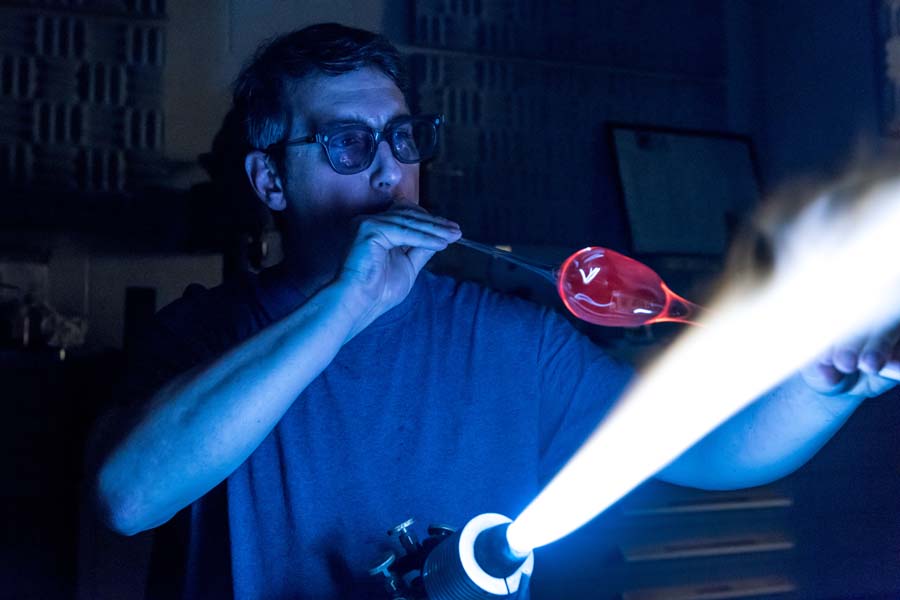 The Glassblowing Shop has one scientific glassblower, Brian Markowicz, who is available for consultation on the design, construction, modification, and repair of vitreous scientific equipment.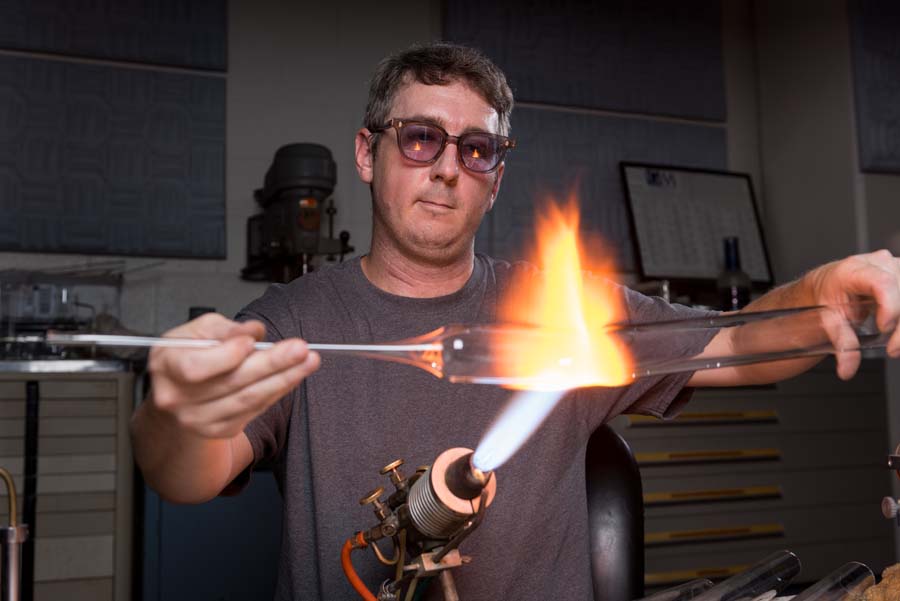 Markowicz, who has a degree in scientific glassblowing from Salem community college in Salem, New Jersey, came to Tech in 2014. He also worked as a glassblower at the University of Georgia.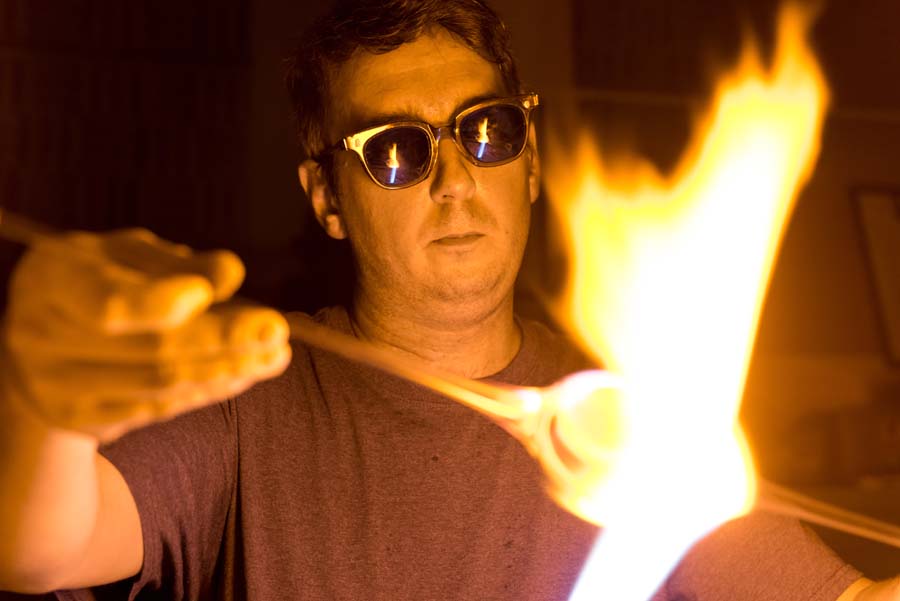 The Glassblowing Shop can fabricate scientific apparatus from borosilicate glass (pyrex) or fused quartz. Shop capabilities include the preparation of silver mirrors, and etching, cutting, grinding, and drilling of glass.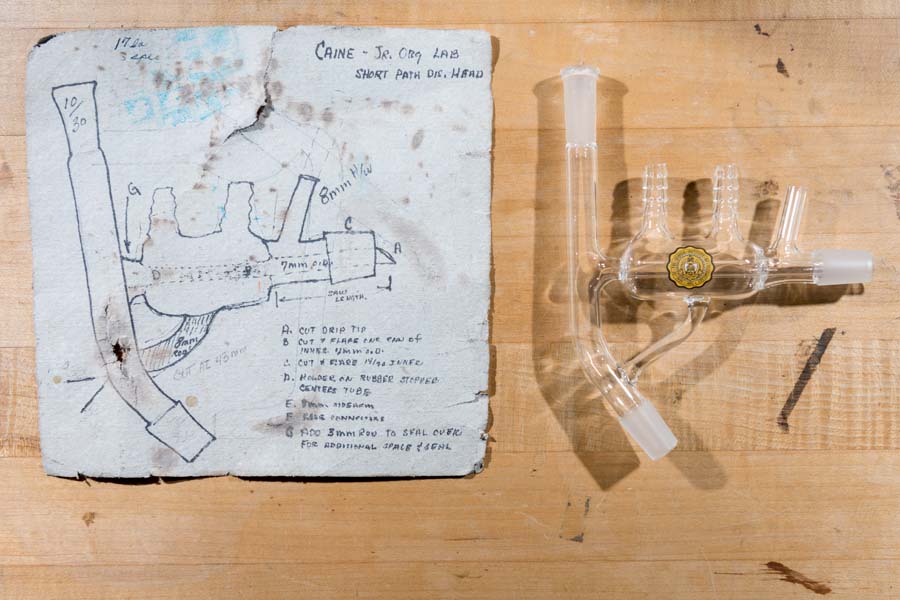 The scientific glassblower designs and constructs each apparatus by collaborating with individual researchers, using drawings as a guide.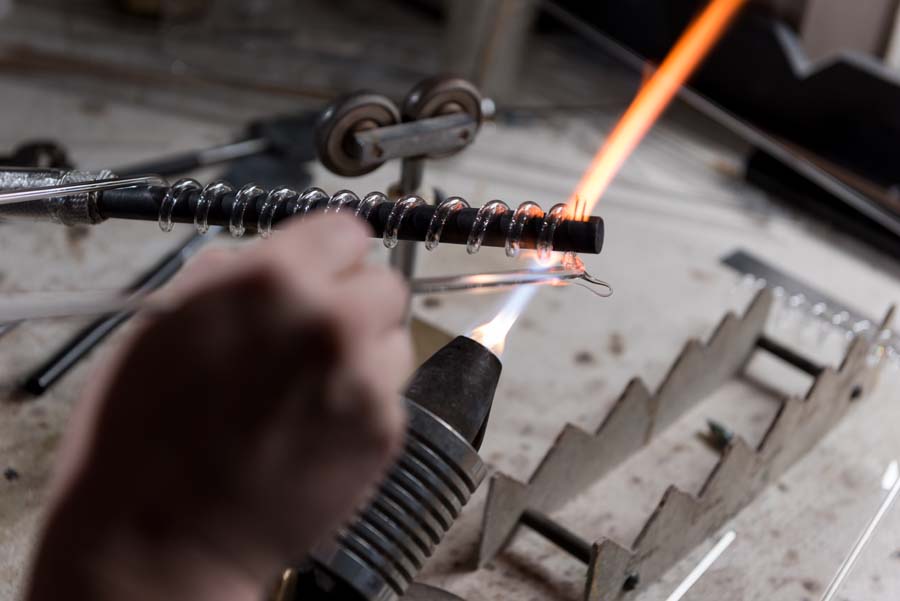 In instances in which the material to be heated is quartz, the temperature of the flame ranges from 2,500 degrees Fahrenheit to as high as 3,500 degrees.


This coil condenser has a broken ball joint that needs to have a new ground glass joint sealed onto it.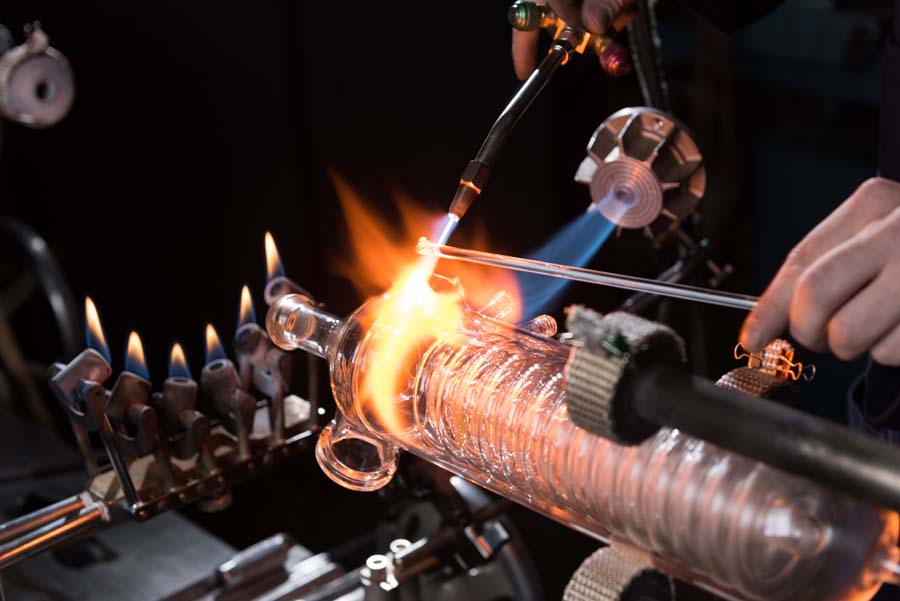 Markowicz is preheating the piece with a cannon burner and removing the broken ball joint.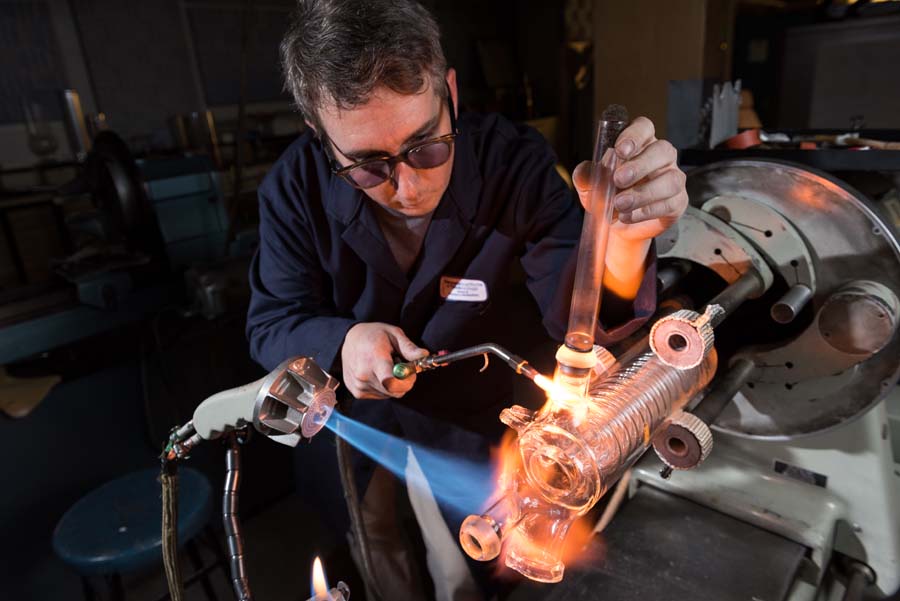 He is preparing the port to seal the new ball joint and flame annealing the finished repair.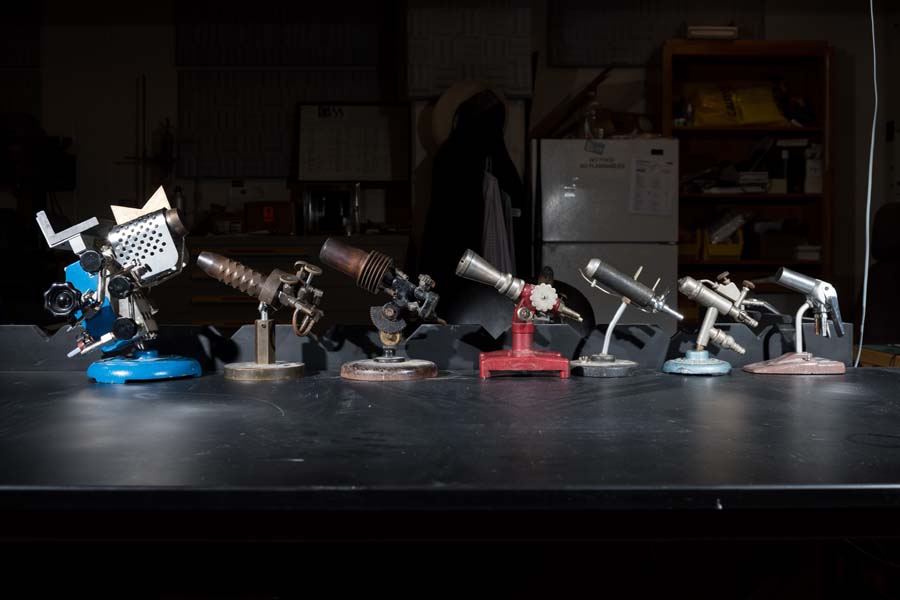 Markowicz collects bench burners that date back to the 1950s.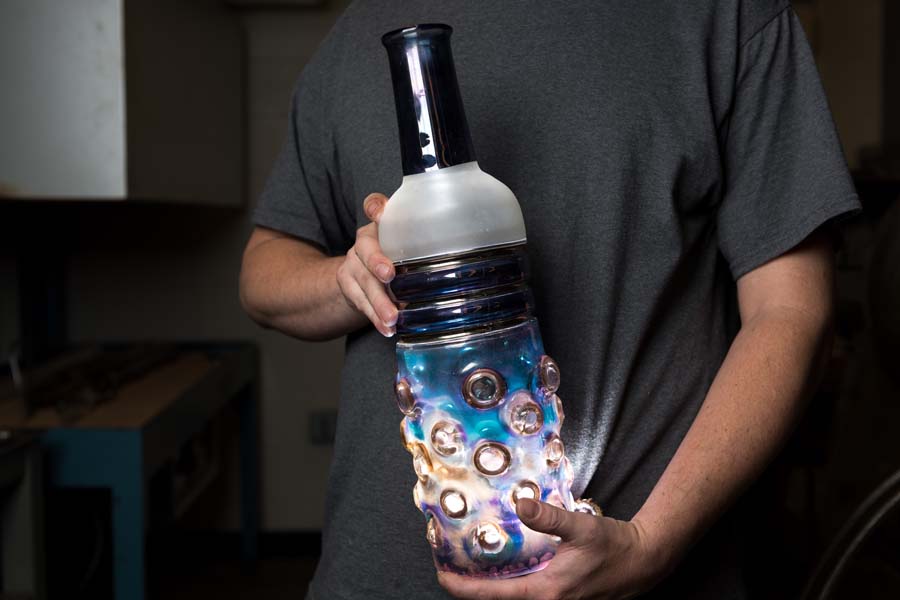 When not at work, Markowicz occasionally blows glass to make art such as this decorative bottle.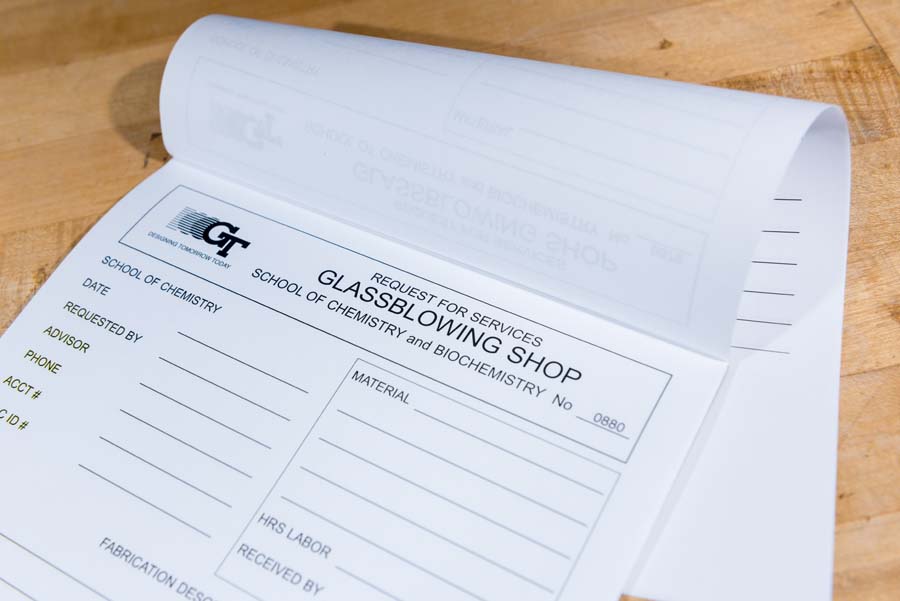 The Glassblowing Shop, located in the School of chemistry and Biochemistry, works with researchers from all over campus. contact the Glassblowing Shop to make an appointment to discuss your glass project and obtain a cost estimate: 404-894-4068.


Founded in 1965 by Don Lillie, D.E. Lillie Glassblowers is the creator of the crystal Buzz, which is given to Tech employees at retirement. Lillie, who earned a degree in physics from Tech in 1959, was Georgia Tech's first glassblower. He retired in 1988 after 33 years of service.