Hidden Georgia Tech: Surplus Property
By Victor Rogers august 14, 2019
Across the Georgia Tech campus, hidden spaces and forgotten places await rediscovery. Some are relics of an earlier time, difficult to find and explore. Others are very much in view but often overlooked. Hidden Georgia Tech is a photo-essay series highlighting places on campus that are hidden in plain sight.
Surplus Property
When a Georgia Tech department purchases new furniture or office equipment, what happens to the furniture and equipment that's no longer needed? Because it is state property, it cannot be sold, surplussed, or transferred from Georgia Tech without the approval of Surplus Property. As a result, many items are held in the Surplus Property area of Procurement and Business Services, located at 711 Marietta Street, until they find a new home.
Let's take a look.
For details about how property is retired at Tech, or to schedule a visit to the surplus warehouse, visit procurement.gatech.edu/logistics.
Surplus Property
Photos by Rob Felt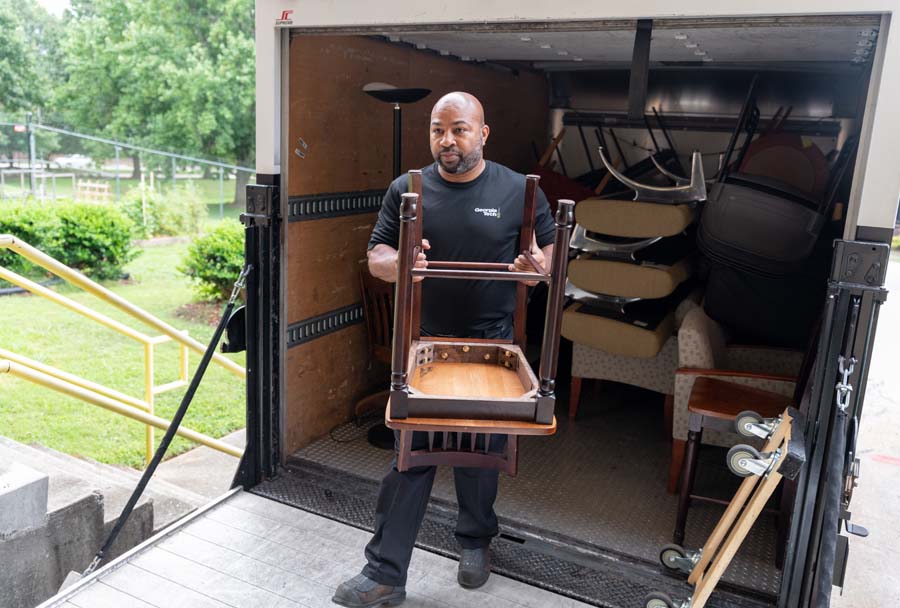 Georgia Tech Logistics is responsible for the campuswide pick-up of surplus items. Corey Darden, logistics associate, unloads furniture delivered to Surplus Property.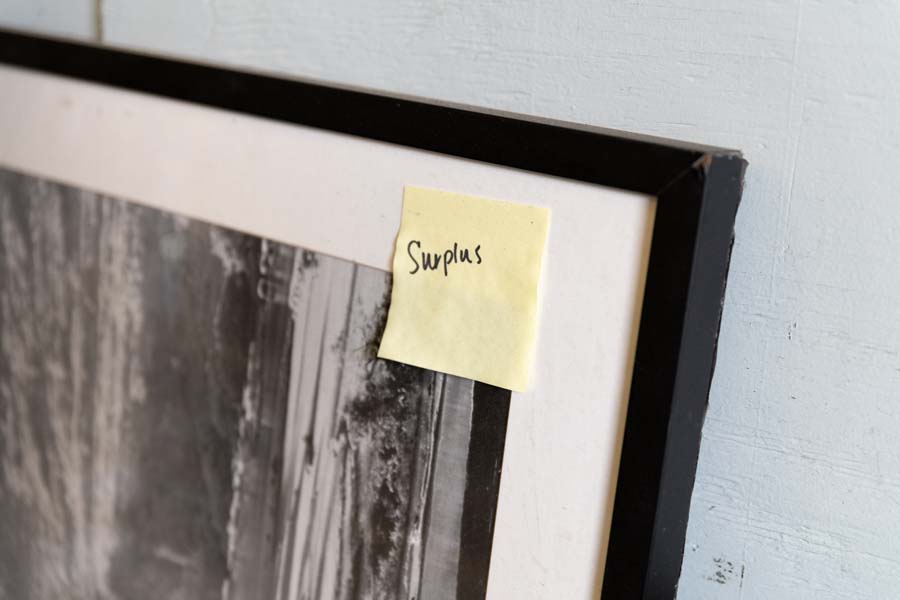 When departments relocate or redecorate, they often tag unneeded items to be sent to Surplus.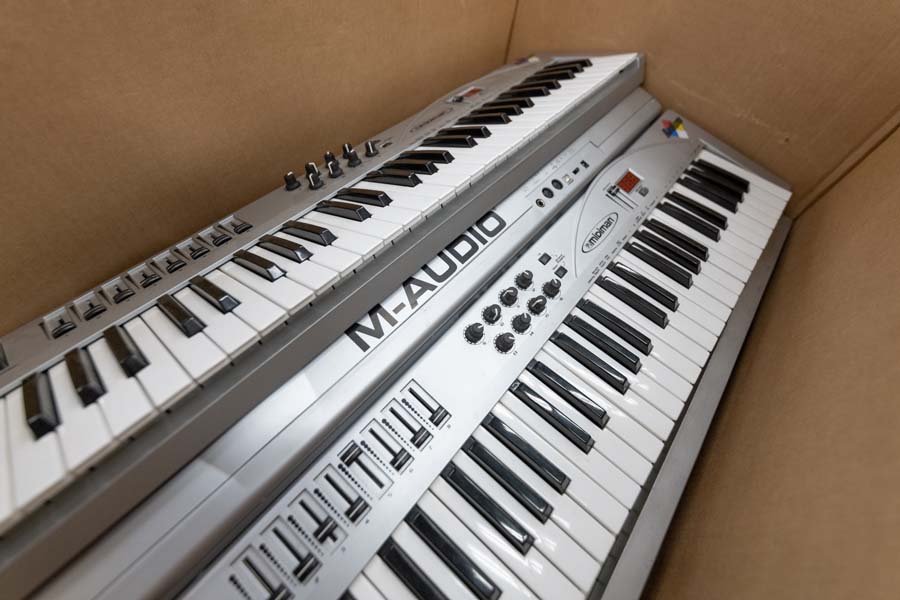 These unwanted keyboards will be sent to a recycling vendor.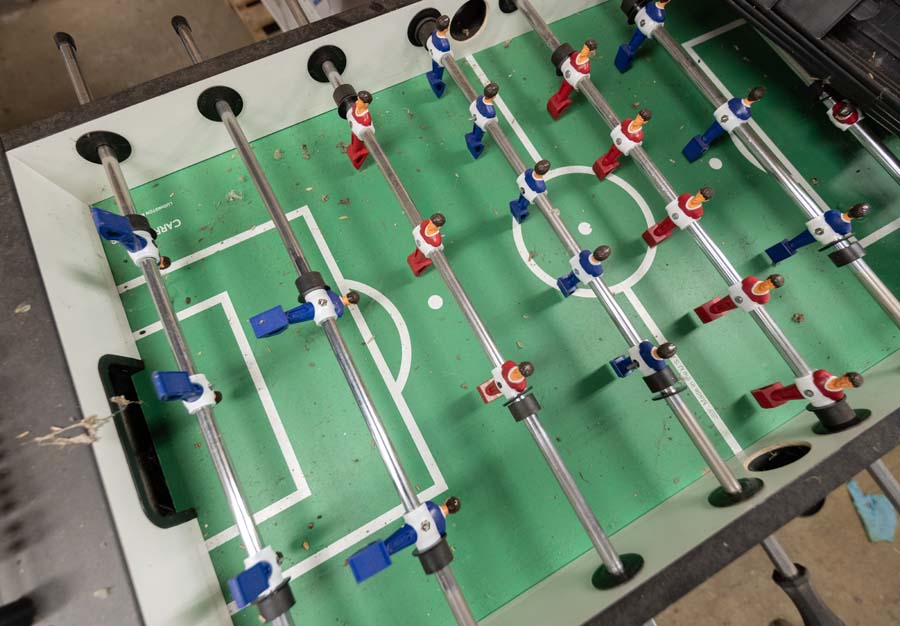 This foosball table, if not redistributed to another department, could be made available to the public through internet auctions.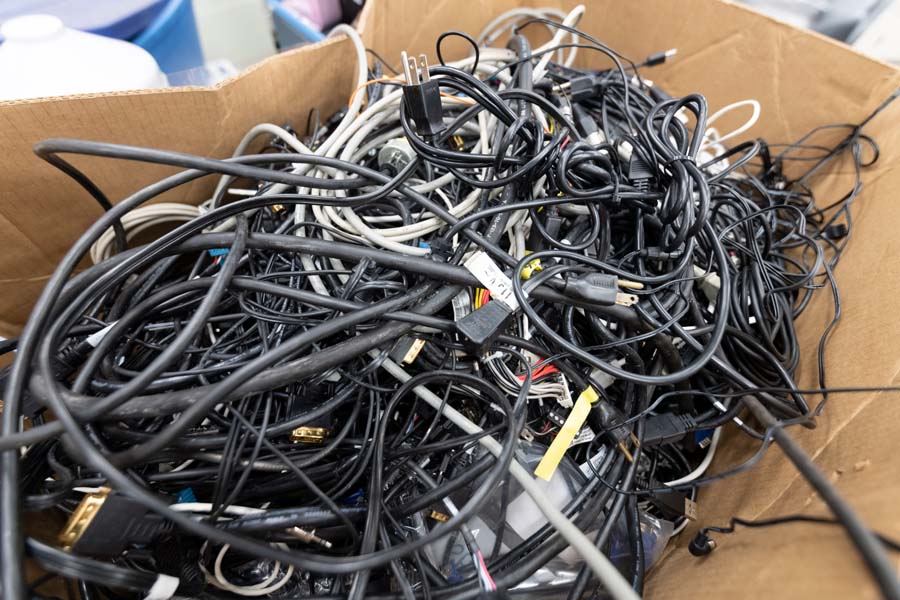 If no department wants an item, like this box of power cords and electronic accessories, the item is sent to the state-approved recycler after one to three months, depending on the item.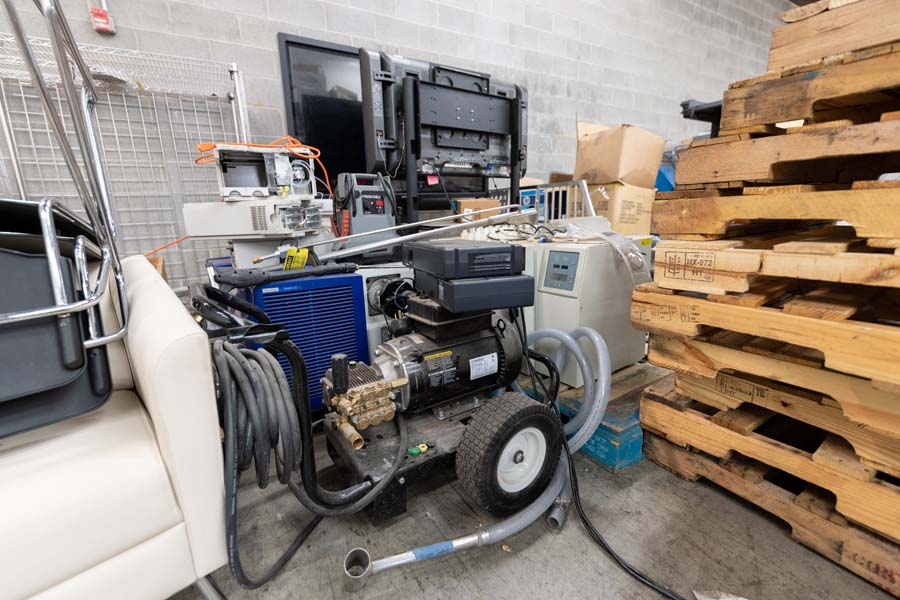 You never know what will turn up in Surplus, like this pressure washer.


Parts of a microscope are available to be redistributed.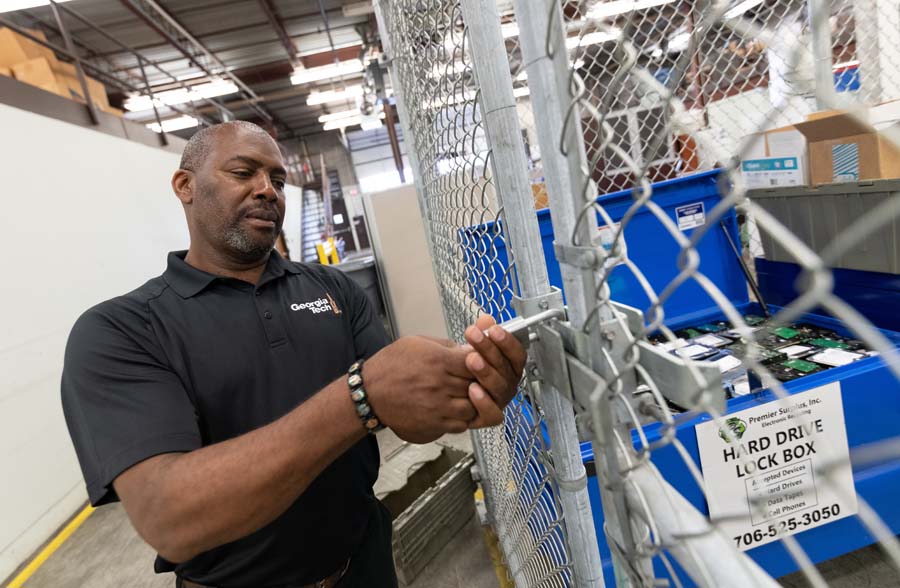 Kenneth Chavers, logistics surplus manager, secures the lock on a cage holding surplus hard drives that may contain sensitive data.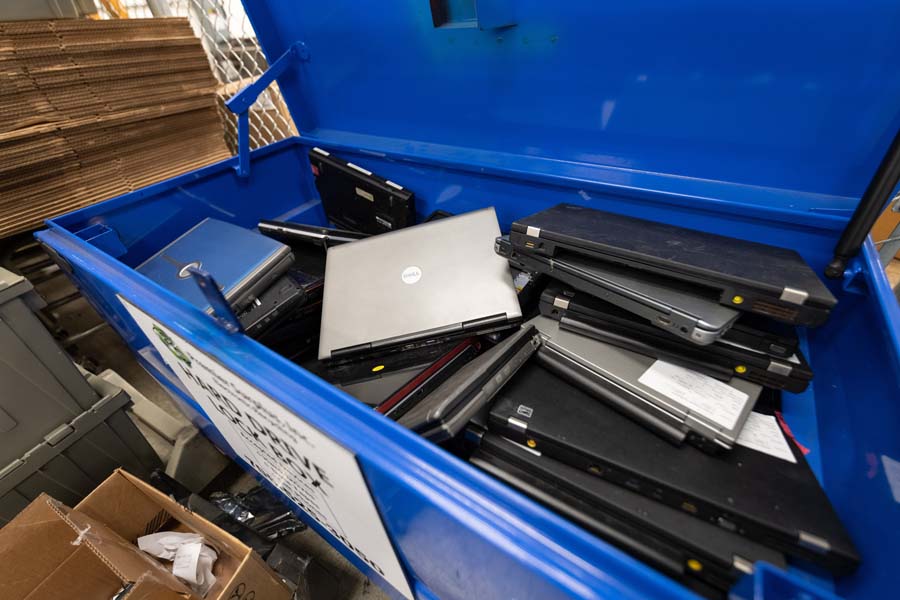 Surplus hard drives, further secured in a lockbox inside the cage, are shipped offsite to be destroyed by a state-approved recycling vendor.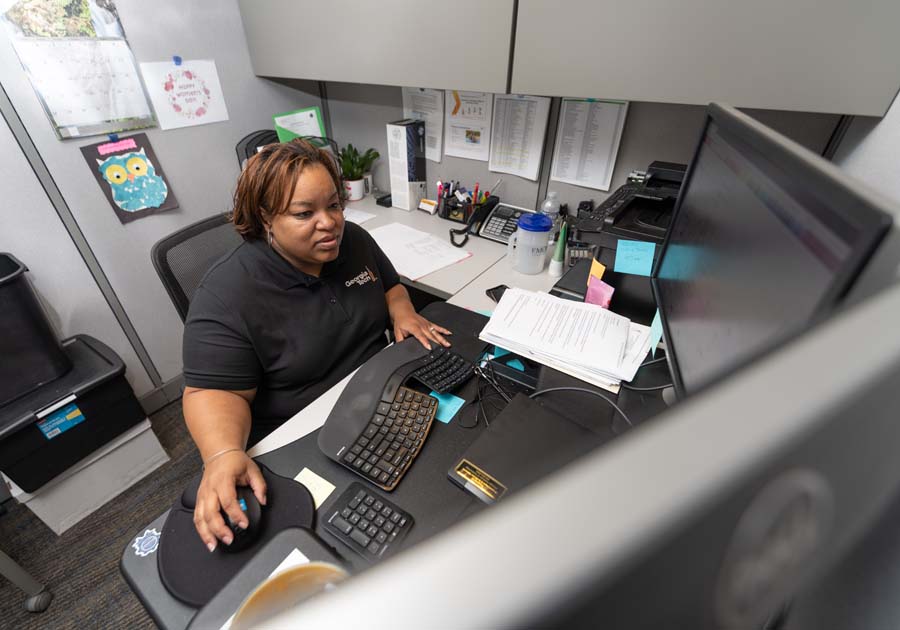 Davida Montgomery, a logistics and surplus coordinator, helps keep track of surplus inventory.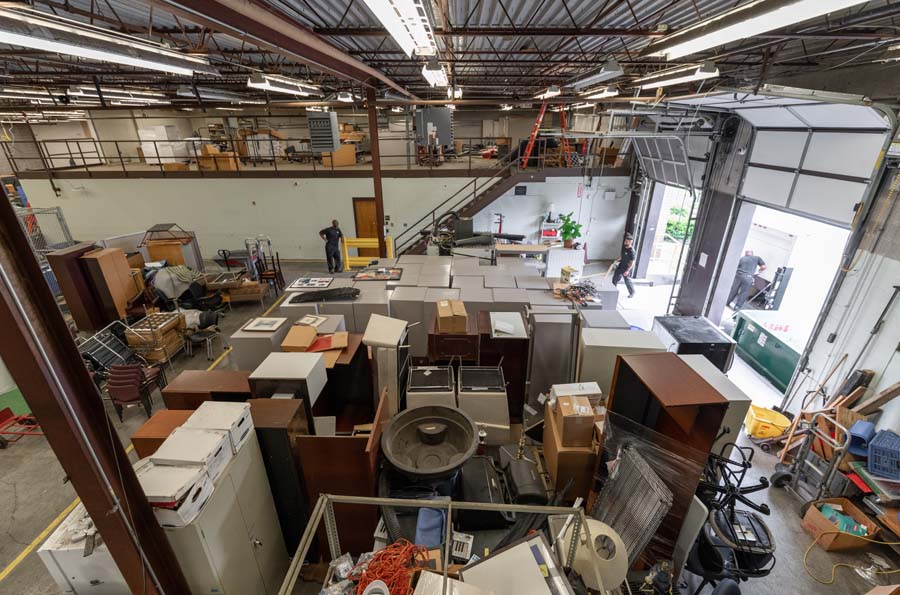 The 5,730-square-foot space has a little bit of everything, from electronics to furniture. Unloading and staging the items are Tias Climes, truck driver; Christopher Wallace, logistics associate; and Corey Darden, logistics associate.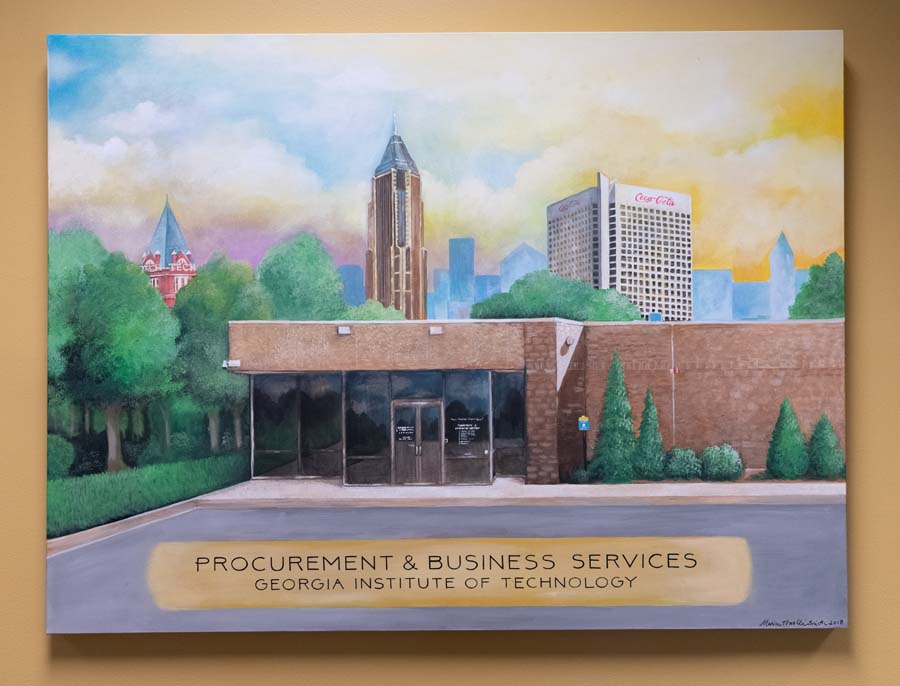 Painting by Maria Tonelli Smith is part of the office décor.