A Historic Moment: Governor's Inauguration at McCamish
By Stacy Braukman January 14, 2019
For more than a century — stretching all the way back to Teddy Roosevelt's 1905 campus visit — major political figures have made appearances at Georgia Tech. Whether as Commencement speakers or honorary Ph.D. recipients, guest lecturers or speechmakers, over the years U.S. presidents, cabinet members, congressional leaders, and governors have made their own unique and indelible impact on the life of the Institute.
But Jan. 14, 2019, marked a special occasion for Tech's campus. That afternoon, Athens native and Republican Brian Kemp was sworn into office as Georgia's 83rd governor at McCamish Pavilion, where he delivered his inaugural address. The ceremony — which also includes the swearing in of other officials such as lieutenant governor and secretary of state — traditionally takes place at the Georgia State Capitol Building. Officially, Georgia Tech had no role in the  inaugural activities; McCamish was rented to stage the ticketed event.
"Through the prism of politics, our state appears divided. Metro versus rural. Black versus white. Republican versus Democrat," Kemp said. "Elections can rip us apart. But after visiting all 159 counties, I can tell you we have so much in common. As governor, I will fight for all Georgians — not just the ones who voted for me."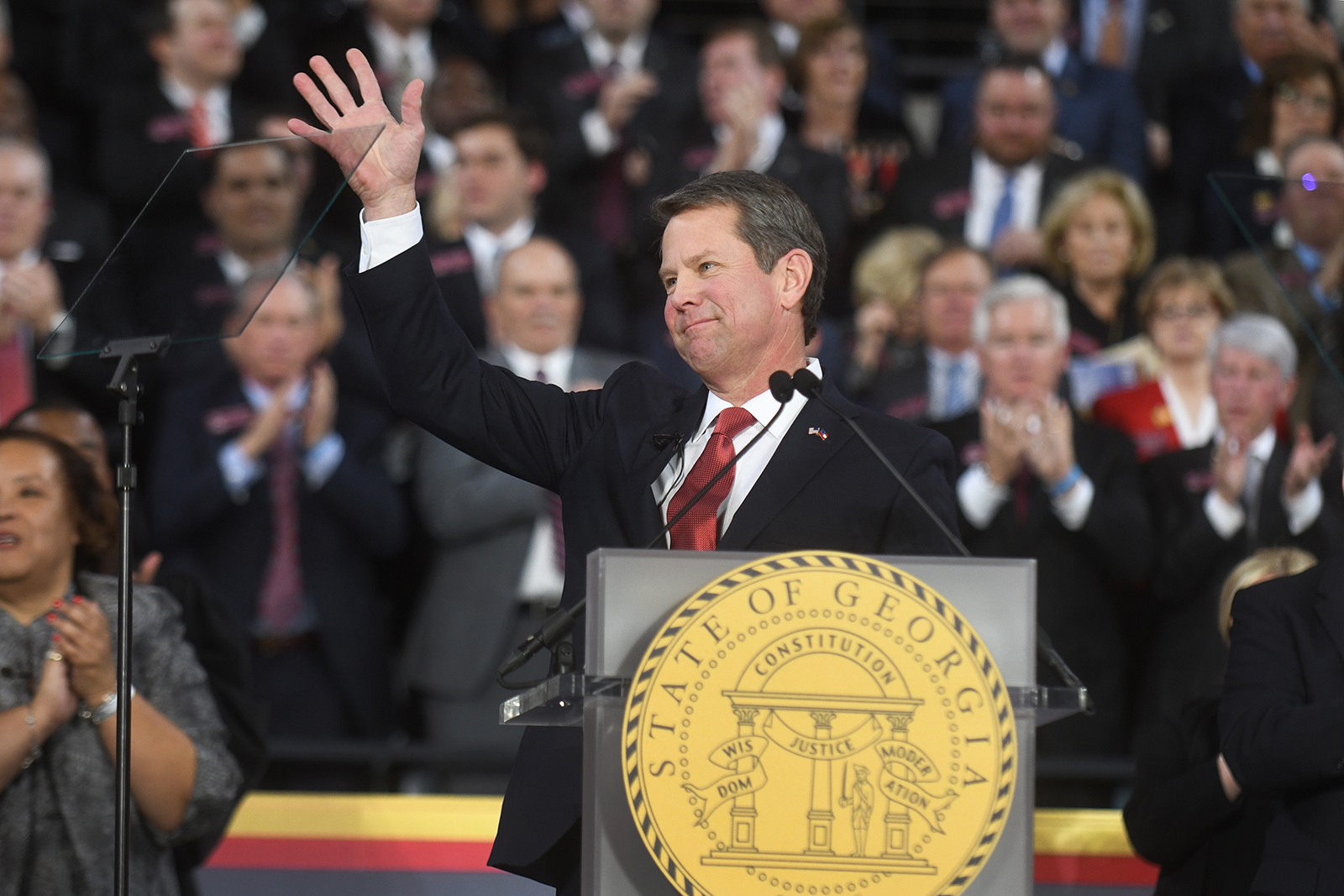 Brian P. Kemp was inaugurated as Georgia's 83rd governor on Jan. 14. The ceremony also included the swearing in of Lieutenant Governor-elect Geoff Duncan, a Georgia Tech alumnus and former Yellow Jacket baseball player. Other statewide constitutional officers who took the oath of office were Attorney General Chris Carr, Secretary of State Brad Raffensperger, School Superintendent Richard Woods, Insurance Commissioner Jim Beck, Agriculture Commissioner Gary Black, and Labor Commissioner Mark Butler. Photo by Christopher Moore.
Here are some of the famous political faces who have made a splash on the Tech campus in the past.