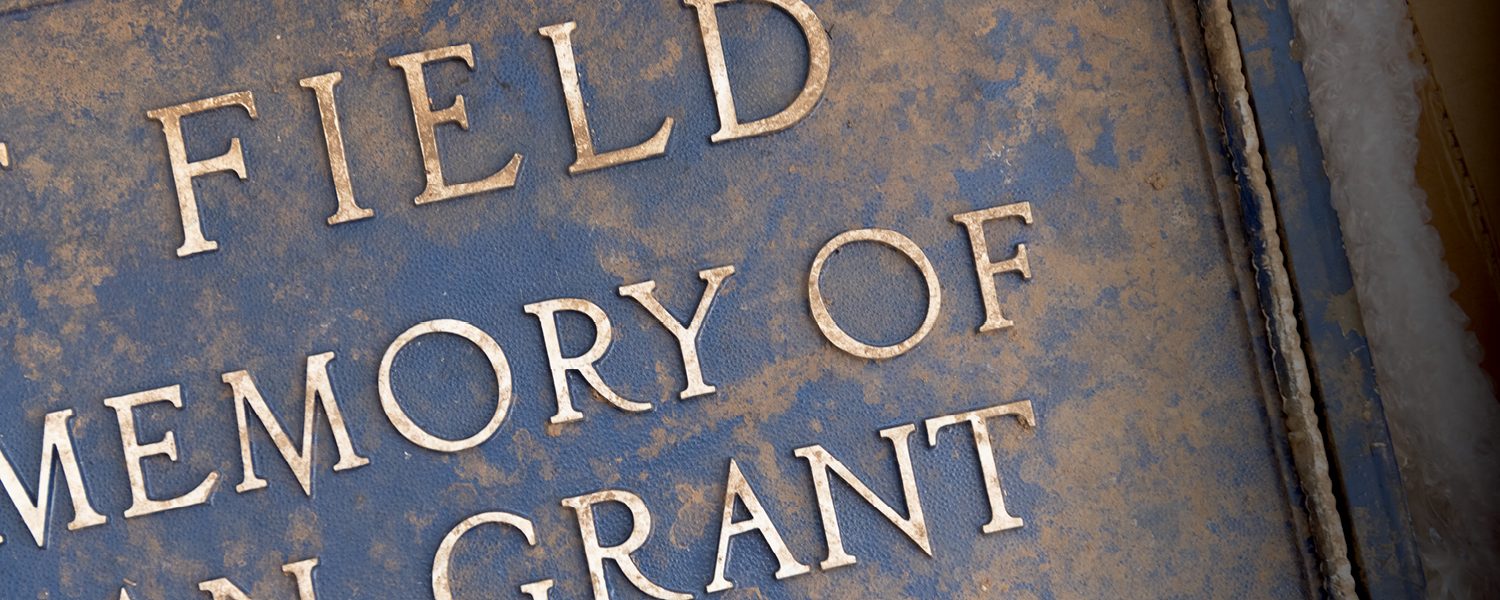 Homecoming for Missing Plaque
Written by Victor Rogers | Photography by Allison Carter | Published October 30, 2019
In early October, a 40-pound package, wrapped neatly in brown paper and sent from fictitious student George P. Burdell, was delivered to Dean John Stein in the Student Services Building. Stein lifted the heavy parcel, carried it to his office, and placed it on the floor while he and others contemplated whether to open it.
"When we finally did, we discovered a plaque that seems to have been mounted on a wall at Grant Field back in the day," said Stein, vice president for Student Life and the Brandt-Fritz Dean of Students Chair. "I was amazed because it looks like it has remained intact since the day they dismantled it. The original dirt is still on it, and it seems preserved in time. It was truly unbelievable."
The plaque's inscription reads: Grant Field, Named in Memory of Hugh Inman Grant, 1895-1906.
Hugh Inman Grant was the son of Anne Martin Inman Grant and John William Grant. In 1913, John Grant made a $15,000 gift to improve Tech's athletic facilities, and the field was named in honor of his late son.
"At some point, the plaque was taken. I'm not sure by who or when. The person wants to remain anonymous because they said it was from George P. Burdell," said Stein, who tried to find out more about the sender by calling the shipping company.
The person who answered confirmed that the sender indeed wants to remain anonymous. But he did reveal that the sender is a man in his 60s, which indicates that the plaque may have been taken some 40 years ago when the sender was a Tech student.
Stein did not press for more information. Instead, he asked the man on the phone to deliver a message to the sender.
"Tell him, 'Thank you for sending back something that's really special, and it's wonderful for us to have it back at Tech.'"
Stein said the plaque belongs back home at Grant Field, so he and the Athletic Association are determining where and how to best display the artifact.  
The Tech Tradition Continues
During his almost 18 years as Tech's dean of students, Stein has experienced many of what he calls "wonderful Georgia Tech moments." So, having a missing plaque returned by George P. Burdell doesn't seem all that unusual.
"When I tell the story," he said, "the response I get is, 'That's so Georgia Tech!'"
Stein added, "I don't believe this is bizarre. It's unique to Georgia Tech. There is a Georgia Tech tradition of 'taking' or 'borrowing' things. It's just part of the lore of the place. I don't know when and why it started, but it continues today. We still deal with things being taken, but hopefully temporarily. It's nice to get them back."
Because of the long history of the dean of students' role at Tech, Stein isn't surprised that the plaque was mailed to his office.
"Back in the day, depending on when the plaque was taken, there would have been real involvement on the dean's part. I think that's why it was returned to the Dean of Students Office instead of to the Athletic Association," he said.  
Stein has a message for anyone looking to clear their conscience.
"If there are alumni or friends of the Institute who have 'borrowed' things from us over the years, it would be wonderful to have those things returned in whatever way they choose to do so," he said.
"As dean of students, I would like to reassure anyone who returns an item that they will not get in trouble for something they did when they were 17, 18, 19 years old. We will not revoke their degree," Stein said with a smile.