Tap Into Your Inner Inventor
It's one thing to have a great idea. It's another to turn that idea into an invention that can save lives or at least make life a bit more comfortable.
Georgia Tech students have the opportunity to do just that thanks to the InVenture Prize. The annual contest rewards students with cash prizes and free patents for big innovations that aim to solve the world's problems.
Is the Next Big Idea in You?
The InVenture Prize at Georgia Tech is an interdisciplinary innovation competition open to all undergraduate students and recent graduates of the Georgia Institute of Technology. 
The first-place prize is $20,000, plus a spot in Flashpoint, Georgia Tech's startup accelerator program. Second-place finishers get $10,000. Both receive U.S. patent filings by Georgia Tech's Office of Technology Licensing.
The 2015 competition starts with the kickoff meeting on Sept. 18. ​The finale is scheduled for April 1, and will be broadcast live on Georgia Public Broadcasting.
Turning Ideas into Reality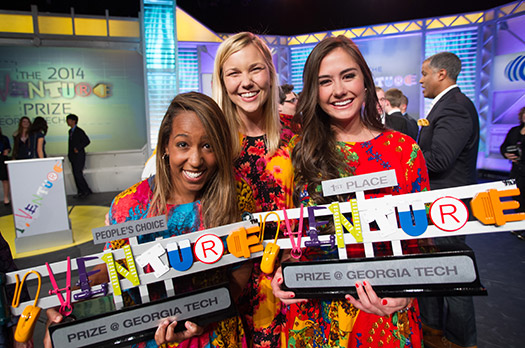 The 2014 winners, Team Sanivation
Nicknamed "American Idol for Nerds," InVenture started in 2009 and inspires students from all majors to tap into their creativity, while exposing them to multiple aspects of entrepreneurship.
"InVenture is about making students' ideas a reality," said Chris Reaves, director of undergraduate research and student innovation, and one of InVenture's organizers. "At Georgia Tech we want to reveal opportunities to students and unveil to students their capabilities."
The 2014 winners, Team Sanivation, learned how much they could accomplish.
Two members of the all-female team traveled to Kenya this summer to test their device, an inexpensive mobile solution to help the nearly 2.6 billion people worldwide who don't have access to hygienic bathrooms.
Their SafiChoo (Swahili for "clean toilet") is meant to replace the pit latrines often found in refugee camps.
"It is one thing to sit in your classroom and think you have an idea to help people, and it's another to travel halfway around the world and see people using your invention," said Jasmine Burton, the team manager and a senior in the School of Industrial Design.
"It was such an emotional and surreal experience. We are making a real impact in the world because of InVenture."
The team used their InVenture winnings to conduct the pilot study.
Nearly 560 Georgia Tech students signed up for last year's contest, the biggest group ever. The group was narrowed to six teams to compete in the finale, which was televised on Georgia Public Broadcasting.
Competitors spend months – if not years – working on their inventions. They design multiple prototypes, read research journals, and interview experts and those who would benefit from the products.
Students continue working on their inventions long after the competition ends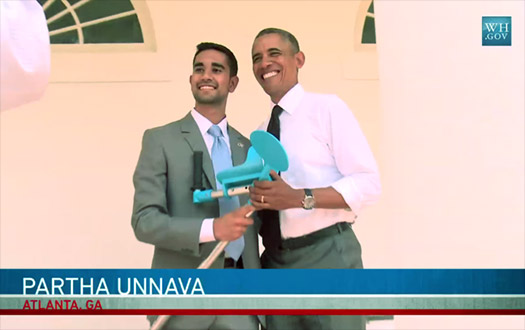 Team Better Walk modernized crutches and hopes to have products in hospitals early next year, said Partha Unnava, one of the device's inventors and now CEO of Better Walk Inc. 
Their design provides more forearm support to reduce fatigue and removes direct stress from the wrist. It also includes a sidepiece that provides additional support.
Unnava demonstrated the Better Walk to President Obama in June during the first-ever White House Maker Faire.
"When he grabbed the Better Walk crutch and tried it out, I was just in awe of the moment," Unnava said. "I hope that I was able to inspire others to create their own innovations and build businesses that can change the world."
Reaves tells students they can use InVenture to invent their own careers.
"Our students have the intellectual ability to create the next Google or the next Apple or the next Facebook," he said. "The question is whether they have the will to pursue it. It takes perseverance, and that's what the InVenture Prize instills in Georgia Tech students."
Get a firsthand look at what it's like to be an InVenture finalist:
Credits
Graphics/Page Design: Erica Endicott