Life after Tech: Retirees' Second Act
Written by Victor Rogers September 18, 2017
As the Institute prepares to celebrate retiring employees with the annual retirement dinner at the end of the month, a few former employees shared how they are adjusting to life after Tech.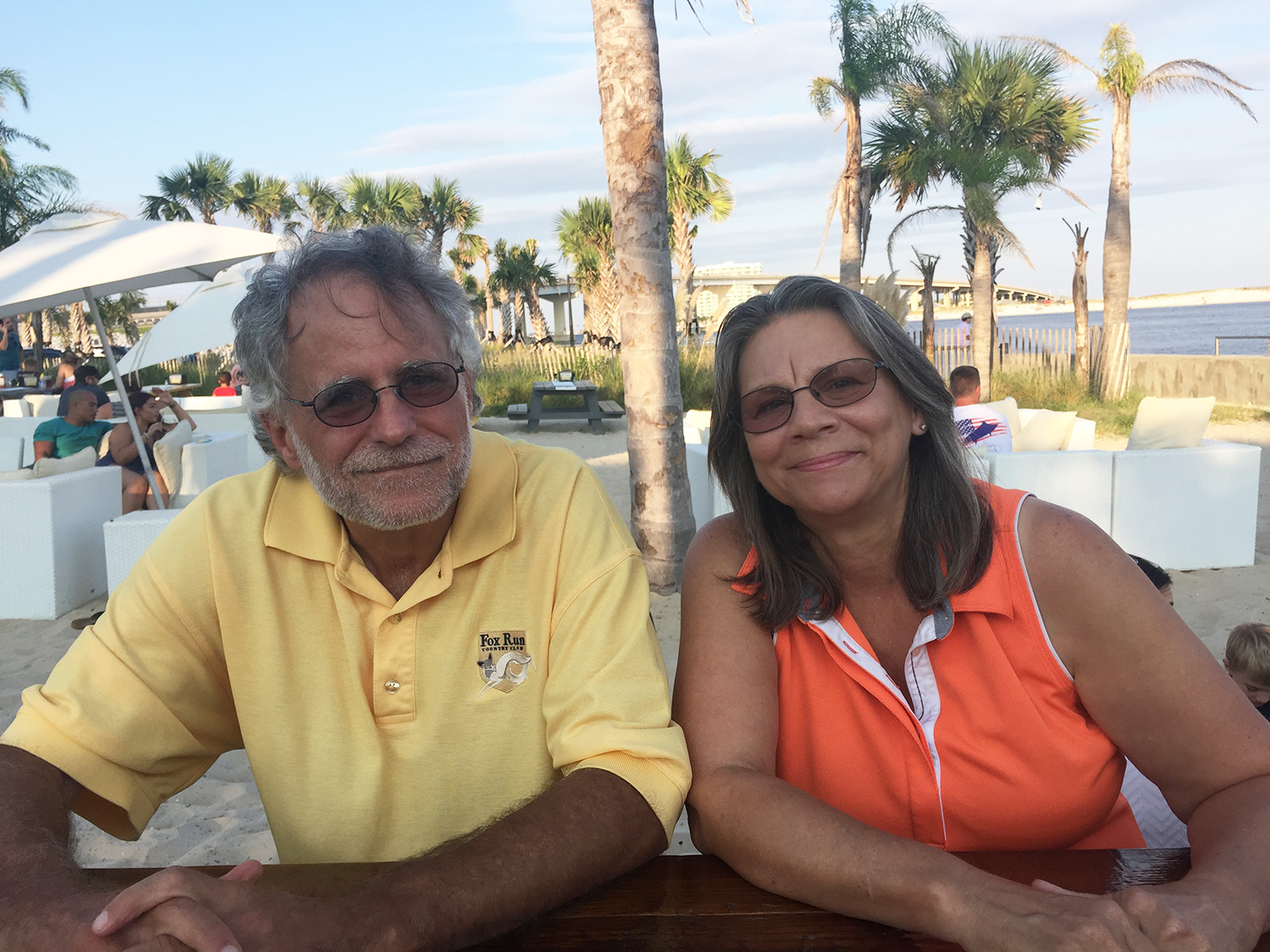 Frank and Maggie Lamia at The Gulf in Orange Beach, Alabama. Photo by Liz Punch
Maggie and Frank Lamia worked at Georgia Tech for 17 and 16 years, respectively, before retiring last spring. Maggie was a financial manager for CEISMC, then for OIT, and was with the School of Industrial and Systems Engineering at retirement. Frank was in Facilities Design and Construction the whole time, and retired as associate director of construction administration. They left Atlanta for the beautiful sunsets of Fairhope, Alabama, a city on the bay across from Mobile and 45 minutes from Gulf Shores and Orange Beach.
And they're loving every minute of it.
"Every day is Saturday. It does kind of diminish the importance of Friday night," Maggie said. "But, I'll take it."
She describes their new home of Fairhope as "Decatur on steroids."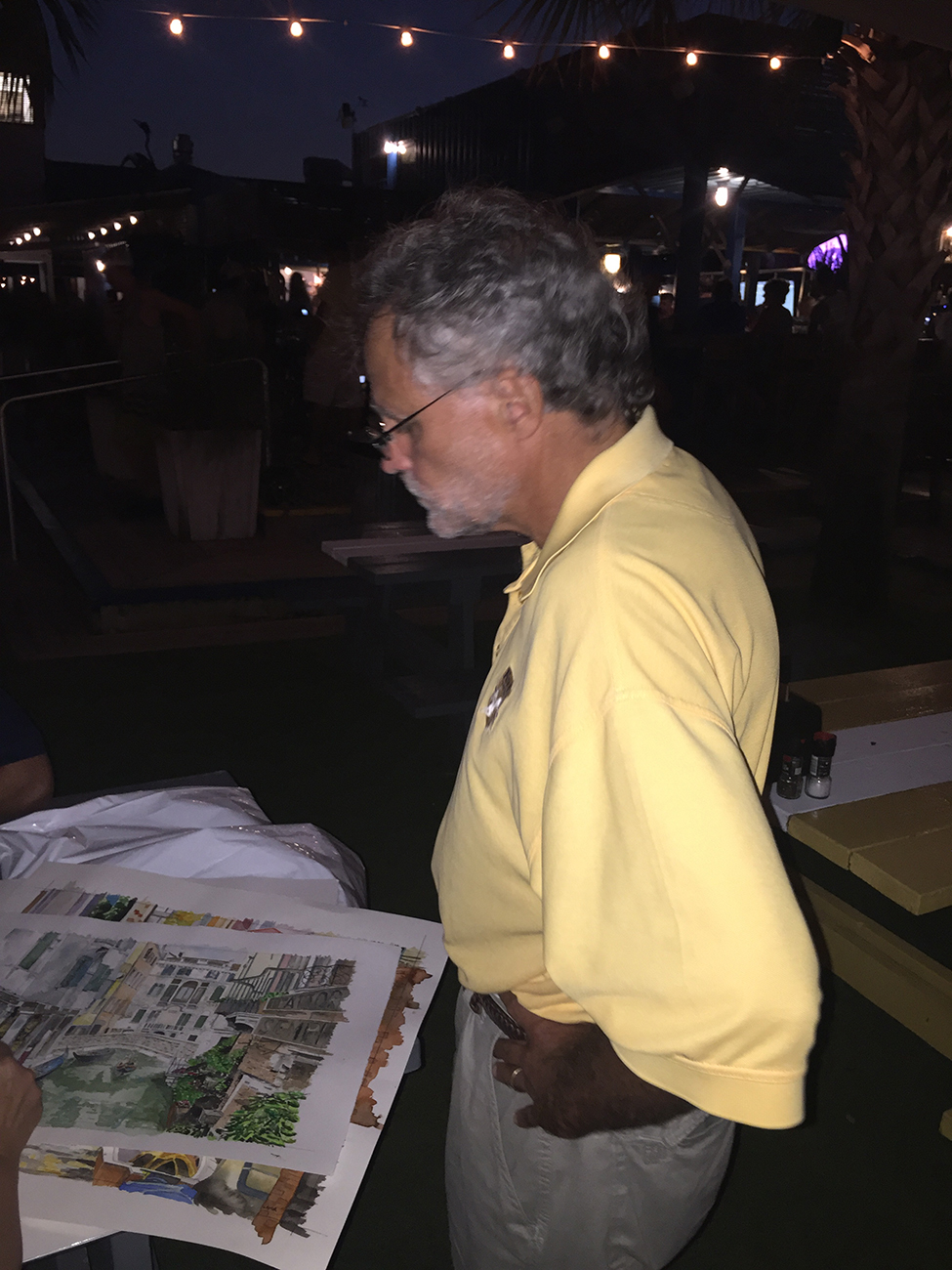 Frank Lamia with some of his watercolors in Orange Beach, Alabama
"It's a small town, larger than downtown Decatur, and has everything Decatur has to offer – just more of it," she said.
Frank said, "The people here are very friendly, and there's a nice vibe," with Maggie adding, "They're even nice at the DMV."
They play golf once a week, and Maggie has scored a hole-in-one. When asked about her skill level as a golfer she said, "I have the equipment to play golf, and sometimes I get lucky."
They also volunteer at St. Vincent De Paul's food pantry, and they have time to do their own housekeeping and yard work now. 
"That's different," said Maggie, remembering how they paid others to handle their household chores in Atlanta. "It was nice coming home to a clean house and the lawn already cut. Now we do all of that ourselves, and we find it therapeutic." 
They also have time for Frank to focus more on painting watercolors, something he has done as a hobby for many years, quietly stashing away paintings here and there. Now, his hobby has become a new job, of sorts, for the couple. Frank paints, and Maggie helps support the endeavor.
"I'm a toter," she joked. "I help load stuff." 
Joking aside, the new venture is working. 
"We've got some paintings in a gallery in downtown Fairhope, and we've sold some pieces there," Frank said. "We're going to be in an arts festival in Daphne, Alabama, next weekend." 
Remembering Georgia Tech
"Budget amendments were always an interesting time," Maggie said. "You basically use your pool of money to cover your expenses. With everything so fluid, it gets kind of hairy at the end of the year. You're trying to close out the books, but the Institute is still moving forward." 
For Frank, the project he recalls is the construction of the Fifth Street Bridge over the Downtown Connector, linking Tech Square to the main campus.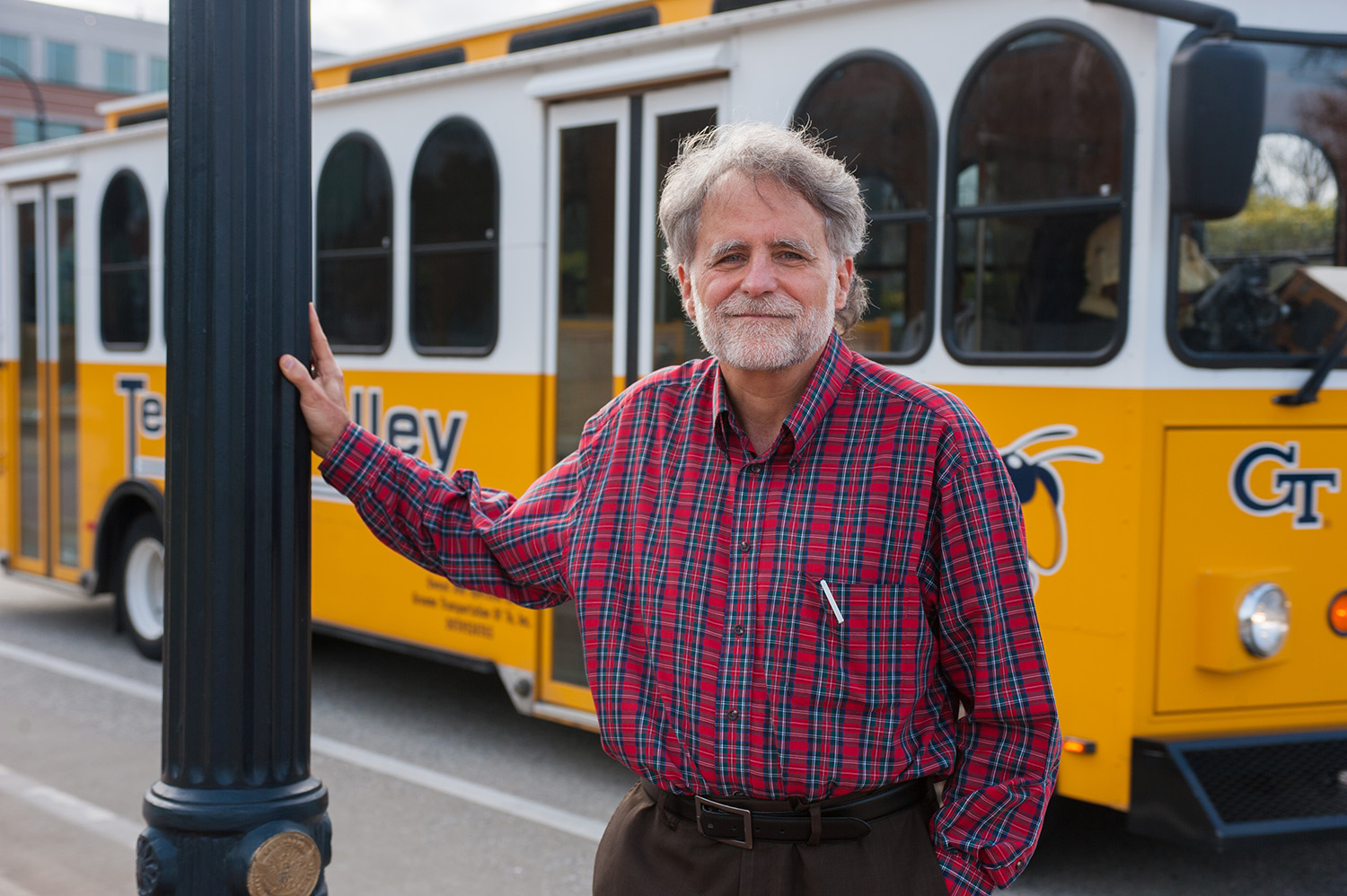 Frank on the Fifth Street Bridge in March 2016. Photo by Fitrah Hamid
"That project stands out because of the logistical challenges," Frank said. "We had to keep the bridge open the whole time. We couldn't shut down the existing bridge because that would have choked off [access to] Tech Square, and we had classes over there. Everyone would have had to detour all the way around to 10th Street or North Avenue to get there, and that wasn't going to work." 
The bridge had to be built in halves. They demolished one half of the bridge at a time, keeping the other half open to both pedestrian and vehicular traffic. The freeway beneath never closed the entire time, as a park-like setting was being constructed above. 
"It was just an amazing project, logistically speaking, to be able to do that over such a busy interstate highway," he said. "The end product is fabulous." 
Frank and Maggie keep in touch with friends from Atlanta, and their children come to visit. Maggie's son and daughter have been to see them in Fairhope. Frank's son, who is in the military, just returned to the states; they're looking forward to a visit from him. 
"We miss the Georgia Tech community and the wonderful people we got to work with," Frank said. "We both had nice careers at Tech, love everybody there, and made really good friends."