Behind the Scenes of Today's Online Courses
Published February 7, 2020
Georgia's burgeoning film industry gets a lot of well-deserved attention, but a little-known production studio program on Georgia Tech's campus may actually have a greater, longer-lasting impact than anything that comes out of a movie studio.
GTPE and the Business of Movie Magic
As one of the country's premier online education providers, Georgia Tech Professional Education (GTPE) offers courses, degrees, and certificates to thousands of students across Georgia and the globe each year. Engaging students from such diverse backgrounds requires careful attention to detail — along with a dash of show business not unlike the movie magic that takes place in studios from Hollywood to Atlanta.
In fact, there are several ways that creating compelling educational content mirrors the conceptual process, production timeline, and creative direction of a blockbuster film. For example, every 10-minute online session takes five hours of behind-the-scenes video production, including editing and quality testing. To accommodate these innovative production capabilities, Georgia Tech's campus houses two fully equipped studios and employs a Learning Design Team to curate high-touch, personalized content for more than 14,000 learners across its online education programs.
When creating an online course, the team takes a bird's-eye view of the content, using a design blueprint very similar to the scripts and storyboards used by film producers. At minimum, an online course can take six to nine months to produce, so the blueprint serves as an essential guide during each of the design, development, and implementation phases.
Instruction and Production Collaboration
"The instructional designers start by working with professors to establish the learning outcomes and objectives for the course. They then break apart their classroom lectures and repackage them into smaller pieces focused on teaching the concepts in chunks that are intentionally aligned with the course goal(s)," says Christie Hayes, lead instructional designer at GTPE. "It results in a transformational process focused directly on the student."
While the faculty member remains the subject matter expert and curriculum leader, the instructional designers, interactive media producers, graphic artists, editors, and simulation experts at GTPE bring the courses to life. In addition to making sure the videotaping runs smoothly, the team also juggles incorporating interactive learning assessments, simulation graphics, animations, and more.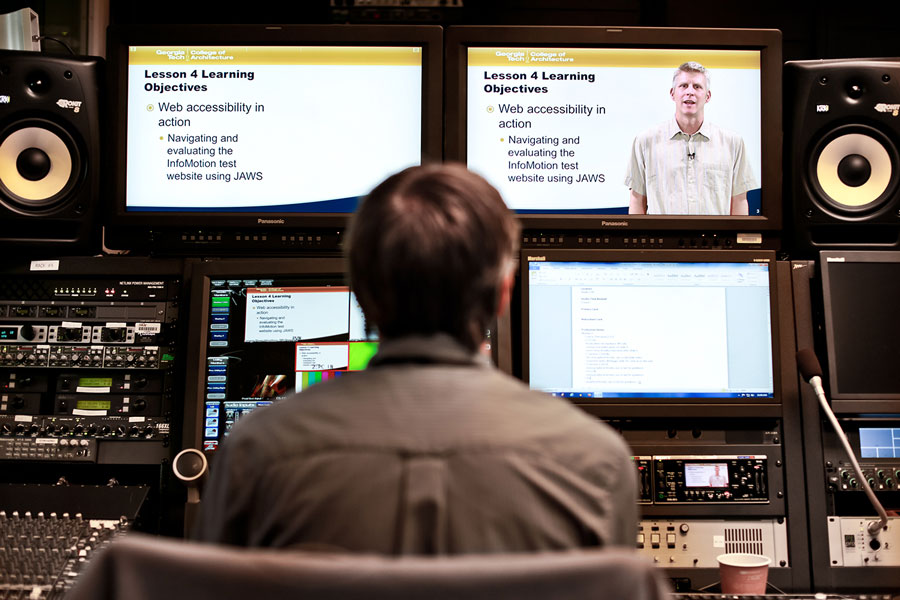 Capturing content for an online course.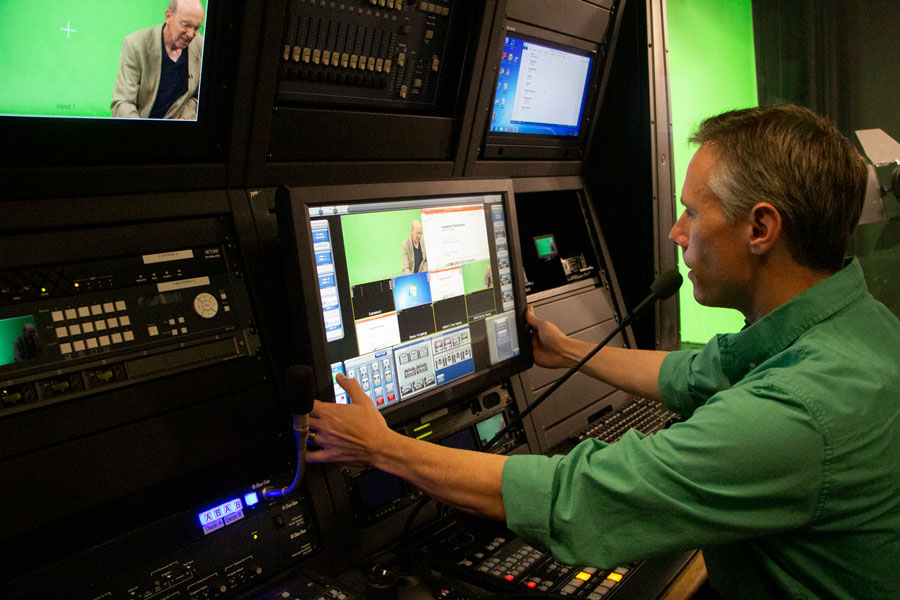 GTPE staff working with faculty during filming.
Additionally, the team collaborates with each faculty member to ensure they are comfortable in the online environment, providing coaching on delivery style and pacing practices. From guidance on clothing choices to where and when to look and how to naturally reference any design components, these coaching techniques not only make their content more engaging, but also allow for effective translation of lectures through the camera lens.
The end result is a high-quality online course designed, packaged, and presented to learners using techniques that are proven to better help them learn the concepts, and apply the new skills throughout their career. These production and delivery approaches engage viewers and foster retention in ways that match — and often exceed — outcomes in the classroom.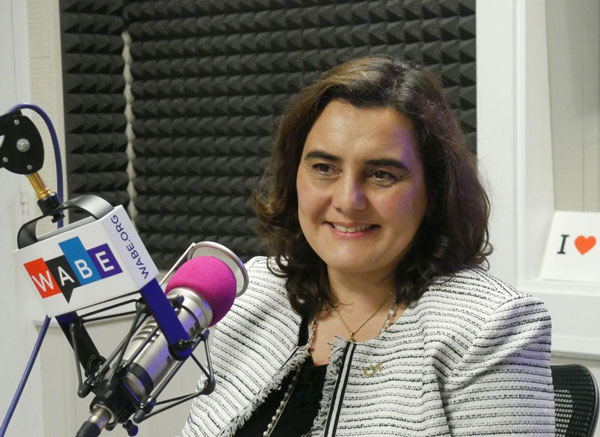 Yakut Gazi, associate dean for learning systems, speaks to WABE Radio.
"I would argue that online is the most student-centric approach to education."

—Yakut Gazi
Online Acclaim
Yakut Gazi, associate dean for learning systems at Georgia Tech, oversees the delivery of online education. In a recent radio interview, she said, "I would argue that online is the most student-centric approach to education."
Employing this mentality leads to courses that are as rigorous and thorough as traditional on-campus courses, but also provide the flexible scheduling and other advantages of online learning.
Overall, as an educational delivery system built around the needs of the learner, online courses and their associated production processes have improved the quality of teaching across campus both inside and outside the classroom walls. By building the course content around student objectives, not a professor's preferred content, the typical teaching experience is turned on its head. This requires not only a change in mindset but also rigorous preparation by faculty members, resulting in more effective use of their time in the classroom.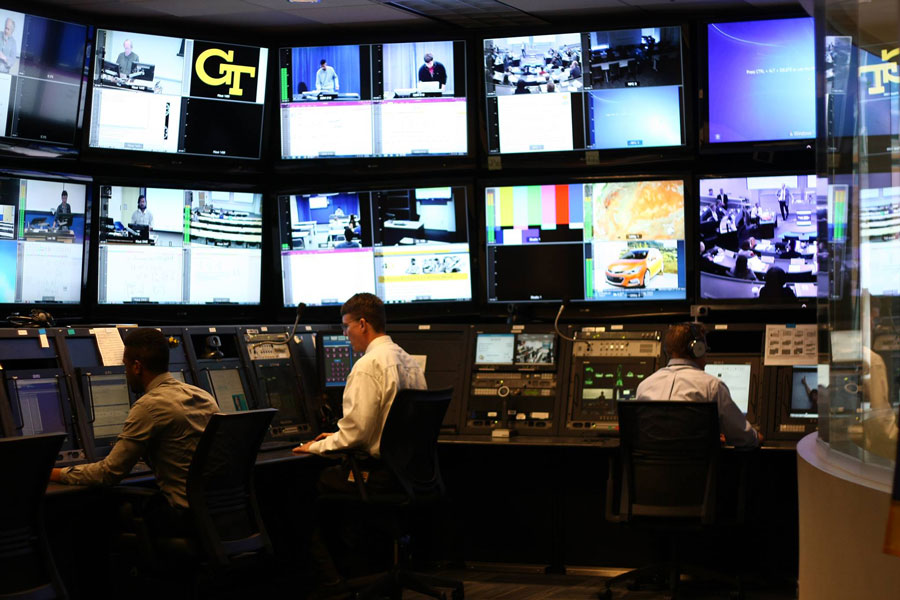 Production staff inside the control room.
Because online courses are available from anywhere and allow learners to make their own schedule, they open the doors to a more accessible higher education system that can truly cross geographic and economic borders. Just as advances in technology revolutionized the way we consume and enjoy media from the big screen to our mobile devices, online education has and will do the same for those pursuing lifelong learning through higher education.
---
CREDITS
Photography: Steve Allen
Writer: Shannon Helton-Amos
Editor: Brigitte Espinet
Designer: Monet Fort
---
Georgia Tech Online
As a provider of distance and online learning for over 40 years, GTPE is a leader in innovative educational delivery. Visit online.gatech.edu to learn more about GTPE's online program offerings designed for working professionals in tech, business, and leadership. 
---