Meet Kathy Spetz - aka Buzz Mama
Not long after Kathy Spetz graduated from Florida State University in 1971 with a degree in fashion design, she was flown up to Atlanta to interview for a stewardess job with Delta Air Lines. She never did get those wings, but she eventually wound up making some – for Georgia Tech's beloved mascot, Buzz.

It all started when Spetz, staying with a friend while interviewing, decided to flip through the classifieds. She spied a want ad for a costume designer at Six Flags Over Georgia.
 
"Well, I was ready!" she recalls with her characteristic enthusiasm. "The first costume I had to make was a replacement of H.R. Puffinstuff [of Sid and Marty Krofft fame]. It looked great, except I made it with no helmet inside. They came back the next day and said, 'We can't wear this!'"
 
That's when Spetz learned that you don't so much "sew" a mascot costume as "engineer" it. This amalgamated professional challenge turned out to be tailor-made for Spetz, especially given her parentage.
 
"With a rocket scientist for a father and a fashion designer for a mother, you learn how to make things that look good and will last," she says. "I tell people, if you want a chicken costume that you can blast into outer space, I'm your man!"
 
In 1978, Spetz left Six Flags and founded Spetz Productions, which has designed and made countless costumes for sports teams and corporations. Her college mascots have earned top honors from the Universal Cheerleaders Association eight times since the 1980s.
 
The Adoption —  and Adaption —  of Buzz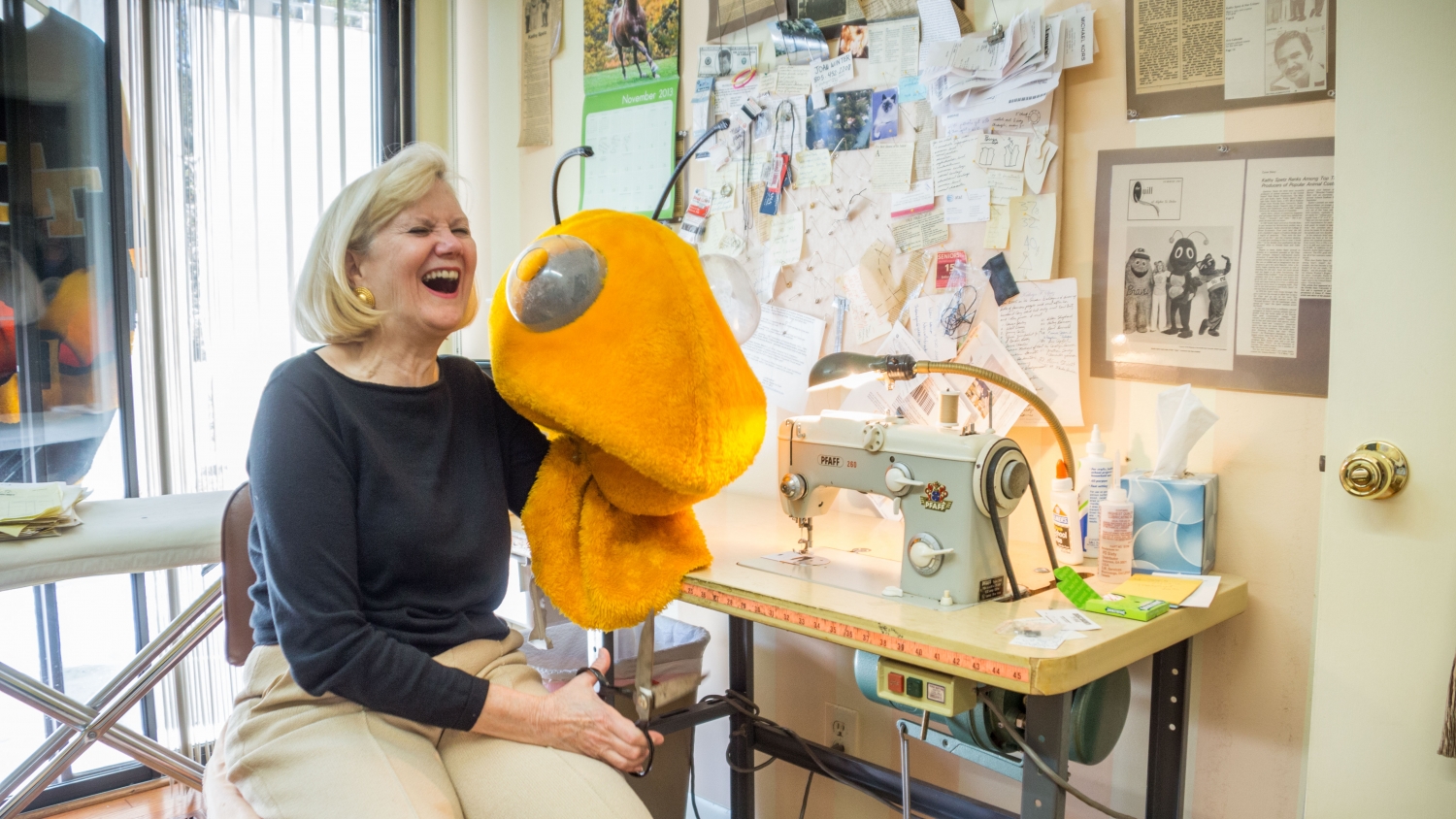 Spetz did not conceive of or give birth to Buzz (b. 1979) — the design originated with a Tech student and the prototype was commissioned from Spetz's former boss at Six Flags —  but she lovingly adopted the now-renowned mascot in 1984.
 
Since then, she has made (to the best of her recollection) 11 Buzz costumes. She remembers changing the wings at one point to make them look more like the logo, but the rest of her modifications have been on the inside, designed to make Buzz more functional, comfortable, and durable.
 
In fact, the last time she made a brand new Buzz was more than five years ago. "These things just refuse to fall apart!" she says, laughing. "It's going to bankrupt me!"
 
Of course, like many kids who go off to college, Buzz does the laundry — but brings the mending home to mom.
 
"The students wash their own costumes, generally, except for the head," Spetz says, "but I get them about once a year, take them completely apart and wash and refurbish them, clean all the fibers, and re-glue any of the sponge areas in the tail or in the head that have been split by the kids with their crazy gymnastics and crazy body movements."
 
The sponge Spetz uses — reticulated polyurethane foam — is one of her trade secrets, she says. "That sponge really made my career because I've never seen anybody else use it anywhere at any time."
 
Buzzing with Pride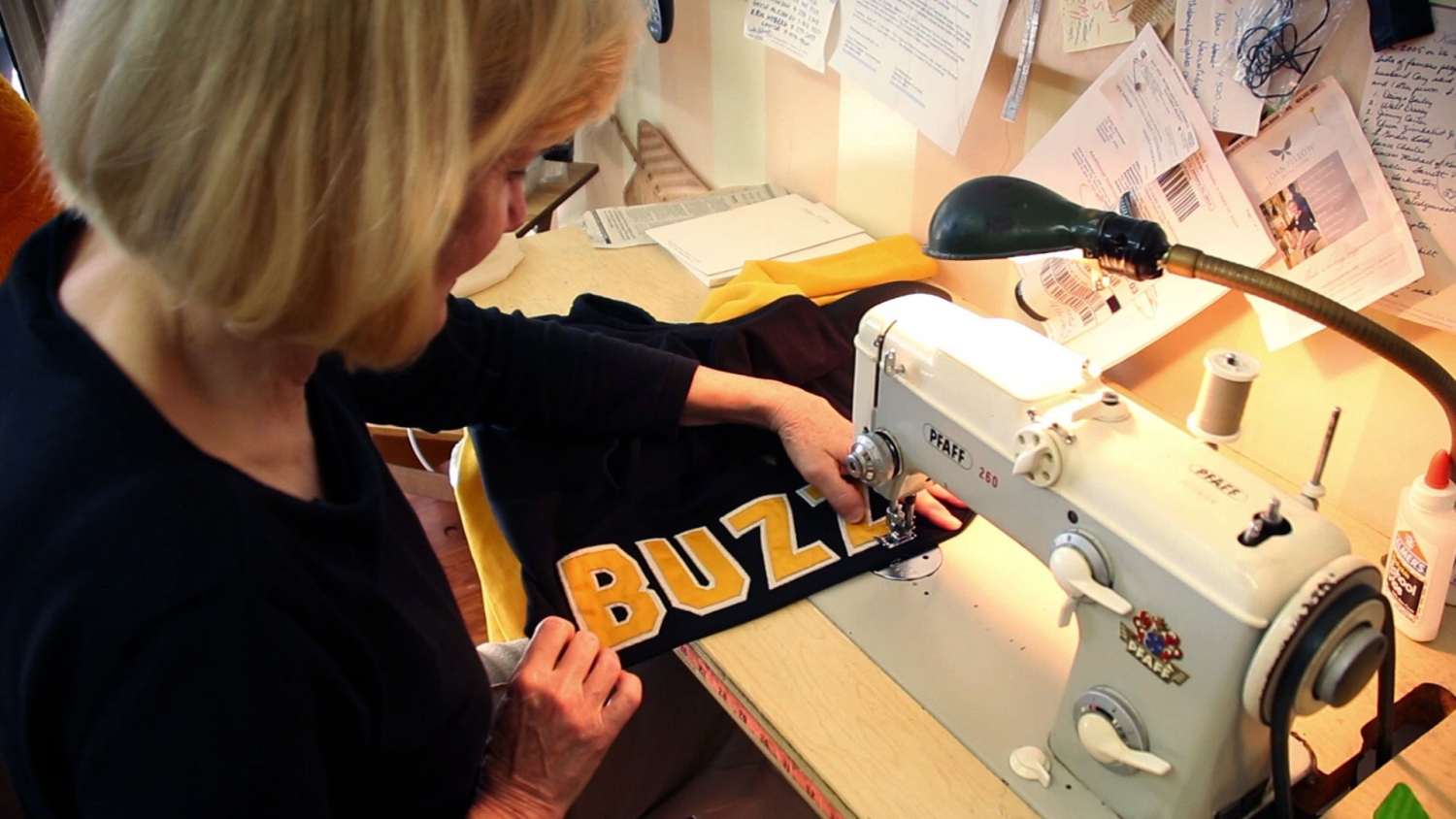 Most of Spetz's costume kids venture far from home, where she may never see them again — but not Buzz. And even though she knows she shouldn't play favorites, Georgia Tech's mascot holds a special place in her heart.
 
"It gives me tremendous satisfaction to see what those young men [and women] can do inside that costume and to know I've made it possible that they can do that," she says. "A lot of mascots would never be able to do the things Buzz can do."
 
Buzz has entertained the Georgia General Assembly during Georgia Tech Day at the Capitol, been named to the Capital One All-American Mascot Team, and won the National Cheerleaders Association Mascot of the Year. Buzz also takes top billing in many campus videos.
 
And if Buzz sometimes makes Spetz nervous, that's understandable. The athletic mascot's antics have included rappelling down a 40-story building in Midtown and parachuting onto Grant Field during pre-game festivities. An official member of the cheerleading squad, Buzz must be able to execute a signature move called a Buzz Flip. And over the years, like many cheerleaders, Buzz has suffered a few bumps, bruises, and broken bones — all in the name of show buzzness.
  
Still, what worries Buzz Mama the most? Sweat. "The thing that really breaks down these mascots is human sweat," she says. "The salt in sweat will rot a costume quicker than anything!"

Writer: Margaret Tate
Videographer: Maxwell Guberman
Digital Designer: Melanie Goux