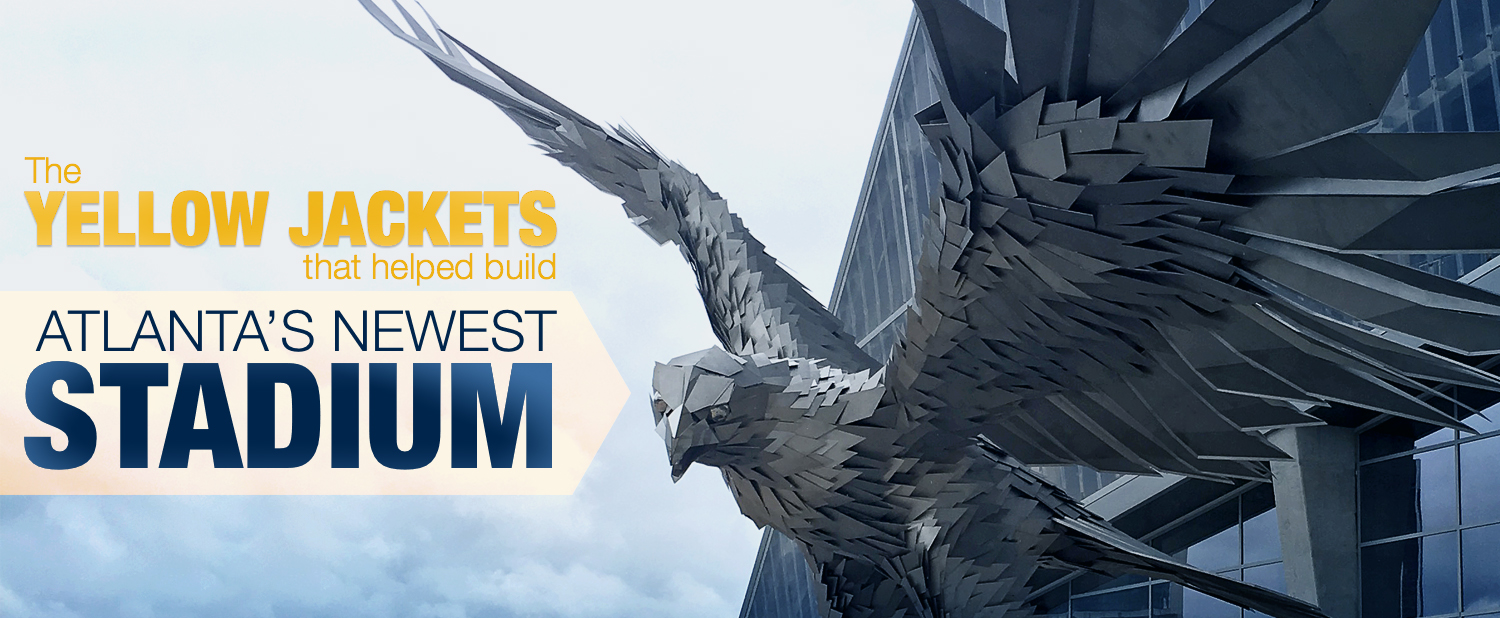 Meet the Yellow Jackets that helped build Atlanta's Newest Stadium
By Steven NorrisSeptember 1, 2017
Labor Day 2017 the Yellow Jackets swarmed Atlanta's new Mercedes-Benz Stadium to take on the Tennessee Volunteers in a Chick-fil-A Kickoff game.
The public has already gotten a taste for the new downtown arena, expressing shock and awe at the architecture and design of the $1.5 billion steel and glass dome.

Tommy Holder, a 1979 graduate of Georgia Tech, is CEO of Holder Construction, the company serving as managing partner of the joint venture that handled construction of the new stadium.
Many of the stadium's features stand out, especially the eight-petaled retractable roof that will allow the stadium to be open-air as conditions permit.

"I don't think anything like it exists on planet earth, and it's been a true challenge of engineering," Holder says.

Another incredible feature: the 63,800-square-foot wrap-around scoreboard inside the stadium. If it were unfurled and stood on its end, it would be the tallest structure in Atlanta.
This state-of-the-art stadium is filled with Georgia Tech connections that helped it become a reality, from students and researchers to alumni.

Technology developed at Georgia Tech will help power the stadium using solar energy. Quest Renewables, a startup venture that got off the ground on Tech's campus, builds solar canopies that not only collect energy, but also serve as shade and cover for parking lots.

The solar arrays will generate enough power on their own to run the stadium nine entire home games every season.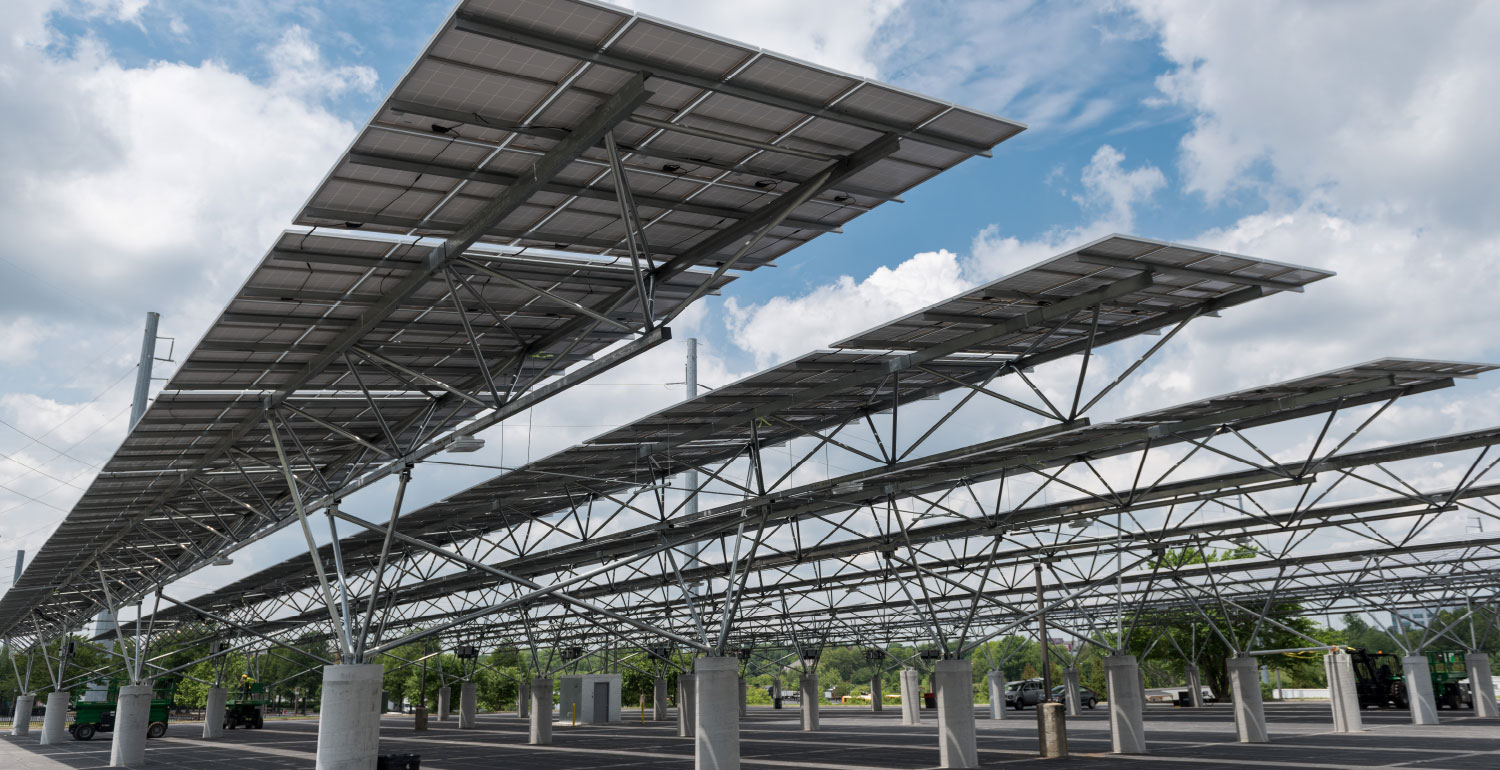 Georgia Tech graduate Whitney Williams began exploring sports stadiums as an undergraduate.

"I've seen tons of different sports venues, and the Mercedes-Benz Stadium Stadium completely changes the game in terms of technology."

Williams was a basketball team manager for the Yellow Jackets and saw his fair share of arenas traveling with the team.

After graduating with a degree in business administration, Williams got his first job as a project manager working for Darden & Company.

"I interviewed on the same day as the groundbreaking of the stadium," Williams recalls.

In his role with Darden & Company, Williams helped to oversee the project management aspects of the stadium's construction, ranging from organizing contractors and subcontractors to making sure crews were adhering to construction schedules.

On the team of ten he worked with, three are Georgia Tech graduates.
The biggest challenge?

"The roof," Williams says. "It's such a complex and unique design. But it's in."

As a project manager, Williams says he was able to use skills he picked up during his time at Tech.

"On a daily basis I might have to talk to engineers, construction foremen, or architects, and I'd have to be able to speak their language. I learned how to be able to do that through my experiences at Georgia Tech."

With the stadium getting the green light to start hosting fans and events, Williams looks back and says now he feels pride for his role.

Before stadium owner Arthur Blank did his final walkthroughs of the stadium, Williams says he and his colleagues were running around picking up any little pieces of paper or plastic they could find.

"This huge team worked so hard. We wanted to make sure that everyone saw the very best of the building no matter where they were," Williams says.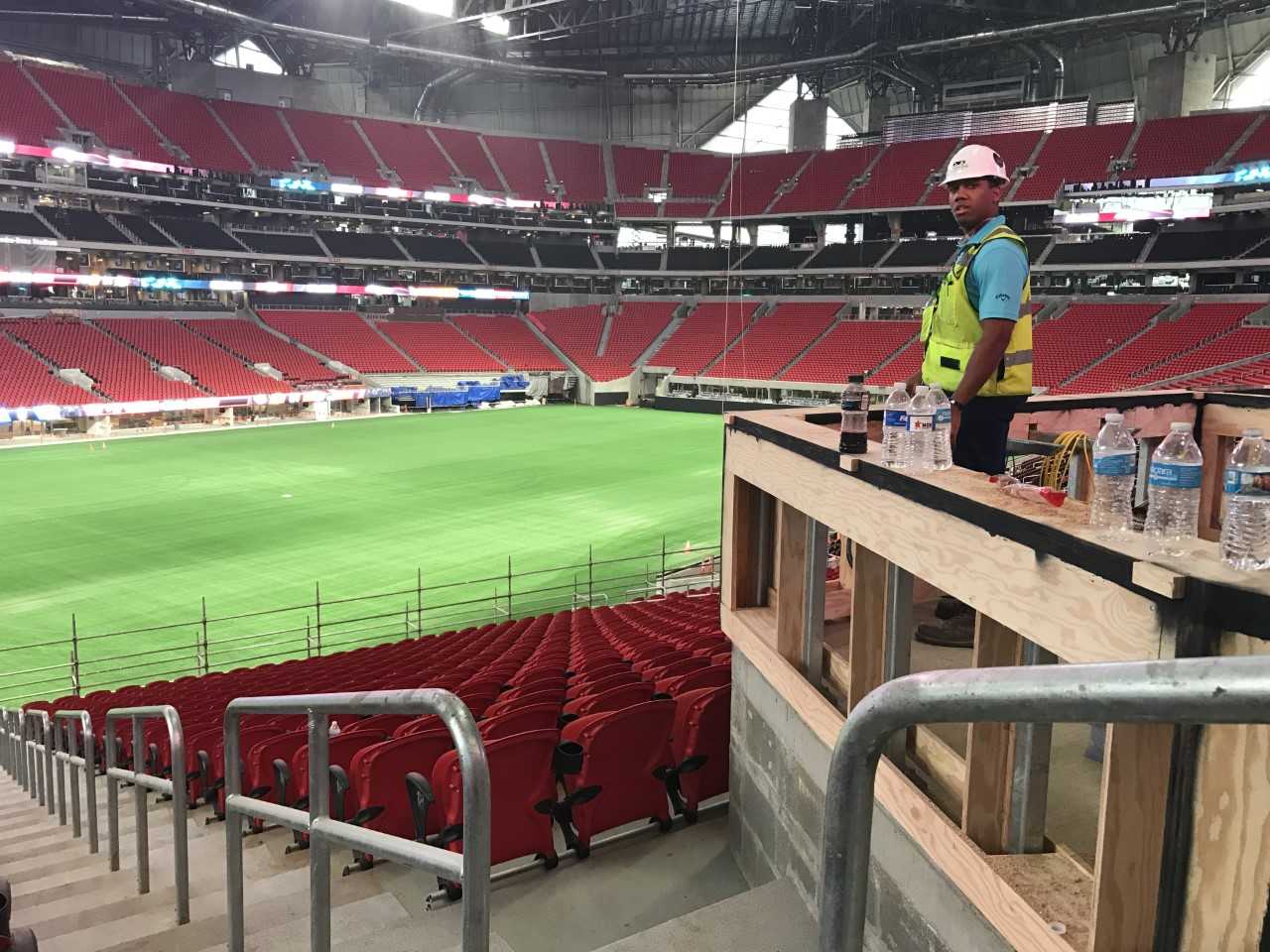 Williams completed a master's degree in building construction making sure the Atlanta Falcons have what they need for day-to-day operations in their new home at Mercedes-Benz Stadium.
He now works as an assistant project manager for Brasfield & Gorrie, one of the nation's largest construction firms.

"I wasn't an engineering major and took a chance on applying for this job. But I got it. Georgia Tech is the full reason I got this experience," Williams says.
 
As a rising fourth-year civil engineering major, Katherine Fan got the experience of a lifetime through a summer internship.

Fan was accepted into an internship program with Hunt Construction, one of the four companies in the joint venture team responsible for building Mercedes-Benz Stadium.

"When I found out what we were going to be working on, I jumped at the opportunity," she recalls.

Fan says there weren't many college students who had the opportunity to work on the stadium, but her previous experience as a Georgia Tech student helped land her the gig.

"They weren't looking for a new intern; they wanted someone who had experience, and I already had two engineering internships under my belt," she explains.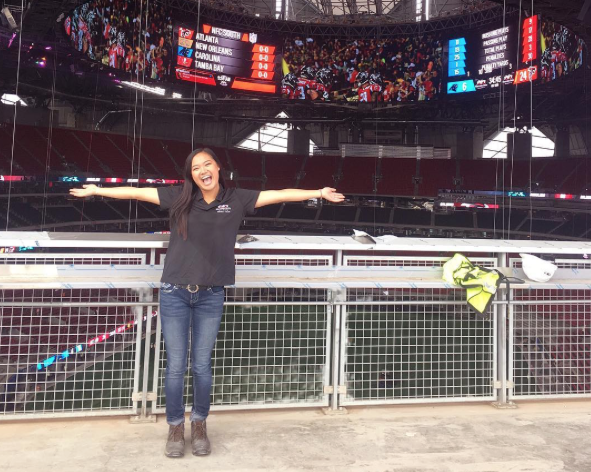 Fan primarily worked with architects and construction managers, making sure that projects matched blueprints and renderings. She also helped measure to make sure the new facility met federal code for disability access.

"It was awesome. I'd look up and crews would be welding right over my head," she says.

Fan says some of her favorite moments were getting to see some of the high-end VIP spaces before they were ever revealed to the public.

"They really spared no expense. I tried to soak it all in because I'll probably never get to see those places again," Fan jokes.

She also says she ran into lots of other Yellow Jackets during her time working with the stadium project.

"It would often happen unexpectedly. A contractor would ask where I went to school and I'd say 'Georgia Tech.'" Then they would say 'Oh yeah? I'm class of '86.'"

For Fan – who will graduate May 2019 – this chance of a lifetime was possible because of the hard work she has put in as a Georgia Tech student.

"I got firsthand visuals of structures and materials I've been learning about in class, and I was able to hold my own because of what I've already learned," she says.

"I wouldn't have had this opportunity if I didn't have the connections I made through Georgia Tech."
 
---