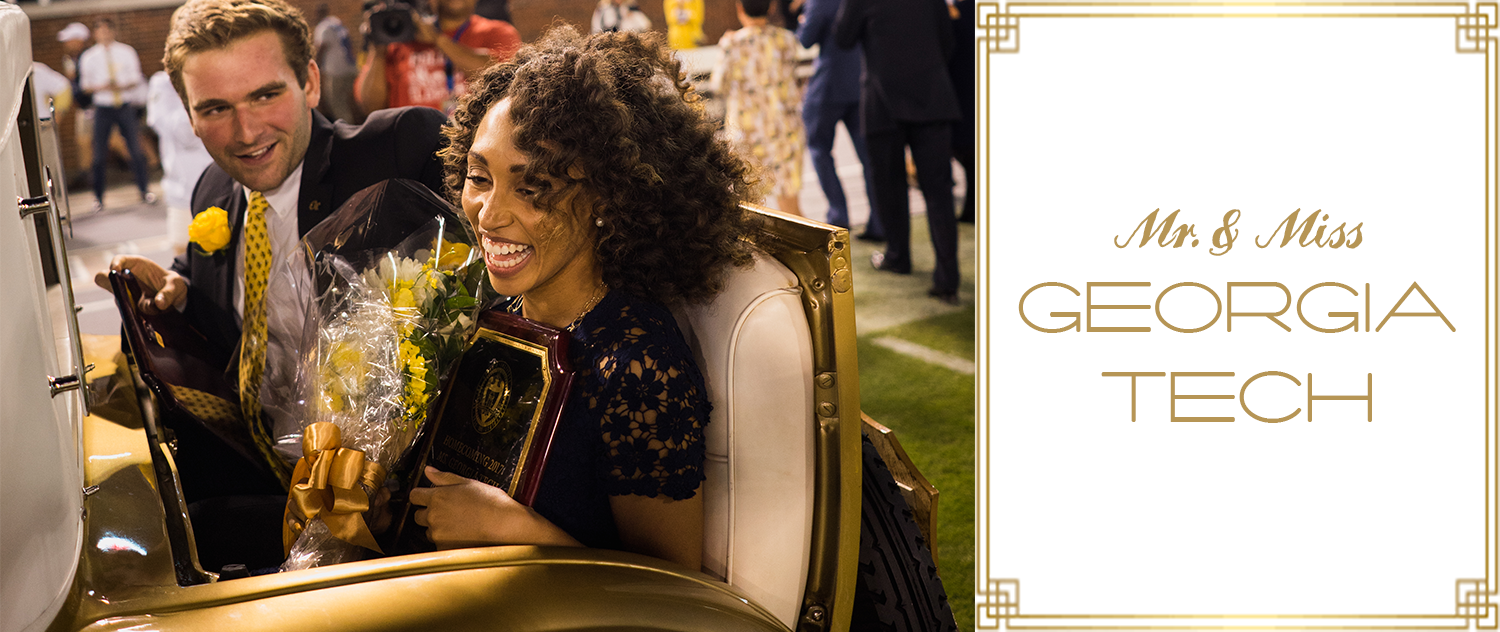 Mr. and Ms. Georgia Tech
By Steven Norris november 20, 2017
They're not your average homecoming king and queen.
At Georgia Tech, our royalty put in extra time and hard work long before the pomp and circumstance of the Homecoming halftime show.
After being nominated by organizations across campus, finalists undergo a rigorous application process. They write essays about their service to campus. They are interviewed by a panel of staff and faculty about their academic endeavors. The finalists rehearse and give a 10 minute presentation about pressing campus issues and their proposals of how they would handle them. All of this before there's ever a vote. Needless to say, this isn't your average Homecoming popularity contest.


 "I never would have dreamed I would be Miss Georgia Tech," says Renee Copeland, a fifth year biomedical engineering major from Kennesaw, Georgia.

Copeland started at Georgia Tech in the OMED Challenge program, an intensive five-week summer initiative that prepares students for the challenges of starting college.

"It really shaped me. It was life-changing to find myself through this program." 
Copeland was so inspired that she returned to OMED Challenge as a counselor, to mentor incoming freshman as they make their transition to Georgia Tech.
And through her work with OMED, Copeland discovered her passion for helping others, and she switched majors from biochemistry to biomedical engineering. She participated in undergraduate research working with Professor Mark Prausnitz in a lab that has developed microneedle patches to deliver painless vaccines. Now she's on track to become a pediatrician.
"I want to take what I've learned at Georgia Tech and make sure that I'm giving back"
Giving back is also important to Mr. Georgia Tech, Sam Medinger.
The business major from Norcross is president of GOALS soccer, a group that teaches children with mental and physical disabilities the rules of soccer culminating with a trip to the Special Olympics.
"These are families that need to be shown love outside of traditional means," Medinger says.
The group meets weekly for soccer drills and quality time together on Georgia Tech's Campus Recreation Center field.
But Medinger almost didn't even come to Tech. He was prepared to attend another university down the road in Athens, Georgia.
"I knew I wanted to study business and focus on finance," he explains.
But after the Dean's Scholarship event, Medinger knew the Scheller College of Business was the place for him. He's now a Scheller College Ambassador as well.
"I want students to know that Georgia Tech is not just an engineering school. We have an incredible business program and an incredible community in our school."
Copeland has also found her community at Tech.
"I worked in community outreach with the Georgia Tech Society of Black Engineers, and I've worked my way up to the executive board of the Black Student Recruitment team," she says.
"I couldn't have done it without the black community here at Tech."
For both Medinger and Copeland it was a moment of magic celebrating the hard work they've put in as Georgia Tech students.
"It was an incredible moment being on the field and it was actually my first time being in the Wreck," Medinger explains.
"I had a little trouble getting in," Copeland says. "President Peterson actually had to lift me up and in to the back seat."
"I remember seeing a young kid about 10 year old just waving at us and he was ecstatic," Medinger recalls. "I was just sharing that joy with him."