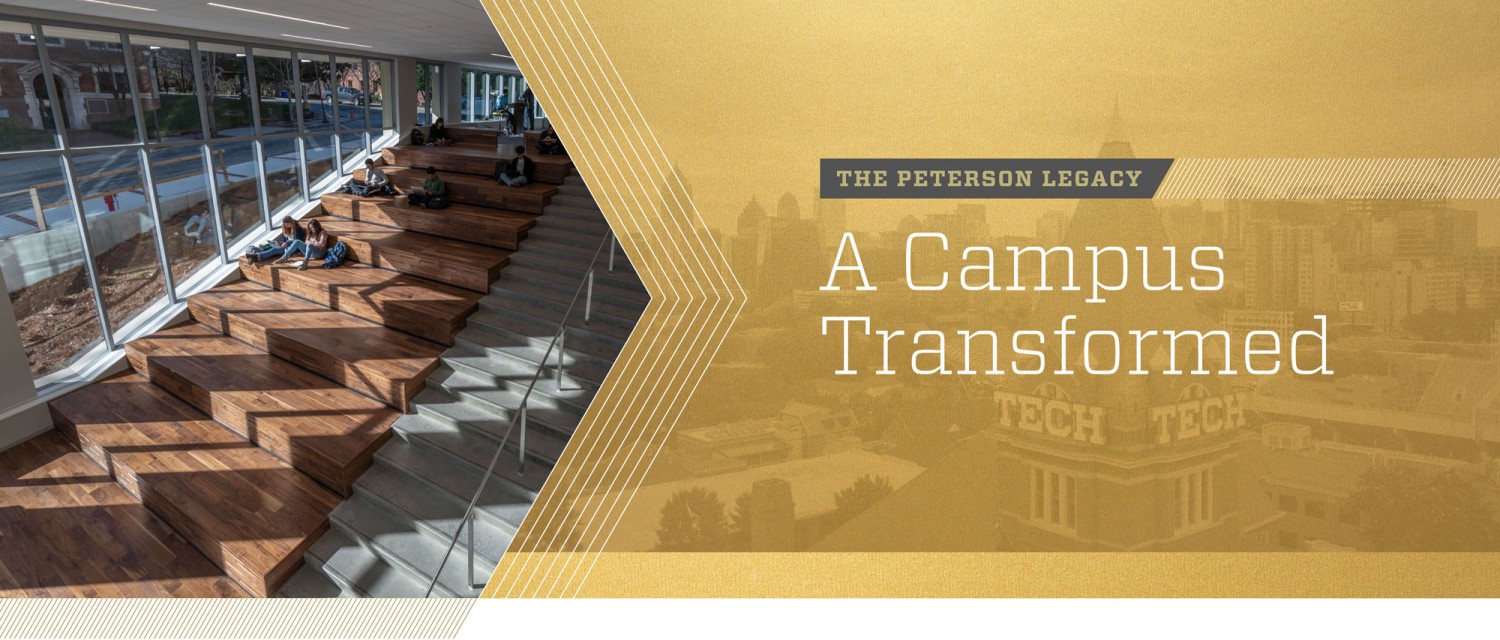 During G.P. "Bud" Peterson's presidency — through a combination of philanthropy, trusted public and private partnerships, a bold vision, and a whole lot of hard work — the Georgia Tech campus underwent a profound transformation.
When he and first lady Val Peterson arrived, they were eager to roll up their sleeves and get to work. They knew it wasn't going to be easy. Not only was President Peterson taking the reins from a much-loved President Emeritus G. Wayne Clough, but he was doing so in the midst of the worst global economic downturn since the Great Depression — and, as it happened, five years into the quiet phase of a $1 billion fundraising campaign.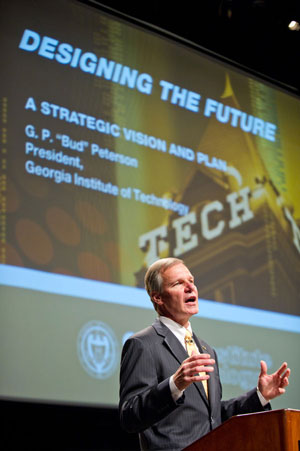 Georgia Tech's 25-year Strategic Plan, Designing the Future, was drafted in 2010. 
After consulting with campus leaders, in particular those fundraisers who had devoted years to building and nurturing relationships with Institute alumni and friends, Peterson did what many of his counterparts at universities across the country were not doing during the financial crisis: He doubled down. He decided that the campaign would move forward, the overall goal would increase to $1.5 billion, and the timeframe would be extended to the end of 2015.
It was a defining moment in his presidency. It set the tone for everything that followed. This was a time for action, not retreat, he said. Opportunities don't evaporate during challenging times, he reminded us. Guided by the 25-year Strategic Plan drafted in 2010, Campaign Georgia Tech went on to make unprecedented strides on behalf of the Institute, its students, and its faculty and researchers.
Thanks to the philanthropic support of 91,610 alumni, friends, and organizations, the campaign raised $1.8 billion. Within that historic total were numbers that revealed a far-reaching impact:
As part of the campaign celebration, President Peterson shared a message with the Tech community about the importance of technologically sophisticated facilities for teaching and research, student opportunities, and advancing the Institute's mission:
Private philanthropy has been essential to Georgia Tech's ability to construct and renovate facilities across campus.
When the dust had settled, the work didn't stop. Between 2016 and 2019, the drive for advanced facilities, state-of-the-art spaces, and campus beautification and sustainability continued, full throttle.
From The Kendeda Building for Innovative and Sustainable Design to a library for the 21st century, from the Eco-Commons to the next phase of Tech Square's development, from the Roger A. and Helen B. Krone Engineered Biosystems Building to Coda, these spaces are propelling — and will continue to propel — the Institute forward in biomedical engineering, innovation and entrepreneurship, computing, sustainability, and other fields.
Under President Peterson's leadership, the Tech campus looks very different today than it did a decade ago. But what hasn't changed is the shared sense of place and the shared commitment to collaboration, innovation, and exploration. Georgia Tech has grown as a community in which people aspire to improve the world around them even as they strive to define their place within it. This — along with the technological advances of the Institute's built environment — will be remembered as a defining and enduring piece of the Peterson legacy.