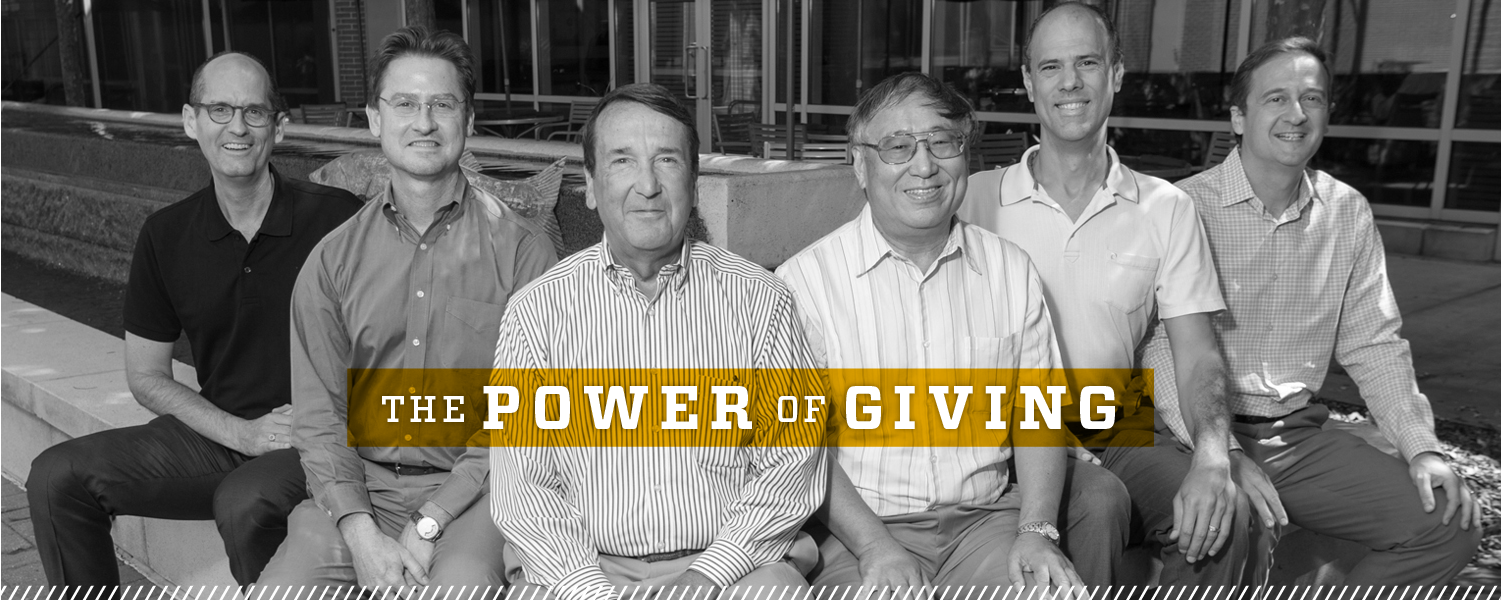 The Power of Giving
By Stacy Braukman | Published March 19, 2018
One endowed chair, one extraordinary group of professors. What a difference 30 years makes.
​"Because it feels damn good." That's what Ken Byers will say, with a wide grin, when you ask why he's so passionate about giving back to Georgia Tech. In fact, it's starting to become something of a catch phrase for the engineering CEO and philanthropist. 
And he is just fine with that. 
"It's not about me. It's about Georgia Tech. It's about the real joy of giving," Byers says. That's why he's been doing it for so long. 
Unshakable Bonds
The Byers Chair, established in 1986 in electrical engineering, was made possible by a combination of his gift and funds from the Robert W. Woodruff Foundation and the State of Georgia. It was later supplemented by the Georgia Research Alliance (GRA), whose Eminent Scholars program provides partial funding in strategic areas to attract preeminent faculty and encourage economic development within the state. 
By 2001, the value of the endowment had grown to $4 million. In addition to the original chair, three new Byers Professorships were created within the School of Electrical and Computer Engineering (ECE). And the school would be forever changed. 
Byers' endowment fund has supported nine ECE faculty members over the years. It has touched hundreds of lives and strengthened the largest, and one of the very best, electrical and computer engineering schools in the nation. 
The bonds that the Byers faculty have forged — with their namesake and friend, with each other, and with their students — are unshakable. 
"The nice thing about it is, I did it in my lifetime rather than waiting to do an estate gift," says Byers. "I would counsel people who are thinking about supporting any institution — particularly Georgia Tech — to do it while you're alive and enjoy benefits like the ones I've had for the last 30 years, building relationships with these professors."
The Man Behind the Name
Ken Byers earned a B.S. and M.S. in electrical engineering from Tech in 1966 and 1968. Three years later, he founded Byers Engineering Company, which provides technical services and software products to the utilities industry. The company spun out eQuorum in 1996, designing and selling software products for wide-format document management. Byers, chairman of both firms, is also a member of the Technology Hall of Fame of Georgia. 
During this time — 50 years, give or take — he has also been an avid philanthropic supporter of all things Georgia Tech: scholarships, faculty, research, student life, cooperative education, athletics, and even the Einstein monument on campus (a particular favorite of his). You may recognize his name on the stunning tennis complex at the corner of Fowler and 10th Streets. 
Whatever the outlet, Byers swears by the benefits he has received from giving. Don't believe him? He smiles again. "I encourage everyone to try it and see for themselves."
Current and former Byers faculty:
 

Director, Broadband Wireless Networking Lab
Wireless communication, nano-scale communication, Internet of Things, 5G cellular systems
"Without the Byers Professorship, I would not have been able to reach the top 37 in the U.S. and top 50 in the world (across all research fields) for the impact of my research as measured by Google Scholar citations. The total number of citations I have received is approaching 99,000. Thanks a lot, Ken!"
---

Director, Georgia Tech Analog Consortium
Integrated MEMS and microsystems technology
"The Ken Byers Professorship has allowed me to explore new research directions and pursue collaborative research in a more proactive way. On a personal level, getting to know Ken and being connected to him has been both a great pleasure and an asset. I feel like I am part of a bigger network of individuals who are passionate about giving back, having an impact, and making Georgia Tech and Atlanta better places." 
---

Director, Georgia Tech Center for Fiber Wireless Integration and Networking
Optical networks and systems, and developing a 5G mobile data network integrating fiber optics with wireless communication
"I vividly remember when I discussed my dream of delivering fiber-wireless integration and networking, he calmly reminded me that I was challenging the limits of physical laws. Then he said, with a smile on his face, 'You can do it.'"
---

Next-generation mixed-signal semiconductor device technologies and silicon-germanium microelectronic devices and technology
"Ken recently endowed a teaching fellowship in support of a new and innovative course that I envisioned several years back, and that is now a part of Georgia Tech's curriculum — Science, Engineering, and Religion: An Interfaith Dialogue, which is open to all undergraduate students. He is a model for what patronage should look like at Georgia Tech, and is ready to champion any great idea that makes Georgia Tech and our students better. Bravo, Ken!"
---

Former Ken Byers Professor, Steve W. Chaddick School Chair in ECE, and Steven A. Denning Chair in Global Engagement
Co-founder, CREATE-X
"Byers funds give faculty an incredible amount of flexibility. They can use them to take risks in research areas with great potential that don't necessarily have funding. The impact is immeasurable."
---

Founding director, CREATE-X
Wireless networks, computer networks, mobile computing
"Being appointed a Byers Professor was a major milestone of my career. Both the recognition and the resources that came with the professorship enabled me to endeavor into new research areas such as brain-computer communication and bacterial networks, and helped launch the initial iteration of what has now become CREATE-X, a Georgia Tech initiative to instill entrepreneurial confidence in its students."
---

​Novel flexible electronics, sustainable energy harvesting, nanotechnology-based ultrasensitive sensors, Internet of Things applications
"Without the Byers Professorship, I would not have been able to globally disseminate the highlights of our research, or to significantly enhance our lab fabrication capabilities in order to come up with a groundbreaking new generation of 3D/4D-printed flexible electronics."
---

​Image processing and computer vision, in particular medical imaging such as ultrasound, MRI, and CT
"The Ken Byers Professorship gave me the supplementary support I needed to be able to finally dedicate myself to a career-long dream of developing a software toolkit for PDE-based imaging processing algorithms. The professorship was critical in providing the resources to start moving this project forward at a realistic pace for completion."
---
Note: John Papapolymerou, former Byers Professor, is currently the MSU Foundation Professor and chair of the Department of Electrical and Computer Engineering at Michigan State University.