Profiles of Perseverance
By Victor Rogers May 1, 2017
The college experience is different for every student. Three graduates share their journeys through unexpected twists and turns, and their determination to finish.  
Heather Noyes: Picture of Glitter and Grit
When she was in high school in Golden, Colorado, Heather Noyes wanted to become a surgeon. That was fine with her dad — as long as she did not major in pre-med.
"He wanted me to get a degree in a field that was already a career, not a 'pre' career," Heather said, "because if I decided later that I didn't want to be a surgeon, I would have nothing to fall back on."
So, they explored career options that combined "science and math with bio," and they found biomedical engineering. Then they looked at the rankings of undergraduate programs in biomedical engineering and saw that Georgia Tech was ranked No. 2 that year. Heather's father, Michael, was a 1980 civil engineering alumnus from Tech, so he was happy to see his alma mater ranked at the top.
But, he didn't pressure Heather to choose Tech. He took her to visit six or seven schools on the east coast including Johns Hopkins, the University of Virginia, and Duke. But, they visited Georgia Tech first.
"I saw Tech's campus and I was done. I didn't need to see anything else. I just knew that this was where I wanted to be."
"I saw Tech's campus and I was done. I didn't need to see anything else. I just knew that this was where I wanted to be," Heather said. "The tour guide took us around the Biotech Quad, and I thought 'the other schools are not going to compare.'" 
But, Heather and her dad continued with their plan and visited the other schools anyway.
"They were beautiful campuses, but nothing like Tech," said Heather, who enrolled as a biomedical engineering major in Fall of 2012.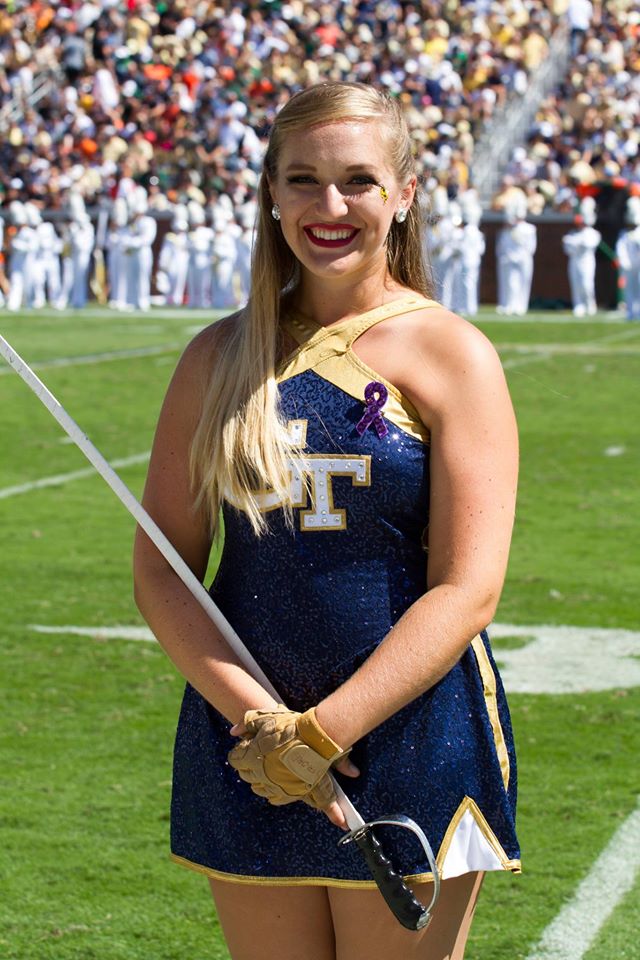 Heather on Georgia Tech's color guard
Heather, who studied ballet and was in the color guard in high school, became a member of Georgia Tech's color guard team.
During her freshman year, her parents separated. Her dad moved to Kennesaw, Georgia, to be closer to Heather and to old friends from college.
"I lived with him in Kennesaw, and I got to spend the entire summer with him before moving back on campus for fall semester," Heather said. "We were going to build a house in Newnan."
Sadly, that did not happen.  
During homecoming week of her sophomore year, Heather talked to her dad on Wednesday. She called him the next day, but she didn't reach him. She was busy with school, color guard, and homecoming activities, so she didn't think anything of it.   
"That Friday, I was at practice for color guard, and I still hadn't heard from him. I thought it was weird because he had friends coming in that night, and they were going to stay with us for homecoming," she said. "He wasn't picking up his phone, so I texted my sister and asked if she had heard from him since Wednesday. She said no."
Heather's sister called their mom, who called Michael's office. They said he had missed a meeting on Thursday. He had never missed a meeting. So, she then called the police who went to the apartment.  
Michael was found dead. A massive heart attack.
"Apparently, he had been in congestive heart failure for a long time, and we didn't know," Heather said. "He may have known [about the illness]. If he knew, he never told us."
The shock of her father's death was unimaginable.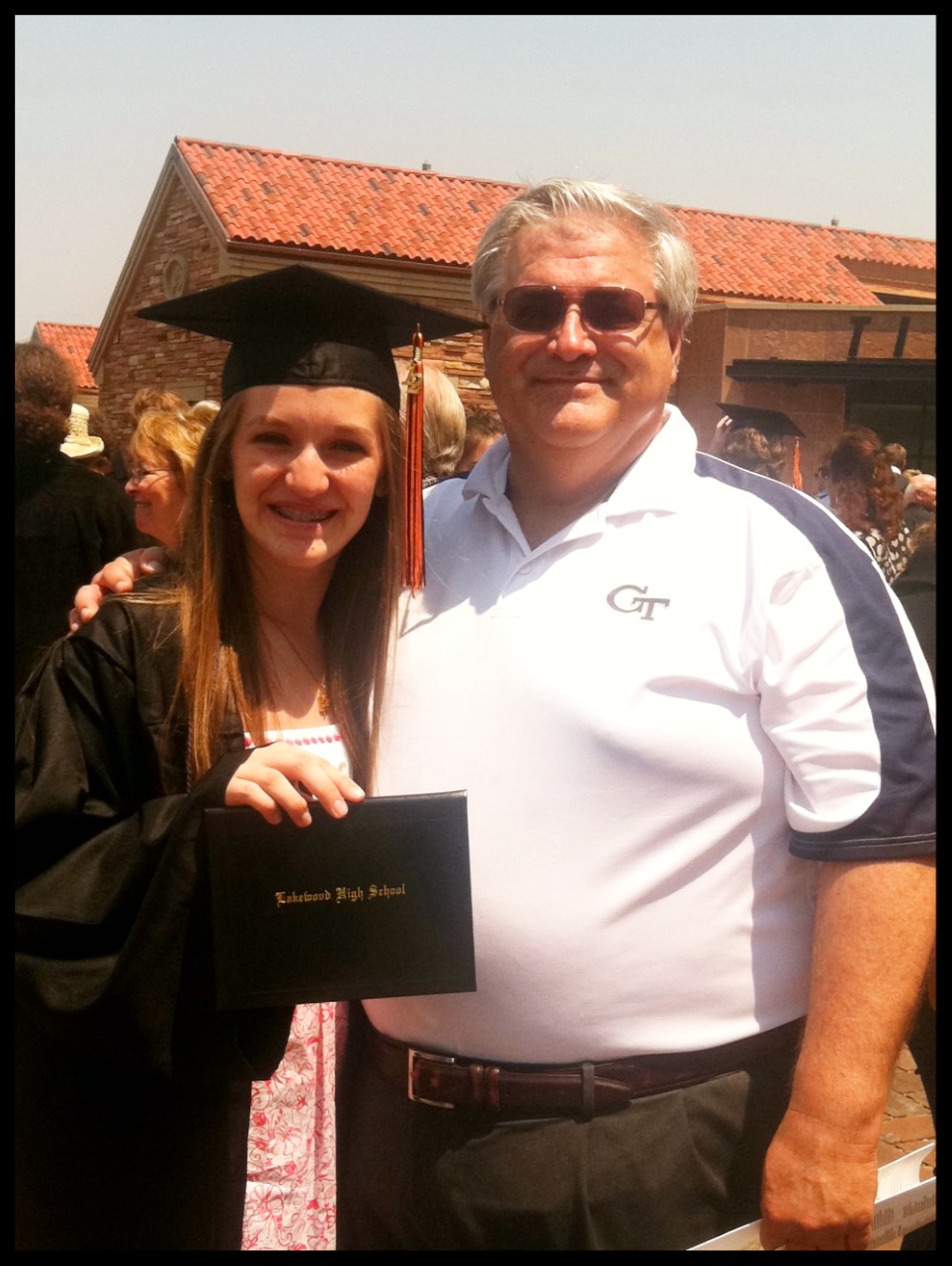 Heather and her father, Michael
"He was my best friend. It's been hard at Tech without him," Heather said. "Before my dad passed, I did great in school. No problem. I went to sleep at 9:00 every night and woke up for my 8 a.m. classes. No big deal."
Academically, Heather did all right the semester that her dad died — Fall 2013. Then things began to change.
"I have gone through a lot since then," she said. "I have talked to a couple of people who lost their parents while in college, and there are similarities. You kind of lose focus and lose sight of why school is important any more. You start thinking 'this test just isn't important; I'd rather be spending time with my family.' There's so little time that you have." 
Since her dad's death, she has held various part-time jobs while still taking the credit hours needed for school. This semester she was a part-time contractor with Ecolab in Alpharetta, commuting eight hours, taking 18 hours of classes, and working 25 to 30 hours each week.
Heather realized she could use some professional help to learn to cope with life without her dad, as well as the pressure of work and school. So, she went to the Stamps Health Center.
"The services at Stamps are second to none," she said. "I've never had a consistent doctor, but I have used Stamps a lot. The year after my dad passed, I finally gave in and said I need help.  I got counseling at the Counseling Center, and the counselor was wonderful. Having the services of the Psychiatric Center was amazing."
Heather said that in addition to receiving counseling, she was prescribed anti-anxiety and anti-depression medication for a while, but now she doesn't need the medicine.
"I wish more people would be OK admitting that they need help sometimes, or when they have overcommitted themselves."
"I do have moments where I slip back into depression a little," she said, "but, overall I am much better and I can deal with things a lot better now. The services that Tech has for mental health are amazing. I wish more people would be OK admitting that they need help sometimes, or when they have overcommitted themselves."
All Crashing Down
Another time that Heather needed help was when she was in a terrible car accident about a year and half after her father died.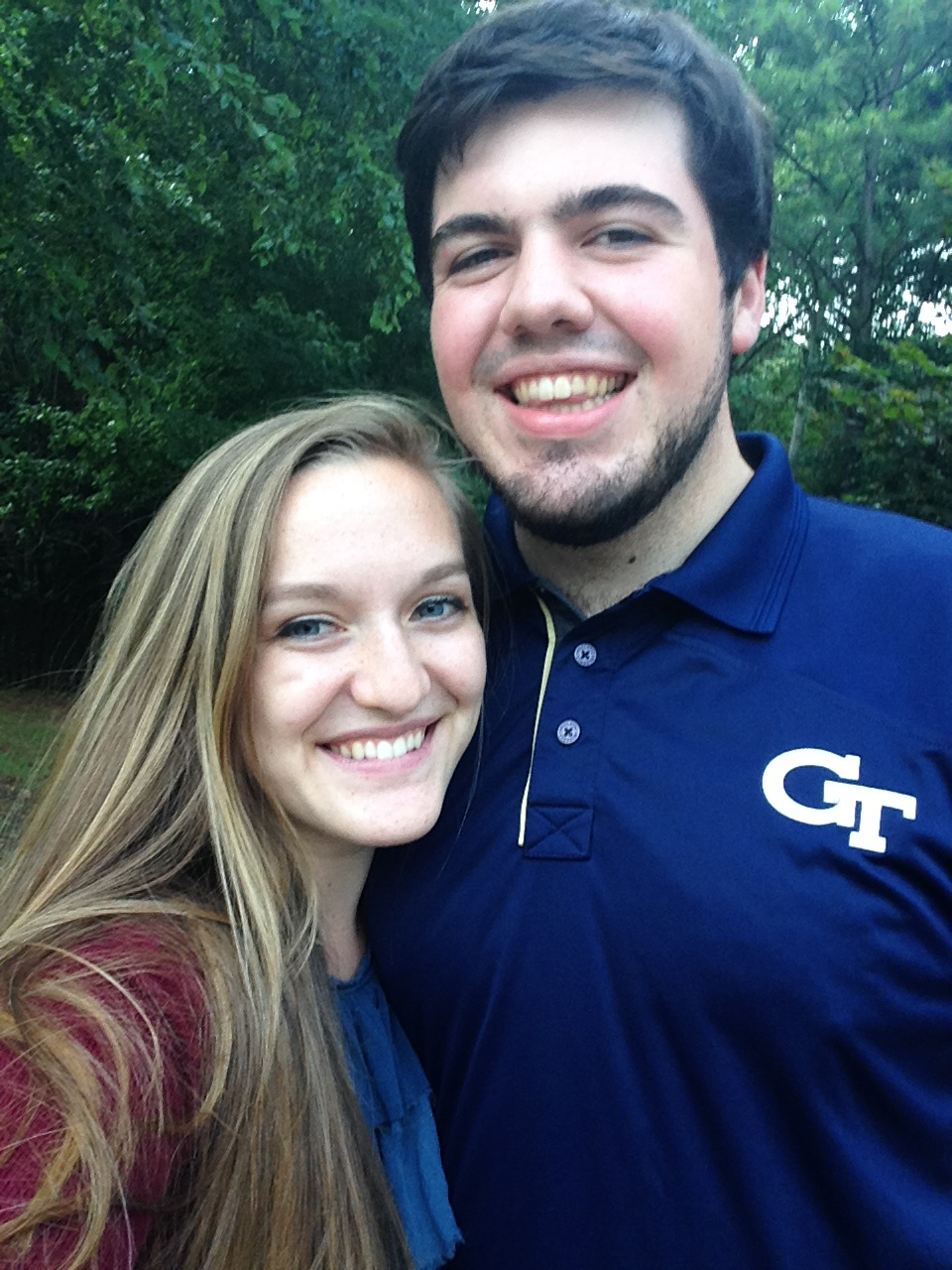 Heather Noyes and Alex Zickar
Her boyfriend, Alex Zickar, was visiting her from his job in North Dakota. She was leaving home to drive him to the airport when a car slammed into the front of her car on the driver's side, just above the front wheel. The collision snapped the frame of her car and ripped off the front end, including part of the engine.
"I saw the car coming for only a second, but there was not enough time to get out of the way," she said.
The accident totaled her car and broke her back by re-injuring a stress break that she had from years of dancing.
"I was in such shock and pain that I couldn't stop screaming," she said.
Alex, a Tech civil engineering major graduating this semester, was in the passenger seat and was not hurt in the wreck.
The emergency response team took Heather to the trauma center at Grady Memorial Hospital. After several hours, they determined she was OK to leave.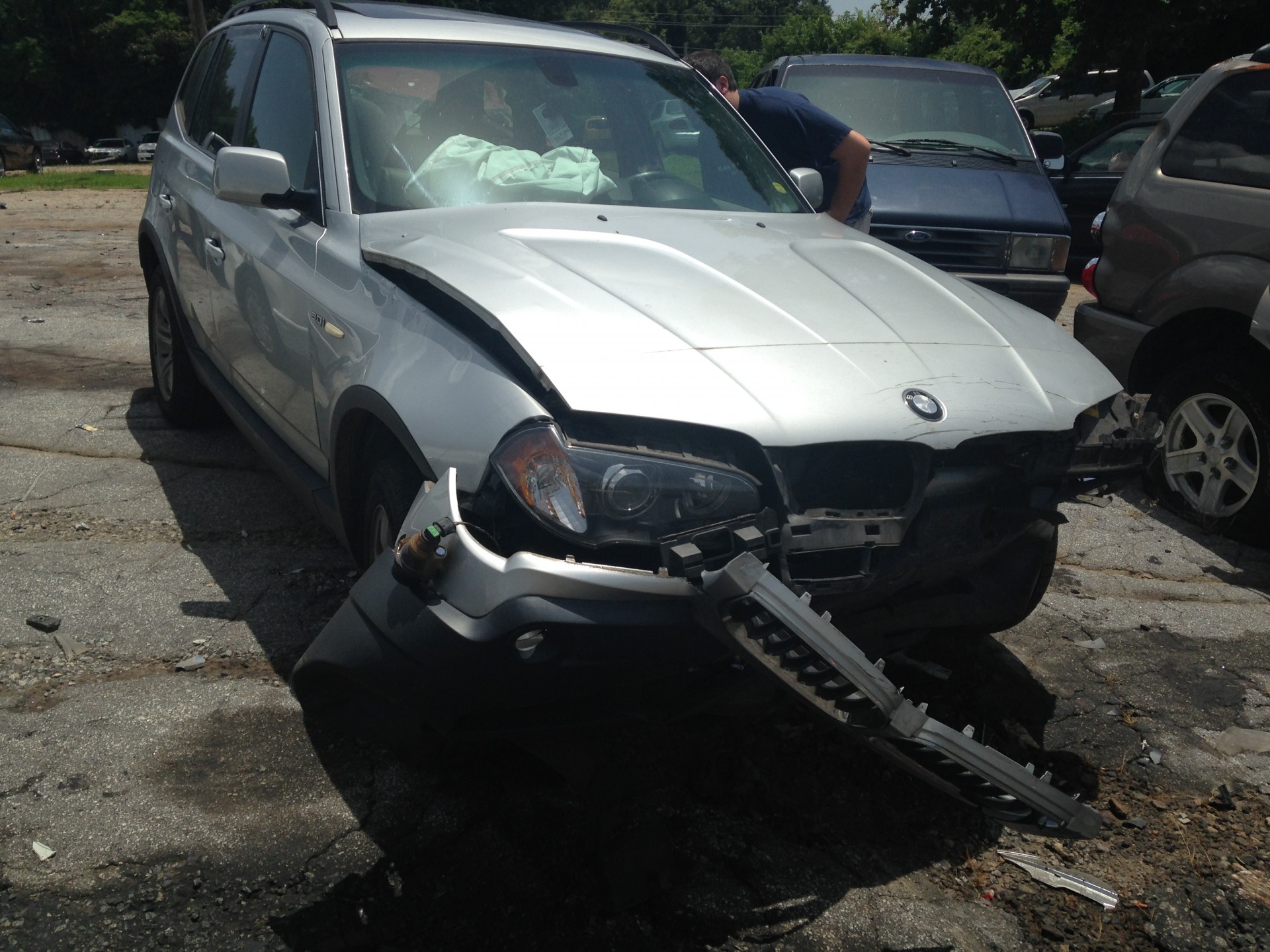 Damage from the accident in 2015
To begin recovering, she stayed at the home of her boyfriend's parents for a few days.
"I was already in physical therapy at the time because I was having pain from the previous back injury," she said. "I was starting to feel good, then the accident ruined everything. All of my progress was gone."
She continued her physical therapy sessions twice a week for about six months. During that period, she was not physically able to perform with the color guard. Her back is better now, but she has nerve problems, with a tingling sensation and pain down her arm.
But, things are looking up for Heather. She will graduate this semester, and she will begin a job in June with Halkey-Roberts in St. Petersburg, Florida, working on medical devices.  
Heather is looking forward to graduation. Her mom, brother, step-grandmother, aunt and uncle will be there.
She will wear her dad's Chi Epsilon necklace, from the civil engineering honor society.
"It's the necklace they gave him when he was here at Tech," she said. "My mom found it, and gave it to me. I wear it all the time because it feels like I can carry a part of my dad with me. I'll wear it graduation day so he can be with me when I walk across the stage."

Theesh Mohan: Making a Comeback
As the son of a senior manager for the Dubai airline, Emirates, Ratheeshvar "Theesh" Mohan grew up around the aviation industry. That familiarity grew into an interest in studying aerospace engineering.
When choosing a school, he looked at aerospace engineering programs around the world, including several in the United Kingdom, Canada, Singapore, and the United States. He applied to a few of the top-ranked schools. He was accepted at most of them, but he chose to come to Tech.
"Georgia Tech had the best balance of the quality of the program, the culture of the city, the weather, and the cost," Theesh said. "I visited campus for a tour in the summer of 2008, and I liked what I saw. Georgia Tech felt like a welcoming place."
Theesh said his visit did not give him any clues as to just how rigorous Georgia Tech would be.
"At Tech, you take on a harder experience than most college students around the country do," he said, "but, then you get to reap the benefits for the next 40 years."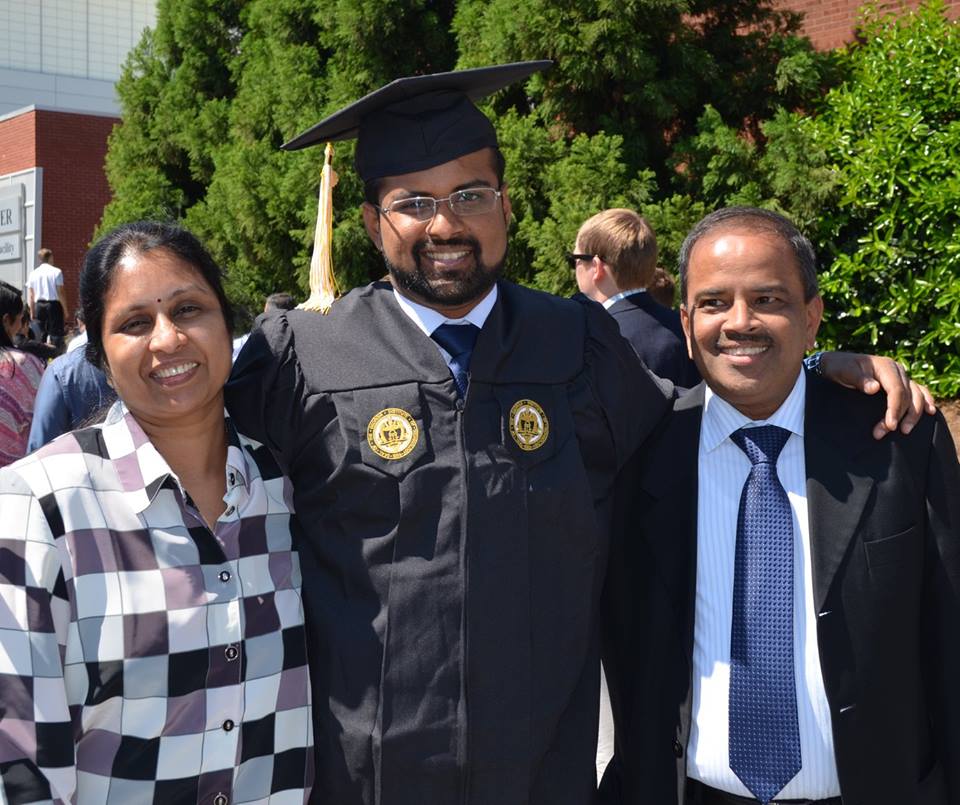 At his undergraduate Commencement in 2015, Theesh is with his mother, Amirtham Mohan, and his father, Mohan Doraisamy.
This idea to "embrace the struggle" was the theme of Theesh's speech when he was chosen to be the Commencement speaker at his Spring 2015 undergraduate ceremony. During his speech, he said that struggle should not be viewed as an obstacle to be avoided, but as a sign of true accomplishment.
"If you want to say that you graduated from Georgia Tech, that doesn't come for free," he said. "If you want to put Georgia Tech on your resume, you must earn it. The struggle is what makes this place so great. It's grueling, but rewarding. And, you're achieving something worthy of achieving."
Having earned his bachelor's degree in aerospace engineering from Tech in 2015, Theesh is now receiving his master's degree in aerospace engineering from Tech and will walk across the stage to receive his graduate diploma on May 5. 
"This institution has changed me completely as a person," he said. "And, I can confidently say that my decisions to come to Tech for my undergraduate degree, then again for grad school, were the best ones I've ever made."
He said Georgia Tech demanded everything from him intellectually, emotionally, and even physically.
"Staying up three nights in a row [to study or work on a project] is not something I thought I could do," he said. "I fully understand the merits of hard work now, and I learned the true value of having friends and an emotional support system in times of stress." 
The Accident
And. there certainly was a great deal of stress — even beyond the academic aspect. 
In November of 2011, when Theesh was an undergraduate, he was in a single car accident in North Georgia.
He suffered a traumatic brain injury, and he was in Atlanta Medical Center for more than three weeks, including a week in the intensive care unit.
Repeating what he was told by his family and friends — as he has no memory of his initial time in the hospital — he said, "It was very serious when I got there. I didn't regain consciousness for several days and was under managed sedation. When I 'surfaced,' I couldn't even form sentences. My balance was off, and I could not walk unassisted."  
He slowly went through the rehabilitative process: speech therapy, occupational therapy, and a little physical therapy.
"Thank God I made a full recovery. It took five or six months, but it happened. Initially, we didn't know if it would even happen. My parents told me that during the initial days, they sat by my bedside not knowing what to expect, but trusting every positive word they heard from the medical personnel and anyone else," he said. 
Fortunately, Theesh's parents were in Atlanta when the accident happened. They had just arrived the day before to visit him.
"They stayed with me throughout the recovery process. I had an amazing support system of family, and all of my friends at Georgia Tech — every single one of them, including some families and many friends who came into my life anew — backed me like I couldn't imagine," he said.
He recalled the support of President G.P. "Bud" Peterson, Dean of Students John Stein, Aerospace Engineering Chair Vigor Yang, Associate Chairs Lakshmi Sankar and Jeff Jagoda, many of the faculty and staff in aerospace engineering, and his fraternity.
"The unbelievable level of support I received from the Georgia Tech community, family, friends, and medical professionals ... I will value and cherish all my life."
"It wasn't easy at all, but that amazing support system made it possible," he said. "Looking back, I have miraculously recovered from my injury in full as evidenced by all tests, but what goes undocumented is the unbelievable level of support I received from the Georgia Tech community, family, friends, and medical professionals, which I will value and cherish all my life. That is what made my struggle possible to endure and a large part of what motivated me to persevere in the face of adversity."
The Road Back and the Road Ahead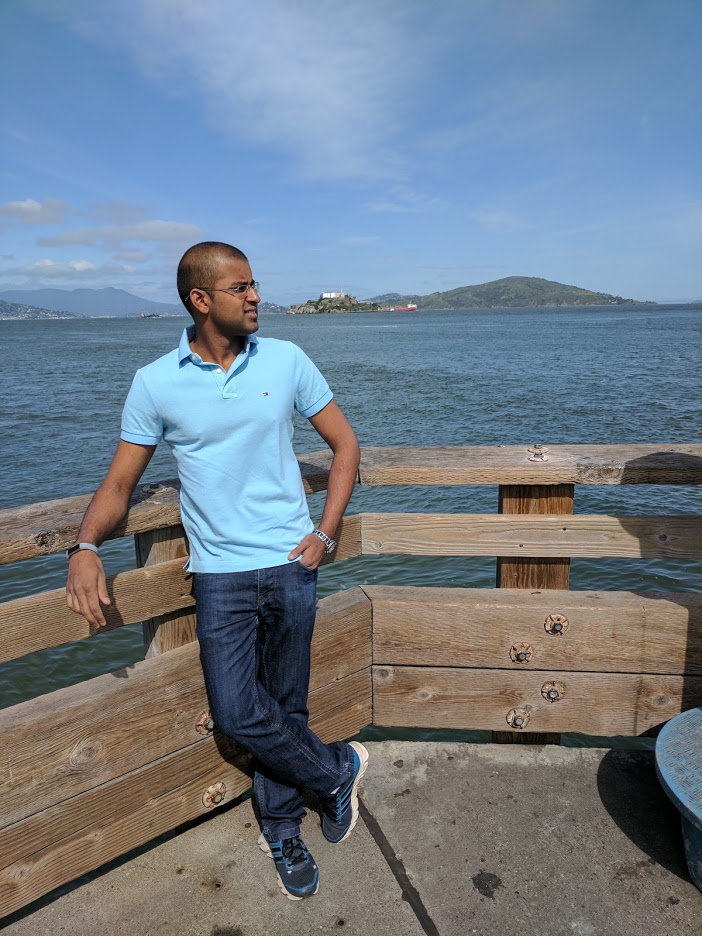 Theesh at Pier 39 in San Francisco. Theesh lost 60 pounds in 2015 by watching his diet and exercising regularly.
Theesh returned to Tech in January of 2012, just a month and a half after the accident.
Why such a quick return to school?
As an international student, he was not allowed to go home to Dubai while the accident was under investigation. And because of immigration laws, he could not stay in the U.S. without being enrolled as a full-time student. So, he registered for classes.
"I think I took 16 credit hours that semester. And 16 hours of aerospace engineering is no joke," he said. "Aerospace is a very challenging program, and at the initial stages of my recovery, those four months were undoubtedly the hardest."
But he worked harder than ever to finish his last three semesters of his undergraduate degree, which led up to his Spring 2015 graduation. That summer, he decided to go to graduate school at Tech and began that fall.
Following his master's graduation, Theesh will begin working with PwC.  
"I'll be a technology consultant, helping clients leverage technology to improve their business. This includes everything from strategy to implementation," he said. "I'm excited to get into the work force. My eight-year rollercoaster at this incredible institution has prepared me well. I feel I'm ready."

Daniel Cicchinelli: At Home Away from Home
Daniel Cicchinelli has learned a lot about himself during his years at Georgia Tech. Chief among the self-discoveries is that he doesn't want to design cars any longer — even though that's why he came to Tech in the first place.
"It's rare to find a bachelor's program in automotive design," he said. "So, I was looking for a program that provides a good foundation of skills, then I could go get a master's degree in automotive design. The Industrial Design Program here at Georgia Tech is good for that, particularly because it's a bachelor of science and not a bachelor of fine arts, and I could learn more of the technical side."
The Albany, New York native moved to Atlanta in 2012 and tried to get settled. But, things just didn't click, and he almost left Tech after his first year.
"I was pretty overwhelmed, and it felt like it was coming from every side."
"I was pretty overwhelmed, and it felt like it was coming from every side," Daniel said. "When I arrived, I didn't make very many friends right off the bat. The Industrial Design Program is very intense, and I would spend most of my day in the studio. I wasn't happy with my living situation either, so it was hard to be far from home and away from friends."
After the first year, he went home for the summer. He worked two jobs — at Five Guys and as a grounds keeper — and he also took physics, at Hudson Valley Community College in Troy, New York, to make the load lighter the next year. He looked into transferring out of Tech, but decided to stay.
"I also didn't want to be a quitter," he said, "so, I stuck it out for another year."
Once he returned to Tech that fall, he moved off campus into an apartment with a couple of good friends he had met. But, he still wasn't enjoying the design work.
"It was definitely better but still not what I was looking for," Daniel said.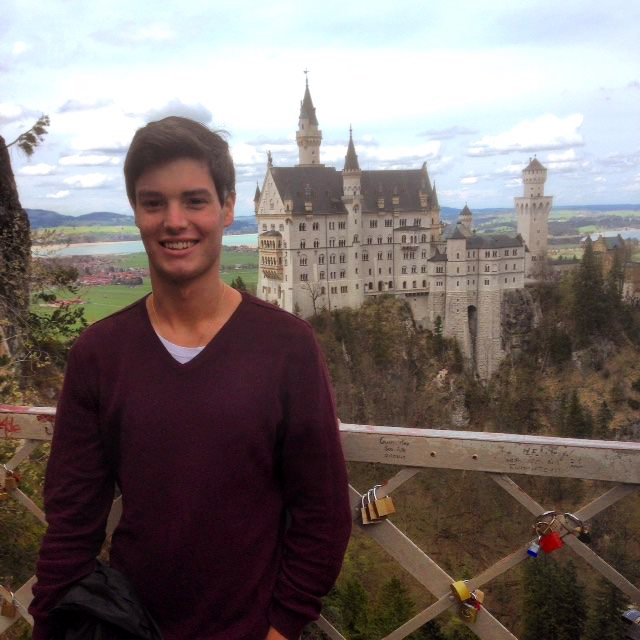 Daniel at Neuschwanstein Castle, in Bavaria, Germany, 2015.
So, he began exploring study abroad. One of his study abroad advisors told him about a scholarship to study in Germany for a full year. He applied and won the scholarship in the spring of his sophomore year.
"That was very exciting," he said. "I went to the University of Stuttgart, and it was incredible. There were 25 American students on the scholarship spread out over Germany, which gave us a strong network and a shared experience."
Daniel received a monthly stipend and a rail pass that he used to visit other cities during his free time.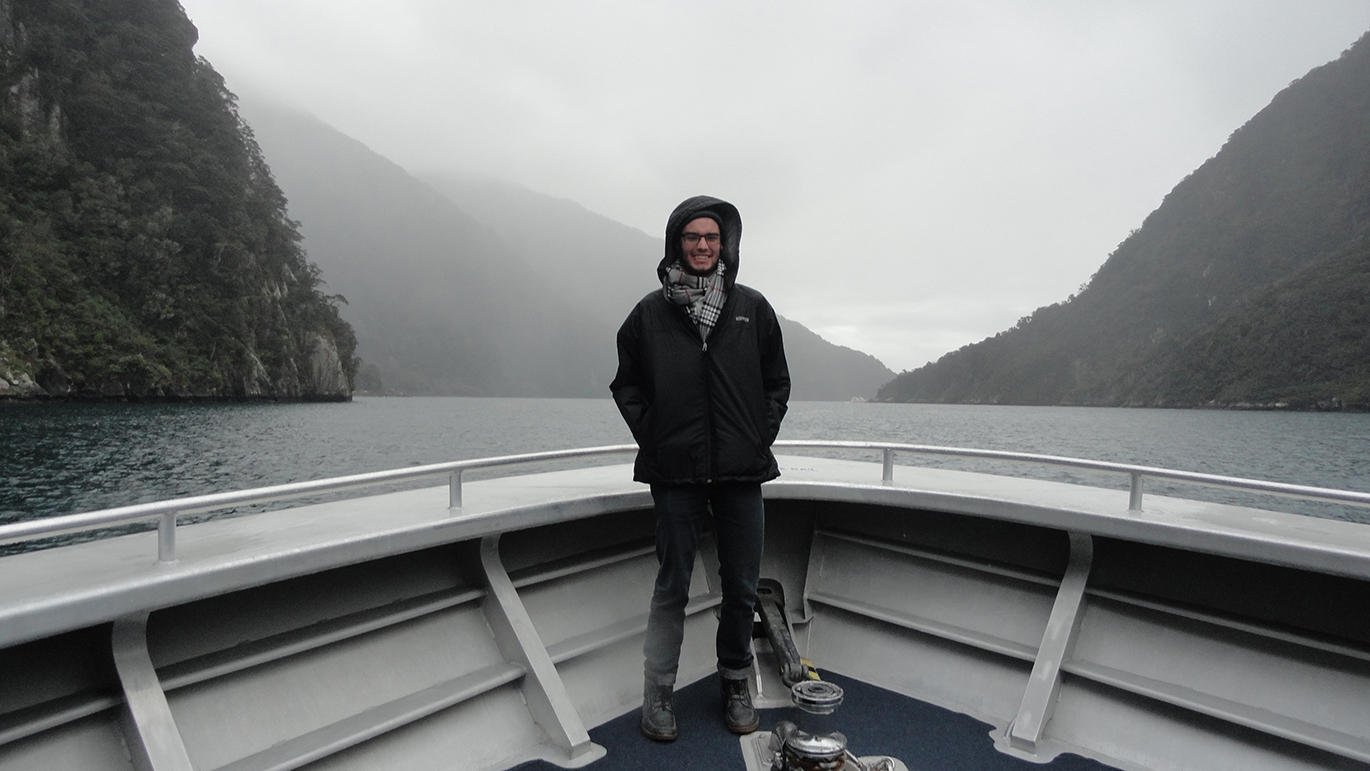 Daniel at New Zealand's Milford Sound, also called the "8th Wonder of the World," 2016.
"While I was in Germany, I realized how much I liked studying abroad, living as part of a different culture, and traveling," he said.
He stayed abroad for another full year in Scotland, at the University of Strathclyde. Then, he went to New Zealand at the Victoria University of Wellington for one semester before returning to Tech in January of this year for his final semester.
Finding a New Direction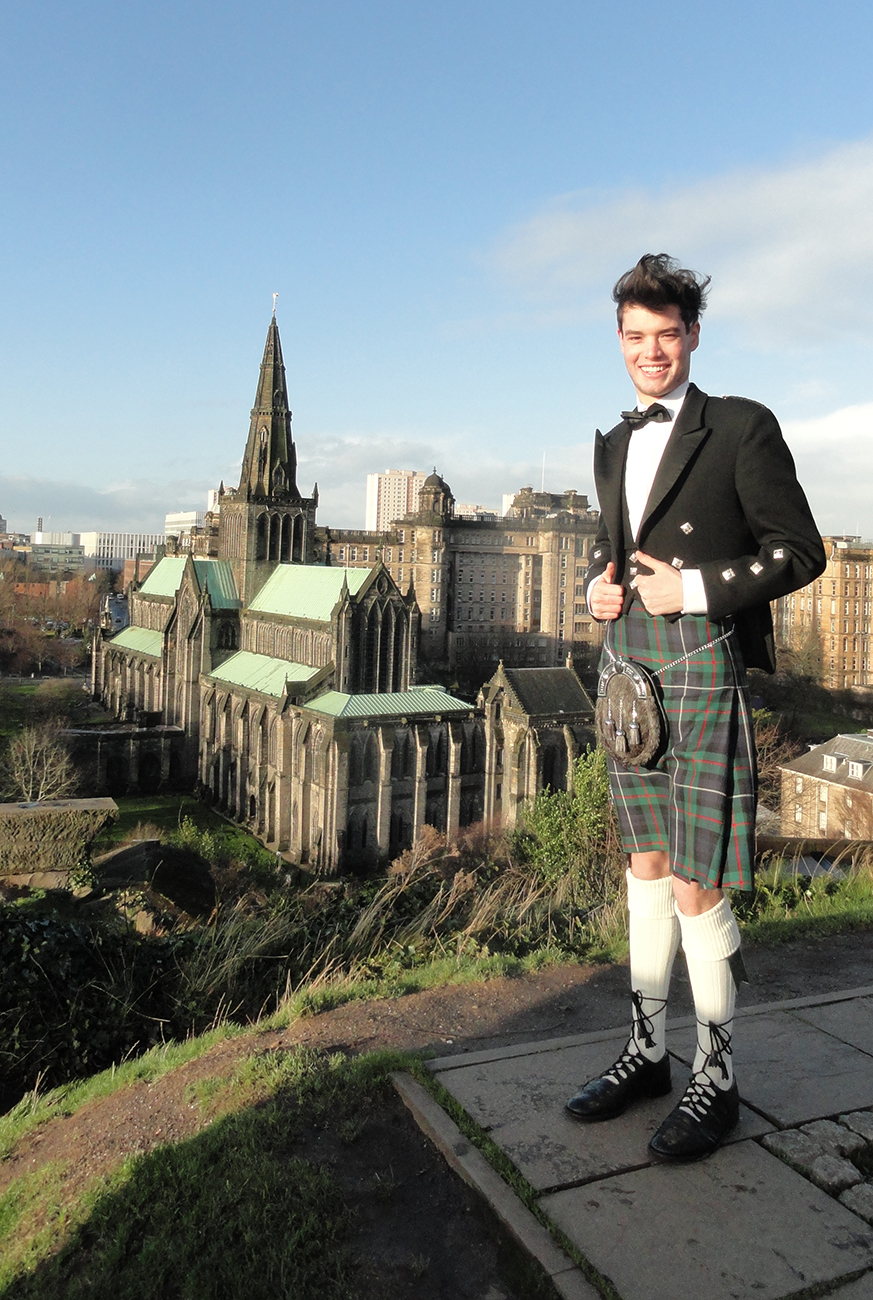 Daniel in Glasgow, Scotland, wearing Highland Dress for the end of semester ball and ceilidh (traditional dance), 2016.
In all, Daniel spent half of his five years at Tech studying abroad.
Now, he wants to work in sustainability, sustainable product design, or product stewardship.
"I attribute the shift in what I wanted to do with having studied abroad," he said. "I realized that I wanted to help people more than I was on track to do. Product stewardship is consultancy for product design. You work in a firm that consults with local government or advocacy groups and product manufacturers — all together to comprehensively try to change the way products are made in a way that will benefit people and the environment," he said. 
That would be ideal for him, he says, indicating that experiencing different cultures and ways of life opened his eyes to the prevailing American lifestyle, which can be consumer-driven.
"I had always been a bit of an environmentalist. But, now I don't want to design cars because it seems frivolous at times. Designing cars can be exciting and very challenging, but I don't feel like I'm helping anybody."
His time abroad has made him more aware regarding what he wants and doesn't want.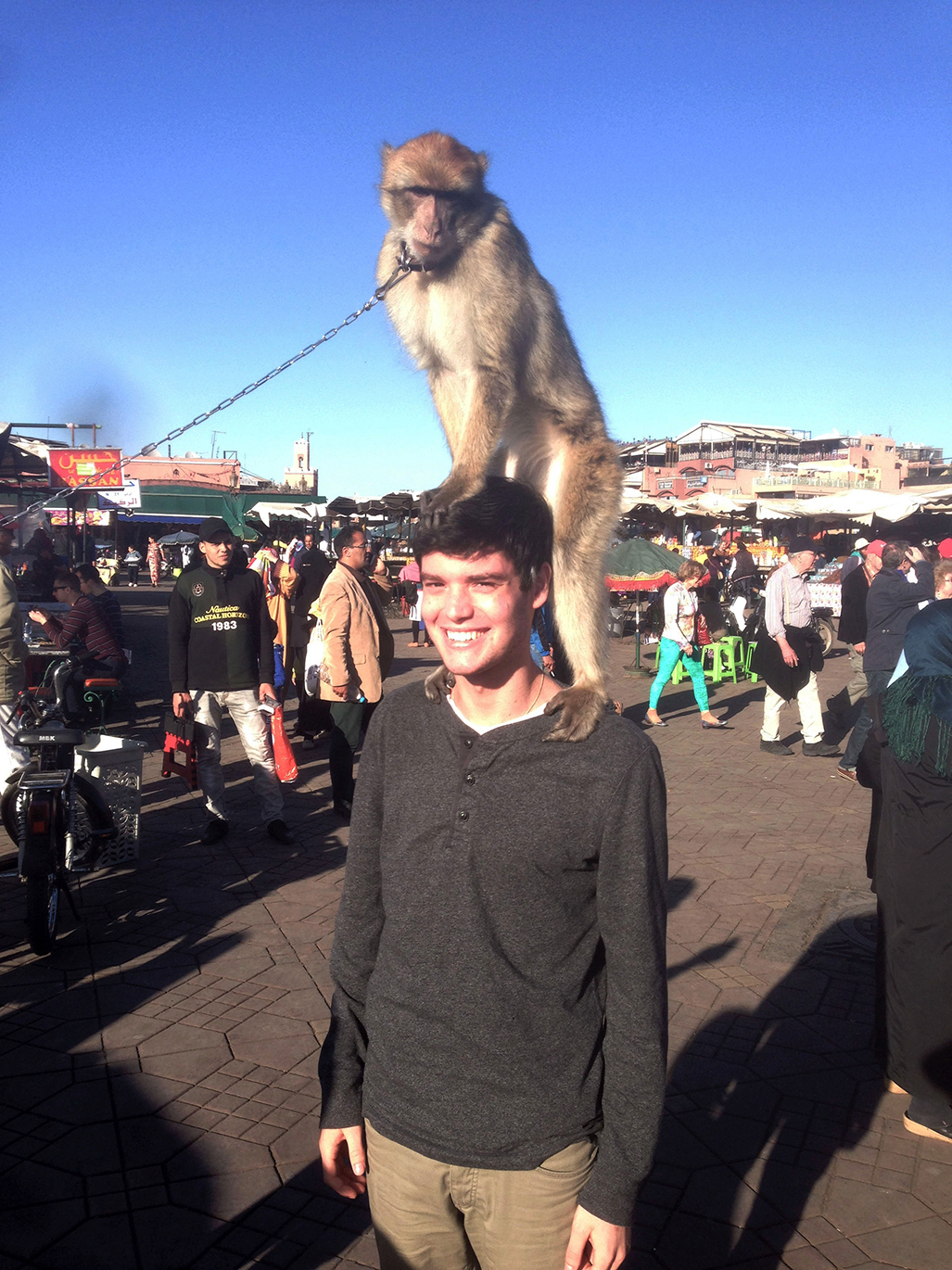 Daniel with a monkey in the central market in Marrakech, Morocco, 2015.
"I have a much easier time identifying what my priorities are in a situation, and what's going to make me happy and more successful."
He is the middle child of three born to a mother who is a children's librarian and a father who works in health insurance.
"My parents were kind of 'hands off.' They did not hover and keep track of our homework or other responsibilities for us," he said.
That independent streak was useful when navigating between countries and cultures.
"Studying abroad as much as I did is a bit unconventional, and you have to deal with a certain amount of bureaucracy such as applications and visas, all while in a foreign country," he said.
But Daniel was in Tech's International Plan, so he had help from the Office of International Education (OIE).
"The world is a big place, and you can't be afraid of it. You can't let your life be dictated by fear."
"The International Plan helps you organize how an experience abroad will benefit your studies," he said. "Advisors in the OIE are great. They work with you to develop a plan and then help you execute it along the way."
Daniel added that he never felt afraid when traveling.
"The world is a big place, and you can't be afraid of it. You can't let your life be dictated by fear," he said. "Travel smart and be aware of safety alerts, but don't let a fear of the unknown take the experiences away from you. People who travel overcome that fear."
He doesn't intend to stop traveling any time soon.
"After graduation, I plan to move to the UK for a year, then back to Germany to get a master's in something related to sustainability," he said. "I also want to become fluent in German."