Ramblin' On
Georgia Tech experiences are as unique as the students who have them. We asked five graduating seniors to take a look back before they move forward and share what it was like for them to live, learn, and lead at Georgia Tech.
Brandie Banner
---
Outgoing SGA vice president is helping
communities in need from Atlanta to Kenya.
Name: Brandie Banner
Hometown: Milton, Georgia 
Major: Civil Engineering 
Clubs/Involvement: SGA, FASET Orientation, Housing, Greek Life
What are you doing after you graduate? I will be doing Teach for America in Metro Atlanta.

Q: As an undergraduate, you won Georgia Tech's InVenture Prize. How did that play into your Georgia Tech experience? 
A: My team (Team Sanivation) was fortunate to win first place and the People's Choice award at the 2014 InVenture Prize. We designed a low-cost toilet called "SafiChoo" for refugees in Kakuma, Kenya. The toilet is designed to minimize fecal-oral contamination and help dehydrate the waste so it could be turned into charcoal. With the $25,000 from the InVenture Prize, I was the on-the-ground engineer piloting 10 of the toilets in Kenya over the summer! 

Q: You were also the SGA vice president. How did you stay so involved and complete your degree? 
A: I got so involved on campus because I learned that the more I invested in Georgia Tech, the more I got out of it. I loved my time at Tech and wanted to devote my time to making it a better place for other students as well. As a Georgia Tech student you learn the importance of balance — academics, involvements, social life, and health. It takes a lot of trial and error, but once you figure out a groove that works for you it is worth it! 

Q: What's your advice to incoming students who want to make the most of their Georgia Tech experience? 
1. Find something you're passionate about at Tech outside of academics and dive in! Whether it is the India Club, Outdoor Recreation at Georgia Tech, or Yellow Jacket Flying Club, there is something out there for everyone.
2. Learn the Georgia Tech traditions early. It will make you love it here even more! My favorites are Midnight Bud, George P. Burdell, or swimming in the president's pool. 
3. Take advantage of being on such a diverse campus. It is not every day that you are around people from China, Saudi Arabia, and Venezuela! You have an incredible opportunity to learn from others and get outside of your comfort zone at Tech.
Kiera Patterson
---
Industrial engineering grad shares the
moment that sums up her time at Georgia Tech
Name: Kiera Patterson
Hometown: Newnan, Georgia
Major: Industrial Engineering
Clubs/Involvement: Diversity ambassador, Rethink marketing chair, OMED Challenge counselor, Georgia Tech Athletics student tutor. 
What are you doing after graduation? Working at AT&T as a senior specialist in Tech Project Management. 

Q: Georgia Tech engineering classes can be tough. How did you balance difficult classes with other activities? 
A: I balanced my work by making a "to do" list each day. My "to do" list always had all my assignments and emails I needed to send, and on really busy days I would make sure to add relaxation activities to the list. Those lists really helped me stay on top of my work and have time for extra activities.

Q: What's your favorite thing about going to school in Atlanta? 
A: The fact that there is always something to do off campus. Atlanta has so much to offer. I have been to many concerts, festivals, Falcons games, and restaurants since I came to Tech.

Q: What is the one moment in your Georgia Tech career that sums up your experience here? 
A: When President Obama came to campus. The lines that formed to get tickets were something I will never forget. Seeing the president speak has been something I have always wanted to do, and I am so glad I got to see him at Georgia Tech!
Michael Johnson
---
After six seasons in the NFL, Michael Johnson
came back to complete his Georgia Tech degree.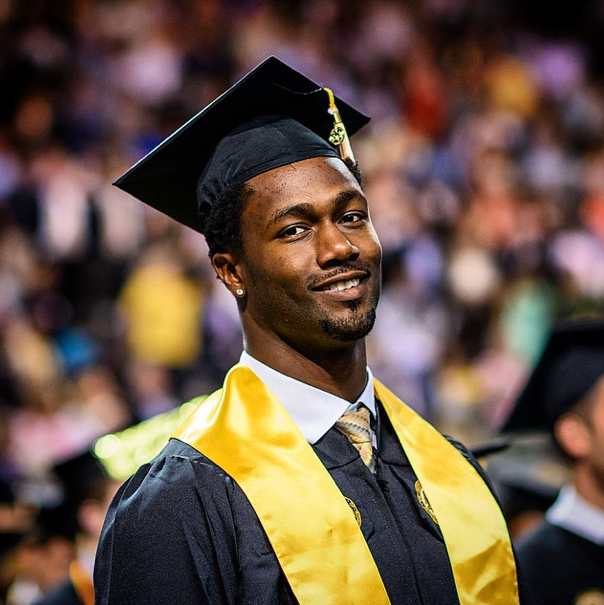 Name: Michael Johnson
Hometown: Selma, Alabama
Major: Business Administration
Yellow Jackets football career: Defensive end who played from 2005-2008. Named first team All-American in 2008 (AFCA), and first team All-ACC selection. Led the team in tackles-for-loss. Was team captain his senior year. 
What are you doing after graduation? Entering my seventh season in the NFL, and I recently signed a four-year contract with the Cincinnati Bengals after spending the 2014 season with the Tampa Bay Buccaneers.
Q: What led to your decision to come to Georgia Tech?
A: It was the opportunity to receive a great education at a prestigious school and have a chance to compete in the ACC for a program that had been to seven straight bowls at the time.
Q: After having been in the NFL for six seasons, what was it like to be back on campus taking classes? 
A: It's a very different experience than when I played here. Going to class and paying attention is easier. When you're a student-athlete, you're working out in the morning, have practice in the afternoon, plus meetings — you end up being tired all the time. That was a hard thing.
Q: What advice do you have for current student-athletes?
A: Try to talk to other students and professors. Let them know your challenges, because they won't unless you communicate with them. They'll definitely respect you more if they know what else you have on your plate. 
Nikhil George
---
Nikhil George came to Tech from
India and soon felt right at home.
Name: Nikhil George 
Hometown: Kottayam, India 
Major: Mechanical Engineering
Clubs/Involvements: FASET leader, trip leader and exec for Alternative Spring Breaks, co-founder of Consult Your Community (pro-bono consulting for small businesses), Delta Chi, Omicron Delta Kappa 
What are you doing after you graduate? Business analyst at McKinsey & Company
Q: What was your transition from India to the U.S. and Georgia Tech like? 
A: Transitioning to life at Tech as an international student was a lot easier than I had expected. Everyone was so warm and welcoming, from my FASET leaders to the faculty and staff. The Office of International Education really does a good job of helping students transition and setting them up for success. In addition, I found a home away from home in my fraternity. My fraternity brothers not only acted as a support system, but also challenged and motivated me to be a more well-rounded person.
Q: How did you get so involved as an international student ?
A: Coming into college and having talked to former students, I realized there is so much more to the American college experience than just classes. Being an extrovert, I wanted to meet as many people as possible and decided to sign up for a few clubs that interested me during Opportunities at Tech. It was hard to step outside my comfort zone in the beginning, but it's important to realize other students are trying to learn from you just as much as you are from them! Embrace the diversity Tech has to offer and be proud of your culture!

Q: What is your favorite Georgia Tech memory? 
A: Storming the field when we upset #5 Clemson 31-17.
Ty Autry
---
Georgia native juggles engineering and acting.
Name: Ty Autry 
Hometown: Camilla, Georgia
Major: Electrical Engineering
Clubs/Involvement: DramaTech Theatre: marketing director, actor in "Angel," "Rent," "Bert Bratt," and "How to Succeed in Business Without Really Trying," director and choreographer, Tau Beta Pi, business analyst at Codesigned. Also worked at Turner Broadcasting System.
What are you doing after you graduate? This summer I am performing at OnStage Atlanta in "The Addams Family: The Musical," and in August I start my year-long apprenticeship at Georgia Ensemble Theatre! I will also continue working at Codesigned during the day. You can find me on Twitter/Instagram: @JTyAutry
Q: You're an engineer, but also an actor. How has acting impacted your time at Georgia Tech?
A: Acting has allowed me to de-stress from my busy work and school schedule. Even though going to rehearsals five nights a week is stressful on its own, it allowed me to be creative in ways that engineering doesn't allow me to be. During my four years at Georgia Tech, I was able to work the left and right sides of my brain! On the flip side, getting an engineering degree has helped me grow as an actor in unique ways because it has taught me to think very analytically, be a problem solver, and analyze situations very quickly.
Q: What was the most difficult part of getting an engineering degree and what's your advice to someone starting their college career at Tech? 
A: The most difficult part about getting an engineering degree was the very dense reading. There were times I had to force myself to focus and read through a textbook, even though I didn't want to. The best advice I can give to anyone coming to Georgia Tech is: 1) Always go to class, never skip (simple, but true)! 2) Do your homework — skipping a homework could be the difference between an A and a B. 3) Pick one or two TV shows to follow a semester, but limit your TV time to just those shows.
Q: What do you think is the most surprising thing people do not know about Georgia Tech?
A: Georgia Tech houses the oldest continuously running theater in all of Georgia! DramaTech Theatre has been around since 1946 and is stronger than ever! The fact that Georgia Tech can put on amazing works of art with a bunch of engineers, computer scientists, and business majors running the whole place, is incredible!
Credits
Writer: Steven Norris
Digital Design: Brett Lorber
Photos: Student-provided