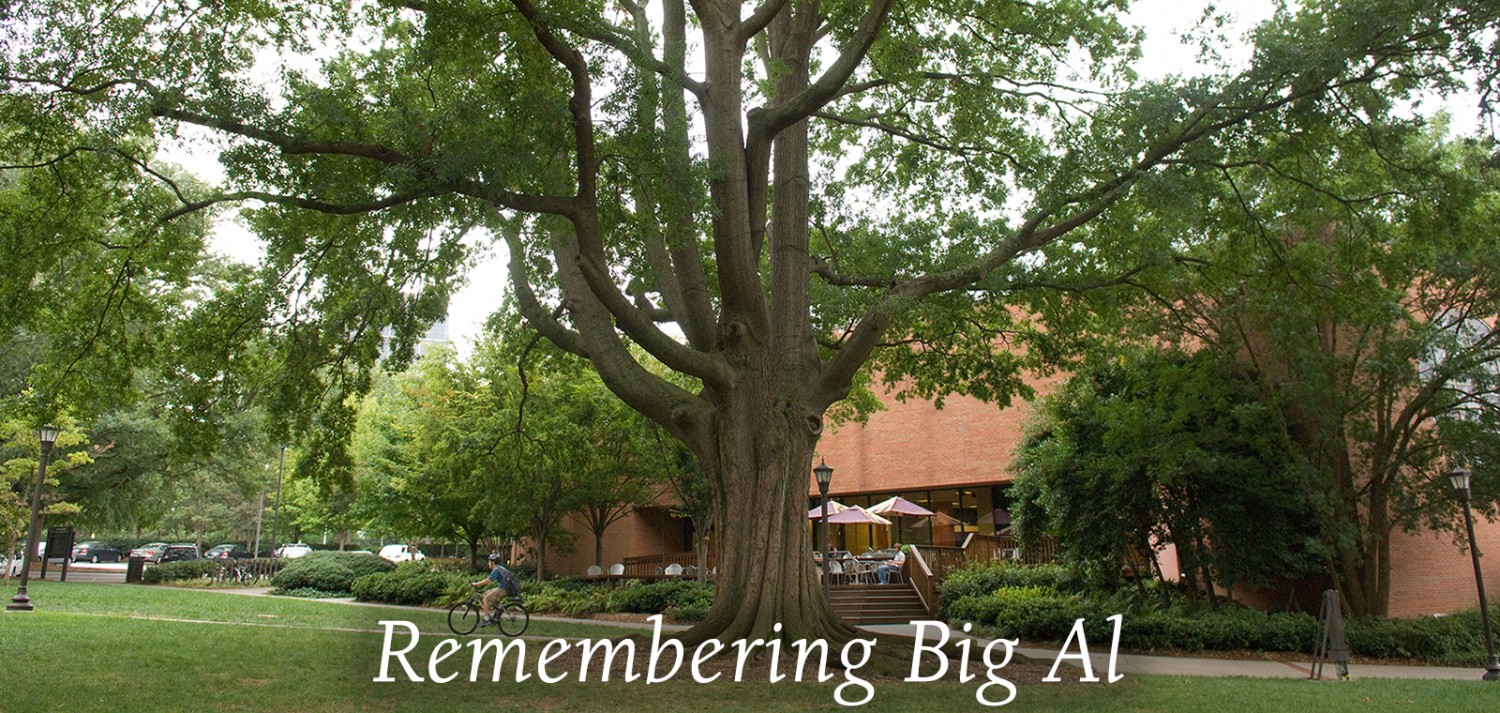 'Fall of a Champion' Memorializes Campus Tree
By Kristen Bailey | Photos by Christopher Moore Feb. 14, 2019
When a willow oak spontaneously split near the Student Center last fall, the campus community mourned its loss, placing mementos and candles on its stump before it was fully removed.
A group of students took that tribute a step further by dedicating part of their classwork from the fall semester to presenting Fall of a Champion, an exhibit now on display in Clough Commons.
The students from LMC 3308: Environmentalism and Ecocriticism, taught by Associate Professor Hugh Crawford and in partnership with Serve-Learn-Sustain, the Honors Program, and the Robert C. Williams Museum of Papermaking, spent the semester studying the connection between trees and people. When they came to class on Tuesday, Sept. 18 — the day the tree fell — it seemed only natural to make it part of their work.
"It was a hallmark on campus," Elizabeth Kappler, a biomedical engineering major, said of the tree. "Most of us didn't recognize its significance until it was gone."
The tree — which had been affectionately named Big Al during a past class taught by Crawford — witnessed more than a century of life on Georgia Tech's campus.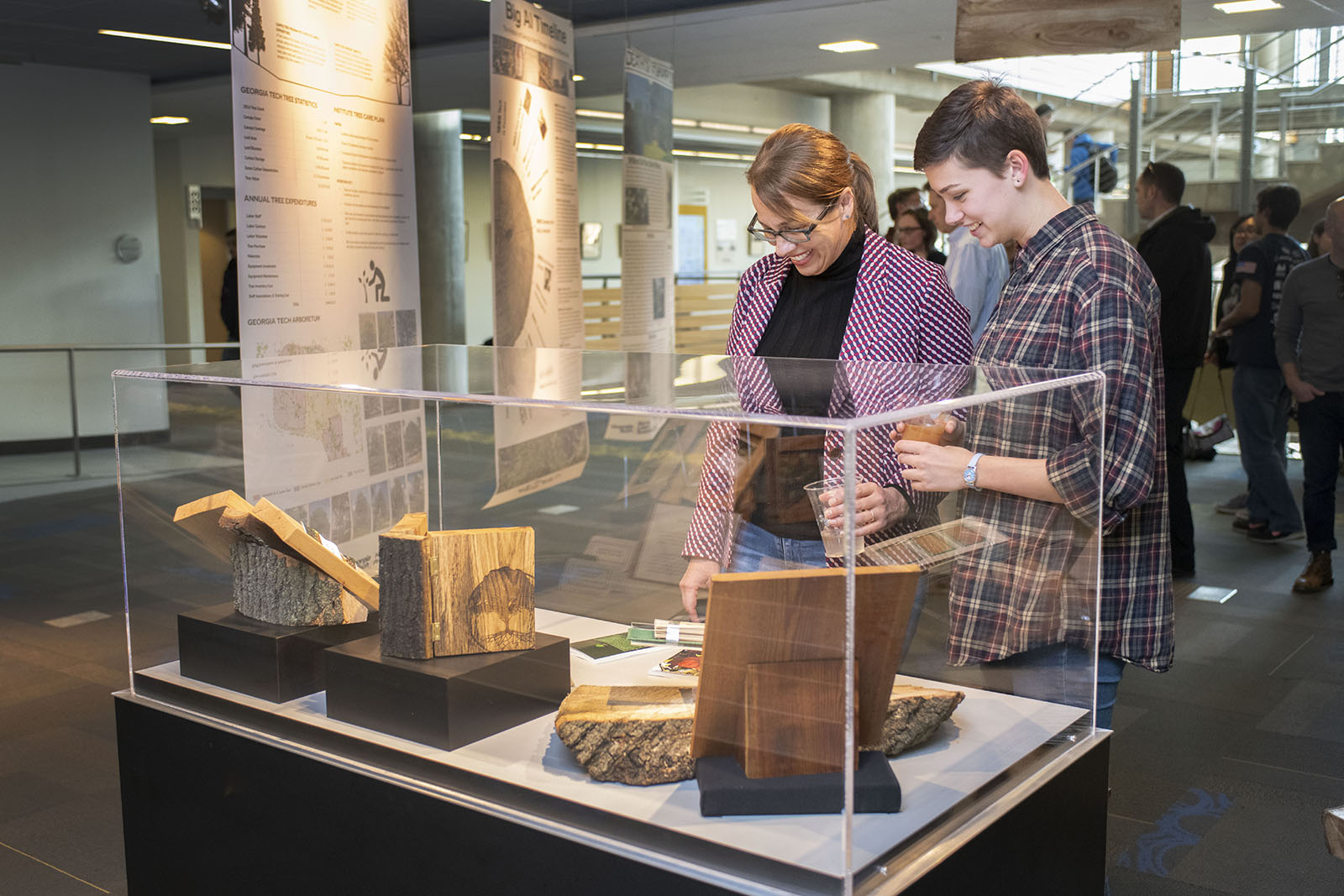 Kathryn Higinbotham (right), a second-year student who was part of the LMC 3308 class, and Sarah Higinbotham, her mother and a former Georgia Tech Brittain Fellow, view the exhibit on Feb. 13.
Part of the students' assignment during the semester was to select a tree to spend time with each week, sitting under it and journaling. Alex Flack, an international affairs major enrolled in the course, welcomed the chance to stop under the tree each week, ditch his phone, and write about the readings from class, the tree, life, or even poetry.
"I always felt refreshed after," he said. As the semester progressed and they were able to do the hands-on work of cutting wood and creating things from it, Flack enjoyed that as well. "I never would have thought I'd do something like this coming to Tech."
Fall of a Champion features works by the students made from wood collected from Big Al, including benches, pens, and the exhibit sign itself. It also features informational signage about trees on campus, forest management, the history of Big Al, and photos of their woodworking process. Finally, the class assembled a book — Our Forest — that features writings by each student about the tree they spent the semester getting to know.
The opening reception on Feb. 13 featured tree-themed refreshments, including birch and apple juice, an array of nuts, acorn jelly (a tofu-like snack), and pies in varieties of peach, apple, and cherry.
Students stopped in to remember Big Al and learn about trees on campus, and could take a commemorative coaster, bookmark, or paper made from Big Al's remains. The handmade mementos feature a design of Big Al where his name is woven into the roots.
"I've never seen a memorial for a tree before," said Muhammed Downeck, an industrial engineering major who stopped in to explore the exhibit and enjoy refreshments. "This is pretty cool."
Crawford estimates this is around the seventh time he's had a class do what he calls a "heavy duty" culminating work. Others have included the construction of a whale skeleton (in connection with studying Moby-Dick), now on display at a science center in Peachtree City, and a treehouse that once resided in the Georgia Tech Library.
The original plan this semester was to construct a play structure for a local school. The class had already been reading literature about the role of trees in American culture when Big Al fell.
"It seemed obvious to do an installation," he said. "We knew there'd be a lot of interesting stories to tell."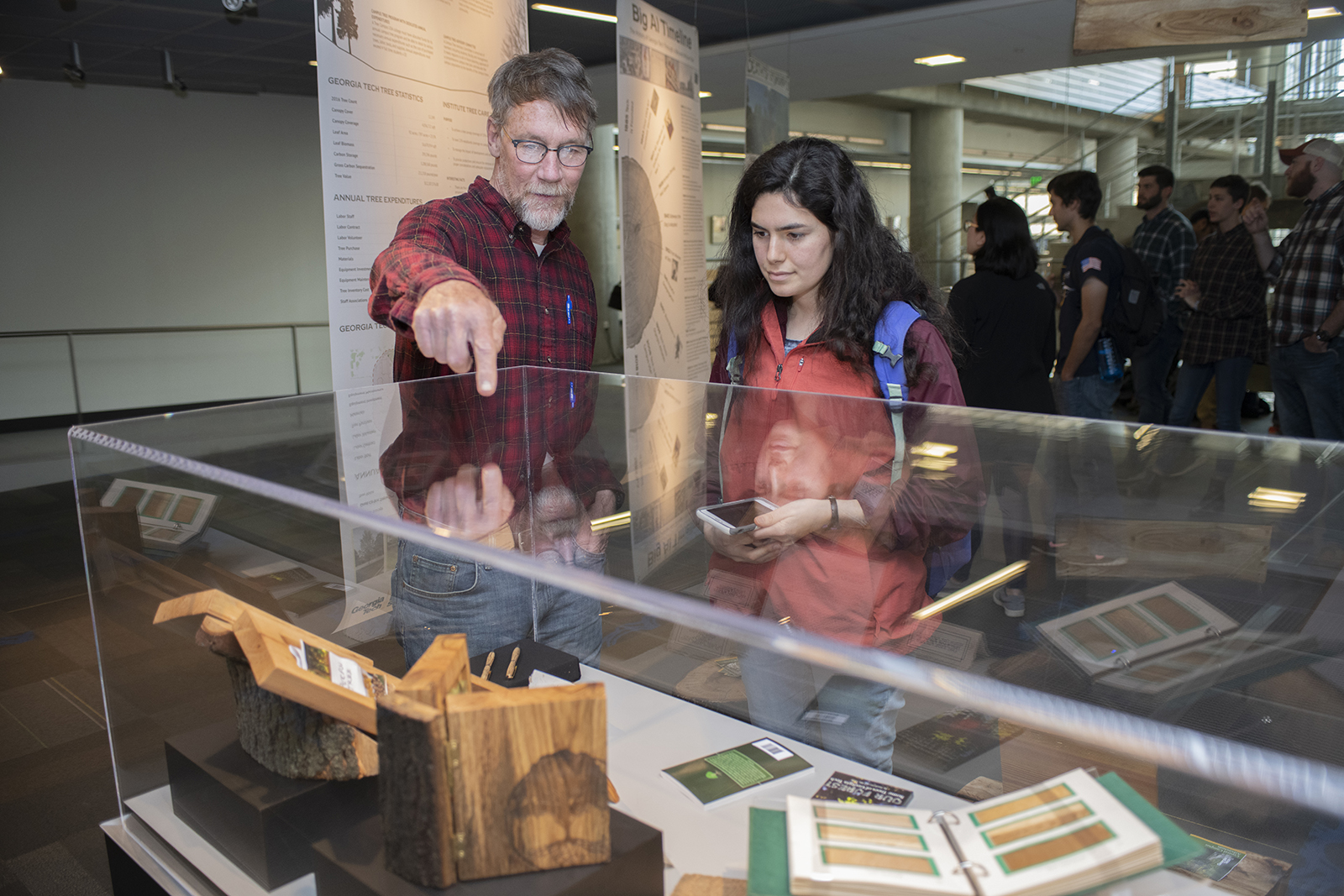 (Above) Hugh Crawford talks with Jaimee Francis, an economics major, at the exhibit.
(Below) The class made xyloteques — books whose covers are made from trees — and published a book called Our Forest that features trees of Georgia Tech.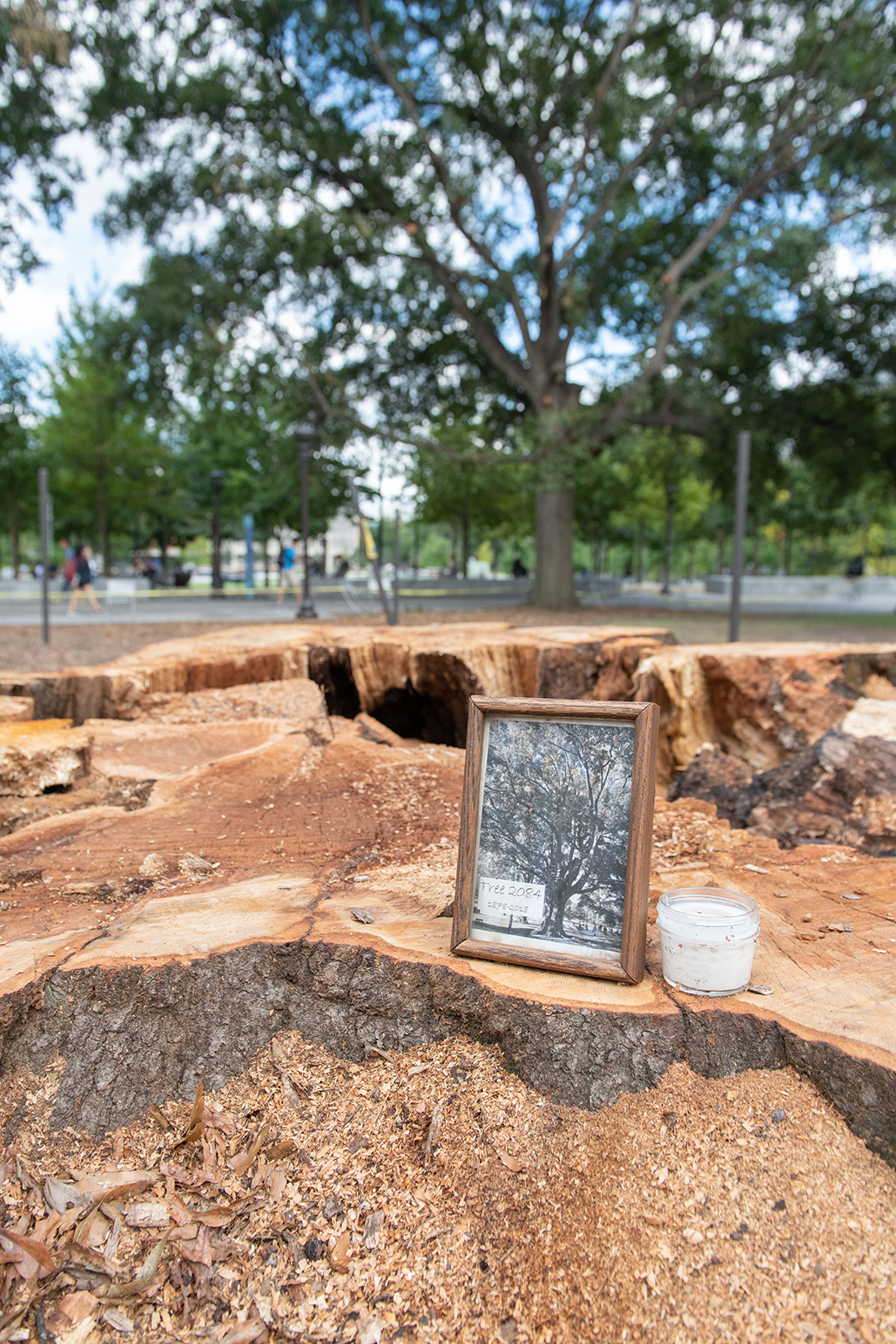 Students set out a candle and image of Big Al — Tree 2084 in the Georgia Tech Tree Inventory — on its stump in September 2018. Photo by Allison Carter
For Kappler, being part of this class made Big Al's role in her life all the more meaningful.
"If I hadn't been engaged in this, I think it would have passed me by," she said. As a biomedical engineering major, Kappler initially signed up for the class in part because of the chance to build the play structure and do something hands-on. She valued that opportunity and the fact that Crawford let the students take a leading role in their work. She also valued getting to know Gail, a crepe myrtle in her back yard.
"Nowhere in our coursework will we be required to spend such a prolonged engagement with nature," she said "This took me out of my bubble, forced me to look around, and think about how trees have formed modern life in a way I never would have known."
At the time of its demise, Big Al had last recorded a 69-inch caliper (as of 2016) and was in fair condition, according to Georgia Tech's tree inventory. It stood 81 feet high, with a crown width of 87 feet at its widest point, and was thought to be more than 100 years old.
Since then, a neighboring tree was also removed to prevent a potential hazard, and 13 new trees — a variety of oaks — have now been planted in the triangular green space. Someday, they'll fill in the hole in the canopy left by Big Al.
Fall of a Champion will be on display on the third floor of Clough Commons, at the top of the central stairwell, through March 8.