A Roadmap to Social Courage
By Laura Diamond and Lance Wallace February 16, 2017
As the former president and first lady prepare to receive the Ivan Allen Jr. Prize for Social Courage, their grandson shares lessons from their powerful partnership.

For more than four decades Jimmy and Rosalynn Carter have dedicated their lives to improving human rights and alleviating suffering around the world.
Together they've traveled to more than 100 countries to observe elections as part of The Carter Center's mission to enhance freedom and democracy. The nonpartisan, nonprofit center they founded is close to eradicating Guinea worm disease from the planet.
As the 39th president of the United States, he promoted peace in the Middle East through the Camp David Accords; increased the number of women serving in the federal judiciary; and nearly doubled the amount of land protected by the National Park Service. Her groundbreaking advocacy on mental health lessened the stigma associated with mental illness and forced doctors to treat it on par with physical health.
Their humble beginnings in the 1920s in tiny Plains, Georgia gave little indication they would accomplish all this and more. But that is exactly what makes their life so inspiring, said Jason Carter, their grandson and chairman of The Carter Center.

Jimmy and Rosalynn Carter on their wedding day, July 7, 1946. Credit: PBS/Columbus Ledger Enquirer Collection/Carter Center archives

"There is no reason for anyone to believe that some kid from Plains could ever become president of the United States. But he did," Jason Carter said. "The opportunity for a single individual to make a huge difference in the world is real."
Carter spoke with Georgia Tech about his grandparents as the Institute prepares to award the couple with the Ivan Allen Jr. Prize for Social Courage on Friday. Jimmy Carter attended Georgia Tech for one year and received an honorary degree from the Institute in 1979 — the first in Tech's history.
The couple recently celebrated their 70th wedding anniversary, a testament to their love, respect for one another and the power of their partnership.
"The thing about the partnership is if you don't doubt your ability as a human being to make a huge impact in the world, finding a partner to do it with who is going to be there for 70 years and who is going to be as committed and as excited about making those changes really gives you the ability to change the world," Jason Carter said.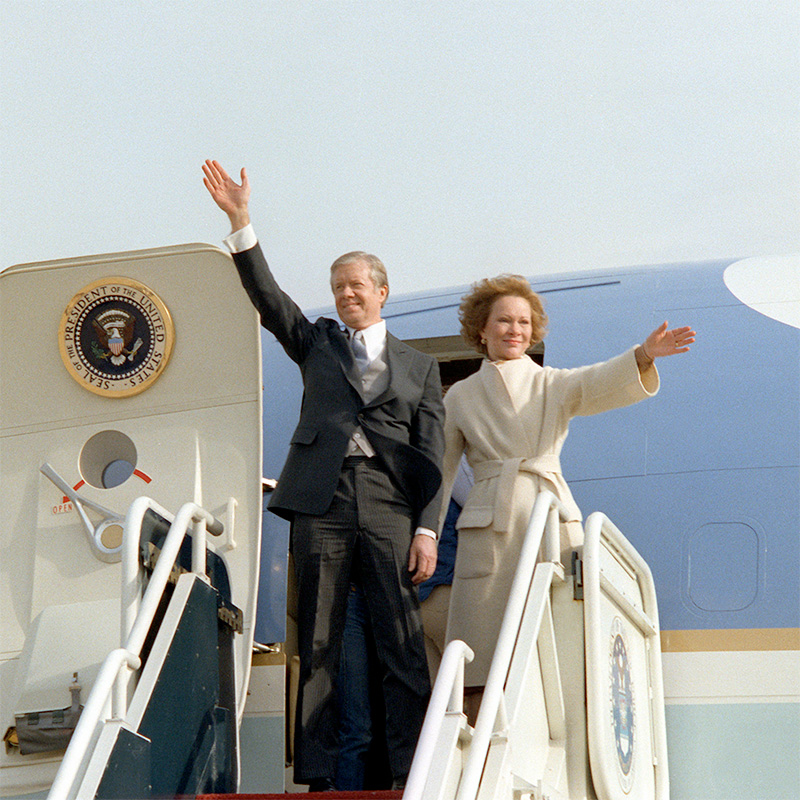 Former President Jimmy Carter and former First Lady Rosalynn Carter wave from the top of the aircraft steps as they depart Andrews Air Force Base at the conclusion of President Ronald Reagan's inauguration ceremony on January 20, 1981. Source: Wikimedia Commons, public domain image.

In some respects, the Carters are just like other grandparents.
Jason Carter jokingly described them as rednecks from South Georgia who sometimes struggle with their cell phones. They're dedicated to their family of four children, 12 grandchildren and 10 great-grandchildren. They serve their beloved Maranatha Baptist Church.
"A lot of their drive comes from their faith and from their belief in trying to live their lives like Jesus," Carter said. "In many circles, that comes off these days as trite … But the way my grandparents live, that faith is to do every single thing they can with the opportunities that they have been given to make a difference in other people's lives."
The Carter Center exemplifies that attitude because it is founded on respect for people, he said. They don't go to remote villages and tell people what to do. They go and listen and then teach people how to change their own lives, he explained.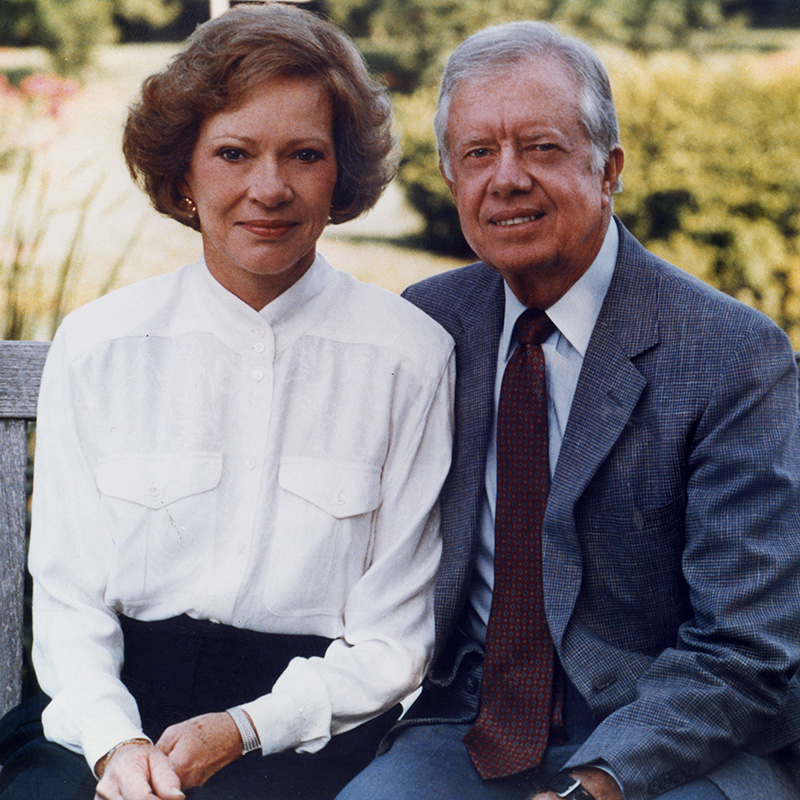 Former President Jimmy Carter and former First Lady Rosalynn Carter on the grounds of The Carter Center in Atlanta, Georgia, 1993. Credit: The Carter Center

A challenge some face when wanting to help others is deciding where to focus their efforts. While the Carters have doggedly focused on certain issues – such as Rosalynn Carter's mental health advocacy spanning 60 years – they remain flexible and take advantage of opportunities when they arise.
Neglected tropical diseases, such as Guinea worm disease, were not on their radar until someone presented the issue to The Carter Center, Jason Carter said. Once they decided they could make an impact and realized no one else was willing to travel to these countries to address the health problems, they tackled it.
And they've succeeded. In the mid-1980s Guinea worm disease afflicted about 3.5 million people annually in 21 countries in Asia and Africa. Today there are only 25 cases in Chad, Ethiopia and South Sudan. The last disease eradicated from the planet was smallpox in 1980.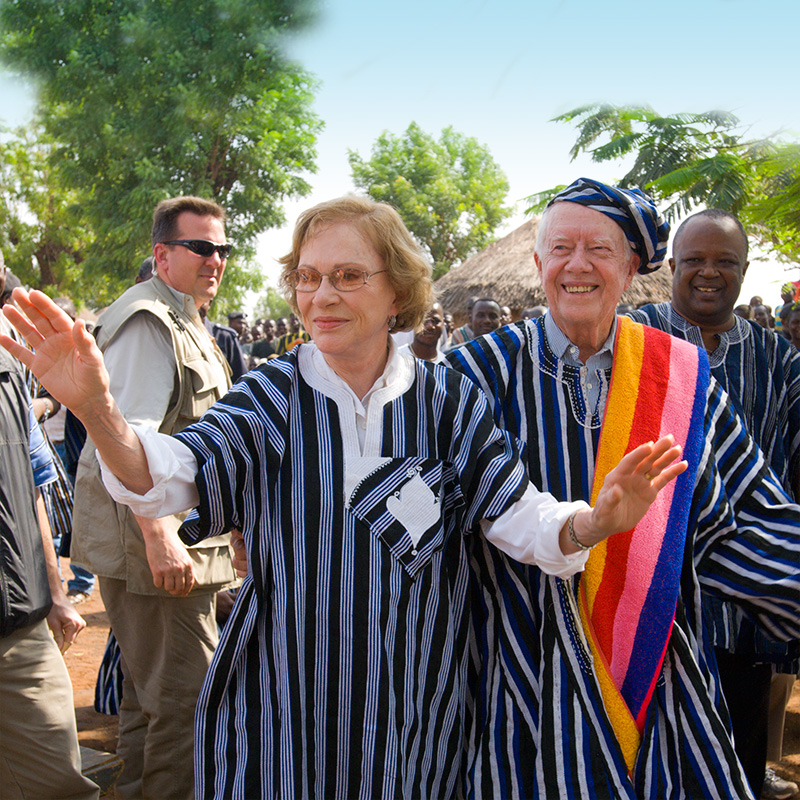 Former President Jimmy Carter and former First Lady Rosalynn Carter wear traditional Ghanaian attire, a gift from the chief of Tingoli village in northern Ghana on Feb. 8, 2007. Credit: The Carter Center

"There will be no more Guinea worm disease by the time they're finished," Jason Carter said. "They have achieved things in their lives that they would have never thought possible. I think that example is real and all of us can do that."
Their lives offer a roadmap for those who want to make a difference, he said.
"The first step of that roadmap is don't underestimate what you can do, no matter where you come from. And the second is once you've decided that you care about something, stick with it."