Romance in the Age of Social Sharing
---
The key to understanding romantic relationships is an age-old mystery.
But the elusive language of love may be easier to decipher with new Georgia Institute of Technology computing research that brings insight into how we find, talk about, and improve our relationships with that significant other.
The research on romance comes from three separate studies by the College of Computing and shows a snapshot of what love in the digital age looks like, including the current state of online dating and how partners communicate using technology. The research findings allow for a deeper look at how technology impacts and supports building relationships and takes us behind closed digital doors for a glimpse at the many ways couples connect.
---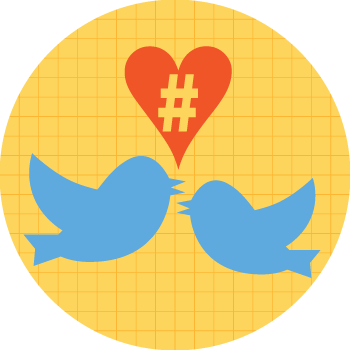 How a wedding engagement changes Twitter feeds
Study examines what happens to online personas in the months after she says yes
Twitter was used as a lens to look into the lives of nearly 1,000 people who used the site to announce their wedding engagement. By comparing tweets before and after, the study was able to determine how people changed their online personas following the proposal.
Some differences were split along gender lines. Others identified how people alter the words they use on Twitter after they are engaged.
The study followed 923 people who used "#engaged" to announce in 2011. The research team then looked at each person's tweets in the nine-month period before the engagement and 12 months afterward (2 million total tweets). They were also compared to a random sampling of tweeters during the same time frame (12 million tweets).
After people got engaged, tweets with the word "I" or "me" dropped by 69 percent. They were replaced with "we" and "us." There was barely any change within the control group. Similarly, tweets using familial words such as "future-in-laws" and "children" jumped by 219 percent after the proposal.
"People began to paint themselves as a couple, rather than as individuals," said Munmun de Choudhury, a Georgia Tech associate professor in the School of Interactive Computing who led the study. "They're going through a major change in life, and it shows on social media as they adapt to society's expectations of their marital identity."
The most frequent terms used by females when tweeting about their significant other were tied to emotion (for example, they "love" their  "wonderful" fiancé). Men are more likely to use physical descriptors such as sexy, beautiful, or gorgeous when talking about their fiancée.  
De Choudhury and co-author Michael Massimi also noticed that engaged people are much more likely to think and tweet about the future. Instead of using past-tense verbs, future-tense verbs surged by 62 percent after engagement.
"Twitter can be a powerful tool that can mirror our thoughts and how we're actually feeling," said de Choudhury. "This isn't based on what they told us they did. It's a reliable record – it's what they actually did."
---

Cupid's tech support
Research shows that members of online dating services gather independently for help
 
When looking for love on dating sites, the interactions are often one-on-one, private, directed primarily between strangers - and not always smooth or easy.
Georgia Tech research into two popular online dating services, OKCupid and the mobile-based Tinder, show that many users are unable to determine social norms or effective match-making techniques on the sites, so they've taken the discussion elsewhere.
Reddit, a popular crowdsourced content platform, has two thriving subreddit groups (for the dating services), which collectively have more than 95,000 members and 1,400 new posts a day at any given point.
Researchers conducted interviews with forum members and observed public discussions for the study.
"We found that participants used these forums to share experiences and to offer advice, and the forums played a major role in shaping how participants used the dating sites," says researcher and Professor Keith Edwards of Georgia Tech's School of Interactive Computing.
Many subreddit discussions centered on what not to do, with users providing cautionary examples of harassing or unwanted messages. Discussions also focused on strategies to take advantage of how the dating sites are set up. Researchers say some of the techniques might actually enable anti-social behavior, a common problem on dating sites in general.
On OKCupid, for example, some male users indiscriminately gave all profiles four or five stars to get noticed by each potential partner they rated. Tinder saw similar behavior with some men swiping "like" on all profiles so that the app would pair them with the highest number of matches.
A more benign problem on the dating services: boring or generic profiles. As one user put it, "everyone is always fun-loving, loves to laugh, loves to travel, um, loves to hang out with friends…" The forums tackled this by sharing tips on how to shape profiles for maximum appeal.
Edwards and co-author Christina Masden suggest design changes that could bring dating sites more in line with modern user expectations of socializing on the web. One possibility is developing online dating sites to be more community-centric, as shown by the value of outsourced communities on Reddit.
---

Couples' Communication
How partners decide what technology to use for private moments and honey-do's
 
Georgia Tech and Yahoo Labs researchers recently looked into how couples talk to each other every day through technology. The results revealed that the types of messages affect what tools are used between partners, and when couples discuss one task, it often involves using several technology channels.
For the study, the couples who were interviewed ranged from 19-60 years of age, with less than a year to more than 10 years together. More than 125 journal entries from an eight-day period provided details on how the couples communicated.
Messages from the couples' daily routines roughly fell into two categories: relationship-based communication and practical needs-oriented communication.
Emotional moments and intimate shares characterized the relationship communications. When picking a technology to use, preserving a sense of private or playful messaging appeared most important.
The needs-based discussions focused on coordination, such as for routines, changes in schedules, or location updates. Household goals and safety were other top priorities. In selecting the technology to reach their loved ones, timeliness and reliability were most important as was inspiring confidence in a partner from afar and feeling safe to communicate in a sensitive and private situation.
"Our couples considered many tradeoffs while deciding which channels would best support their communication needs, and moved between channels," says Maia Jacobs, researcher and Ph.D. student in Human-Centered Computing at Georgia Tech.
The study also showed the use of multiple methods to accomplish seemingly simple tasks. One couple's experience with garden shopping had the partners using three to four technologies to complete their to-do list over the course of a day.
Couples also wanted to be represented as a unit. One example is sending invitations with both partner's names. In other cases, a person pretends to be their significant other when placing orders online or responding to email.
"Channel choice is not necessarily an all-or-nothing game," says researcher Henriette Cramer from Yahoo Labs. "It is crucial to note that using multiple channels can also add meaning, and emphasize urgency or importance. Understanding these nuances in communication can help to make products more effective and user-friendly."
Credits
Writers: Joshua Preston, Jason Maderer
Graphics: Erica Endicott, Brett Lorber